Part two of a review of the major themes, debates, and events of the year in planning that was 2022.
---
This is part two of Planetizen's year in review for 2022. Part one focused on the unprecedented advancements in zoning reform accomplished in 2022. Part two focuses on the additional significant trends in planning from the year likely to have an ongoing influence on the field of planning long beyond 2023, such as empty office buildings, shifting priorities in transportation planning, and climate change.
Downtown in Crisis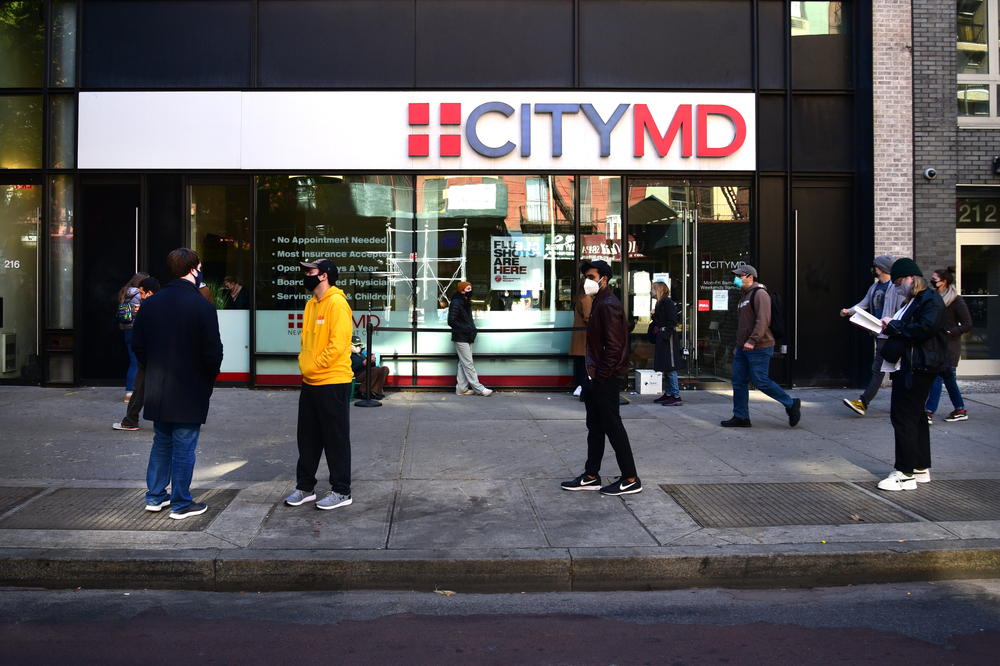 One of the biggest stories of 2022 is the growing awareness that workers are not returning to offices at rates comparable to the "before times"—not now, not last September, not next September, and maybe not ever. A significant portion of the daytime workforce is now staying home some or all of the work week, dramatically reducing the activity levels in central business districts all over the country. Some cities, led by San Francisco, are seeing higher office vacancy rates than others. A small number of cities, namely Salt Lake City, Columbus, and Fresno, have actually increased their office occupancy since the outset of the pandemic, according to the Institute of Governmental Studies at the University of California, Berkeley. But signs of scrambled routines are everywhere—from reduced in-migration to cities to increased vehicle miles traveled to reduced transit ridership. The consequences of the shift away from office work are impacting home sales, demographics, elections, traffic congestion, the real estate market (in both the office sector and the residential sector), and the larger economy. 
Some cities can expect to suffer significant fiscal consequences from office vacancies in the coming years—especially as federal relief packages enacted during the pandemic start to dry up. Transit agencies are the bellwether for this post-pandemic fiscal reality—with fewer office workers rushing to public transit during peak commute hours, many of the nation's busiest transit agencies have been using temporary federal relief grants to make up the difference for lost fares. Transit agencies in New York, Washington, D.C., Chicago, the San Francisco Bay Area, and all over the country are preparing for the fiscal worst while already struggling to cover even reduced service levels. With the looming loss of tax revenue from so many commercial units , other public agencies can expect to face austerity measures. San Francisco is projecting $200 million in lost revenue to the government in 2028. Clearly, some of the layoff and recession fears expressed in 2020 are still in play for both the public and private sectors, barring some still-unrealized path of recovery and regeneration.
The vacuum in office occupancies should be taken as an opportunity to redefine the urban core. Numerous cities are already at work with adaptive reuse programs; others are angling for more of a share of the innovation industry—tech and creative businesses that like to work in non-traditional commercial spaces. 
Despite the potential of many buildings to be reborn for contemporary uses, some advocates and researchers warn that many of the office properties left dormant by work from home trends are incompatible with adaptive reuse to residential. Even with robust adaptive reuse programs in place and plenty of housing demand to attract investment, many cities are going to be left with a large number of vacant and underutilized units and buildings in areas once teeming with social and economic activity. Unfortunately, a vacuum of transit service and operators for buses and trains will also present difficult challenges, making it harder to center a new, more efficient transportation system in the recovery. The planning challenge will be massive. Some cities are are taking initial steps to mobilize an effort to turn crisis into opportunity, such as Minneapolis and Pittsburgh, but solutions for this new variety of challenge for downtowns, the result of a very contemporary combination of factors, are likely to be found in the future.
The New York Times infamously warned of an "urban doom loop" in November. One of the great planning challenges of the century—preventing the urban doom loop and reinventing urban cores for life after the arrival of Covid-19—is already upon us. 
Transportation Planning Shift
The Inflation Reduction Act (IRA) and Infrastructure Investment and Jobs Act (IIJA) represent the largest shift in transportation planning priority in a generation. While the effectiveness of these two massive federal bills in preventing the worst effects of climate change or maintaining and supplementing long-term equitable economic recovery (the "Build Back Better" promised by the Biden administration) is debatable, their influence over the way communities and regions and the United States plan for the future will be immense. It's clear already that different states have wildly different ideas about how they'll spend the money. We will be tracking the effects of the programs and policies implemented by these massive laws for decades to come (Planetizen has already begun).
But the IIJA and the IRA must be acknowledged for their intentions—implementing substantive reforms for the way infrastructure is planned, funded, and maintained in the United States. The former suggests a fundamental rethinking of racial and environmental justice in federal infrastructure programs. The latter suggests the scrapping of the internal combustion engine for electric vehicles. If they accomplish even a portion of their ambition, they will have accomplished a significant course correction in U.S. planning history. 
Street Interventions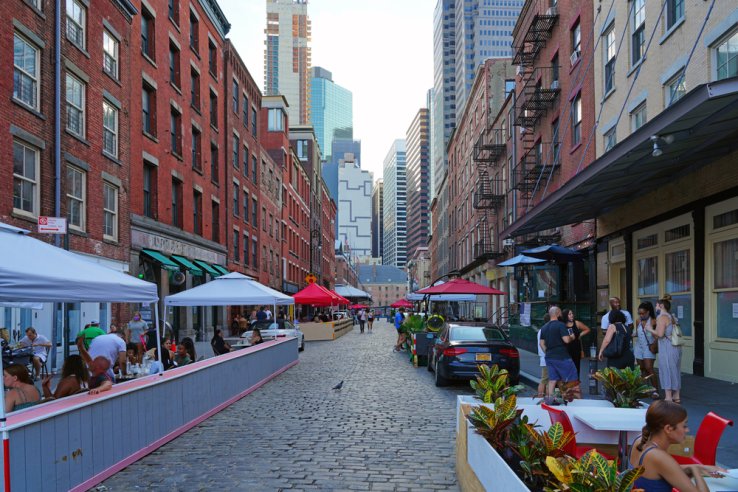 While it's tempting to write the history of the pandemic solely in national or aggregate terms—a global stage for a generational event—the pandemic was a personal experience. Along those lines, many of the most visible and tangible changes produced by the pandemic occurred at the hyperlocal level—home by home, street by street, block by block. Nowhere is that more obvious than in the ongoing disputes and debates about what to do with the various street-level interventions implemented during the pandemic, from slow streets and open streets to al fresco streets and parklets.
The history of street interventions in 2022 is a decidedly mixed bag, however. While transportation planning priorities are shifting all over the country, at the local level, some of that shift is back to the pre-pandemic status quo. In Miami Beach, for instance, the city decided in January to restore automobile traffic to Ocean Drive. San Francisco decided to dismantle a popular "slow street" on Lake Drive in July. San Diego residents worked to remove the final vestiges of that city's slow streets program. Chicago dismantled its slow street on Leland Street three months ahead of schedule. New York has reduced its total mileage of open streets from 83 in September 2020 to just 20 by August 2022. 
Still, some cities did close streets to cars in the past year. Los Angeles, for example, closed a section of Griffith Park Drive after a driver killed a person on a bike. Washington, D.C. decided to keep Rock Creek Park car-free. Other cities, such as Las Vegas and Berkeley, considered whether to go car-free on their most famous streets.
The conflict over street space is likely to continue, though perhaps less conspicuously than how the media documented the influx of pandemic-era street programs. Much of the dismantling of these programs has occurred without much public notice or media attention—cities are suddenly left with scant relics of the pandemic street network before anyone could notice what was lost. 
Free Transit
As discussed in a recent blog post on Planetizen, at some point in the past few years, in a trend accelerated by the service disruptions of the pandemic, more and more transit agencies have decided to lure riders back to struggling systems by ending fares. In 2022, some systems entirely eliminated fares, most recently Washington, D.C. but also Albuquerque; some extended fare-free experiments, such as transit systems in Connecticut and Tucson; and others made transit free for specific segments of the population, like free youth transit passes in Seattle, San Diego, and Orange County, or portions of the calendar year, such as Colorado, Boulder, and Utah. More systems could be joining the trend soon, such as Atlanta and Boston. Going fare-free, it seems, is the hottest trend in transit planning.
Time will tell if reducing fares was the correct strategy for the long-term stability of transit agencies facing reduced ridership numbers and long-term budget deficits—most of these systems are cutting fares at the expense of investing in service improvements and capital projects. One rare exception is Alexandria, Virginia, which used state and regional funding to lower costs for riders while implementing service improvements. Perhaps someday there will be more examples of transit agencies that were able to do both, but until then, this is the route many transit agencies are on.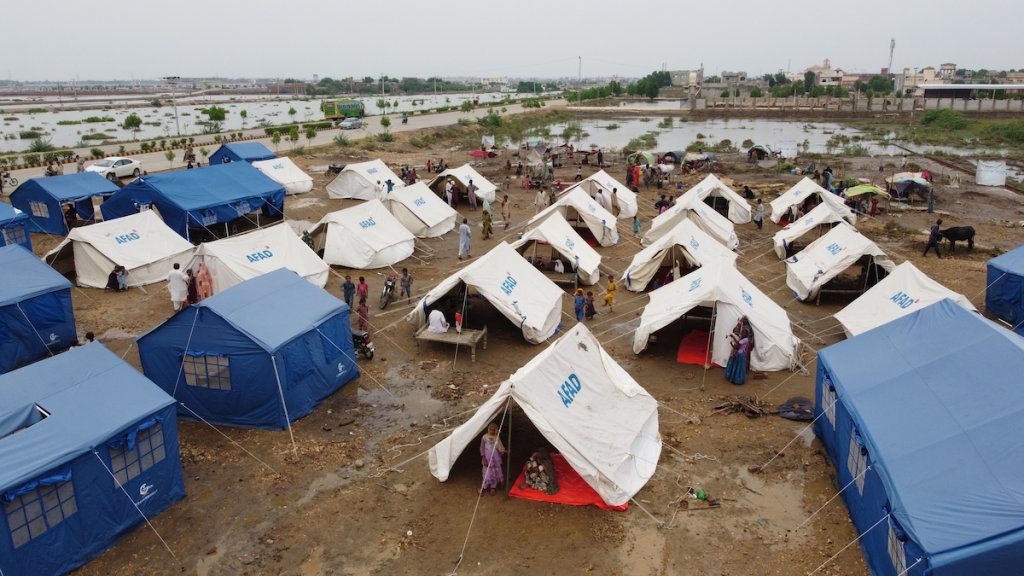 It would be irresponsible at this point in history to end any year in review without addressing the progress toward greenhouse gas emission reductions and climate adaptation. While the wildfire and hurricane seasons offered a year of relatively mild risks compared to the past few years, ongoing drought across the west threatens to completely collapse the Colorado River water supply system. Close to home, floods ripped Yellowstone apart this year. Across the globe, record heat waves sent temperatures to 140 degrees in India and Pakistan in May. Later in the year, floods in Pakistan displaced an estimated 30 million people. 
The United Nations called on the United States in April and November, as it had done before, to reverse its land use and transportation planning status quo in the United States—away from car-centric planning and automobile dependency—to help reduce greenhouse gas emissions in time to avoid the worse outcomes of climate change. In a change for the anxiety levels of climate advocates, 2022 proved to be the most substantial year for climate action in U.S. history (though the bar was set low by previous efforts), led by the approval of the Inflation Reduction Act (IRA) in July. The Washington Post described the IRA at the time as  the nation's "largest ever climate bill." Models suggest that the law will significantly reduce emissions in the United States, getting the country closer, but not all the way, to reduction targets set by the United Nations and the Paris Climate Accords.
The Infrastructure Investment and Jobs Act also included large-scale funding programs and policies intended to reduce emissions and adapt to climate change. A Planetizen blog post from April documents the potential of the RAISE grant program for climate action as a result of funding support made possible by the IIJA.
There's plenty of climate action to report at the state level, too, led by Colorado and California. The state of Colorado adopted a new greenhouse gas emission reduction rule at the end of 2021 that will prioritize emissions reductions in capital investments in the transportation system. The rule has already led the state to scrap freeway-widening projects and fund bus rapid transit instead. In California, Caltrans decided to scrap a plan to widen Interstate 710. Many states, including Colorado but also rural states like Nebraska, are still moving ahead with highway widening projects, though none at greater expense than Texas. A culture clash between states, not to mention legal disputes, promises to continue over how to spend federal infrastructure dollars, even for programs intended for social and environmental justice. 
Climate action at the state level doesn't just pertain to highways. California adopted a scoping plan that targets carbon neutrality for the state by 2045. Local governments also contributed. In addition to the climate benefits of medium density and walkable neighborhoods, which made huge strides in local zoning reforms in 2022, many cities and counties began or completed climate action plans in 2022, including D.C.; Fairfax County, Virginia; and Chicago.  
All this collective action is not enough to prevent the worst outcomes of a changing climate—not by a long stretch. Massive political, social, and technological obstacles remain. Even the United Nations, while pushing the United States and other top emitters to do more to prevent the worst of climate change, is having trouble producing action to ensure the world is on the right path for emissions reductions, producing lukewarm agreements at COP27 negotiations, which concluded in November. European governments, it turns out, aren't pleased with the IRA, as it turns out, because of its preference for America car companies.
But where the second half of the previous decade seemed like a three steps back, no steps forward situation on climate change, 2022 seems to have accomplished at least one step forward. It's a start.
The Right to Mobility
As we consider how to decarbonize transportation, preserving mobility, especially for lower- and middle-income people, must be a priority.
Early Sharrow Booster: 'I Was Wrong'
The lane marking was meant to raise awareness and instill shared respect among drivers and cyclists. But their inefficiency has led supporters to denounce sharrows, pushing instead for more robust bike infrastructure that truly protects riders.
This six-course series explores essential urban design concepts using open source software and equips planners with the tools they need to participate fully in the urban design process.
Learn the tools for implementing Universal Design in planning regulations.
View More