Whether state departments of transportation support or oppose a new rule aimed at reining in carbon emissions in transportation reflects an urban-rural, red-blue divide.
---
The Federal Highway Administration (FHWA) closed out comments earlier this month on a new proposed rulemaking that would require state departments of transportation (DOTs) for the first time to measure their greenhouse gas emissions —as well as track their progress toward lowering emissions across a range of categories.
The proposed rule stops short of imposing any requirements for state DOTs to achieve emissions reductions. Still, it represents a tentative first step toward reining in carbon emissions at these enormous power players in U.S. transportation. The sector has been stubbornly resistant to progress and now makes up the largest share of greenhouse gas emissions (GHGs).
Public comments indicate that the proposal is contentious among state DOTs, reflecting a partisan, as well as urban-rural divide. Comments closed on October 13 (more than 63,000 were received), but early comments reveal a wider ideological debate within the industry about the role of state DOTs in the climate crisis.
A number of states said in their official comments that they have already begun tracking GHG emissions or are developing programs aimed at reducing them. Hawaii, Washington, California, Oregon, Pennsylvania, Connecticut, Illinois, the District of Columbia, and Vermont all weighed in in favor in a joint comment, saying:
"The transportation sector is the largest source of GHG emissions in the United States and we need action from the federal government to complement and support work states are already doing to reduce transit costs and traffic."
Colorado, for example, requires its metropolitan planning agencies to make plans to provide sustainable alternatives to driving for residents. The Colorado Department of Transportation estimates it will create a GHG savings comparable to removing 300,000 vehicles from the road. Connecticut meanwhile is phasing out diesel public transit buses in favor of electric vehicles. Pennsylvania is targeting a 26 percent reduction in GHG emissions by 2025 (over 2005 levels); D.C. is targeting 50 percent reduction by 2033.
Meanwhile, comments from more rural and conservative states revealed a fair amount of opposition to the proposed rule. South Carolina Department of Transportation questioned the Executive Branch's legal authority to implement the policy. The agency added it thought the projected $11 million cost to implement was underestimated. (FHWA's cost-benefit analysis finds the measure would only have to reduce transport emissions 0.0005 percent to be worth the trouble.)
Other states like Nebraska, noting their rural nature, doubted their ability to lower emissions significantly—especially through land use policies, one of the areas in which states will be required to quantify. The Louisiana Department of Transportation and Development wrote in its comment:
"The vision of the few, that everyone should live in high density housing and use non-highway modes, is not shared by the vast majority of Americans. While public transit, biking, and walking are and will continue to be essential and integral components of our transportation system, increases in usage beyond current levels will never contribute more than a few percent toward the goal of reducing GHG emissions regardless of investment level and even in conjunction with draconian changes in land use policy and regulations. Similarly, highway system efficiency improvements will also never contribute more than a few percent toward the goal."
Some more conservative and rural states were more open to tracking progress toward GHG emissions reductions through sustainable fuels and vehicles, although not all: West Virginia raised objections about the benefits of vehicle electrification as well.
There is evidence that state policy can have significant impacts on how much people drive.
An analysis by Jeff Davis for the Eno Center for Transportation shows how California and Oregon, states advancing some of the most progressive policies around mode shift, have succeeded in lowering per-capita driving below national averages, and well below some more conservative states that have climate neutral policies.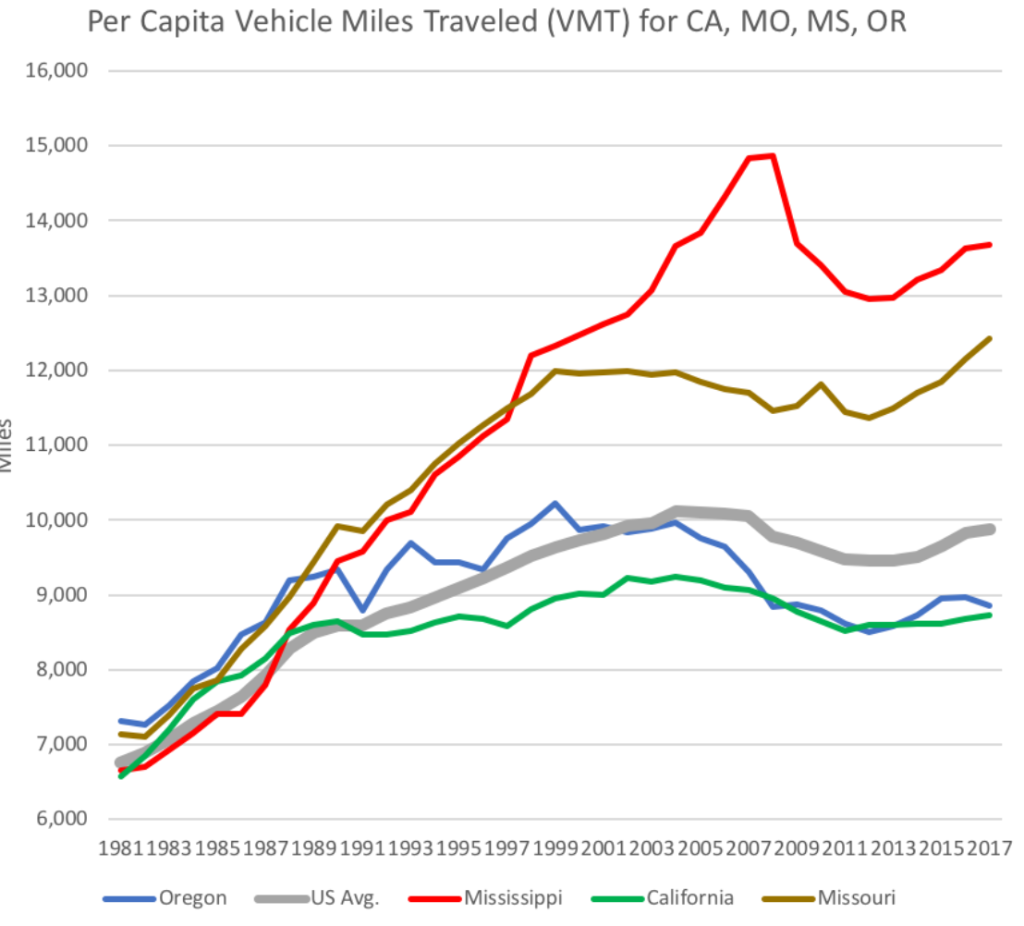 Colorado has been a leader in this regard. The state recently shifted $100 million from two planned highway projects in the Denver area to transit to comply with a new state law compelling metro regions to adhere to emissions reductions targets. The funding will help deliver high quality bus rapid transit.
The Intergovernmental Panel on Climate Change estimates we need to reduce driving miles by about 20 percent (combined with the electrification of the vehicle fleet and cleaning of the source electricity in the grid) to avoid the worst impacts of climate change. Nevertheless, few states and metro areas have even analyzed what would be required to reduce driving on such a scale. (Some studies estimate that increasing housing density in cities alone could have a significant impact.)
Groups representing cities and environmental causes see the new federal rule as key to beginning discussions. The National Association of Transportation Officials urged quick action implementing the rule before construction associated with the additional funding associated with the Infrastructure Investment and Jobs Act begins. The group also suggested adding some kind of penalty for agencies who fail to reach established goals.
The U.S. Public Interest Research group wrote in its comments:
"If our leaders prioritize transportation funding that makes it easier, safer and more affordable for people to take a train or bus, to share rides, or to bike or walk, then more of us will choose to travel without a car. We'll have cleaner air and safer roads, and we'll be leaving a healthier climate for our children and grandchildren."
Requiring states to measure GHG emissions was first proposed late in the Obama Administration, then abandoned, only to be revived with the Biden Administration. After the comment period closed on October 13, the Federal Highway Administration will analyze the feedback and issue its final rule.
However, a group of Republican Senators, including Ohio's Rob Portman and South Carolina's Lindsey Graham, wrote in opposition to the new GHG rule, saying it would be impractical for agencies to implement and challenging its legality, indicating that the rules might be subject to legal challenge.
Angie Schmitt is a writer and planner based in Cleveland. She is the author of Right of Way: Race, Class and the Silent Epidemic of Pedestrian Deaths in America (Island Press, 2020). She is founding principal at 3MPH Planning, a small Cleveland based firm focused on pedestrian safety.
How Urban Trees Save Lives
New research shows a strong connection between a healthy urban tree canopy and lowered mortality rates.
How To End Homelessness: The Houston Model
While the numbers of unhoused people in other major U.S. cities grow, Houston has managed to effectively end veteran homelessness and house more than 26,000 people since implementing a 'Housing First' approach a decade ago.
This six-course series explores essential urban design concepts using open source software and equips planners with the tools they need to participate fully in the urban design process.
Learn the tools for implementing Universal Design in planning regulations.
View More