The editors of Planetizen have released their annual list of the top 10 planning, design, and development websites for 2007.
---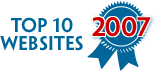 Once again, the editors of Planetizen are pleased to present our annual list of the 10 best planning, design, and development websites. These 10 sites (along with a few honorable mentions) represent some of the top online resources for those interested in planning, design, and development.
We've listed the websites alphabetically, with host organization listed in italics if different from the website name. This list is based on nominations by Planetizen readers and staff, and judged against a common set of criteria, including standards of web accessibility.
Please post your comment on this list below, or contact us if you have nominations for next year's list.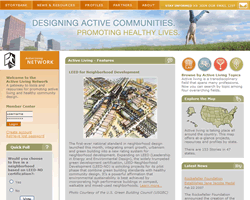 Active Living Network
Robert Wood Johnson Foundation
www.activeliving.org
As the impact of urban form on public health is something that planners and health professionals are increasingly scrutinizing, the Robert Wood Johnson Foundation has sponsored the Active Living Network website to strengthen the links between planning and health. The network focuses on how the built environment-including neighborhoods, transportation systems, buildings, parks and open space-can promote more active lives. Users can browse news and resources by subject (development, transportation, environment), and read useful profiles of people, organizations and places working to change the built environment to encourage physical activity. The site also allows users to participate by adding their personal stories to an online "storybank", which can be explored using an interactive map.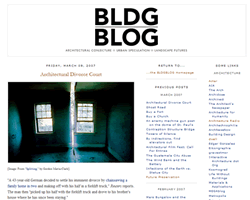 BldgBlog
While many have tried to characterize the astonishing range of subjects found on BldgBlog, creator and prolific blogger Geoff Manaugh probably sums it up best when he says the site features "architectural conjecture, urban speculation, and landscape futures." Once you read a few of the sites fascinating discussions on the myriad of topics, you'll likely understand how this is quite possibly one of the most read architecture/urban blogs on the planet.
Honorable Mention: Pruned -- the hottest blog on landscape architecture.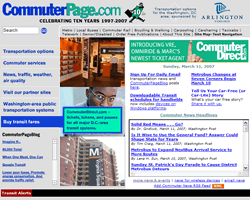 CommuterPage.com
Arlington County, Virginia
www.commuterpage.com
CommuterPage.com is designed to encourage the use of mass transit, carpooling and vanpooling, bicycling, walking, telecommuting/telework, and other alternatives to driving alone in the Greater Washington D.C. metropolitan area. The site offers area residents a one stop source for information on the region's transportation options -- and includes a daily email and blog. A valuable resource for transit neophytes and veteran straphangers alike, and an excellent example to follow for other regions looking to encourage use of transportation alternatives.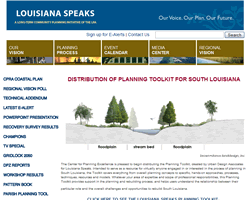 Louisiana Speaks
Louisiana Recovery Authority, Emergency Support Function (ESF) #14, FEMA
www.louisianaspeaks.org
Endorsed by the Louisiana Recovery Authority, a state planning and coordinating body created in the aftermath of Hurricane Katrina, Louisiana Speaks is the name for one of the largest planning processes ever likely undertaken in the United States. The authority's website serves as a central repository for information regarding the effot -- which is simultaneously managing planning efforts aim at the building, neighborhood, parish, and regional levels. Residents can look at demonstration house designs, track the progress of neighborhood and regional planning activities (as well as participate via a statewide poll), and review the maps, plans, and toolkits produced by various government bodies and their consultants. Full disclousure: Planetizen's parent company, Urban Insight, was a member of the consultant team that developed the online survey for the Louisiana Speaks regional visioning poll.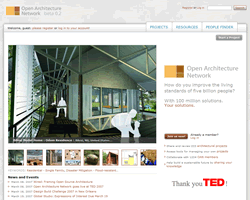 Open Architecture Network
Architecture for Humanity
www.openarchitecturenetwork.org
"How do you improve the living standards of five billion people?" That's the question posed by the founders of the Open Architecture Network. Their answer? Get designers from around the world to share ideas and resources for solving the challenge of providing decent and affordable shelter to the world's population. The recently launched website (still technically in beta) invites architects to upload project materials (plans, images, etc.), contribute their knowledge, and collaborate with others, ultimately leading to solutions that can help build a more sustainable future. Since the site doubles as a project management tool, the founders believe that OAN will entice a large number of designers to participate. This site is definitely one to watch.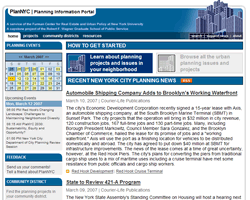 PlanNYC
NYU Furman Center for Real Estate and Urban Policy
www.plannyc.org
PlanNYC is a web-based tool designed to give citizens and organizations interested in housing and development in New York City easy access to facts, news, and events related to major urban planning projects and policy developments. Originally developed by Jordan Anderson, a master's in urban planning student at New York University, the site allows users to sort information by project or neighborhood, and doesn't play favorites regarding certain perspectives -- all points of view are offered. Maintained by NYU's Furman Center for Real Estate and Urban Policy, PlanNYC is stands as an excellent model for local community planning portals.
Honorable mention: PlanPhilly: Planning Philadelphia's Future -- a project of PennPraxis, the practical arm of the School of Design at the University of Pennsylvania, also offers news and information about major planning issues impacting the city, and tracks projects in different neighborhoods. Designed to educate and engage residents, the site is focusing on the planning process around the city's riverfront.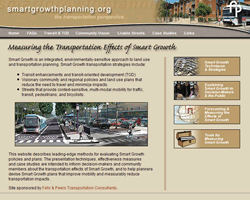 SmartGrowthPlanning.org
Fehr & Peers
www.smartgrowthplanning.org
Developed by transportation consulting firm Fehr & Peers, this website describes leading-edge methods for evaluating Smart Growth policies and plans. The presentation techniques, effectiveness measures and case studies that are offered (including stream video clips) are designed to provide decision-makers and community members with a clearer understanding about the transportation effects of Smart Growth, and to help planners devise Smart Growth plans that improve mobility and measurably reduce transportation impacts.
Honorable mention: Urban Transportation Showcase Program -- this site highlights innovative sustainable transportation projects in Canadian cities, including searchable case study and image database.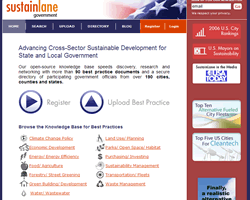 SustainLane Government
Offering resources to help local governments move towards sustainability, SustainLane's website provides a rich repository of sustainability best practices submitted by practitioners and policy makers –- including a host of model plans. The website features a ranking of the 50 largest U.S. cities according to sustainability, and also hosts a blog from sustainability expert and chief strategic officer Warren Karlenzig.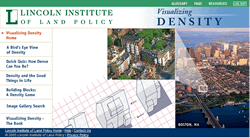 Lincoln Institute of Land Policy
www.lincolninst.edu/subcenters/vd
An accompaniment to its forthcoming book, the Lincoln Institute of Land Policy has created a valuable online resource for anyone who is struggling with the issue of density in their community. Chocked full of photos and illustrations (which are searchable), the site addresses the myths and realities of housing density, and offers strategies for implementing sensible policies to encourage more sustainable land use. A density quiz and interactive game make the site particularly engaging.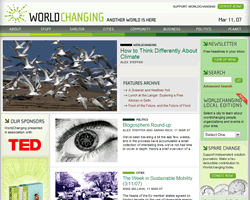 World Changing
While not specifically urban planning focused, WorldChanging.com is an excellent resource for cutting-edge news, commentary and resources on many important planning issues -- including innovative housing design and construction technology, sustainable transportation, community development, and environmental justice. The site, which is supported by a small Seattle-based non-profit, has gathered a great deal of attention of late for its efforts to highlight the new technological trends and ideas holding extraordinary potential to create positive change in global society – and has even spawned a 600 book and 12-city tour.