Our annual list of the 10 best planning, design, and development websites represents some of the top online resources for news, information and research on the built environment.
---

Every year, Planetizen recognizes ten websites (and a few runners-up) as some of the best resources for urban planning, design and development. This list is based on nominations by Planetizen readers and staff, and judged against a common set of criteria, including content, design, and usability. We've listed the websites alphabetically, not in a particular order of rank.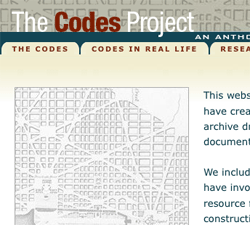 Codes Project
The Codes Project, developed under the guidance of Prof. Emily Talen at Arizona State University, is an impressive attempt to gather the variety of codes throughout history that have regulated land use into one useful directory. From the Code of Hammurabi to Seaside, Florida's Urban Code, you can download PDFs and compare these landmarks of regulation. You can even complete a "Synoptic Survey" and perform an urban analysis on your own town. An excellent, easy-to-use reference.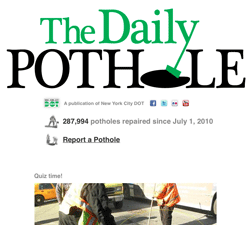 The Daily Pothole
New York City's Department of Transportation created this blog as a campaign to re-brand the city's poor reputation when it comes to fixing potholes. The site is simply and irreverently designed to get the point across in a tongue-in-cheek fashion. The department is busy everyday filling thousands of potholes, and this site makes that number abundantly clear. The blog also provides a form for reporting potholes.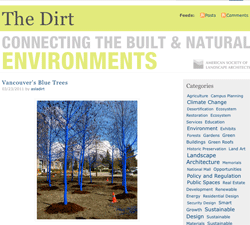 The Dirt
The Dirt, a weekly blog from the American Society of Landscape Architects, has long been essential reading for Planetizen's editors. The ASLA staff have their fingers on the pulse of the most interesting news about landscape architecture, and regularly interview working professionals about their thoughts and processes. As the fields of landscape architecture, urban design and planning increasingly overlap, the perspective from The Dirt becomes more and more relevant.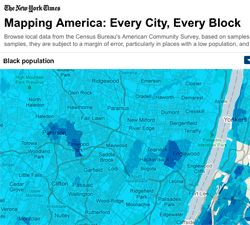 Every City, Every Block
projects.nytimes.com/census/2010/explorer
A project of The New York Times, "Every City, Every Block" creates a very user-friendly interface for looking at the latest numbers from the Census Bureau's American Community Survey. Household income, demographics, median home value, same sex couples: every one of these data points can be mapped out across the U.S. or down to the census tract, color coded for easy viewing and analysis. We're not sure why The New York Times put in the effort, but it pays off in spades.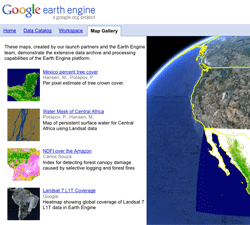 Google Earth Engine
Google Earth Engine opens up historic satellite data to allow researchers and scientist to see patterns of deforestation and environmental destruction more clearly. The mapping tool allows anyone to see and detect changes, map trends and quantify differences on the earth's surface. As researchers add layers of information to the database, an unprecedented laboratory grows on top of the Google Earth surface. Brian McClen, VP of Engineering for Google Geo Group, said in an interview, "I believe that this is just the first of many Earth Engine applications that will help enable scientists, policymakers, and the general public to better monitor and understand the Earth's ecosystems."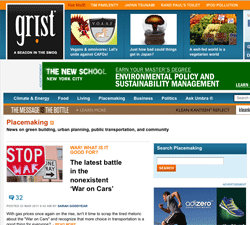 Grist
We've been remiss in not recognizing Grist in the past for its coverage of environmental and energy issues, but the addition of Placemaking Correspondent Sarah Goodyear pushes them over the edge. Goodyear has a knack for pulling together all the latest information on land use issues and presenting it in a no-nonsense way. Her latest article explains the absurdity of the so-called "War on Cars", when cars will obviously be part of the mobility solution for a long time to come. Grist is a voice of sanity in the sometimes chaotic world of "green media."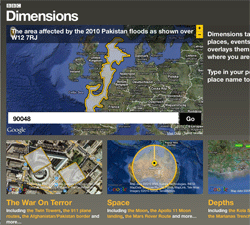 How Big Really?
A BBC Dimensions program, How Big Really? provides a unique way to visualize scale the built environment. The site basically transposes historical monuments, city buildings, environmental disasters, or other structures onto a map of a given area to provide a context to understand just truly how magnificent, colossal and or horrible they were. Try placing the Chernobyl radiation cloud over your hometown. Yikes.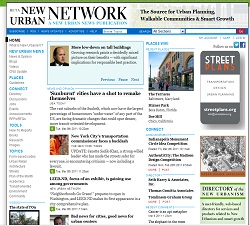 New Urban Network
New Urban News was an essential but somewhat dated-looking website and newsletter for over a decade, one of the few news sources dedicated specifically to covering New Urbanism. With this new website, Robert Steuteville and Philip Langdon have made a significant upgrade, creating an essential resource for smart growth news. Langdon in particular seems to be everywhere at once, delivering high-quality articles at a breakneck pace. We also can't help but notice they're using Drupal, our CMS of choice.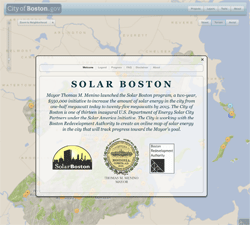 Solar Boston
gis.cityofboston.gov/solarboston
This .gov site for the City of Boston is a great example of the useful intersection of data, mapping and design. With the goal of increasing solar power in the city, Mayor Menino spearheaded the creation of a website to track the growth of installations around the city. It also gives users tools to analyze how effectively solar panels would work on their own home or office. The site's sophisticated interface is reminiscent of a Star Trek control panel with panels that move in and out of the picture when needed.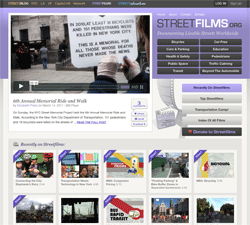 Street Films
If you're reading this, you've surely read one of the websites in the Streetsblog Network (we've recognized them all in previous Top 10 lists). The advocacy sites provide excellent coverage of transportation and complete streets issues. Streetsfilms deserves extra attention for putting words to image, with production-savvy videos that explain bus rapid transit, congestion pricing and bike boulevards for a general audience. Experts like Janette Sadik-Khan show up to illuminate the details, and Streetsfilms camera pops up around the world from London to San Francisco.
Honorable Mentions
---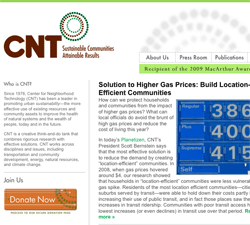 CNT
The Center for Neighborhood Technology is a unique entity in the world of urban planning; staffers call it a "creative think-and-do tank." CNT regularly develops online tools for understanding the built environment, like the Housing and Transportation Efficiency Index, which illustrates just how much transportation costs impact household budgets. It turns out living closer to the center of your city is often just as affordable as living in the suburbs when you factor the two together.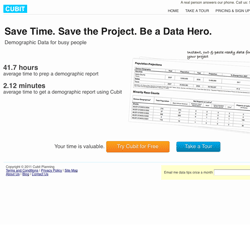 Cubit Planning
Although we're often hesitant to recommend fee-based services, we were so impressed with Cubit Planning's friendly interface, and the professional-quality demographic, poverty and housing reports, that we were hooked. Using a Google map interface, you draw your project on a map and press a button to get instant, pre-formatted data, maps and shapefiles. The brainchild of Kristen Carney, a planner for TxDOT Environmental Affairs, Cubit offers a workflow optimized for planning and environment projects. You can sign up for a free 7-day trial before opting for a paid plan ranging from $20 - $250 per month.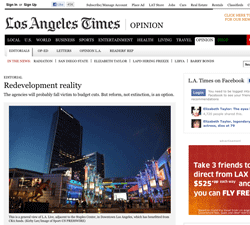 The Los Angeles Times
Over the past year, The Los Angeles Times has broken two incredibly significant urban planning stories. Reporters Jeff Gottlieb and Ruben Vives got the scoop on the Bell, California City Hall salary scandal, and the paper also produced a major exposé of California's redevelopment agencies that helped lead to Governor Brown's proposal to eliminate redevelopment programs altogether in the Golden State. In an age where investigative journalism has faced serious cuts, the LAT shows that its still got the chops.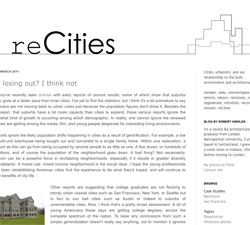 reCities
recities.blogspot.comRobert Kwolek's blog is wonderfully picture-heavy and pragmatic, presenting Kwolek's personal views on urban planning and design.
How Urban Trees Save Lives
New research shows a strong connection between a healthy urban tree canopy and lowered mortality rates.
This six-course series explores essential urban design concepts using open source software and equips planners with the tools they need to participate fully in the urban design process.
Learn the tools for implementing Universal Design in planning regulations.
View More