Planopedia
Clear, accessible definitions for common urban planning terms.
---
What Are Complete Streets?
Complete streets prioritize the safety and mobility of all users instead of the speed of cars and flow of traffic. After a century of prioritizing automobile travel, the concept of complete streets offer a chance to make streets a place to be used and enjoyed rather than glimpsed through a windshield.
---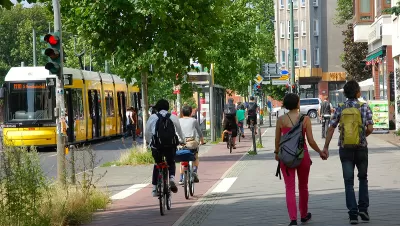 "Complete Streets" are more and more frequently cited as an ambition of transportation planning organizations in the United States. The term is used by advocates and organizations to describe an approach to street design and engineering that prioritizes the safety and mobility of all users. Advocates for complete streets universally emphasize the all in that statement—all modes (e.g., cars, public transit, pedestrians, people on bikes) and all users (e.g., young, old, people with special needs, and local businesses).
The complete streets movement—an estimated 1,600 communities have adopted complete streets standards and laws as of this writing—emerged in response to the car-centric planning of the past, which prioritized the uninterrupted speed of automobiles above all other concerns in street design and engineering. The car-centric approach to planning is credited with various negative consequences, like auto-dependency, large numbers of traffic fatalities, chronic diseases like obesity and asthma, and greenhouse gas emissions, but the factor that figures most prominently in complete streets advocacy is probably traffic safety. In the most recent years before this writing, fatalities for pedestrians and people on bikes have continued to rise even as new safety features in cars are credited with reducing the number of fatalities for drivers.
Each complete streets project is unique, depending on the conditions specific to each street and community, but most examples usually include:
Additional street features that prioritize the overall health of the street environment, like green stormwater infrastructure and permeable pavement, can also be included in a complete streets approach to street design. 
During the coronavirus pandemic of 2020, the idea of complete streets has expanded to include the footprint of retail and restaurant uses in the public realm, sometimes on sidewalks, and other times in parking spaces and/or the actual roadway. The expanded definition of complete streets that has emerged during the pandemic borrowed from the previous interventions of parklets, or small public areas built over parking spaces, and open streets, where a street is closed completely or partially to automobile travel.
A cottage industry of engineering assistance has emerged to help inform the planning, design, and engineering choices of complete streets, expressed most comprehensively by the Urban Street Design Guide published by the National Association of City Transportation Officials. Many U.S. cities have adopted complete streets standards for all street construction projects, although the implementation of those standards can still be a hard sell with the public as well as transportation engineers and the status quo of traffic law in the United States.
Jurisdictions that have seen recent success with complete streets implementation include Philadelphia, Austin, and Boston. Other jurisdictions have recently adopted complete streets policies, like Milwaukee and Montgomery County, Maryland, so it is yet to be seen how successful those efforts will be toward building safer streets and reducing traffic fatalities and other negative externalities. Some state transportation agencies, like Caltrans, have also adopted complete streets programs, and even rural areas can choose from a menu of complete streets options to suit their specific needs.
Most recently as of this writing, Smart Growth America and the National Complete Streets Coalition announced a new initiative called the Active People, Healthy Nation℠ Champions Institute to train local leaders on how to effectively advocate for and support complete streets programs and projects.
More planning terms