Planopedia
Learn and explore the fundamental concepts of urban planning.
---
What Is Bike Infrastructure?
Safe and comprehensive bike facilities play a crucial role in keeping vulnerable road users safe, promoting biking as an everyday transit mode, and reducing carbon emissions and traffic congestion by encouraging a shift to more multimodal transportation.
---
As automobiles became faster, deadlier, and more ubiquitous on American roads, road design and planning began to privilege cars to the exclusion of other road users, such as pedestrians and cyclists. By the mid-twentieth century, it became practically impossible for bicycles to safely share many U.S. roads with vehicles. To remedy this, bike advocates began agitating for new infrastructure that would reclaim space from cars, protect people on bikes and provide safe, accessible lanes and trails for bikes alongside car-oriented roads and pedestrian-serving sidewalks.
Bike infrastructure is designed to make cycling accessible, safe, and comfortable and make bicycling a viable mode of transportation. Improving road conditions for people on bikes is often part of a broader strategy, such as Complete Streets, designed to reclaim space from cars and make roads safer for all users, including the most vulnerable.
Bike lanes, which range from painted lines to lanes protected by bollards or parking and fully protected, separated cycletracks.
Dedicated bike trails and shared-use paths.
Bike bridges or underpasses to avoid interaction with cars.
Intersection treatments such as bike boxes, lead signal indicators, bike-level crossing buttons, and other elements that help people on bikes navigate intersections safely.
Pedestrian- and bicyclist-scale lighting.
Shared-lane markings (sharrows) and other high-visibility signage to alert drivers to the presence of bicyclists.
Signalized mid-block crossings.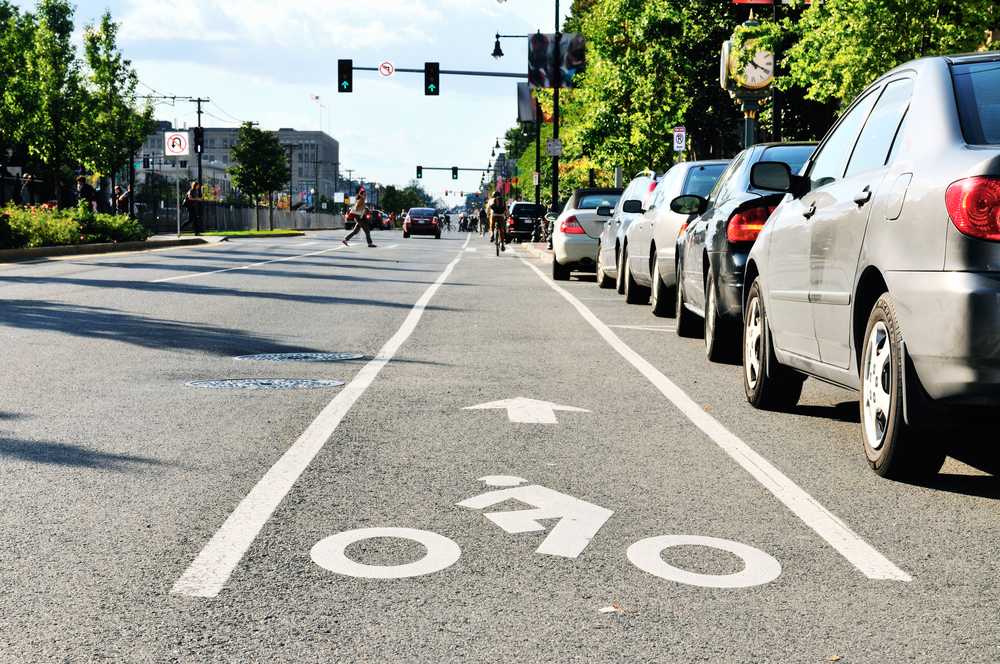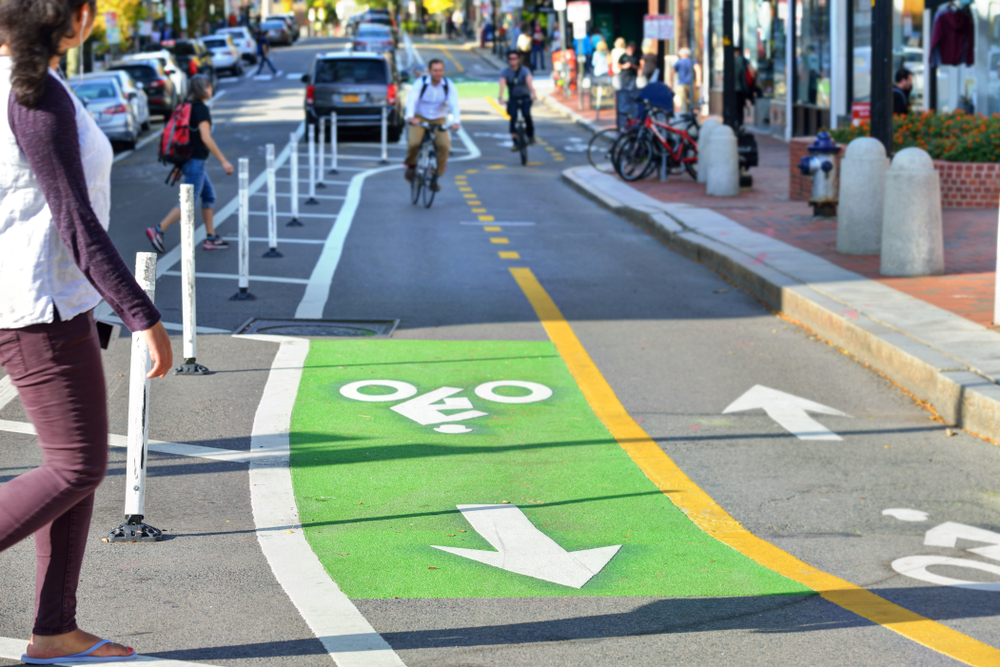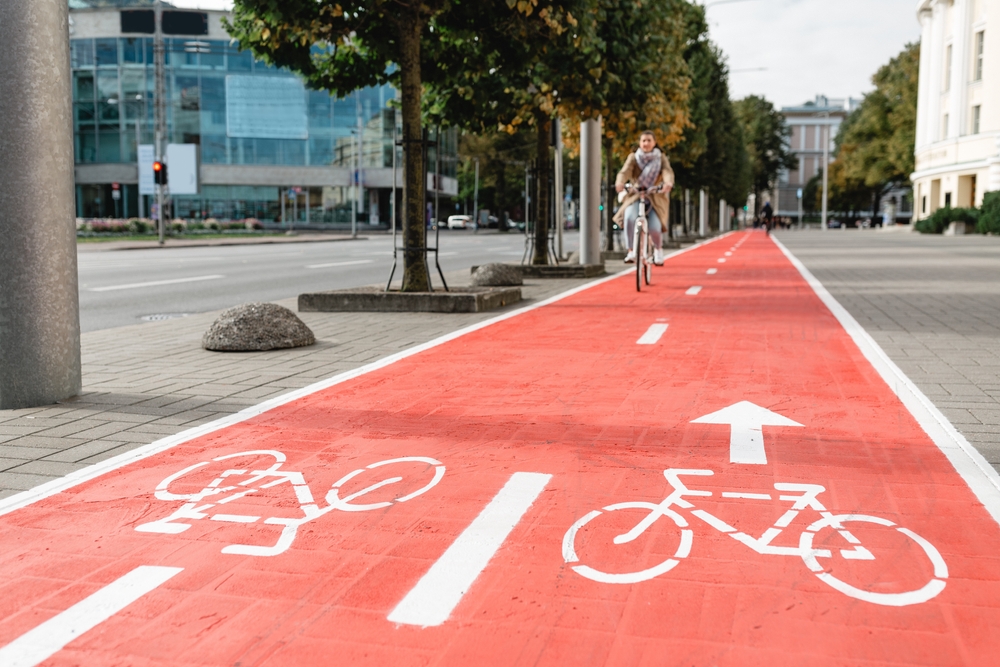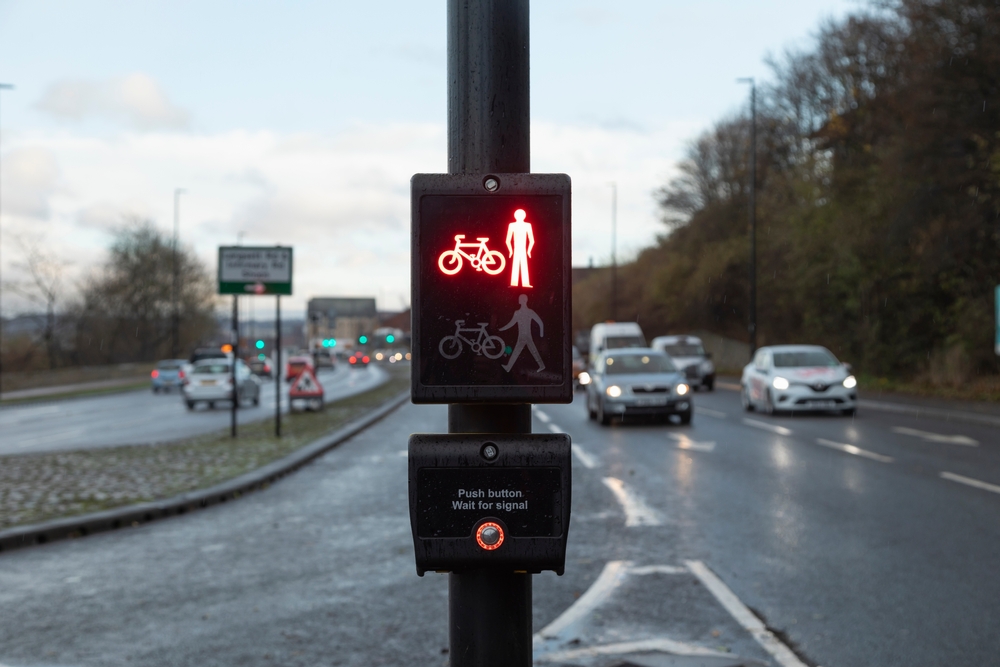 NACTO's Urban Bikeway Design Guide compiles detailed best practices for designing bike infrastructure, but cautions that projects must be tailored to the unique characteristics and needs of each city. The guide offers a section aimed at design for all ages and abilities, which highlights how bicycle facilities can serve a broader range of users. A Dutch design manual emphasizes five key principles for safe bike infrastructure: Cohesion, Directness, Safety, Comfort and Attractiveness. The manual emphasizes the need for a cohesive bike network that lets people reach as many destinations as possible, direct and efficient routes, safety, comfort, and a pleasant and aesthetically pleasing cycling experience. Well-used biking facilities tend to be ones that provide well-maintained pavement and signage, good lighting, physical separation from cars, and trees and green space.
In some places, old infrastructure can be repurposed as bike facilities. The 'rail trail' concept, championed by the Rails to Trails Conservancy, is a movement to convert disused railway rights-of-way to public, shared-use trails. Since the movement's inception in the 1960s, over 21,000 miles of rail-trails have been created around the United States.
The Netherlands, long known as a bike haven, has a global reputation for extensive and innovative bike infrastructure, such as the Hovenring, an elevated, circular bike way in Eindhoven that puts cyclists above traffic at a major intersection.
Ensuring a safe and comfortable bike network includes more than just physical infrastructure. Making biking a safe and inclusive mode of transportation requires clear and effective communication about the cycling network, such as maps and mobile apps with important information; and connections to other transit modes and key destinations.
'Bikelash' and the Evidence in Favor of Bike Infrastructure
Despite its wide-ranging social and economic benefits, approving and funding bike infrastructure is often controversial as bike and pedestrian advocates push back on decades of car-centric planning that privileges level of service (LOS) and traffic throughput above all else. More recently, cities and states are starting to shift their focus to improving transportation options and infrastructure for pedestrians, bicyclists, and other non-driving road users. Community groups that oppose bike infrastructure projects cite concerns about loss of parking and vehicle traffic lanes that could, in their view, cripple local businesses by making it harder for customers to access them, and increase local traffic and congestion.
To combat these claims, supporters of bike infrastructure point to studies whose results repeatedly contradict critics' fears. In fact, bike infrastructure frequently seems to benefit local businesses and have little or no impact on local traffic while reducing injuries and increasing the number of people choosing to bike.
Evidence shows that improving bike infrastructure not only makes roads safer for existing cyclists, but encourages more people to ride bikes who didn't previously feel safe. According to a study by Kittleson & Associates, Philadelphia saw a 96 percent increase in the number of bikes counted where the city installed parking separated bike lanes (PSBLs) in 2021. After New York City installed a protected bike lane on Columbus Avenue, bicycling increased by 56 percent on weekdays on that street.
Research shows that bike lanes are also good for pedestrians, shortening crossing distances and reducing injury rates for people on foot. Dedicated bike lanes also reduce the incentive for cyclists to ride on sidewalks, limiting the chance of bike-pedestrian collisions. The 9th Avenue protected bike lane in New York City is credited with a 56 percent reduction in all street user injuries.
Countering fears of lost business, advocates say bike infrastructure can bring economic benefits, a claim backed by evidence from several cities. In Salt Lake City, retail sales on Broadway grew by 8.8 percent after the city removed 30 percent of street parking in favor of protected bike lanes and sidewalks. In Indianapolis, property values adjacent to the Indianapolis Cultural Trail increased by 148 percent after the trail was built.
Momentum Builds
Despite a growing awareness of the massive contribution of the transportation sector to greenhouse gas emissions and the need for multimodal transportation options, many U.S. cities still lack comprehensive, safe bike networks that would allow cycling to become a convenient everyday transit mode and let more Americans reduce their dependence on personal vehicles. While many cities have built short, piecemeal bike projects, such as park trails or short bike lanes that end unexpectedly after a few blocks, boosting bike ridership works best when cities focus on ensuring connectivity and improving bike infrastructure across the city, not just in parks or areas popular with tourists. However, the tide may be turning as more cities recognize the broad societal benefits of supporting safe biking infrastructure and encouraging cycling as a key transportation mode, not just a recreational activity.
More planning terms