Planetizen's annual list of the best of the urban planning Internet.
---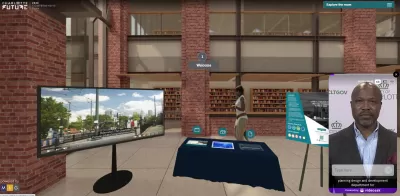 Planetizen's 2021 Top Websites for Urban Planning list is unified by a common purpose of providing resources to empower professional planners as well as their essential partners in the public. Much of this year's list focuses less on the beautiful designs and practical technological improvements that have populated previous lists (although there's no shortage there) and instead focuses more on collections of resources that can enable the next generation of innovations. 
As documented in the Planetizen Top Websites lists covering the past few years, web technology innovation has ushered in a new era of mapping and interactive functionality. These innovations have opened the world of planning and its allied professions in ways that were unimaginable even a decade ago (see the lists for 2020 and Covid-19 for numerous recent examples). Conversely, the planning profession is driving the innovation that has transformed the potential of the Internet to inform the public and widen individual purviews. When focusing on this intersection of planning and technology, we see a mutually beneficial relationship that promises to continue to evolve and improve in the future—despite what we've learned about shortcomings of misinformation on the Internet over the past decade.
The world is ready for more: The pandemic has forced new thinking and new action. The conditions for radical departures from the state quo are as ripe as they've ever been. Most importantly, the need has never been greater. 
Making Plans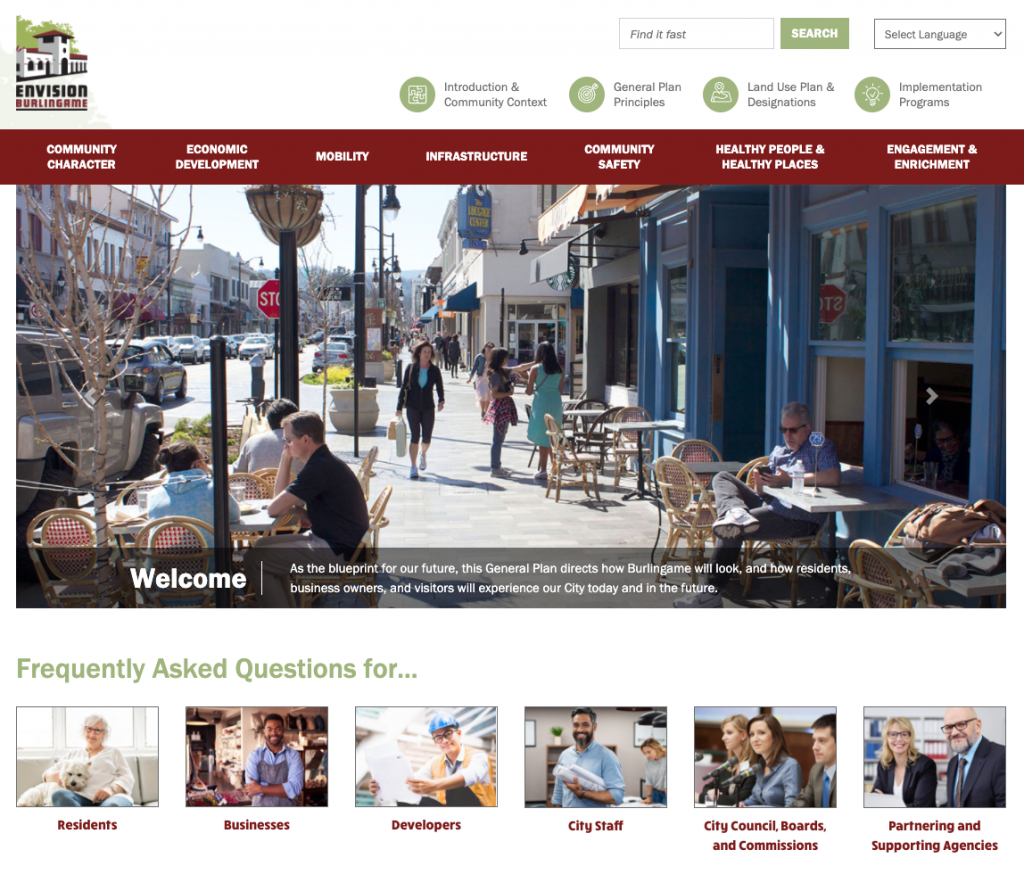 Burlingame, California is presenting its newly approved, 300-page General Plan in a way that makes the technical document more accessible to a variety of stakeholders. This easy-to-use, highly informative digital version of the plan also maintains the integrity of the original document. 
As you click through a map of the city, the website highlights each area and details the neighborhood's planning context, future vision, and specific goals related to land use and development. One notable feature: the website includes pop-up windows that highlight and define terms with meanings that may not be immediately obvious to the non-planner. While the information remains dense by nature, the website delivers a more digestible version that can be browsed by category and topic, along with definitions and visual examples of technical items such as zoning designations, floor area ratio, and bike facilities. 
The digital plan is the result of a years-long planning process that sought to engage the community as the city revised its decades-old general plan. The website details the community process, which could serve as a useful guide for civic leaders who want to enhance public engagement in their own communities. Since the new plan will guide decision-making well into the next decade, the city's effort to broaden access to the document and increase public awareness and understanding of its goals and strategies for the future is notable.
Resources for Planners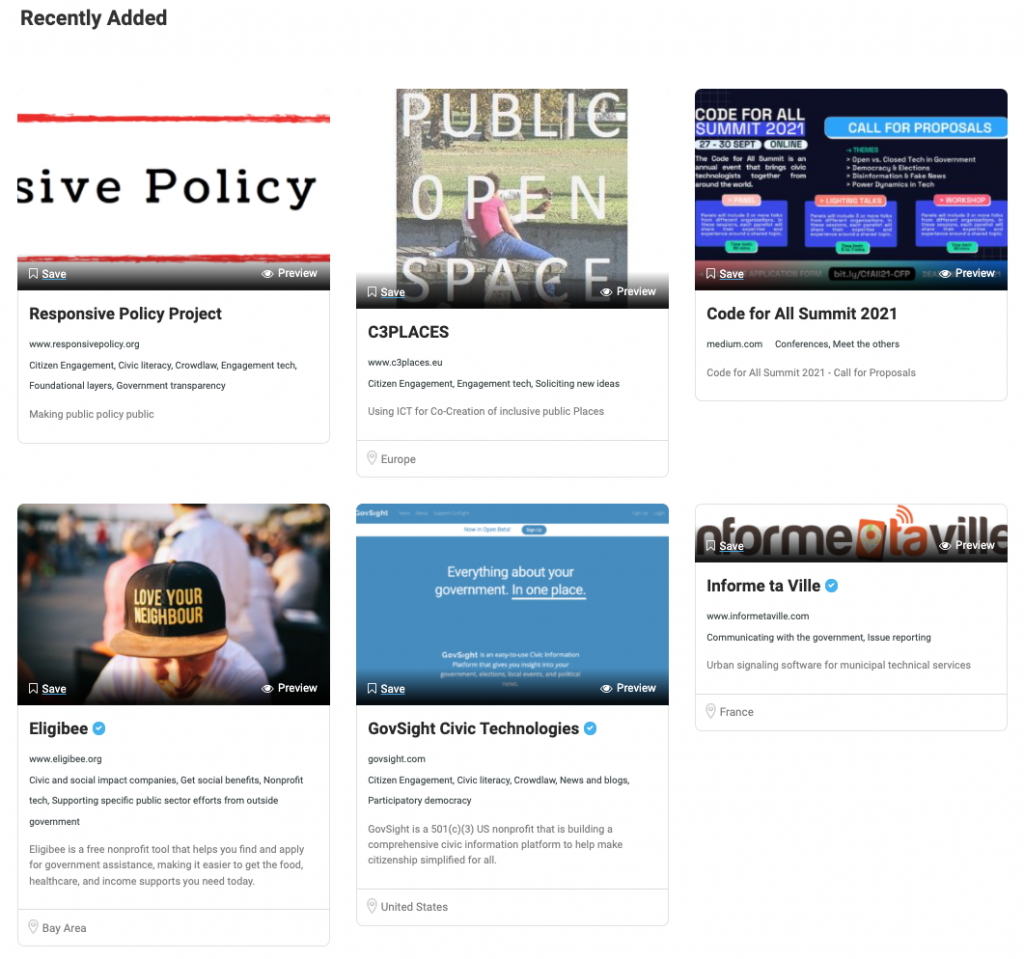 Sticking with the theme of civic tech, the Civic Tech Field Guide is another impressive and useful website that Planetizen is pleased to amplify. Also keeping with the theme presented by the APA Technology Division's Urban and Regional Planning Resources site, the resources of the Civic Tech Field Guide have been crowdsourced by civic tech practitioners from over 100 countries around the world. In addition to providing access to the tools of civic tech, the Civic Tech Field Guide also connects to conferences, funders, awards, and jobs, among other resources.
Scroll to the bottom of the page to browse tools by subject area (e.g., Urban Planning, Climate Change, or Floods), format (e.,g., Podcasts and Legislation), and political unit (e.g., Neighborhoods and Rural). New resources are added regularly, so be sure also to check the feed closer to the bottom of the home page.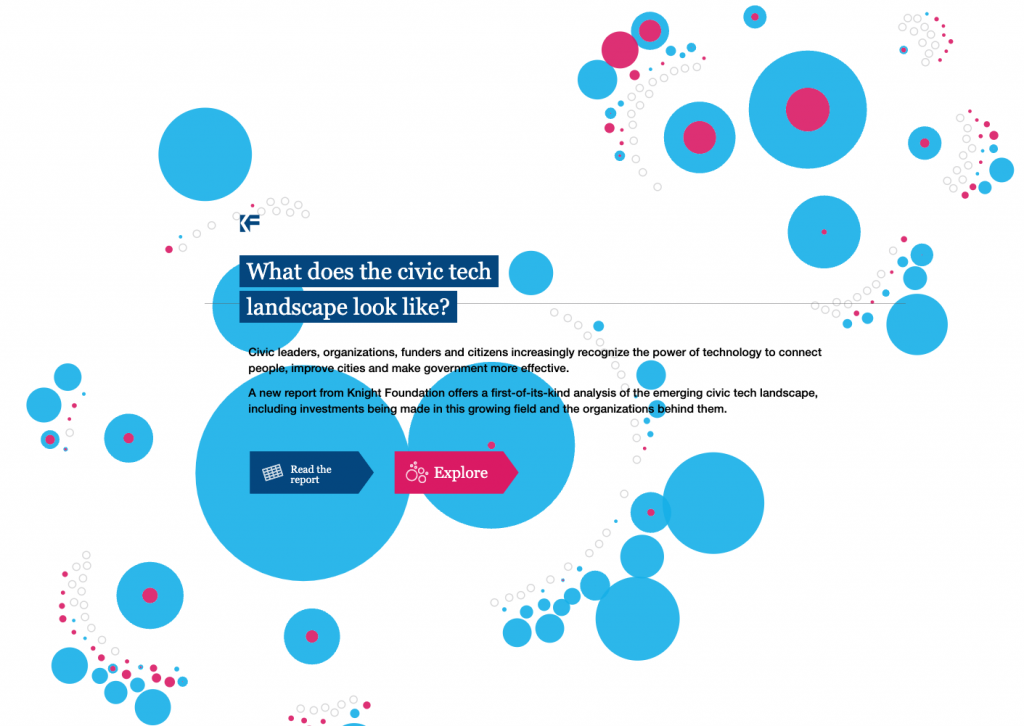 The John S. and James L. Knight Foundation website offers so many useful resources it's hard to know where to start, but for a philanthropic organization devoted to journalism, culture, and the arts, the Knight Foundation's website devotes numerous and rich resources to the world urban planning, social policy, civic tech, and social justice.
Case in point: The Knight Foundation in March 2021 announced a new report by Gehl—the design firm founded by Jan Gehl. With grant funding from the Knight Foundation, Gehl assessed the impact of seven public spaces around the world. The resulting report, "Adaptive Public Space: Places for People in the Pandemic and Beyond" [pdf], identified the key ingredients of public spaces that provided immense benefits to communities during the pandemic.
Another example of the Knight Foundation's value in the realm of planning and its allied professions is the "Scaling Civic Tech" project, which offers first-of-its-kind analysis of the emerging "civic tech" landscape—including the investments and organizations driving the field forward. Both an interactive website and a pair of reports—"The Emergence of Civic Tech" (2013) and "Scaling Civic Tech"—are available for more on the Knight Foundation's civic tech work.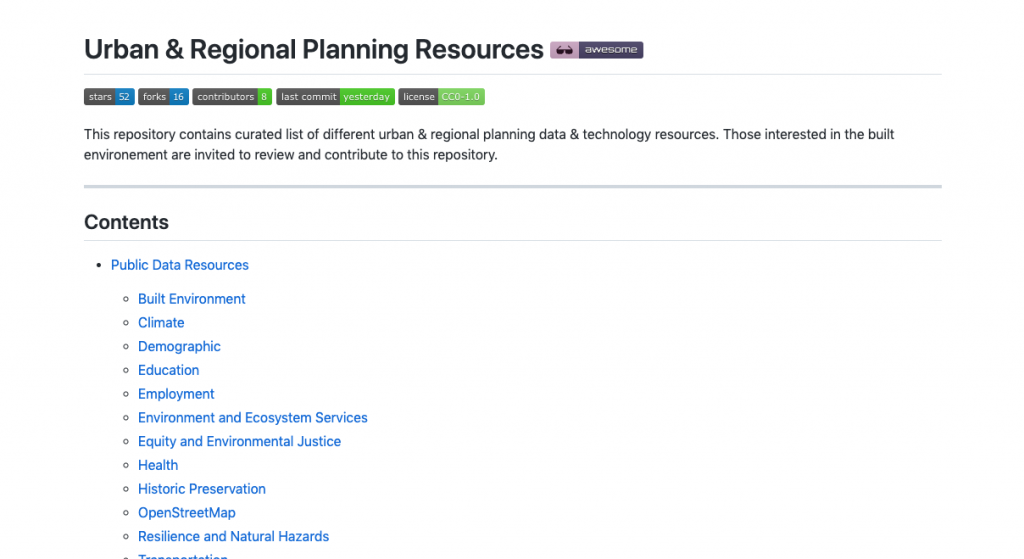 This wide-ranging collection of publicly available data, planning tools, and software is a valuable database for planning professionals and citizens alike from the APA Technology Division, which connects people with an interest in how technology can impact planning and development. From government datasets to mapping software to environmental planning tools and data visualizations, this repository creates a quick reference guide for what data is already out there and the tools that can help you analyze and present it.
The list features a robust set of Python libraries and related resources that can save planners valuable time in building models and analyzing data. Other highlights include transportation data feeds (such as the General Bikeshare Feed Specification), travel behavior tools, and flood risk calculator FloodFactor. 
The repository is hosted on GitHub and is actively seeking more contributors. It also provides links to additional aggregators for planning tools, software, and other resources.
Dashboards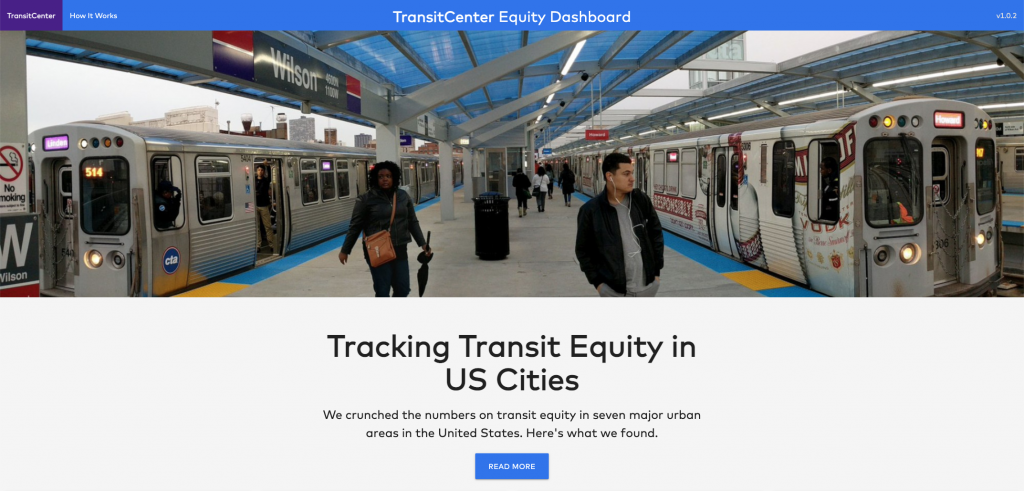 Access to effective, affordable transportation can have a major impact on a person's economic opportunities and access to services, schools, and healthcare. The TransitCenter Equity Dashboard quantifies and tracks transit equity in seven major U.S. cities in an effort to understand gaps in access and measure how transit agencies work to connect marginalized communities to amenities.
The dashboard uses measures including service frequency and intensity, affordability, and proximity for "people of color, people living in poverty, essential workers," and other transit-reliant populations. You can view the data in narrative form or on a map and download the datasets for your own analysis.  By providing a clearer picture of transit equity in several cities over time, this tool helps practitioners track outcomes alongside service changes and gain valuable insight that can inform future planning decisions.
While admittedly incomplete—the project does not include data for all marginalized communities or all aspects of equity—the creators present it as a template for understanding disparities in transit access. The Dashboard is funded by TransitCenter and developed by Sustainable Systems Research, LLC, SF2 Enterprises Inc, University of Vermont, and Klumpentown Consulting.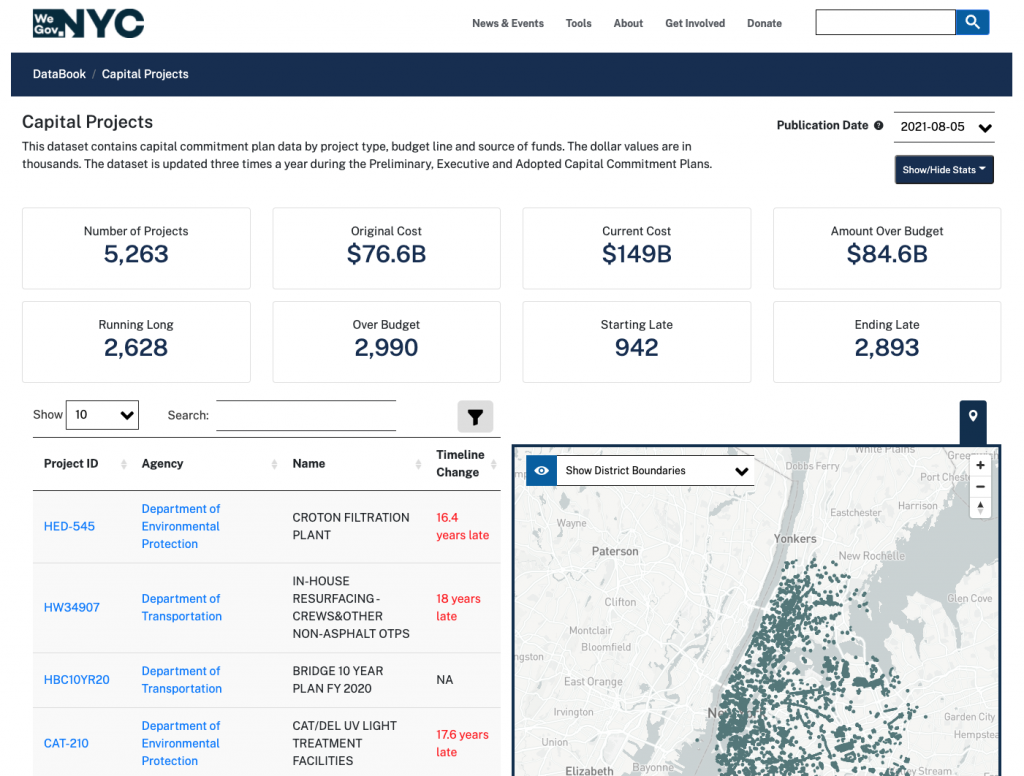 WeGovNYC, a civic technology initiative led by the nonprofit Sarapis, is hosting a pair of projects that harness the power of the Internet to provide oversight of government planning and spending. Together, the Capital Project Directory and City Agency Database provide transparency on the activities of the government in ways the city is either unwilling or incapable of doing.
The Capital Project Directory in particular taps into the issue of runaway infrastructure construction costs—an especially prevalent challenge for New York but also around the rest of the country. WeGovNYC is part of a growing effort to identify and diagnose the causes of the highest construction costs for infrastructure projects in the world (the Eno Center for Transportation and NYU's Marron Institute are among the first to research the issue).  
To create the Capital Project Directory, WeGovNYC "examined available capital project data dating back to 2019 but including projects as far back as 2001, to present an easier picture of the city's infrastructure landscape," according to an article by Samar Khurshid published by the Gotham Gazette in September 2021. The findings of the research are damning: the cost of 5,263 projects with an original estimated total cost of nearly $77 billion has grown to $148.5 billion. "Of the total projects, 2,624 are running past their projected timelines and 2,990 are over budget; 997 are starting late and 2,946 are ending late."
Apps
Think you could do better than your city's traffic engineers? A/B Street gives you the chance to try out your skills with a traffic modeling game aimed at engaging everyday citizens in solving traffic problems. The project uses open data for the city of Seattle to simulate traffic flow conditions, travel time, and other factors and lets the user manipulate road use to visualize the effects of removing parking, reducing lane widths, changing traffic light timing, and more. 
Creator Dustin Carlino argues that residents, as "local experts," know their community best and, if given the right tools, could make valuable contributions to their city's transportation planning decisions. While simplified, A/B Street seeks to provide an entry point for residents to become "active generators of their own urban visions" and aims to provide a starting point for real proposals. The game is focused on simple, fast interventions that can make a difference in the lives of commuters and urban residents in a short time, with many of the actions in the game inspired by tactical urbanism. 
The A/B Street website also features a 15-minute neighborhood explorer and a bike network tool that lets you sketch out routes and test your ideas for filling in gaps and making biking safer. While the project focuses on Seattle, it provides an exciting vision for collaborative, citizen-led transportation planning.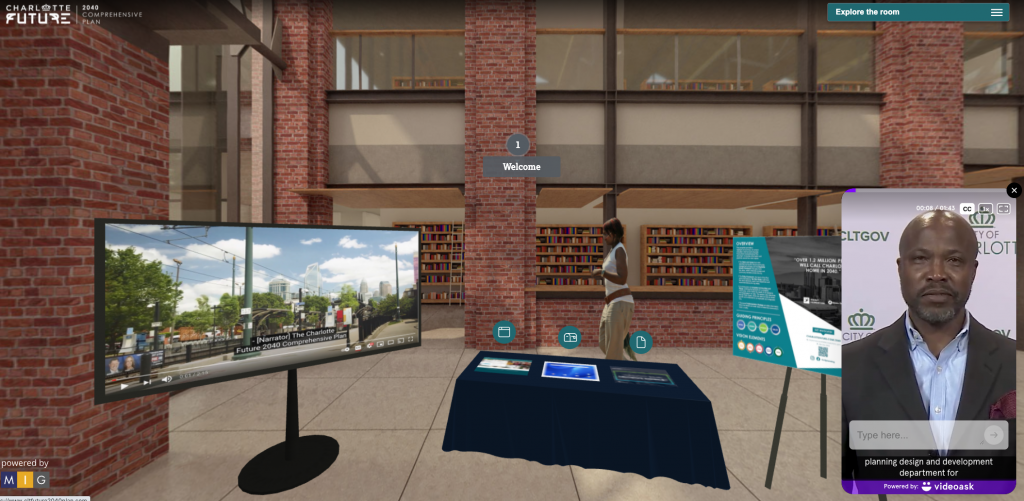 Virtual reality technology had been around for years, providing tours of both proposed and existing projects before the novel coronavirus arrived, but the need for social distancing during stay-at-home orders revealed new purposes for this maturing technology. Anyone who moved homes during the past year-and-a-half knows the value of a virtual tour, for example. Planners have also found new applications for the technology—relying on digital and virtual spaces to continue the work of public engagement. Virtual Open House technology ensured that not all of these pandemic-era public meetings took place in the antiseptic confines of a Zoom meeting.
The virtual open house created for the Charlotte Future 2020 Comprehensive Plan, created by planning and design firm MIG, shows how much can be done in these new digital spaces: here we see a salubrious and accessible digital space with all of the trappings of a conventional open house—the maps, boards, videos, comments, etc. In a digital space, it's easier to sprinkle in extra goodies, like a personalized message from local celebrity and Planning Director Taiwo Jaiyeoba. 
One of the silver linings of the pandemic has been the freedom to move public hearings and community engagement out of City Hall—an infamously exclusionary forum for the purposes of democratic participation (though digital spaces create new kinds of accessibility issues). A Virtual Open House is accessible 24 hours a day and seven days a week, allowing whole new swaths of the public to participate in planning processes and offer their local knowledge, while acknowledging that the powerful interests that have ceded control of these public processes during the pandemic are resisting these changes with litigation. There is a lot of work left to ensure the digital realms and other new engagement processes necessitated by the pandemic don't continue the mistakes of the past.
News 
At a time when media outlets are downsizing, disappearing, or relocating under new corporate banners, Urbanize is expanding to new cities outside of its original home in Los Angeles—to Atlanta, Austin, Chicago, Detroit, and New York—and filling the void in local development and planning news left by the collapse of Curbed as a local and regional resource.
In many ways, Urbanize is beating Curbed at its mid-aughts and early-'10s game: consistently breaking news on the projects and the plans driving the transformation of some of the biggest, most compelling cities in the country. Where Curbed used to fill in a lot of gaps by aggregating news from other sources, Urbanize is consistently providing original writing and scoops for stories that would otherwise have gone unnoticed in today's media landscape. Curbed's former popularity and Urbanize's current expansion are evidence of the critical need for these stories to continue to be told, and the team of bloggers and reporters does these stories justice.
If you live in one of the aformentioned cities, Urbanize provides the invaluable service of documenting the ongoing urban project of transformation and evolution. Even if you live outside these cities, the work of Urbanize can provide an essential understanding of the world. It's hard to offer a more unequivocal recommendation than that.
Social Media 
TikTok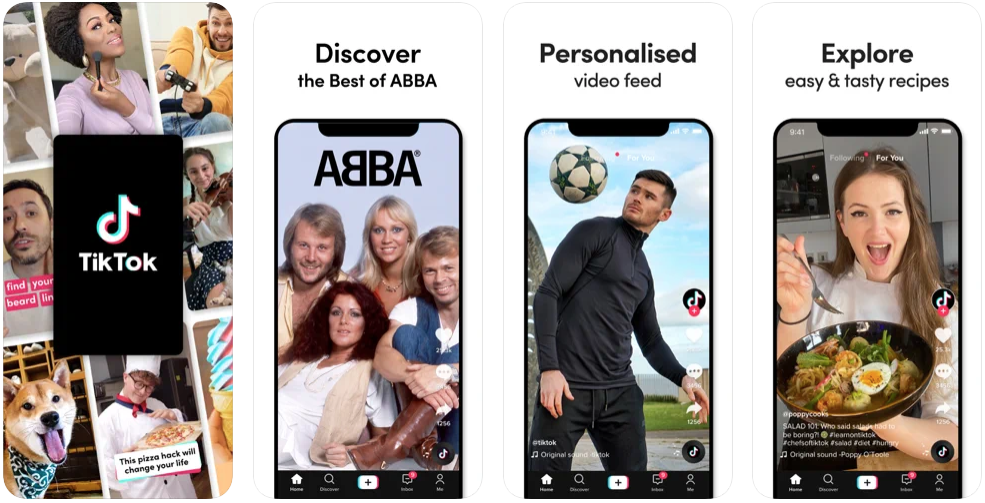 TikTok is technically a mobile app, so look for it again when Planetizen releases its list of 2021 top mobile apps for planners (please take the survey to help that cause), but it's everywhere now. It has transcended the medium. Case in point: TikTok even crossed the planning media's radar with regularity in 2021, earning a begrudging thumbs up from Greater Greater Washington writer Caitlin Rigger in June before surfacing again as a central player in the great 5-over-1 controversy of 2021.
The applications of TikTok for public discussion planning and urbanism are immense and varied—the development typologies, street configurations, and neighborhood assessments currently getting play on TikTok are probably only scratching the surface of the social media platform's potential for novel approaches to planning news and commentary. While some social media platforms have come and gone in the planning profession's consciousness, TikTok is the undeniable champion of the younger generation right now. Tune in or miss out.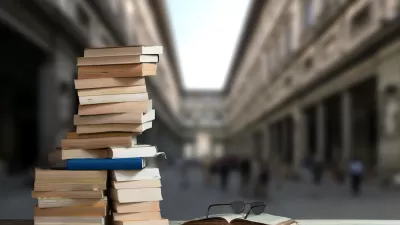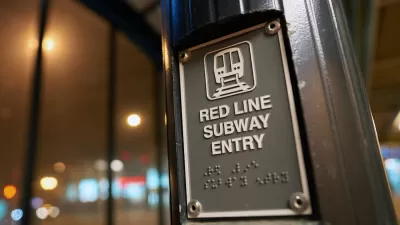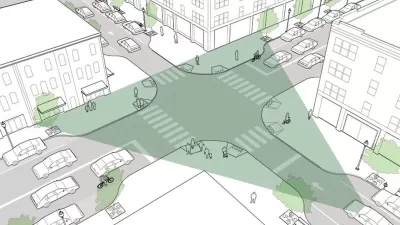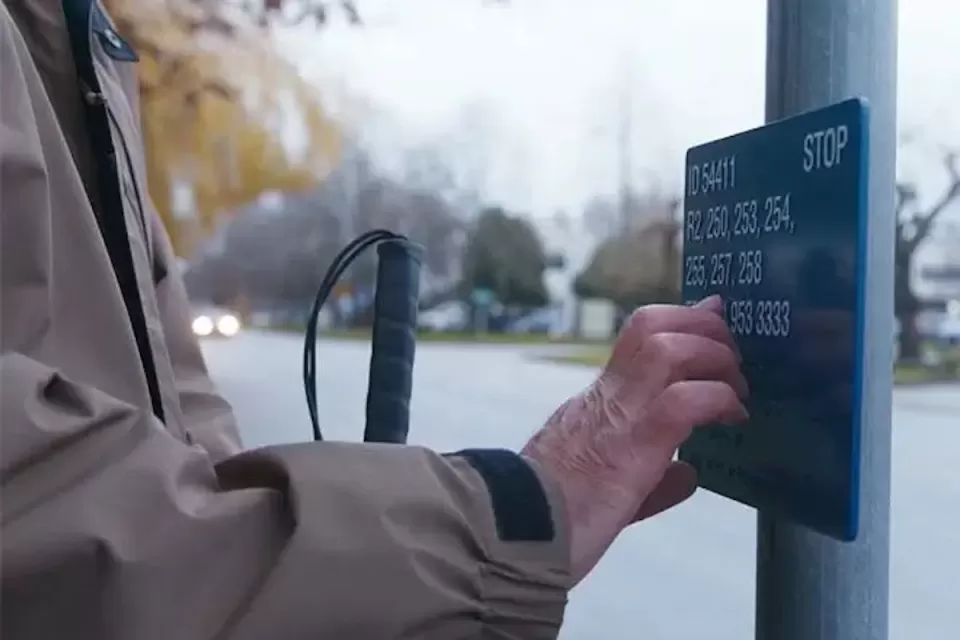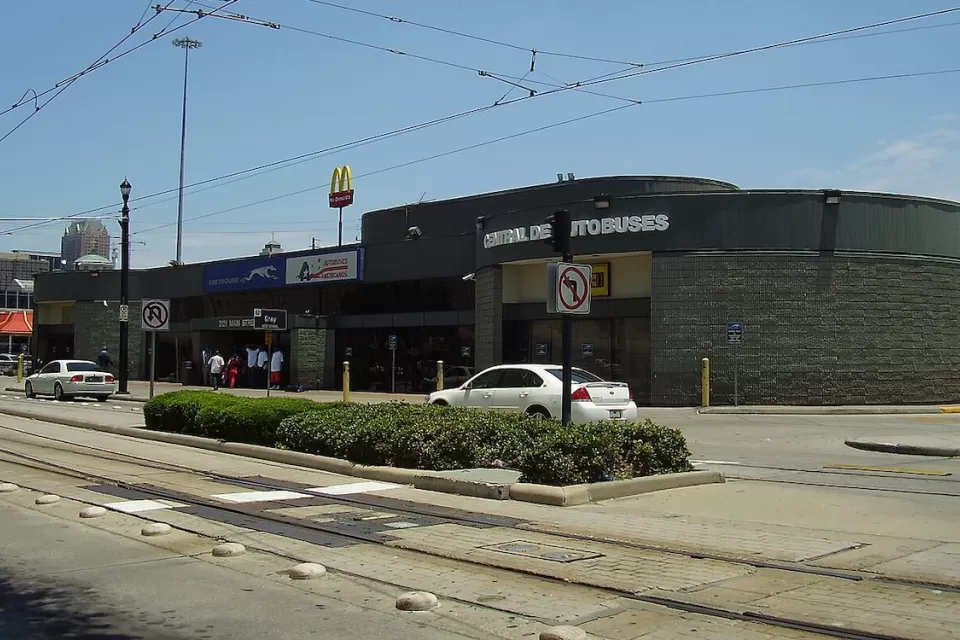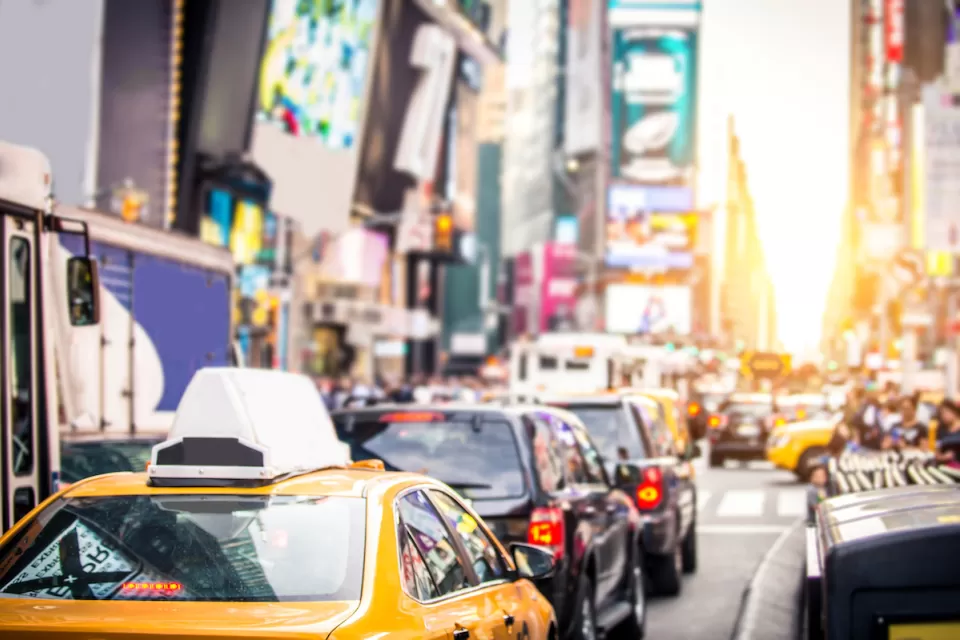 This six-course series explores essential urban design concepts using open source software and equips planners with the tools they need to participate fully in the urban design process.
Learn the tools for implementing Universal Design in planning regulations.
View More