Planopedia
Clear, accessible definitions for common urban planning terms.
---
What Is Smart Growth?
Smart growth describes an approach to planning and development that prioritizes compact built environments, designed for benefits to the economy and the environment.
---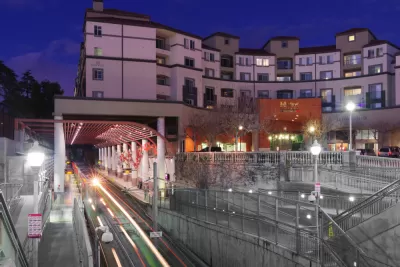 Smart growth is one of the most influential approaches to planning and development in the contemporary United States, gaining popularity in recent years and decades as many Americans have moved to the downtown areas of cities. Smart Growth prioritizes development that ensures increased access to amenities like affordable housing options, a mix of land uses, and independence from automobile transportation. 
The signs of smart growth land use decisions will vary by location, but the smart growth approach is not limited to urban locations. In rural and suburban areas, smart growth can include investments on main streets, for example. In urban areas, smart growth can look take the form of transit oriented development or infill development. In any setting, smart growth will prioritize a mix of housing types and uses, built in compact arrangements (compared to the typical suburban, master planned communities that absorbed most of the growth of the United States since World War II). Smart growth advocates are very clear, in fact, in distinguishing smart growth from sprawl, or the unrestricted expansion of development into the periphery of metropolitan areas. 
An essential component of smart growth focuses on transportation, investing in non-automotive forms of mobility and prioritizing land use decisions that make it easier for residents and workers to move around without a car. Some of that shift away from the car is achieved by making it easier to walk for most daily activities.
Smart growth advocates attribute economic and environmental benefits that focus on the community. In terms of economic benefit, smart growth ensures social advancement: residents benefit from closer proximity to more high-paying, stable jobs and can save money by spending less on the various expenses associated with owning a car. In terms of environmental benefit, compact development reduces carbon emissions and air pollution caused by dispersed land use patterns and automobile travel. By creating more living space in existing cities, smart growth also prevents the expansion of sprawl into biologically sensitive areas. Smart growth is thus considered by advocates as a key conservation strategy.    
Smart growth tends to provoke opposition from advocates for no growth or "Not-in-My-Backyard" (NIMBY) land use and development politics, so the smart growth approach can be controversial and smart growth policies have been advanced with hard fought advocacy and political victories. Based on the continued sprawl of communities and the massive investments of governments in automobile infrastructure, advocates have a lot of work remaining before smart growth becomes the preeminent approach to planning and development in the United States, however.
Institutional Definitions
Smart Growth America, the leading advocacy organization for smart growth, defines smart growth as an "approach to development that encourages a mix of building types and uses, diverse housing and transportation options, development within existing neighborhoods, and robust community engagement." Smart Growth America references the ten principles of smart growth, created in the late 1990s and described further in a 2006 document published by the United States Environmental Protection Agency:
Mix land uses.
Take advantage of compact design.
Create a range of housing opportunities and choices.
Create walkable neighborhoods.
Foster distinctive, attractive communities with a strong sense of place.
Preserve open space, farmland, natural beauty, and critical environmental areas.
Direct development towards existing communities.
Provide a variety of transportation choices.
Make development decisions predictable, fair, and cost effective.
Encourage community and stakeholder collaboration in development decisions.
The American Planning Association (APA), the largest membership organization of professional planners, ratified its support for smart growth in 2002 and again in 2012. The APA defines smart growth as "that which supports choice and opportunity by promoting efficient and sustainable land development, incorporates redevelopment patterns that optimize prior infrastructure investments, and consumes less land that is otherwise available for agriculture, open space, natural systems, and rural lifestyles."
The Congress for the New Urbanism (CNU), one of the most influential planning reform movements of recent decades, is closely associated (and sometimes mistaken for) with smart growth. According to an article published by CNU in 2000, "Smart growth is the policy framework, while New Urbanism provides specific strategies and real-world examples of how to implement that framework."
History and Examples
An article by Kaid Benfield reveals some of the history of the development of the ten smart growth principles listed above. For example, Benfield reports that the word "compact" in the second principle reflected a fear of the document's authors to use the word "density." 
Credit for being the first to legislate the smart growth concept goes to former-Maryland Governor Parris Glendening, who championed "the nation's first state level, incentive-driven smart growth program," according to Smart Growth America. Since then, smart growth has become a common reference in planning documents all over the country (a random assortment of examples includes Miami, Philadelphia, and Escondido). Despite the hard work of advocates, the best intentions of planners, and the support of a growing number of politicians, most of the recent history of development in the United States reflects the same kind of sprawling, automobile-dependent development patterns that smart growth was created to counter. 
More planning terms