The annual list of the best planning, design, and development websites, representing some of the top online resources for news, information, and research on the built environment.
---
The Internet and the field of planning are engaged in a continuously fruitful collaboration.
Every year, Planetizen shares a list of the avant-garde of online tools pertaining to planning, land use, and urban design, and 2016 has proven to be another year of innovation.
The websites collected here represent an ongoing trend toward accessibility and transparency: citizens and governments are gaining new, easy-to-use tools every year. Even after coming so far, the pace of innovation in recent years is only evidence that planning and its related disciplines have only just begun to realize the immense potential of online software to empower citizens and improve decision making.
After collecting nominations from readers and staff, the Planetizen editorial staff selected the "2016 Top Websites" list based on a common set of criteria, including content, design, and usability, choosing ten websites representing a variety of uses and focuses. We've listed the websites alphabetically, not in order of rank.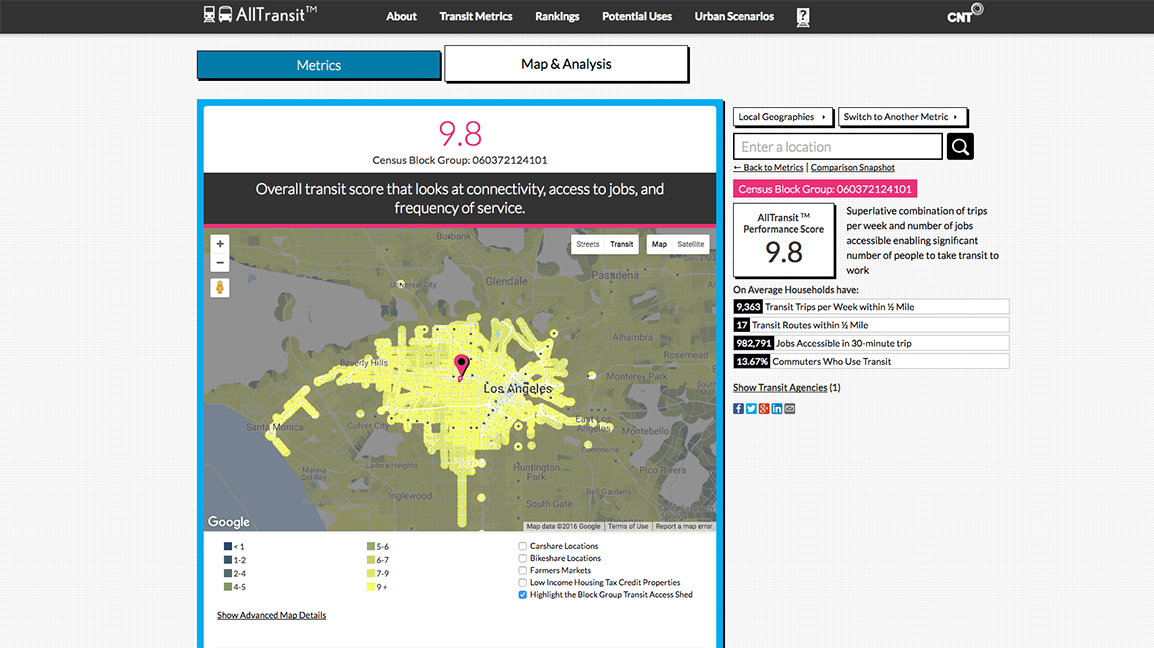 AllTransit touts itself as the largest source of transit connectivity, access, and frequency data in the United States, but the most useful service provided by the site is how it populates and organizes that data into a useable format. Similar to WalkScore and ParkScore, users enter a location and AllTransit provides a score. The Planetizen office, located in Los Angeles above a Metro Purple Line stop and a high frequency rapid bus line, scores a 9.8. AllTransit informs us that our office has access to 9,363 transit trips per week within a half-mile, 17 transit routes within a half-mile, and 982,791 jobs within a half-hour transit trip. The AllTransit interface also produces a map of our transit shed and a "Comparison Snapshot" that shows just how much more transit access is available in our location compared to, for example, the rest of the country (a 3.1 AllTransit score), the rest of Los Angeles (an 8 AllTransit score), and the rest of the jurisdiction of the Southern California Association of Governments (a 5.7 AllTransit score). Thus, AllTransit reveals the details of a well-designed, well-operated transit system.
To say New Yorkers are obsessed with discussing the merits and demerits of the New York MTA subway system would probably be an understatement. So it shouldn't come as a surprise that an online game called Brand New Subway attracted media attention from AM New York, the Daily News, engadget, Wired, and New York magazine, among others. Jason Wright created the game, including real time assessment of the performance of each subway design created by users. Users can start from scratch or from a list of historic precedents: the current system as it exists in 2016, the 2025 planned subway map, the 1972 Vignelli map, and the 1963 Nester's map.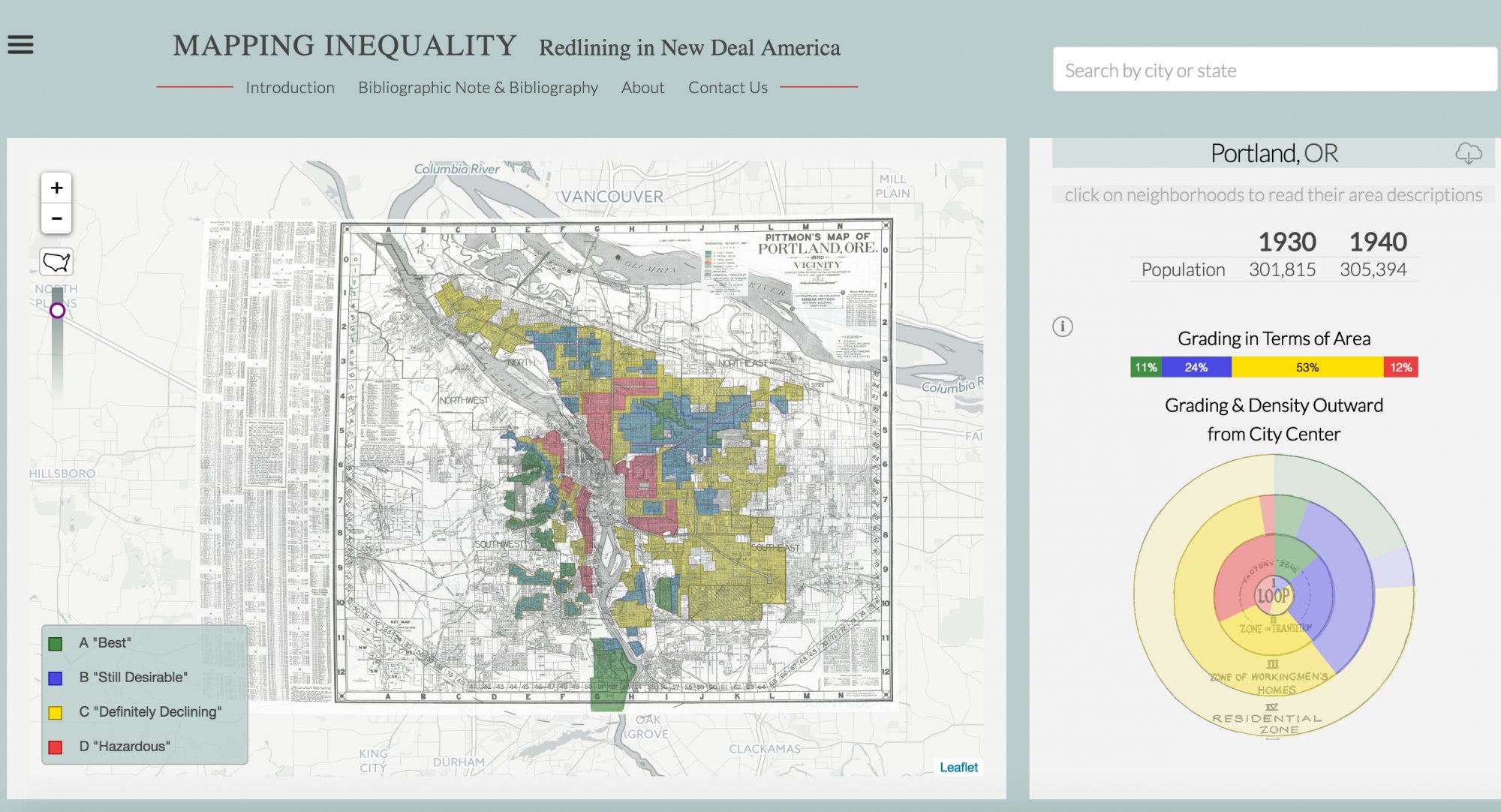 The Digital Scholarship Lab at the University of Richmond has produced a series of incredible online tools to earn this distinction. The Chronicle of Higher Education already recognized the American Panorama project earlier this year as one of nine tech innovators for 2016. The project's most recent release, however, has attracted attention from urbanism and mainstream media alike for its thorough and clear illustration of the racist history of the real estate market in the United States. The Mapping Inequality project layers the security maps and area descriptions produced between 1935 and 1940 by the Home Owners' Loan Corporation (HOLC). Rarely in the history of the Planetizen "Top Websites" list have we seen such an effective portrait of the history of racism and discrimination related to the practice of planning.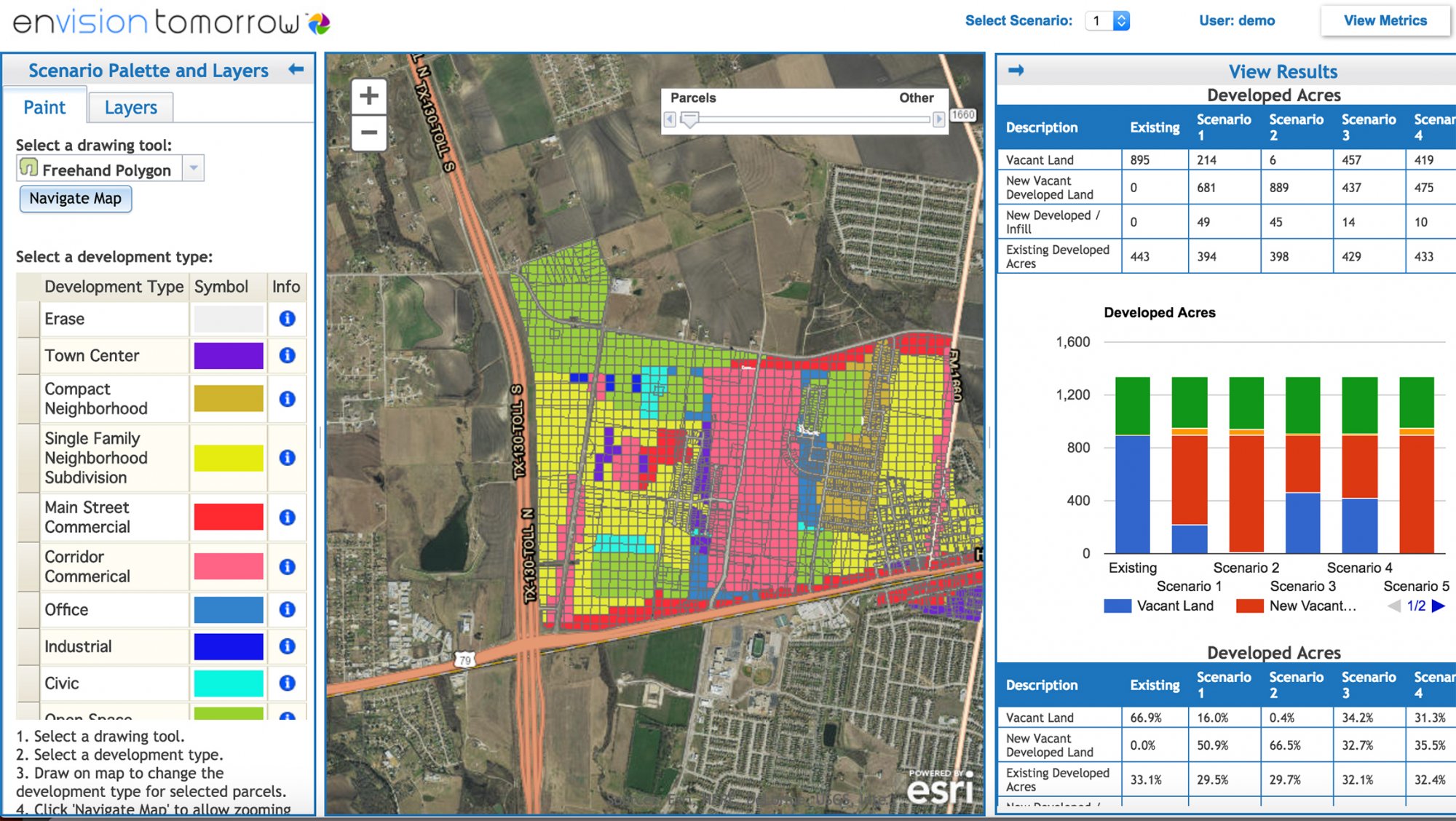 Envision Tomorrow (ET) is an open-access scenario planning package, originally developed by Fregonese Associates of Portland, Oregon. The U.S. Department of Housing and Urban Development recently funded an effort to expand the use of ET to an online platform, so Fregonese Associates worked with the Metropolitan Research Center (MRC) to provide 20 additional analysis tools and scenario indicators. The big idea: to make online scenario planning available to a much larger number of people. The ET website promises that people familiar with Google Maps will have the technical skill necessary to design a planning scenario (so leave the ArcGIS at home). Scenario tools provide a range of measures from public health, fiscal resiliency, and environmental sustainability. It might come as a shock to many people that a single profession is capable of impacting such critical aspects of life. Though the work of ET is incomplete, it is essential to the project of bringing more people into the tent as informed participants in the planning process.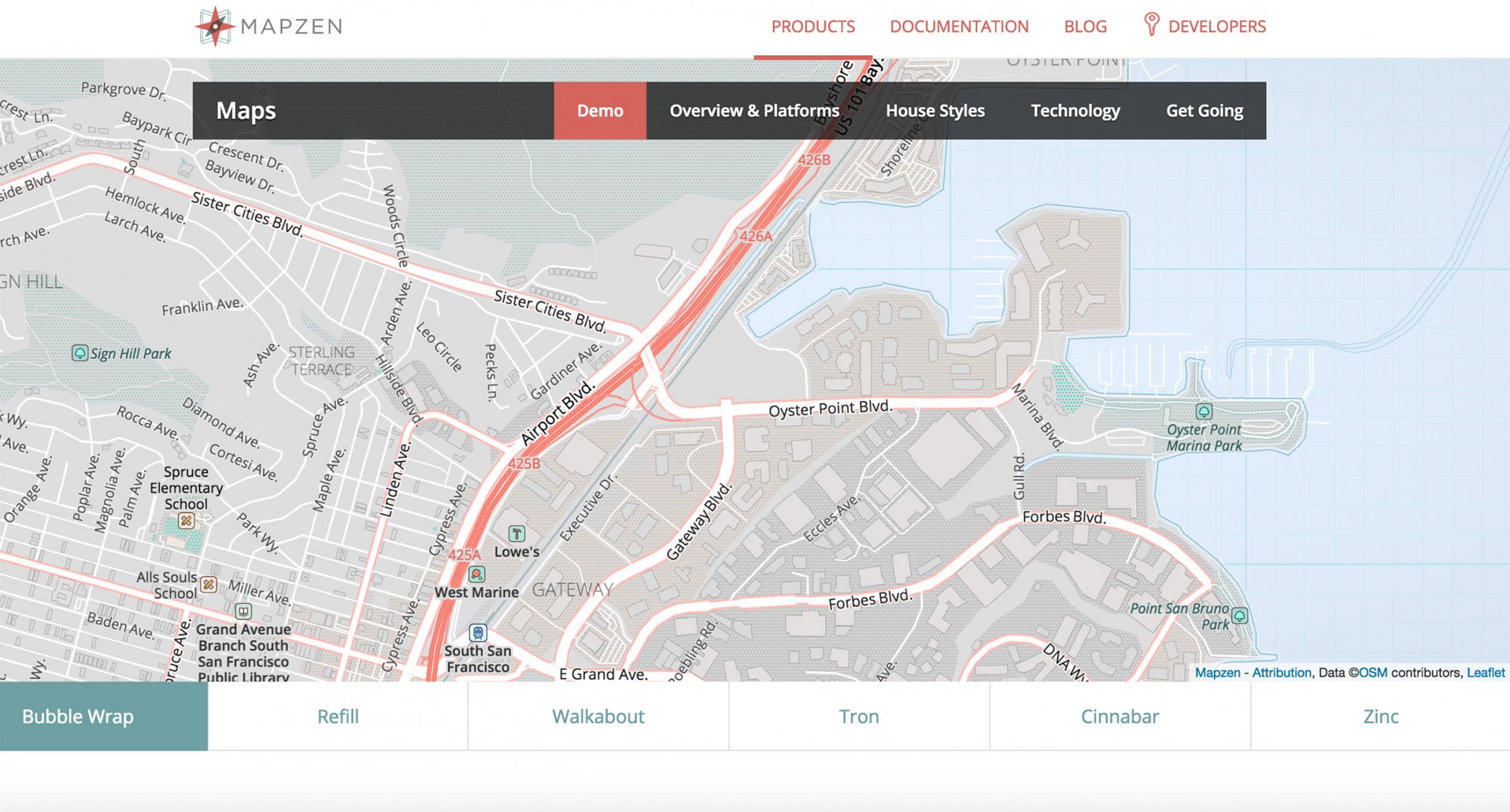 This is a first for the Planetizen Top Websites list: a vector tile service. Put as simply as possible, Mapzen empowers developers and businesses to make unique and snazzy maps. Put more technically, Mapzen provides worldwide coverage of OpenStreetMap base layer data, available in GeoJSON, TopoJSON, and MVT binary format, compatible for display on a number of open technologies, including SVG via D3, OpenLayers, and WebGL. Among the tools offered by Mapzen are a mapping engine, an open-source routing engine, and a geographic search engine. The radical key to the Mapzen ethos, however, is that these mapping tools are open and accessible. This, to borrow a phrase from the Mapzen website, is community-powered cartography.
The New York Times – Multimedia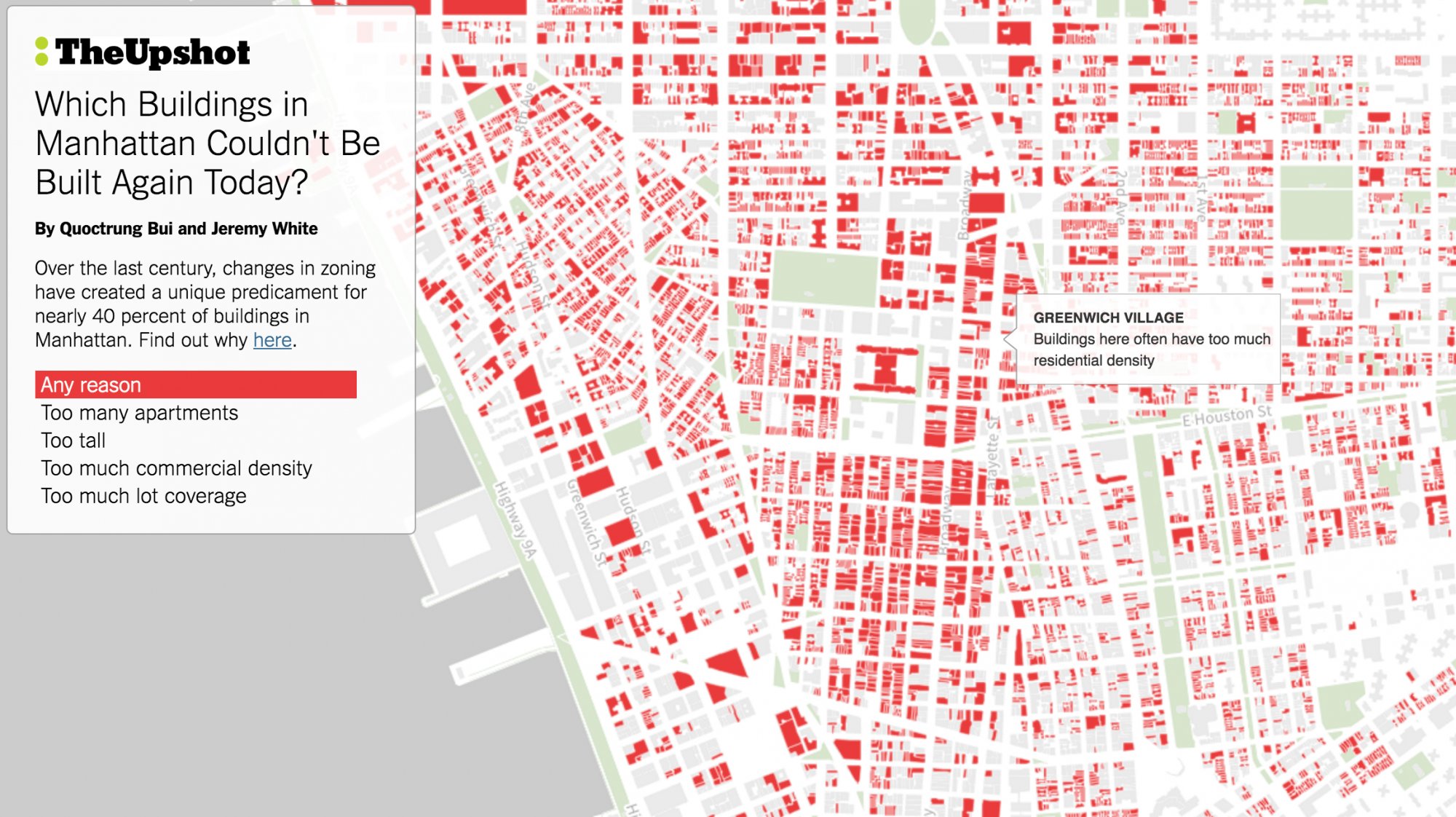 The evolution of the Internet has provided an expanding universe of niche blogs and diverse voices, but that variety has come at great expense to traditional daily news publications. We're happy to recognize the incredible advancements in storytelling made by the New York Times in recent years, despite reduced staffing, ongoing revenue challenges, and the constant flow of new competitors emerging from the contemporary media landscape. For one example of the new multi-media capabilities of the Gray Lady, we submit a widely circulated story about the non-conforming nature of the building stock in New York City, published in May of this year. Some questions are better answered visually, including the question posed by the article: "Which Buildings in Manhattan Couldn't Be Built Again Today?" For an even more varied and thorough example of the multi-media capabilities of the New York Times, see also "10 Years After Katrina," published in August 2015.
Open Data Portals
More and more cities are launching open data portals as a tool for transparency and citizen engagement, making possible citizen science, hacktivism, and websites like those on this list. While the award for "Top Website" goes to all municipalities working to share data online on accessible and user-friendly platforms (like in our home town of Los Angeles), we also acknowledge the role of companies like Socrata, which provides the open data platform for the cities of Austin and San Francisco, in helping making open data platforms a de rigeur asset for government transparency.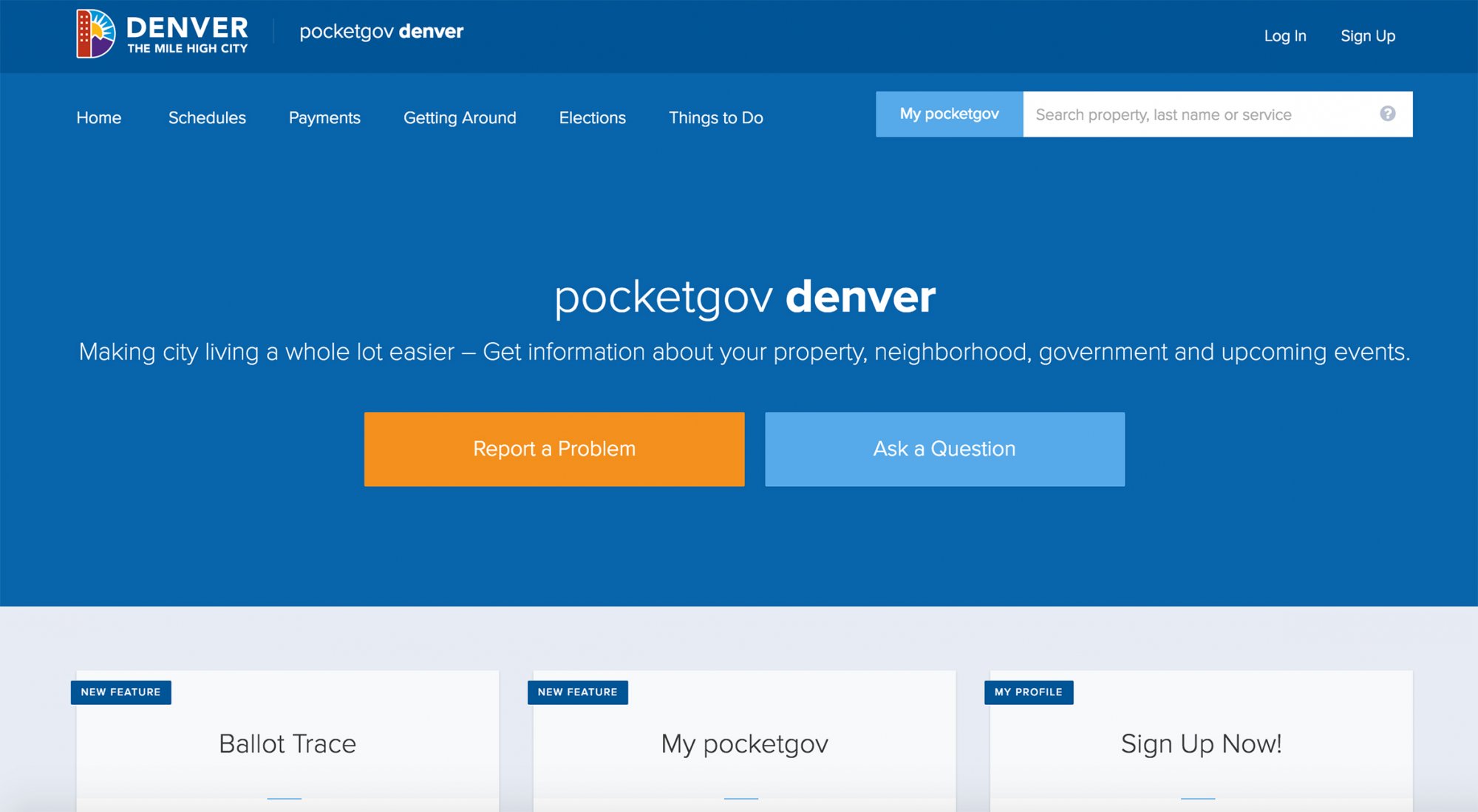 Keeping with the theme of government transparency, pocketgov Denver provides an excellent example of a simplified and streamlined approach to citizen engagement. The pocketgov Denver website is mobile friendly, but doesn't require a visit to the app store to download. The user is offered two simple and expansive prompts at the top of the page: "Report a Problem" and "Ask a Question." What more do we ever want from our municipal government that doesn't fit into one of these baskets? (Maybe some politicians would also like a "Donate" button too, but we digress.) This simple interface, however, provides access to all the resources of the Denver city government. There is a menu at the top of the page like most websites, but one look at its minimal design, and you'll never want to visit the obsolete variety of government website again.
Planetizen acknowledged The Transport Politic as a Top Website in 2010, recognizing the hard work of Yonah Freemark in providing an encyclopedia of information and commentary on the world's transit systems. This year, Freemark has earned his way back onto the list by continuing the same tradition of excellence while also releasing along with a pair of vital new resources. First, Freemark and Streetsblog Chicago editor Steven Vance launched a new Transit Explorer page this year—an interactive map showing all "current, planned, and potential fixed-guideway transit systems" in the United States, Canada, and Mexico. Also new on the site this year is the Transport Data Book, which provides a collection of regularly updated interactive charts and tables with data documenting trends related to travel in the United States. Whether you're an interested citizen, a studious politician, an ambitious planner, or a fact-checking journalist, The Transport Politic is simply the most valuable online asset for transit research.
The Right to Mobility
As we consider how to decarbonize transportation, preserving mobility, especially for lower- and middle-income people, must be a priority.
Early Sharrow Booster: 'I Was Wrong'
The lane marking was meant to raise awareness and instill shared respect among drivers and cyclists. But their inefficiency has led supporters to denounce sharrows, pushing instead for more robust bike infrastructure that truly protects riders.
This six-course series explores essential urban design concepts using open source software and equips planners with the tools they need to participate fully in the urban design process.
Learn the tools for implementing Universal Design in planning regulations.
View More