Our annual list of the 10 best planning, design, and development websites represents some of the top online resources for those interested in planning, design, and development.
---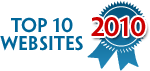 Our annual list of the 10 best planning, design, and development websites represents some of the top online resources for those interested in planning, design, and development.
We've listed the websites alphabetically, with host organization listed in italics if different from the website name. This list is based on nominations by Planetizen readers and staff, and judged against a common set of criteria, including content, design, and usability.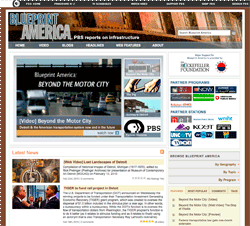 Blueprint America
www.pbs.org/wnet/blueprintamerica/
With Netflix streaming movies and shows migrating to Hulu, time in front of the TV set is becoming increasingly scarce. Meanwhile, PBS and NPR have become more relevant than ever, cranking out high-quality documentaries that are timely and topical, and yes, often online. Blueprint America is a PBS series on dedicated to that least sexy of topics, infrastructure. The "Beyond the Motor City" episode goes deeper than most reporting into Detroit's woes, and is supplemented on the website by additional interviews and slideshows. e2 is a sexier PBS series, but with episodes tackling high speed rail, gas taxes, and the stimulus package, Blueprint America is a more realistic look at the nuts and bolts issues facing the U.S.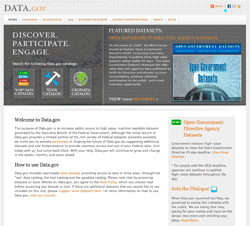 Data.gov
The locked doors of the government are now open. This site contains three separate catalogs of data and data-based tools for government information: the raw data catalog, which includes a variety of data streams and file formats, the online tool catalog of compiled searches and resources, and the geodata catalog of geography-based data streams. Data.gov is part of the federal government's Open Government Directive, this website is a clearinghouse for federal public information. It's also a major part of the government's effort to become more accessible and transparent. As the potential of open data and open government evolve, this site is likely to play a major role in the way government information is shared.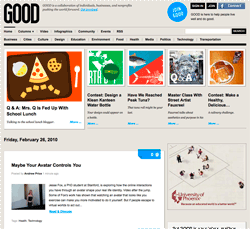 GOOD
Like its name implies, GOOD is a magazine focused on the good things in life. Not luxuries so much, but more along the lines of good ideas. It's a quarterly print magazine that has developed into a vibrant online publication. The magazine was founded in 2006, but over the course of the last year it has taken on a strong city focus in its editorial work. With innovative and well-designed infographics, and a raft of columns and articles on design, neighborhoods and cities, GOOD is developing into an accessible and lay-person friendly discussion of the best ideas in citymaking and community improvement. Good indeed.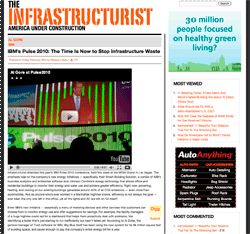 The Infrastructurist
The Infrastructurist is possibly the most comprehensive and focused resource for infrastructure-related news in the United States. But the story doesn't stop at the border. This well-informed and mainly objective website covers the range of infrastructure issues being faced all over the globe -- from high speed rail to highway sprawl to renewable energy. As global cities lean away from the private automobile and towards public transit systems, The Infrastructurist's editorial purview is wonkiness that's right on time.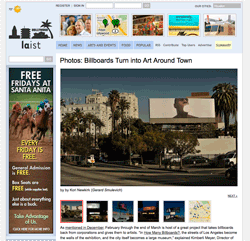 The "Ists"
www.gothamist.com/
www.laist.com/
http://dcist.com/
During the internet boom, a lot of companies were seeking to create the go-to source for local and "hyper-local" news. After all, with newspapers dying and taking far too long to get a real web presence, there was a real void for local coverage. A number of challengers stood up, but the "Ist" network pulled it off with style. And, amazingly, they've kept up the promise of internet news with timely coverage of local government issues, including the goings-on at the planning department and city hall. LAist, for one, has done a great job of reporting the ongoing fiascos at the planning department over the plague of digital billboards. Granted, among the city reportage are band listings, random Flickr photos, and rumors, but the Ists regularly bring breaking local news that leave local newspapers in the dust.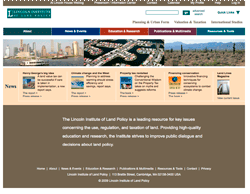 Lincoln Institute of Land Policy
The Lincoln Institute of Land Policy is an international research organization that focuses on issues of land use, regulation and taxation. They also happen to have a highly useful website that is thick with resources and tools, including a database with everything you'd ever need to know about the property tax; a collection of 'visual tools' to communicate planning concepts; and a collection of 700 case studies of colleges and universities and how they integrate into urban neighborhoods. While not the sexiest of websites in terms of design, there's a wealth of interesting research for land use professionals.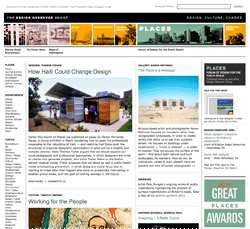 Places
Places is the new online home of Places Journal, the interdisciplinary journal of contemporary architecture, landscape and urbanism. Published since 1983, Places has played a vibrant and active role in the urban discourse, and its new online form broadens that conversation. Featuring commentaries, academic essays, and archives dating back to issue one, Places offers a valuable new home for thoughtful discussion and analysis of urbanism and place.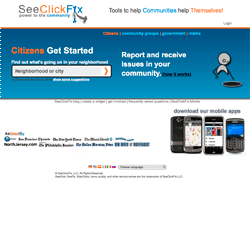 SeeClickFix
Harnessing the power of the crowd, SeeClickFix is an easy-to-use web interface that allows citizens to identify and report problems in their communities -- and track their progress (or lack thereof). With search capabilities, mapping tools and problem trackers, concerned citizens can keep tabs on the civic problems in their communities and make sure their local officials do, too. SeeClickFix is one of the most promising tools to enhance public participation in government.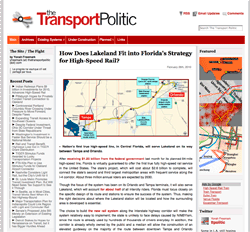 The Transport Politic
There are a lot of blogs and sites out there covering transit and transportation issues, but Yonah Freemark has created a newspage that is a cut above the fray. The front page features detailed reportage on the world's transit systems, with insightful commentary. But deeper in, the site is an encyclopedia of existing, under construction and planned transit systems. Freemark is an independent researcher based in France who somehow manages to seem like he is everyplace at once.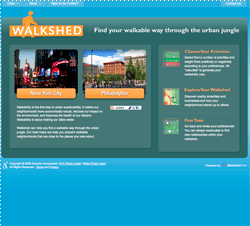 Walkshed
Walkshed is the brainchild of software developer Aaron Ogle. it takes the Walkscore concept and puts the controls in your hands. For example, if you hate to cook and groceries and farmer's markets mean nothing to you but restaurants and coffee shops are essential, then you can weight those factors more heavily. Walkshed generates a heatmap over your area to show you the areas of your city that cater most to your particular needs. So far Ogle has only covered New York and Philadelphia, but the model looks highly promising and is easy to use.
Honorable Mentions
---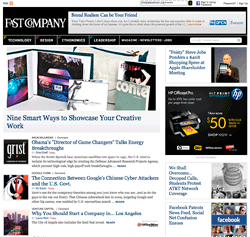 Fast Company
Fast Company has evolved over the years from a internet-boom, business culture magazine into a force to be reckoned with. It's difficult to pin down their beat- their category headers include "ethonomics" (uh, what?), design and leadership. But whatever they're covering, Fast Company reads like a less Red Bull-fueled version of Wired, and that's a good thing. And now with the advent of a new expert blog specifically geared towards cities written by Greg Lindsay, the website is richer than ever.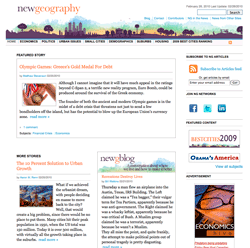 New Geography
It was inevitable that certain voices that reject the current belief system of urban planning- people like Wendell Cox, Joel Kotkin, and Michael Lind- would band together. What wasn't inevitable is that their collaboration would be readable, fair, and dare we say, balanced. With a bent towards the libertarian, Kotkin and crew cover urban issues, housing, politics and the suburbs with a hefty dose of demographics and GIS maps.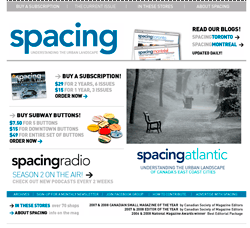 Spacing
Canadian planning -- for those south of the border -- is often equated with Vancouver. But there's a whole lot more going on up in the Great White North. The magazine Spacing is the authority on Canadian urbanism and public space. Its two online homes Spacing Toronto and Spacing Montreal track the urban development and public sphere of those two Canadian cities, offering a detailed look at Canada-specific politics, land use issues, green development and urbanism that opens the Canadian conversation beyond B.C.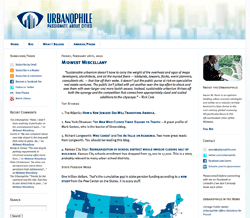 Urbanophile
Smartly-written and approachable, the Urbanophile is a trove of urban solutions. Written by Aaron Renn, the site focuses on urban improvement strategies, with a mainly Midwest bent. With a global recession and continued problems in the former industrial areas of the United States, the fresh ideas and innovative suggestions outlined almost daily in the Urbanophile offer a cogent and achievable sense of hope for the urban areas of the world.