Our annual list of the 10 best planning, design, and development websites represents some of the top online resources for those interested in planning, design, and development.
---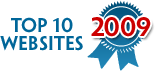 Our annual list of the 10 best planning, design, and development websites represents some of the top online resources for those interested in planning, design, and development.
We've listed the websites alphabetically, with host organization listed in italics if different from the website name. This list is based on nominations by Planetizen readers and staff, and judged against a common set of criteria, including content, design, and usability.
Please post your comment on this list below, or contact us if you have nominations for next year's list.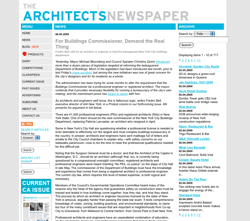 Architect's Newspaper
A clean and informative site covering the latest projects, developments and trends in the architecture world. Published since 2003 and now offering a California edition, the Architect's Newspaper has joined the ranks of essential news sources for architects and those concerned about design and development issues. Archives are available dating back to the first issue, and the site recently branched out into the blogosphere, with near-daily postings since September 2008. A useful resource for planners seeking to understand more about architecture from an insider's perspective.
Arounder
Arounder takes those virtual walkthroughs you see on real estate sites to another level, creating 360-degree, full screen panoramas of locations around the world. The current application is primarily travel- enticing you to picture yourself on the shores of Waikiki, or in Parma's Teatro Farnese. But the ability of Arounder to create an enveloping sense of place could serve many planning applications in the not too distant future.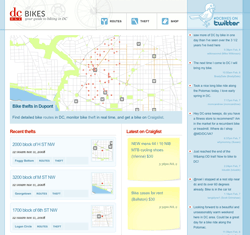 dc BIKES
Real-time thefts, routes, and Craigslist ads are at the disposal of all Washington, D.C. cyclists thanks to this completely open-source app. Originally created as an entry in the appsfordeomcracy.org competition to make the area more bicycle friendly, the site also relies on members of its community to contribute pointers, sightings, and observations via Twitter, which will also show up on the site immediately.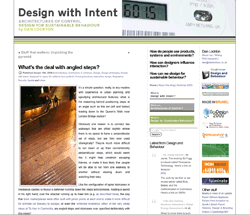 Design With Intent
http://architectures.danlockton.co.uk/
Dan Lockton is a researcher and engineer who is interested in human behavior, how people interact with designed objects and spaces. In particular, he's looking for ways to encourage sustainable behavior through design. Lockton's keen eye trains on everything from the oddity of angled stairwells to GPS-aided car repossession. If you're interested in incisive observations about environmental behavior and design, Design With Intent is an excellent resource.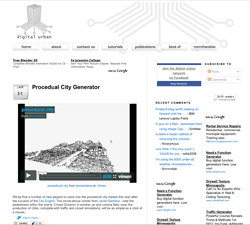 Digital Urban
This blog offers an in-depth and advanced examination of the technologies and advancements in the field of city visualization. Focusing on digital media as an avenue for documenting city change and development, Digital Urban is keeping the pulse of a rapidly advancing segment of the study of cities. Written by Dr. Andrew Hudson-Smith of the Centre for Advanced Spatial Analysis at University College London, this blog is the most up-to-date look at the process of mapping, visualizing, and engaging with physical spaces in the digital world.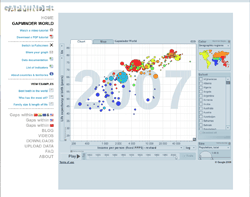 Gapminder World
The founders of the Gapminder Foundation like to call the group a "fact tank". Their goal is to take social, economic and environmental development statistics from around the world and make them readily accessible. They've achieved that goal in spades -- the statistical interface is a wonder of simplicity, and expands the ability of people everywhere to make sense of their world. You can run data comparisons in such varied arrangements as CO2 emissions per person to forest area in square kilometers, or income per person to life expectancy. After setting up the variables, you can press 'play' and watch them interact with each other over time.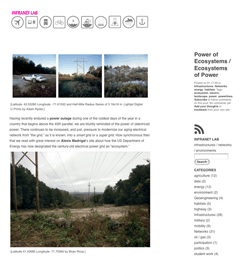 Infranet Lab
An intense and directed blog focusing on the physical manifestations of controlling resources. It's a fresh look at the impacts of modern world's infrastructural needs and the intertwined networks between urbanism, architecture and landscape that result. With archives dating back to April 2008, InfraNet Lab offers a crash course in innovative ideas that reframe the infrastructure conversation around the impacts of human resource dependence and, ultimately, methods for making improvements. An insightful and inciting read for anyone feeling underwhelmed by the status quo of modern-day infrastructure.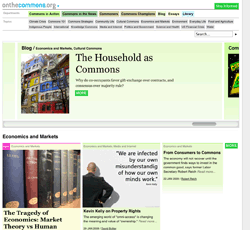 On The Commons
On The Commons has taken a handful of seemingly unrelated news topics- including copyright law, scientific research, and community life- and revealed a heretofore-underappreciated connection: the common good, and all that idea entails. As they explain it, The Commons are "the things that we inherit and create jointly, and that will (hopefully) last for generations to come." Seeing articles like Who Owns the Public View? about the billboard industry's attempt to protect billboard views by chopping down neighboring trees juxtaposed with articles like Can the Law Be Copyrighted?, Carl Malamud's argument that law should be public domain, opens up new ways of thinking about human rights and the public good.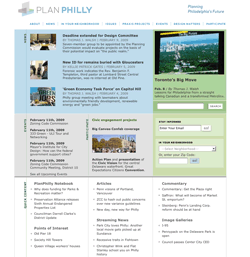 Plan Philly
Streaming news, images, and commentary partially comprise Plan Philly, a project of PennPraxis, the non-profit "clinical" arm of the University of Pennsylvania School of Design. One needn't be from Philadelphia to check out Praxis Projects for detailed looks at the group's current projects, or mosey over from one neighborhood to the next with Google maps. But because the site is an attempt to engage Philadelphians about their city's future, participation is also emphasized--all citizen journalists are welcome to contribute.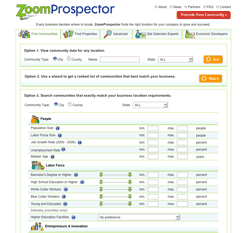 Zoom Prospector
Designed by planners, this tool enables users to look up data for any community based on a number of demographic criteria. Because the site gathers data from multiple sources, including those at the local level, ZoomProspector is able to boast more detailed, informative searches. Although intended for companies looking to expand to new properties, ZoomProspector is just as fun to tinker with, offering a new way to explore communities.