---
Welcome to the first annual list of the 50 best planning and development websites. We've listed the websites alphabetically in nine general categories. This list is based on nominations by PLANetizen readers and judged against a common set of criteria. Let us know what you think.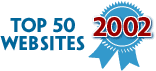 Print This List
Print out a convenient printer-friendly PDF version of PLANetizen's list of Top 50 Websites. Pin it on your office bulletin board, hand it out at staff meetings, or make copies for students in your class. [PDF viewer required.]

Bookmark This Page
Don't forget to bookmark this page! For most web browsers, pressing the CONTROL and D keys together will bookmark this page.

Reprint This List In Your Publication
Contact us at [email protected] for permission to reprint this list in your print publication.

Press Release
Read the press release announcing this list.
Directories
Professional and Industry Associations
Publications
Research and Data
Government
Special Focus
Regional/Local Sites
International Sites
Outside The Box
Special thanks to all the PLANetizen readers that sent in nominations and feedback!