Transit agencies from Washington to Florida are beginning to make the switch from diesel and natural gas-powered buses to battery electric buses, some faster than others.
---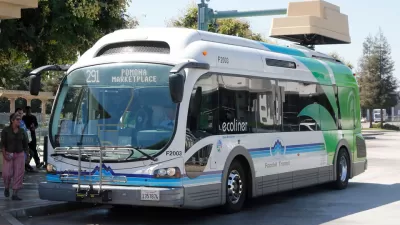 Foothill Transit, serving the communities of the Pomona and San Gabriel Valleys in Southern California, "has committed to fully electrify its bus fleet, replacing all 361 buses in its fleet with zero emission buses by 2030," writes Gina Coplon-Newfield, Director of Sierra Club's Electric Vehicles Initiative [pdf] and Huffington Post contributor. It is one of many transit agencies either making the transition to, or still experimenting with, battery-electric buses.
St. Louis is also testing electric vehicles, "but that doesn't mean the city's residents should expect a massive rollout of the buses anytime soon," notes Planetizen editor James Brasuell in an April post that details the cost differences between electric and diesel buses.
Los Angeles  
Los Angeles County Metropolitan Transportation Authority (L.A. Metro) has plans to completely electrify the bus rapid transit Orange Line in the San Fernando Valley by 2020 using "new zero emission battery-electric powered buses (known as ZEBs)," reported Steve Hymon for The Source (Metro's blog) in January.
Los Angeles Mayor and Metro "Board Vice Chair Eric Garcetti said that another benefit of going electric would be to eliminate noise pollution — buses powered by compressed natural gas (CNG)," reported Hymon last October on the board motion and discussion.
Metro's bus fleet that the agency directly operates is entirely powered by CNG...The big caveat is that a funding source will need to be found to purchase the electric buses.
More articles on the movement in Metro toward ZEBs by Steve Hymon here.
Seattle
Electric buses have been operating in the Emerald City since 1940. Known as trolleybuses, Seattle is one of five cities (along with Boston/Cambridge, Dayton, Philadelphia, and San Francisco) still operating the buses that receive their power from overhead catenary wire, similar to electric light rail. King County Metro Transit continues to upgrade its trolley bus fleet (see video) while replacing diesel-electric hybrid buses with ZEBs.
Seattle trolleybus system
In January, in what was the largest electric bus order in North America, King County Executive Dow Constantine announced that King County Metro Transit will acquire 120 all-electric battery buses by 2020.
As part of this commitment, Metro will purchase up to 73 battery buses from Burlingame, Calif.-based Proterra. The first 20 are scheduled to go into service this year and 2019. 

The 40-foot battery buses have an estimated range of about 25 miles, with a quick charging time of just 10 minutes. [The 42' bus in St. Louis, also manufactured by Proterra, has a range of 250 miles].
Metro will also "acquire up to nine long-range electric buses from different manufacturers to test the battery technology with a range of about 140 miles."
Metro is challenging the industry to produce buses that can travel farther. Metro also is calling on the industry to develop 60-foot long buses, better able to replace the articulated buses that make up 55 percent of its fleet.
New York
Not all transit agencies are moving as rapidly toward embracing ZEBs like L.A. Metro and King County Metro.
"Recently, New York Governor Cuomo and the New York City transit agency, MTA, announced a three year pilot program to test a mere 10 electric buses," reports the Sierra Club's Coplon-Newfield.
For the largest transit agency in the United States with more than 5,800 buses, 10 buses is barely a drop in the bucket, and three years is way too long for a pilot, especially given that MTA has run previous electric bus pilot programs
Coplon-Newfield lists other transit agencies procuring electric buses, at various rates:
Antelope Valley Transit Authority, serving the cities of Palmdale, Lancaster and Northern Los Angeles County, reached the halfway point last year in its goal to electrify its fleet.
"

Philadelphia recently

announced 

it will add at least 25 new electric buses

 to its transit fleet," the most of any Northeast transit agency.

"Miami-Dade County, Florida

has put out a request for proposals to bus manufacturers for 33-75 electric buses."
And the Portland region just announced that its commitment to "100 percent renewables includes transportation."
FULL STORY: No More Small Pilots: It's Time to Rapidly Increase Electric Transit Buses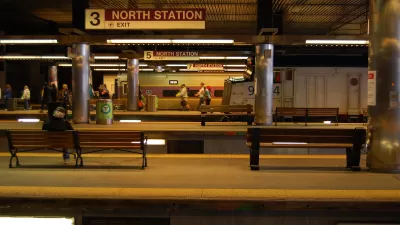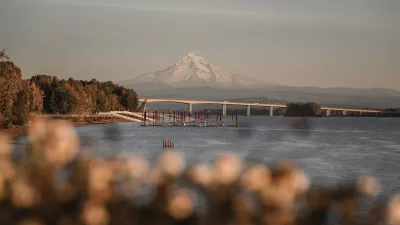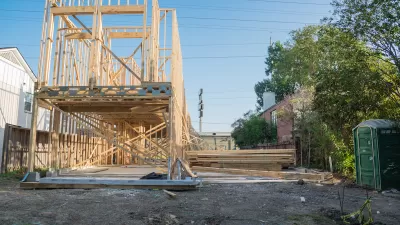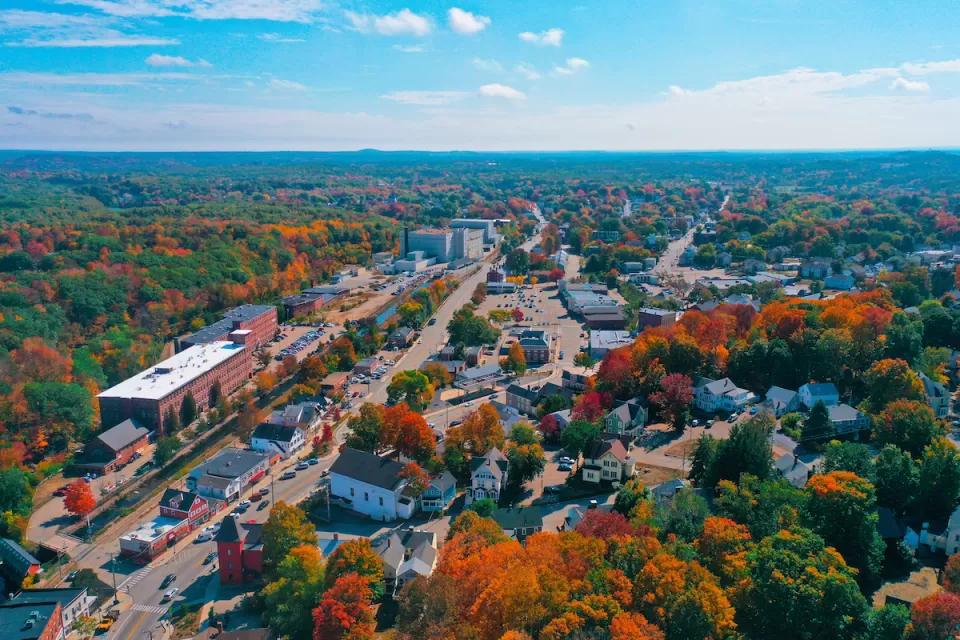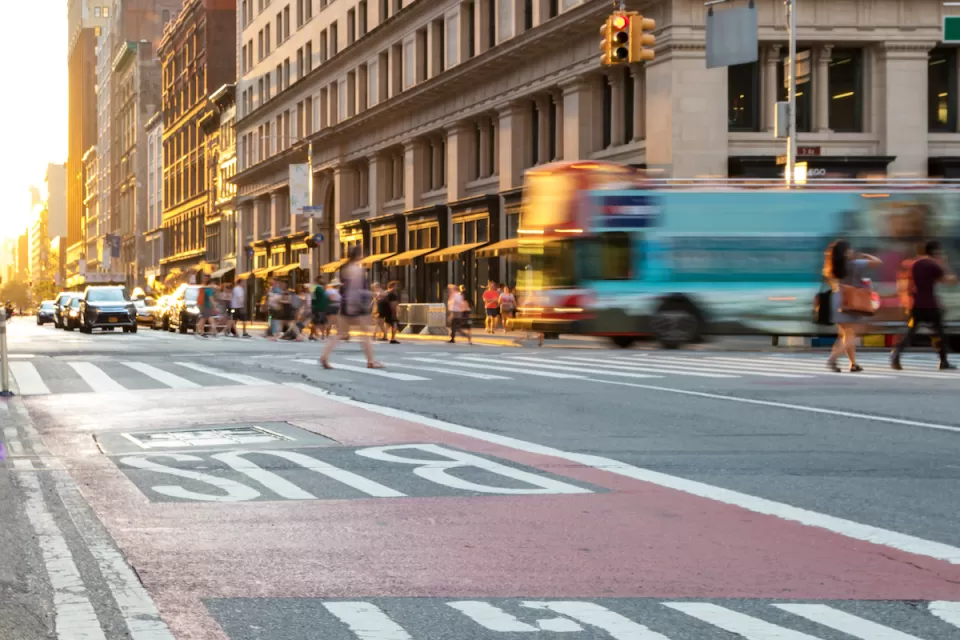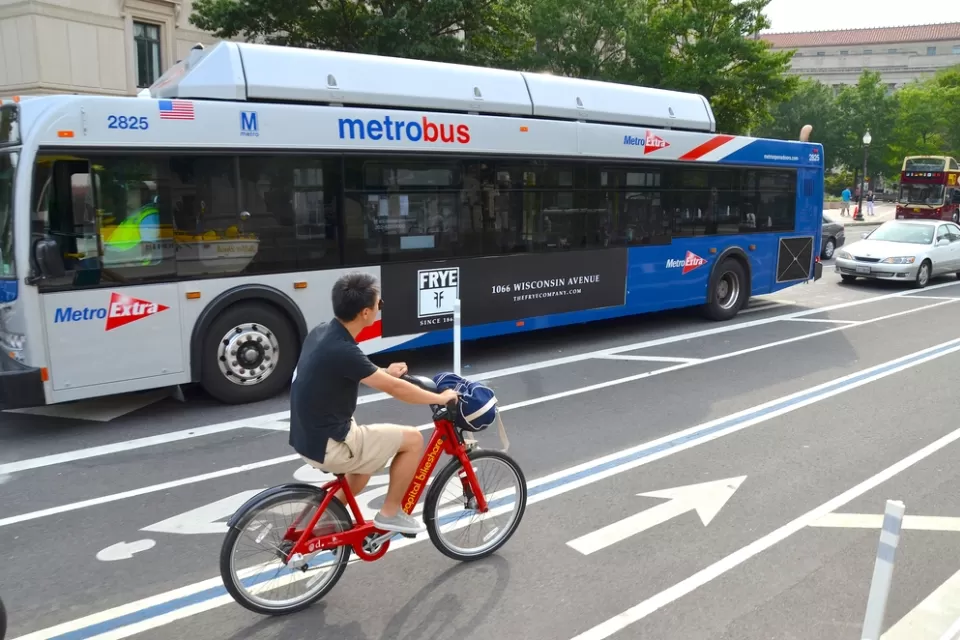 Opinion: How to Save D.C. Transit
Ridership data shows that many D.C. transit users depend on the service, despite a drop in ridership. The system needs changes—and funding—to have a future.
This six-course series explores essential urban design concepts using open source software and equips planners with the tools they need to participate fully in the urban design process.
Learn the tools for implementing Universal Design in planning regulations.
View More