The Internet is a trove of great ideas about improving cities. Filling blogs and personal websites, the vast majority of ideas out there are little more than that: ideas. New York City's Streetsblog -- now a growing nationwide force -- is transforming the conversation into action.
---
By now you have probably heard the buzz about New York City's Department of Transportation Commissioner, Janette Sadik-Khan- a "guerilla bureaucrat" who is consistently credited with redefining the "T" in DOT. Yet, Gotham's real quest for livable streets is happening from the bottom up, not the top down-more like Jane Jacobs v.2.0 than Robert Moses.
At the center of the city's livable streets movement is a little known non-profit comprised of Gen X and Y tech geeks, educators, artists, and journalist-urban activists who leverage open web technology to network catalytic change in the 21st century city. They call themselves The Open Planning Project (TOPP), and their signature communication tool-the one gaining acclaim and potentially coming to a city near you-is Streetsblog.
Mark Gorton is a technology and finance entrepreneur who founded TOPP in 1999. The organization, he says, "began with a mission to mesh open web technology with civic engagement." Like any successful entrepreneur, Gorton sees great opportunity where others see none. But unlike most entrepreneurs-and DOTs in America- Gorton believes a street's true potential is not related to how many automobiles it can move during peak traffic. Instead, he believes streets can be great places that also safely "protect the city's most vulnerable people-pedestrians, bicyclists, children and the elderly." Gorton reminds us that New York City's "vulnerable" far outnumber automobiles, yet for more than half a century the city's surface transportation policy ignored its majority.
In response, TOPP has conceived a number of tools that empower citizens to contribute to local and national urban policy reform-transportation especially. Streetsblog, however, is a relatively new addition to TOPP's web-based advocacy work.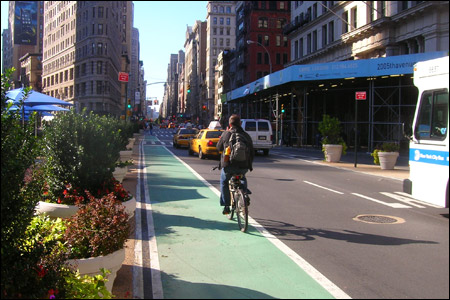 Aaron Naparstek, editor-in-chief and the web site's co-founder, defines Streetsblog as "advocacy journalism connecting sustainable transportation, smart growth, and environmental issues to policy reform initiatives." Using daily blog postings and videos to educate and connect readers, as well as to incite action, Streetsblog has effectively taken a rather ethereal tool-the internet-and helped create physical change in the built environment.
Naparstek, a journalist by trade and activist by circumstance, began his quest for more livable streets by raising awareness about the incessant traffic jams- and the inevitable honking that ensued- outside his Brooklyn apartment window. A clever writer, he started posting poems- or Honkus as he dubbed them- on neighborhood lampposts. Each one provided witty commentary on the neighborhood's traffic-clogged streets. His neighbors took notice and began to write their own. Before long they forced the DOT to change the light times so traffic flowed more smoothly, and safely.
As all activists know, one battle leads to another. By 2005 Naparstek began the initial Streetsblog effort as a way to "to organize, track, and advocate for transportation reform as people of various political stripes were coming together to push congestion pricing in Manhattan." Naparstek, who began running in the same advocacy circles as Gorton, thought the blog might be something TOPP would be interested in funding. He was right.
To raise awareness further and capitalize on the city's highly publicized battle for congestion pricing, TOPP teamed up with The Project for Public Spaces and Transportation Alternatives- New York City's other livable city stalwarts- in an ongoing campaign called the New York City Streets Renaissance, which seeks to "educate New Yorkers about potential transportation policy changes that will improve quality of life across New York City."
Today, Gorton and Naparstek credit TOPP's multiple efforts, and especially Streetsblog, with helping to reform the NYC DOT- a formerly myopic big city agency with members who "now read the blog on a regular basis." Gorton says of the agency, "we now compliment each other very well. As a public entity, they can't be advocates like we can, but they now approach these issues with similar goals."
Streetsblog and its New York City based readers therefore give Janette Sadik-Khan the political support she needs to institute the change they are asking for. Indeed, before the congestion pricing battle, Naparstek says "sustainable transportation was a third-tier issue. Bloomberg was a 'public health guy' and did not necessarily see the connection between health and global warming, transportation, and more sustainable street design." This quartet of issues Naparstek referred to as "wacky ideas," which Streetsblog has brought out of the "policy wonk arena" and into more mainstream discussion- and ultimately implementation.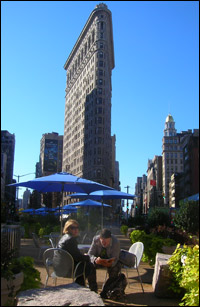 Today, Streetsblog is the force de majeure in the American Livable Streets movement- capturing 125,000 unique site visits per month, and growing. Naparstek credits the blog's success to being accessible and interesting, but also his organization's deliberate efforts in cultivating a smart, dedicated readership capable of elevating the discussion across the country and engaging in the many local battles needed to invoke change at the national scale. "You know," he says, "if all we did was just post topical news, we have a readership capable of bringing about remarkable discussions and critiques." According to Gorton, an energetic and optimistic man by nature, "it has exceeded all of our expectations."
Streetsblog, however, is also just one node in TOPP's larger Livable Streets Network- an expanding online juggernaut including such "brands" as Streetfilms, which just logged its one millionth "view," and Streetswiki, Livable Streets Education and Streetsblog.net, a collection of 175 transportation and urban planning blogs. Today, the drop of a blog post sends action alerts and livable streets information to all corners of the country.
Of late, Streetsblog has become bi-coastal with locale specific blogs on the livable streets beat in Los Angeles and San Francisco-launched in 2008 and 2009 respectively. When asked if TOPP will expand Streetsblog further, Naparstek says such plans are already in the works. A real coup, he says, would be to take the blog to the political no-fly zone for the livable streets movement: suburbia.
Indeed, one hopes that it is only a matter of time before 21st century technology and planning practice makes 20th century auto-dominated streets a thing of the past. Architect Jan Gehl- one of the movement's most-loved champions- calls it the "re-conquering of the city." And in America no other place is moving to do so quite like New York City.
---
Mike Lydon is a planner at Duany Plater-Zyberk and Company in Miami, Florida.
This six-course series explores essential urban design concepts using open source software and equips planners with the tools they need to participate fully in the urban design process.
Learn the tools for implementing Universal Design in planning regulations.
View More