With 82% of its population fully vaccinated, mostly with mRNA vaccines, COVID case incidence on Nov. 1 is the same as Wyoming, where 44% of the population is fully vaccinated. Hospitals are feeling the strain, and deaths are at their highest level.
---
On Nov. 1, Singapore had the 19th highest weekly case incidence rate in the world, just above the U.K., on the Worldometer database. The New York Times database shows the 7-day average of daily new cases as 63 per 100,000 people, up 16% over the last two weeks, and the U.K., with 68% of their population fully vaccinated, at 61 per 100k, down 5%, also on Nov. 1.
By contrast, cases in the U.S., with 58% of its population fully vaccinated, averaged 22 daily new cases per 100,000 people, down 11% in the last two weeks, according to the Times tracker. Wyoming had the fourth-highest case incidence, averaging 63 daily new cases per 100,000 people, after Alaska, Montana, and North Dakota.
What's remarkable about the current surge in the island city-state, which has the world's sixth-highest vaccination level behind Gibraltar, UAE, Portugal, Malta, and the Cayman Islands, according to the Times tracker, is that it's only their second surge.
Crowded Asian Cities Were Early Coronavirus Successes
Singapore was an early coronavirus success story, along with other Asian and Oceanic nations and territories like Australia, Hong Kong, New Zealand, Taiwan, and Vietnam that caught this correspondent's eye after reading, "Tracking the Coronavirus: How Crowded Asian Cities Tackled an Epidemic," by The New York Times Southeast Asia bureau chief Hannah Beech, published March 17, 2020, less than a week after the World Health Organization had declared the outbreak a pandemic.
Zero-COVID!
"Singapore is one of several so-called COVID-zero countries that enforced some of the world's strictest measures to hold infections and deaths far below the tallies elsewhere," writes Aradhana Aravindan, a Singapore-based correspondent for Reuters on Oct. 20 (source article).
The Zero-COVID strategy not only protected the health of the residents in these nations, it protected their economies as well, as the table from the Molinari Economic Institute and the World Health Network illustrates.
Planetizen readers may liken the strategy to a similarly named one that applies to transportation. Unlike Vision Zero policies, zero-COVID strategies were rigidly, some might say ruthlessly, referring to strict lockdowns, enforced by some nations. Only one zero-COVID nation remains.
"That was part of a strategy of waiting until a vast majority of its 5.5 million citizens had been vaccinated before gradually easing curbs and resuming more economic activity," continues Aravindan on Oct. 20.
Now it is slowly re-opening its borders, expanding quarantine-free travel to nearly a dozen countries. Australia and New Zealand have begun a similar transition, while China has yet to move ahead.

Following an easing of curbs in August, Singapore's latest wave has led to daily infections this week of nearly 4,000, or nearly three times higher than last year's peak.
Fast forward to Nov. 1 and Worldometer shows that infections have risen exponentially to nearly 26,000, or six and one-half times higher.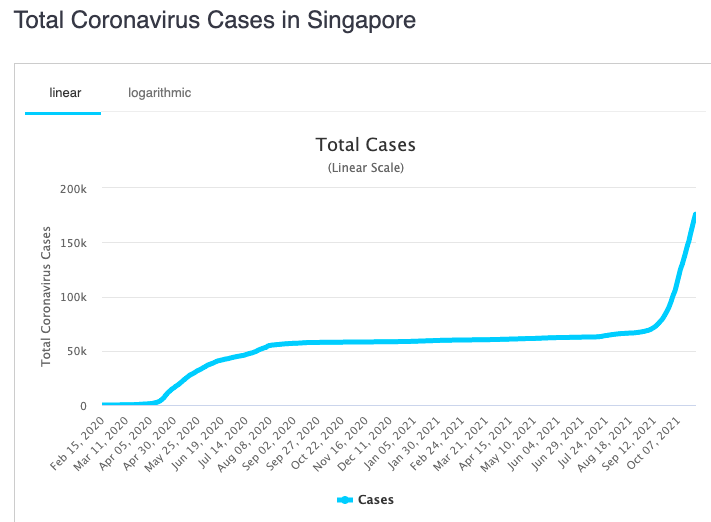 However, it's not just cases that have risen—hospitalizations and deaths have increased exponentially as well.
"The number of seriously ill Covid-19 patients in Singapore has risen to such an extent that 83.6% of intensive care unit beds in government-run hospitals have been taken up, and only 60 are currently vacant," reported Bloomberg News' Joyce Koh on Oct. 25.
ICU bed capacity is being closely watched as authorities warn of the risk of Singapore's health-care system being overwhelmed.
Unlike states in America where outbreaks have recently overwhelmed hospitals such as in Louisiana, Idaho, and Alaska, where governors were loath to enact any restrictions, the Singapore government "has extended strict curbs on the island to late November, including limiting social gatherings to two people," noted Koh.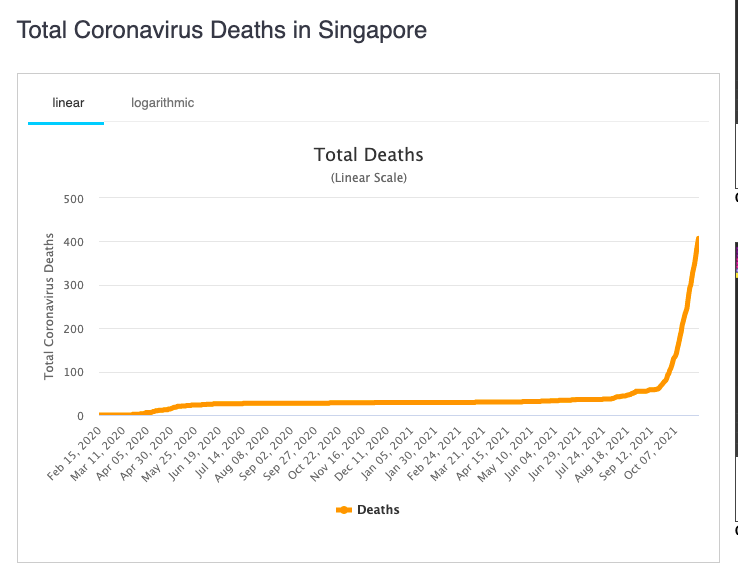 In an article for Bloomberg Prognosis,  Philip Heijmans and Low De Wei further detail some of the restrictions, hospitalizations and deaths plaguing the nation in article for Bloomberg News on October 20, 2021. Without using the term "breakthrough infections," they imply that the overwhelming majority of are just that:
The surge in infections has thwarted the government's resolve to ease domestic restrictions, even with 84% of the population fully vaccinated and 98.7% of Covid patients experiencing only mild or no symptoms. The restrictions implemented last month were originally slated to be in place until Oct. 24.
San Francisco Chronicle reporter Kellie Hwang was quick to note the surge in breakthrough infections and recognize its implications for highly vaccinated regions like the Bay Area.
"Singapore has the 12th highest coronavirus vaccination rate in the world — similar to that of many counties in the Bay Area and using largely the same types of vaccines," she wrote on July 26.
But in the past month, people who have received at least one vaccination dose have accounted for three-quarters of coronavirus infections in Singapore, according to Reuters.
The Question, Answered
Julie McCarthy, NPR's Southeast Asia correspondent,  answers the question posed in this post's title in the second most current article cited in the post. It's called endemicity.
"Infectious disease physician Dale Fisher of the National University Hospital says Singapore is letting nature take its course," states McCarthy (transcript available). "We're allowing endemicity," states Fisher.
McCarthy continues:
Endemicity or endemic disease refers to the constant presence or prevalence of a disease in a population, like influenza in the United States or dengue in Asia, where there's a certain amount of disease each year. Recognizing that the coronavirus is not going anywhere, Fisher says Singapore has decided to coexist with COVID-19 and not try to eliminate it. He says the 88,000 new cases in the last month are the result of that change in strategy.
Singapore is aiming for endemicity, but it's clear it's not there yet, as described by Sigal Samuel for Vox on Aug. 25.
It's important to note that for an infectious disease to be classed in the endemic phase, the rate of infections has to more or less stabilize across years (though occasional increases, say, in the winter, are expected).
Samuel updates the piece on Oct. 22 aimed at the state of the coronavirus in the U.S..
For now, "we have to remember that we are still in a pandemic with this virus," said Jen Kates, director of global health and HIV policy at the Kaiser Family Foundation. "We're not yet at a point where we're living with endemic Covid. When we get to that point some of this will be much easier, but we're not there."
More Deaths Ahead
Bloomberg's Low De Wei reports on Nov. 1 that a government minister stated that the country "could still see 2,000 deaths from the coronavirus each year with most victims among old and sick people."
"We are trying to get to the point where the combination of high vaccination rates, booster jabs and even more boosting from mild infections means that Covid-19 will no longer spread as an epidemic in Singapore," said Janil Puthucheary, a senior minister in the health ministry. He said the country wanted to reach that state without excess mortality, meaning without seeing more overall deaths than before the pandemic.
Ending on a more upbeat note, it' noteworthy that another "vaccination success" country continues to make progress in reducing transmission. Daily new infections in Israel have dropped to 7 per 100,000 people on Oct. 31, according to the Times, down by 59% in the last two weeks.
Related in Planetizen:
FULL STORY: Analysis: Vaccinated Singapore shows zero-COVID countries cost of reopening
The Tide Has Turned Against Open Streets
Once a promising development for advocates pushing for a less car-centric future in cities, the open streets movement has ceded significant ground to cars since the height of the pandemic.
This six-course series explores essential urban design concepts using open source software and equips planners with the tools they need to participate fully in the urban design process.
This course aims to provide an introduction into Urban Design Sketching focused on how to hand draw master plans using a mix of colored markers.
View More