The most vaccinated state in the U.S. may tell us where the future of the country is headed in the war against the coronavirus. Could it become a 'pandemic of the vaccinated'?
---
The day after the U.S. Food and Drug Administration authorized for emergency use a booster shot of the Pfizer-BioNTech COVID-19 Vaccine for eligible groups, Vermont Governor Phil Scott, the Agency of Human Services and the Department of Health released a schedule for residents for age groups 65 and above, beginning Friday, Sept. 24, to receive their third shots.
"Even though COVID-19 vaccines currently available in the United States are highly effective, a booster dose gives your body extra protection," said Health Commissioner Mark Levine, MD, in the governor's press release on Sept. 23.
"Boosters are important, but the most important thing we need to do is get more people vaccinated," President Biden said as he received his COVID-19 vaccine booster shot on Monday, Sept. 27, adding, "This is a pandemic of the unvaccinated.  That's why I'm moving forward with vaccination requirements wherever I can," he said from the White House.
Breakthrough Hospitalizations
Similarly, Scott, the Republican governor of the most vaccinated state in the U.S., with 70% of its population fully vaccinated (followed by Connecticut and Maine with 69% of their populations fully vaccinated) as of Oct. 1, according to The New York Times coronavirus database, said, "This is now a pandemic of the unvaccinated," during his Sept. 21 news conference, reported Elizabeth Murray of the Burlington Free Press. The nation as a whole is 56% fully vaccinated.
On Tuesday, Scott said that unvaccinated people are accounting for about 80% of hospitalizations and 83% of people admitted to the intensive care unit for COVID-19. 
What's noteworthy is that if 20% of hospitalizations and 17% of ICU admissions are either fully or partially vaccinated, i.e. resulting from breakthrough infections, that would be much higher than the American public was told by the Centers for Disease Control and Prevention (CDC) director Rochelle Walensky who stated during a White House press briefing on July 16 that "97 percent of people who are entering the hospital right now are unvaccinated." 
Vermont in the Red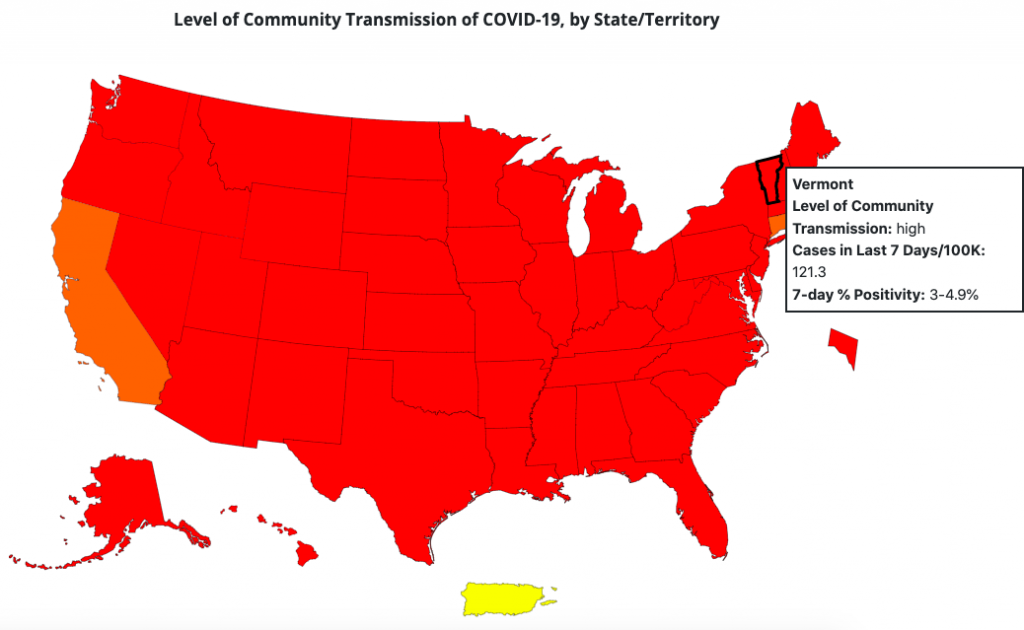 "Each of the 14 counties in Vermont is now identified by the U.S. Centers for Disease Control and Prevention as having 'high transmission' of COVID-19, with the latest being Addison Country [sic], " reported NBC5 News (WPTZ Burlington) on Sept. 27 (source article). Addison County and Lamoille County have since dropped to 'substantial transmission,' the orange zone, based on infections recorded for the week ending Oct. 1.
[See the section headed, "Do you live in an 'area of substantial or high transmission'?" in the related post: "Delta Variant's High Transmissibility Prompts CDC to Issue Masking Correction," August 2, 2021.]
In fact, 94% of all U.S. counties fall into CDC's red zone, as measured by case incidence and test positivity, for the week of Thurs., Sep 23 2021 - Weds. Sep 29 2021. On a state/territory level, only California and Connecticut are in the orange or 'substantial transmission' zone, with Puerto Rico in the yellow (moderate transmission), and three territories in the blue or low transmission zone on CDC's data tracker map showing the "Level of Community Transmission of COVID-19, by State/Territory" as of Oct. 2.
Delta Surge is Vermont's Most Infectious
Vermont historically has fared well, compared to the rest of the U.S., through most of the pandemic. Even with its current surge stemming from the Delta variant, it has the nation's lowest cumulative per capita case rate after American Samoa and the Northern Mariana Islands on The New York Times U.S. coronavirus tracker, followed closely be Hawaii.
Daily new cases had peaked on April 4 at 190, and then plummeted to an average of just two on July 5. Notwithstanding having the nation's highest percentage of its population fully vaccinated, the Green Mountain State is experiencing the most infections since the pandemic was declared on March 11, 2020, dropping below a daily average of 200 new cases on Sept. 29 for the first time since Sept. 17, according to the Times' Vermont coronavirus database.
Daily new cases averaged 177 or 28 per 100,000 people on Oct. 1, 15% lower than the national case incidence of 33 per 100k. According to Covid Act Now, it had the 18th lowest case incidence in the nation on Oct. 2.
Misleading Media Reporting of Breakthrough Cases?
In a section headed, 'Breakthrough cases and the delta variant' in a Sept. 27 article titled, "Booster shots, delta variant: What to know about COVID-19 in Vermont and New York," NBC5 presented state and federal cumulative breakthrough data dating back to January when the first Americans became fully vaccinated, but neglected to include data showing the breakthrough share of current infections.
According to the the Vermont Department of Health, just over 1,200 fully vaccinated Vermonters have contracted the virus after being fully vaccinated, also known as a "breakthrough" case of COVID-19 as of Sept. 9. That represents roughly 6% of known cases since the beginning of the year.
Still, known breakthrough cases of cases represent approximately 0.3% of fully vaccinated people in the state, according to Department of Health data.
Those small breakthrough percentages, cited from a state data summary of cases [pdf] dated March 5, 2020 – August 25, 2021, give the impression that breakthrough cases are exceedingly rare. Most breakthroughs occurred in the aforementioned Delta surge and can be overlooked when combined with cumulative data. 
[See related post: "Vaccinated Californians Estimated to Account for 20% of Current COVID Infections: State and national health authorities are unusually tight-lipped when it comes to so-called vaccine breakthrough infections, so one Bay Area newspaper editorial page editor did the math himself," August 12, 2021.]
VTDigger Gets It Right
"Vermont is the most vaccinated state in America. Is that enough?" asked VTDigger, a project of the nonprofit Vermont Journalism Trust, to shed some needed light on the limitations of COVID-19 vaccines.
"Vaccines remain remarkably effective at protecting the immunized from hospitalization and death," wrote Lola Duffort on Aug. 21. "Only 23 fully vaccinated individuals have been hospitalized with the virus since January, and nine have died, according to the Vermont Department of Health."
Breakthrough hospitalizations have increased more than threefold to 76 and deaths almost fourfold to 33, according to the Health Department's latest weekly COVID-19 Data Summary [pdf] dated Sept. 22.
"But breakthrough cases, once exceedingly rare, are rising rapidly in the Delta variant's wake," continued Duffort. "Between Aug. 8 and Aug. 14, of 725 Vermont residents testing positive for the virus, 288 had been fully vaccinated, according to state data."
That's almost 40%, approaching Israel's breakthrough percentage of 50% of daily new infections, as told by Dr. Sharon Alroy-Preis, Director Of Israeli Public Health Services, on Face The Nation on Aug. 1.
Weekly breakthrough infections in Vermont rose to 402 and 517 for the last two weeks of the Sept. 22 data summary, though it doesn't show total infections on slide 36 in order to determine breakthrough percentages.
Hospitalization and Death Rates
While vaccine protection from infection has waned – the reason for FDA's emergency use authorization of Pfizer-BioNTech booster shots for seniors and other at-risk groups, Vermont's hospitalization rate correlates well with vaccination levels when compared to other states.
Vermont and Massachusetts, with 70% and 68% of their populations fully vaccinated, respectively, have the nation's lowest rate of COVID-19 daily hospitalizations: an average of 7 patients per 100,000 people compared to the national average of 24 per 100k on Oct. 1, according to the Times tracker.
Surprisingly, the correlation is less apparent with the death rate. Vermont has the 21st lowest death rate, averaging 0.37 deaths per 100k people, though well below the national average of 0.58 per 100k people.
What Lies Ahead?
"Public-health experts and doctors said they don't believe New England on the whole will see Covid-19 hospitalizations and deaths come close to the same levels as last winter," write Jon Kamp and Brianna Abbott for The Wall Street Journal on Sept. 30 in an article that largely focuses on the penetration of the Delta surge in nearby Maine.
Still, many Northern states face a test in coming months as the weather turns colder and people head inside, where respiratory viruses can easily spread, and as people get together for the holidays.
While daily new cases dropped by 11% during the last week to a 7-day average of below 110,000, according to The Washington Post's coronavirus tracker on Oct. 2, Maine led the nation with a 30% increase in the 7-day average of daily new cases during the last week. Vermont's average of daily new infections dropped by 10% during the past week.
Related in Planetizen:
FULL STORY: CDC map lists every Vermont county as having 'high' COVID-19 transmission
How Urban Trees Save Lives
New research shows a strong connection between a healthy urban tree canopy and lowered mortality rates.
How To End Homelessness: The Houston Model
While the numbers of unhoused people in other major U.S. cities grow, Houston has managed to effectively end veteran homelessness and house more than 26,000 people since implementing a 'Housing First' approach a decade ago.
This six-course series explores essential urban design concepts using open source software and equips planners with the tools they need to participate fully in the urban design process.
Learn the tools for implementing Universal Design in planning regulations.
View More