Overall greenhouse gas emissions in California dropped 1% in 2017, according to the inventory by the California Air Resources Board, which includes a 9% drop in emissions from electricity generation and a 1% increase in transportation emissions.
---
"The California Air Resources Board said Monday that the state's emissions fell 1% in 2017, the most recent year available, to 424 million metric tons," writes J.D. Morris, a business reporter covering energy and California's clean power initiatives for the San Francisco Chronicle reporter covering energy. "The state is now well past its 2020 goal of reducing greenhouse gas levels to 1990 levels — 431 million metric tons."
Clearly, the big success story is that carbon-free sources of energy, "[f]or the first time since the state began tracking greenhouse gas emissions, powered most [52%] of the state's electric grid," notes Morris.
Electricity generation, from in-state and out-of-state sources, accounted for 15 percent of greenhouse gas emissions by economic sector, the third-highest after transportation (41%) and industrial (24%).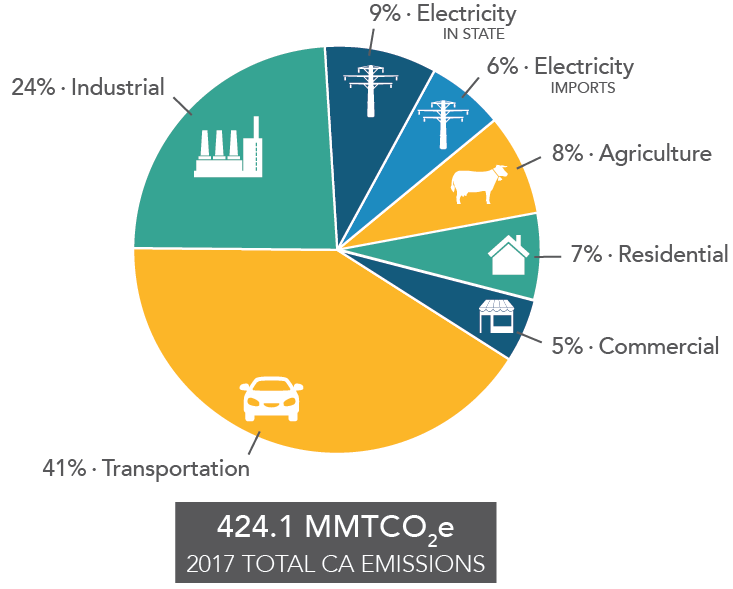 The news is not so positive when it comes to transportation. For the fifth consecutive year, emissions have increased, although the increase in 2017 was "the lowest growth rate over the past 4 years," notes the second bullet in the executive summary of the 24-page report, California Greenhouse Gas Emissions for 2000 to 2017 [pdf]. Vehicle tailpipe emissions accounted for 37% of emissions in 2017.
Emissions from oil refineries, which are included in the industrial, not the transportation, sector, also increased, reports Melanie Curry for Streetsblog California.
What continues to be overwhelmingly positive is the economic and demographic relationships with greenhouse gas emissions, shown by the inverse relationship between emissions and both GDP and population, i.e., as GDP and population increase, emissions decrease. Do note, though, that the population line has begun to flatten.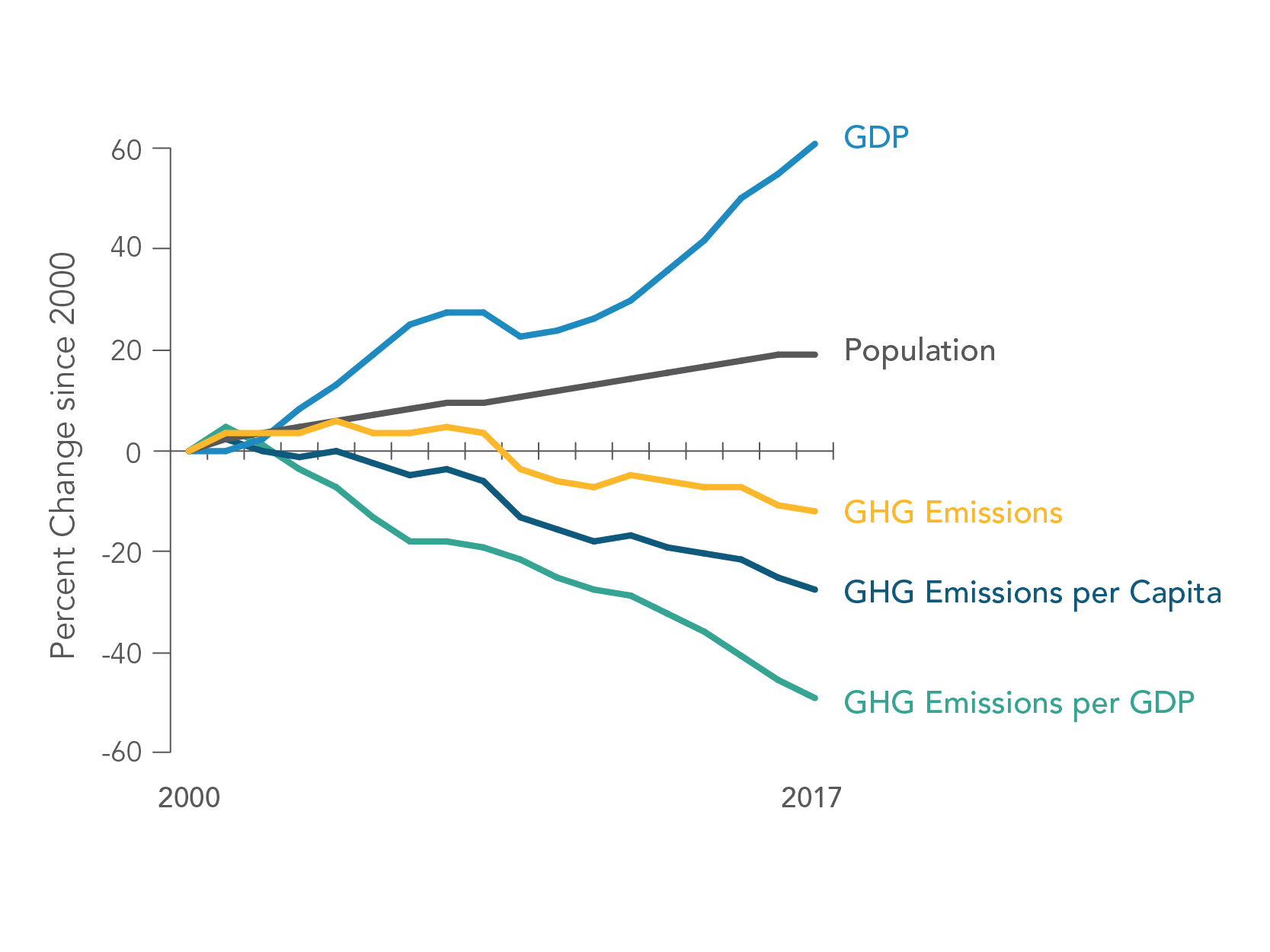 In 2017, the California economy grew at 3.6 percent – 1.4 percent above the national average, according to the state Department of Finance. "Katelyn Roedner Sutter, manager of U.S. climate for the Environmental Defense Fund, called it a strong sign that reducing emissions does not have to restrict economic growth," adds Morris.
"You can decouple them," she said. "You can grow your economy and reduce emissions at the same time."
The relationship between emissions, GDP and population was a major focus of Planetizen's first post the Air Resources Board's GHG inventory reports – the 2017 edition (measuring 2015 emissions). Subsequent posts dealt with the transportation challenge, as does Morris:
"We've kind of wrung out the easy stuff from the electric sector, and I think we're going to now be turning toward the more challenging sectors," said James Bushnell, a UC Davis economics professor who has advised the air resources board on climate policy. "We haven't really figured out the effective means to do the reduction in those sectors, as we've done with electricity."
Last year's report by the Legislative Analyst's Office, "Assessing California's Climate Policies—Transportation," came to the same conclusion:
Based on our review of the various polices designed to reduce GHG emissions in the transportation sector, we identified several important takeaways.

Broadly, we find that: (1) overall economic effects, including effects on GHG emissions, are unclear; (2) the large number of different policies creates various challenges for such things as program coordination and evaluation; and (3) the policies are generally more costly strategies to reduce GHGs than alternatives, such as cap‑and‑trade, although they could provide other important benefits in certain limited circumstances.
[The report was also referenced in last May's post, "As EV Sales Soar, Transportation Emissions Continue to Increase."]
CalMatter's environment reporter, Julie Cart, also referenced the LAO report in her Aug.15 article, "Can California put cars in the rear-view mirror?" that appears partly based on the Air Resources Board's GHG Inventory report.
"You are talking about persuading (millions of) individual car drivers in the largest state in the union to drive zero-emission vehicles, or take public transportation, or ride a bike, or walk, or rideshare," said former state senator Kevin de León, who authored the law that sets California on a course to 100% clean energy, "We drive internal-combustion cars in part because they are easy." 
For more information:
Related in Planetizen:
FULL STORY: Clean energy powers California climate emissions drop
San Francisco Just Ended Single-Family Zoning
The San Francisco Board of Supervisors voted to Tuesday to eliminate single-family zoning, but pro-development advocates say additional changes are needed to unleash a wave of construction.
This six-course series explores essential urban design concepts using open source software and equips planners with the tools they need to participate fully in the urban design process.
This course aims to provide an introduction into Urban Design Sketching focused on how to hand draw master plans using a mix of colored markers.
View More