The Era of the Electric Vehicle is Approaching
A new report from Bloomberg New Energy Finance predicts that due to a plunge in battery prices and improvement in battery technology, electric vehicles will be cost-competitive with gasoline vehicles in eight years. By 2040, they will outsell them.
The report [download executive summary of "Electric Vehicle Outlook 2017" here (pdf)] examines global electric vehicle (EV) sales, with special attention to Europe, United States and China.
According to the report's overview, "[t]umbling battery prices mean that EVs will have lower lifetime costs, and will be cheaper to buy, than internal combustion engine (ICE) cars in most countries by 2025-29. We estimate that EVs will account for 54% of new car sales by 2040, not 35% as previously forecast."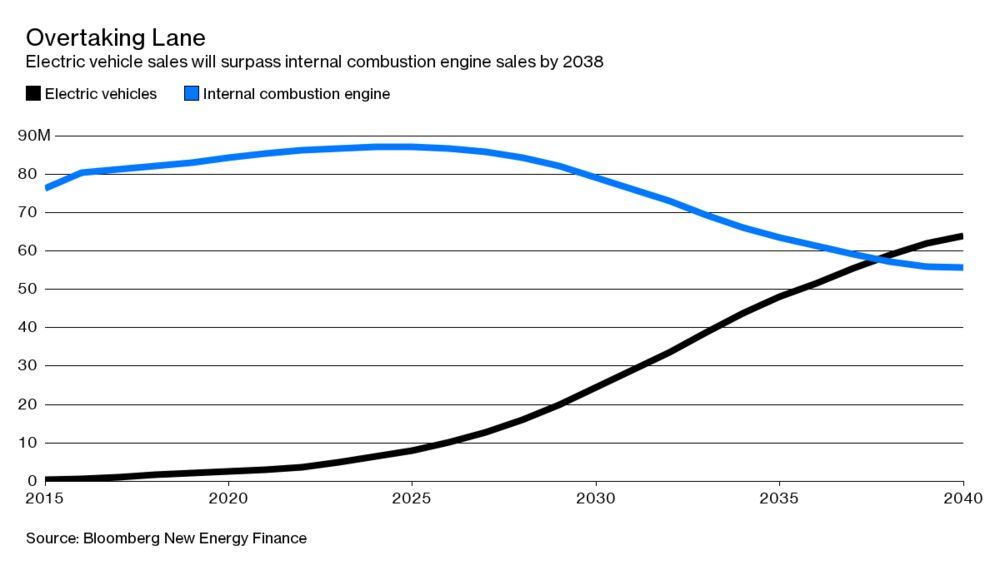 "The key component of an EV – the battery – is set to plunge in price, building on recent, remarkable cost declines," states the press release for Electric Vehicle Outlook 2017, Bloomberg New Energy Finance's annual long-term forecast of global electric vehicle (EV) adoption to 2040. 
Since 2010, lithium-ion battery prices have fallen 73% per kWh. Manufacturing improvements and more than a doubling in battery energy density are set to cause a further fall of more than 70% by 2030.

BNEF sees them accounting for nearly 67% of new car sales in Europe by 2040, and for 58% in of sales in the U.S. and 51% in China by the same date. 
Other forecasts
"The forecast is BNEF's most bullish to date and is more aggressive than projections made by the International Energy Agency," reports Jess Shankleman for Bloomberg Businessweek.
"This is economics, pure and simple economics," BNEF's lead advanced-transportation analyst Colin McKerracher said before forecasts were published on [July 6.] "Lithium-ion battery prices are going to come down sooner and faster than most other people expect."
Threat to Big Oil?
In a separate article about the impact of increased EV sales to oil producers, particularly OPEC, Shankleman writes that the market shift could "reduce oil demand 8 million barrels by 2040," although OPEC doesn't appear to see a threat from EVs.
"According to BP's long term energy outlook, the introduction of 100m electric cars on the road by 2035 will only reduce global oil demand growth by 1.2 million barrels," writes energy expert Nawar Alsaadi, a principal at Semper Augustus Capital, a private investment firm with a special focus on the energy sector, for Oil Price.com.
In a nutshell. EVs are a red herring. By far the most important variable on passenger cars oil demand is changes in fuel efficiency standards. In this area, the United States is a clear laggard....
However, rigorous fuel efficiency standards have to compete with low gasoline prices in the U.S., resulting in an an auto market dominated by fuel inefficient SUVs and other light trucks.
Furthermore, the shift to EVs will not be dependent on government regulations or presumably even oil prices according to BNEF's McKerracher, reports Brad Plumer for The New York Times.
"Our forecast doesn't hinge on countries adopting stringent new fuel standards or climate policies," said McKerracher. "It's an economic analysis, looking at what happens when the upfront cost of electric vehicles reaches parity. That's when the real shift occurs."
Challenges ahead
"Charging infrastructure

will continue to be an issue with bottlenecks capping growth in key Chinese, U.S. and European markets emerging in the mid-2030s," writes Shankleman. 

See Bloomberg

video

, "How Electric Vehicle Charging Will Impact Power Systems."
"One of the big pitches for electric cars is their positive benefit for the climate because they reduce the use of oil," reports

Brian Kahn,

 senior science writer at Climate Central, on the BNEF outlook.
But they will require a lot more power from the electric grid. Energy use from electric vehicles is expected to rise 300 times above current demand, putting more strain on power generation.
Different types of Plug-in Electric Vehicles fare better than others
According to the report's 6-page executive summary (pdf), battery electric vehicles (BEVs) without gas tanks will dominate the EV market in eight years, while plug-in hybrid electric vehicles (PHEVs) that also operate on gasoline should the battery charge be exhausted, will be at a disadvantage.
While we expect PHEV sales to play a role in EV adoption from now to 2025, after this we expect BEVs to take over and account for the vast majority of EV sales. The engineering complexity of PHEV vehicle platforms, their cost and dual powertrains make BEVs more attractive over the long-run. Only in Japan do we think PHEVs will continue to play an important role after 2030.
Recent announcements by Volvo that all new models come 2019 will be either EVs or hybrids and by France to phase out gasoline and diesel cars by 2040 adhere to the BNEF outlook. In addition, Tesla's long awaited, mid-priced Model 3 is now rolling off assembly lines with the first deliveries to customers on July 28.
Hat tip to John Hartz.