On July 1, two states will increase gas taxes, one will decrease its tax, and two will be adjusted downwards per state legislation, according to Carl Davis, research director at the Institute on Taxation and Economic Policy (ITEP).
---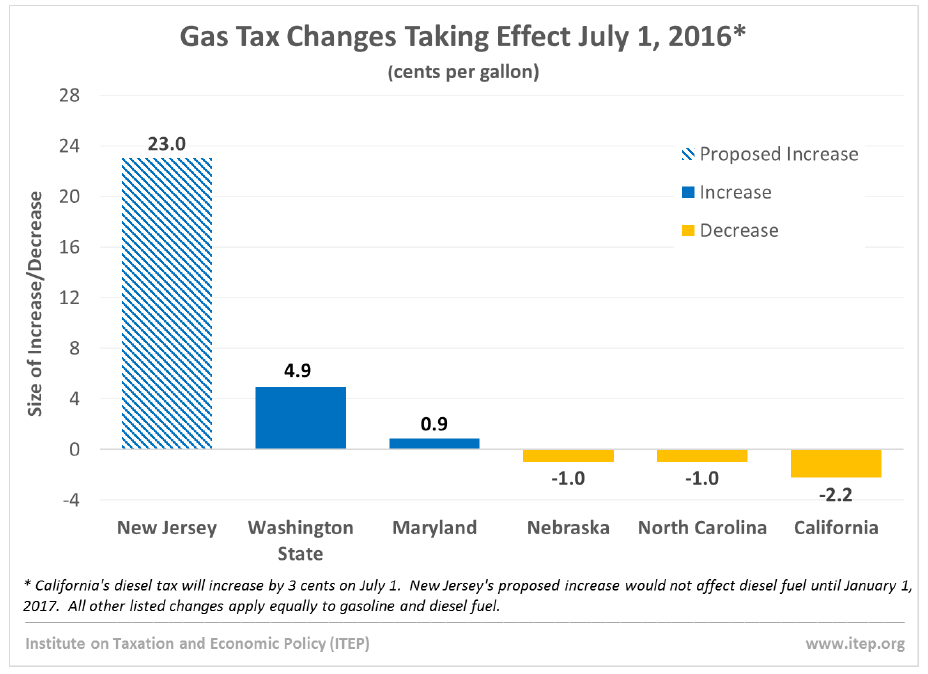 The biggest change comes to Washington which will add the second installment of it's phased 11.9 cent gas tax increase signed by Gov. Jay Inslee (D) last July. The 4.9-cent increase on July 1 will bring The Evergreen State just .9 cents shy of Pennsylvania's, which has the nation's highest gas tax of 50.3 cents (per API). But it's not just the gas tax that increases on Friday according to Bellamy Pailthorp of KPLU:
The fee for electric vehicles (EVs), which pay no gas taxes, will increase from $100 to $150 per year.

"Vehicle registration fees, which increase by $15 to $35 – depending on weight. 

"And the price for a six-year enhanced driver license or ID card, which can be used in place of passports at some border crossings, will nearly triple, to $54."
Maryland will be the second state to increase its tax. "This represents the final stage of a reform signed by then-Gov. Martin O'Malley (D) in 2013, though the state's tax rate will continue to vary in the years ahead alongside both inflation and fuel prices," writes Davis of ITEP. The tax will increase to 33.60 cents per gallon (per API), though it may not even show as it is up to the service stations to pass it on.
Nebraska decreased its tax by one cent as part of a phased, three-year increase of a six-cent tax increase that Gov. Pete Ricketts (R) vetoed but was overridden by the state legislature in May of last year. [Note: the legislature is both unicameral and nonpartisan.] The tax will drop by one cent to 26.7 cents per gallon (per API), 
North Carolina will adjust its gas downwards by one cents to reflect the lower prices of gasoline, resulting in a 34.25-cent gas tax (per API), but it could have been worse, writes Davis.
Last year, lawmakers intervened to curb reductions in the gas tax rate triggered by low gas prices.  At the same time, they also implemented a new formula that will allow the state's tax rate to grow alongside its population starting this January.
The fifth and final state to see a gas tax change on Friday will be California which will adjust its 40.43-cent tax down by 2.2 cents. On the same day up to 5,000 drivers will begin participation in a nine month pilot program in which "participants will submit a mock payment via mail or a secure website for testing purposes," per the FAQ. "No money will be exchanged."
However, as Davis wrote recently (posted here), unless the California road charge, as the fee is called, is adjusted for inflation, it won't be much better than the gas tax which hasn't increased since 1994 other than annual adjustments required by 2010 legislation.
As for New Jersey, although it's looking promising, best to wait and see.
How long has it been since your state increased its gas tax?
Seventeen states have not increased their state gas taxes in over two decades according to ITEP, though that should not be a surprise as the federal government would have to be included in that group as well.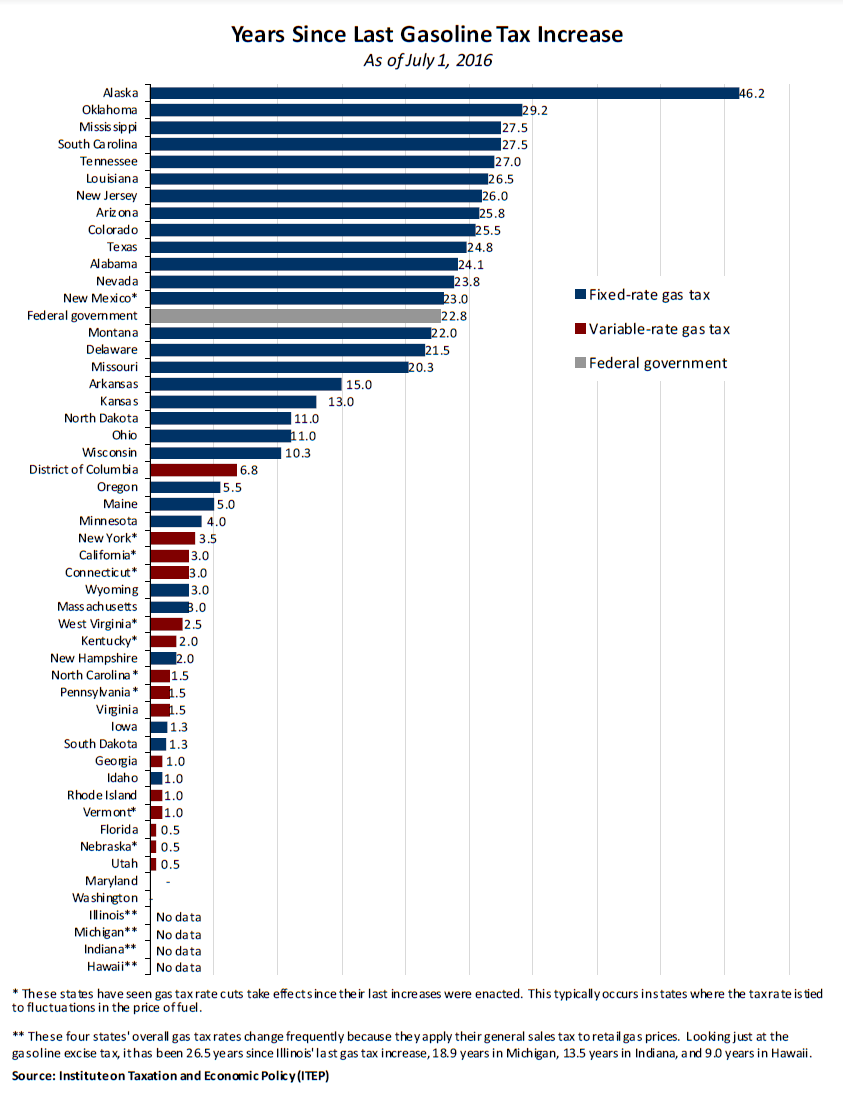 Correspondent's note: Alaska increased its gas tax by .95 cents last year at this time, though not for transportation purposes. It was raised to pay for a spill prevention and response program run by the Alaska Department of Environmental Conservation, thus it was considered a traditional gas tax increase by ITEP.
FULL STORY: Five States Change their Gas Tax Rates on Friday; Will New Jersey Join Them?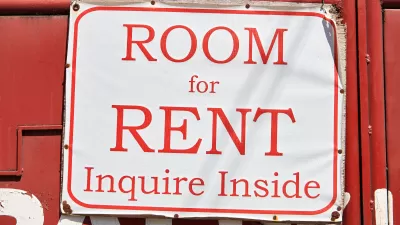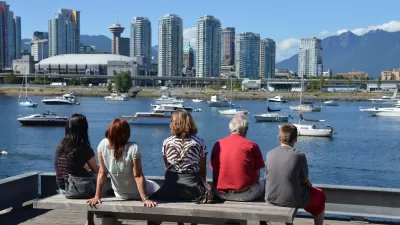 Ten Signs of a Resurgent Downtown
In GeekWire, Chuck Wolfe continues his exploration of a holistic and practical approach to post-pandemic urban center recovery, anchored in local context and community-driven initiatives that promote livability, safety, and sustainability.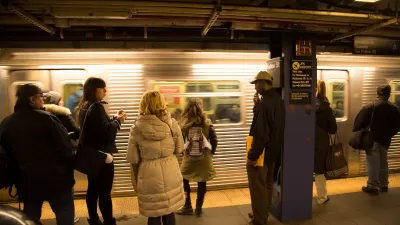 Off-Peak is the New On-Peak
Public transit systems in major U.S. cities are starting to focus on non-rush hour travelers as pre-pandemic commuting patterns shift and transportation needs change.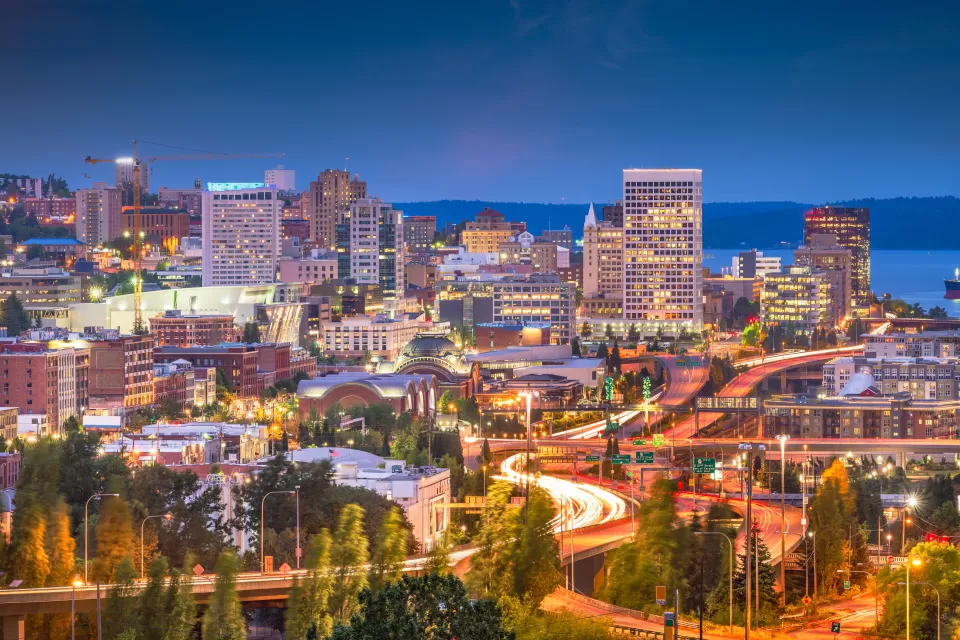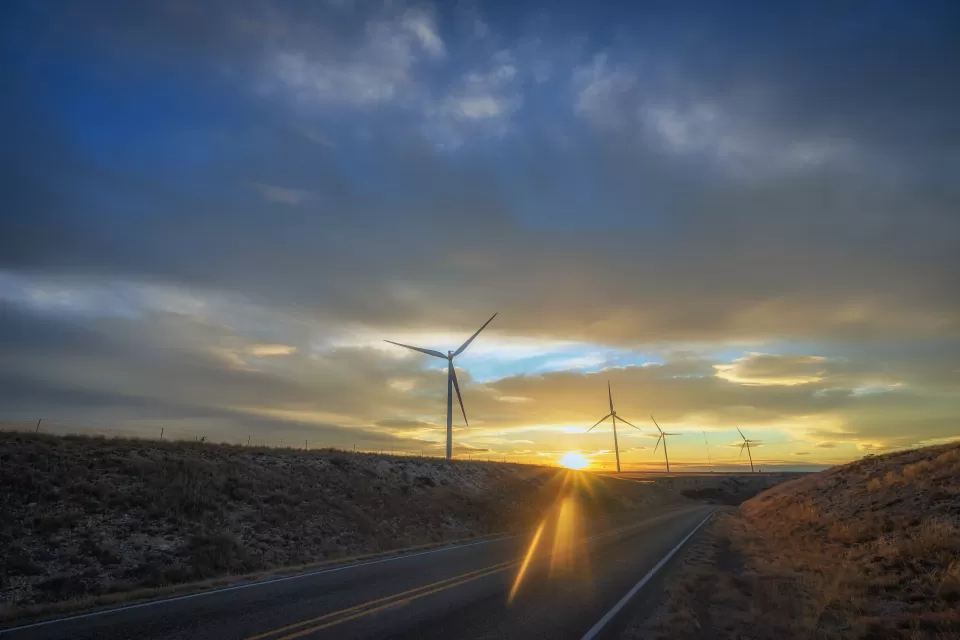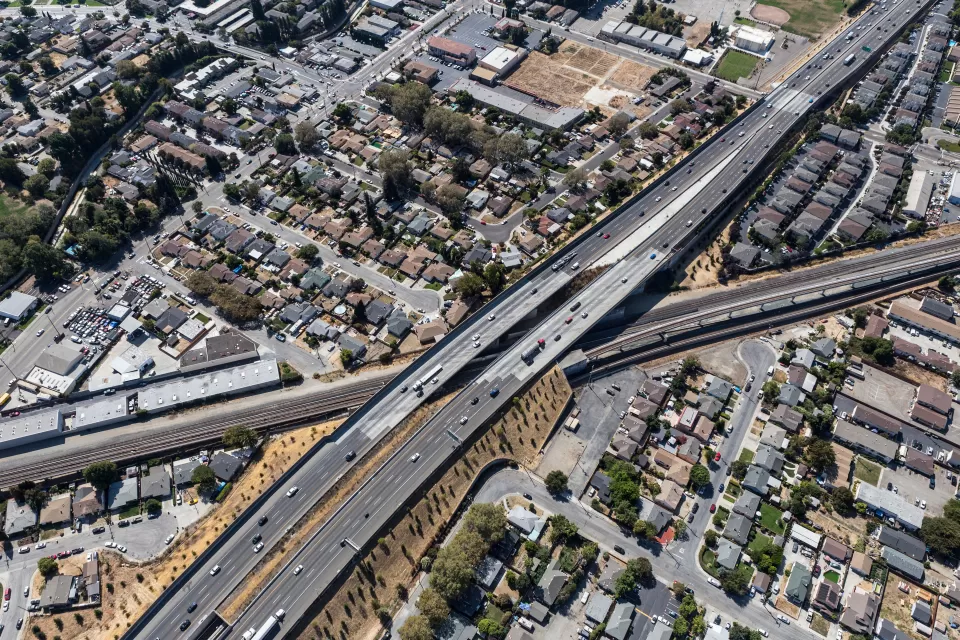 The Limitations of 'Reconnecting Communities'
The Biden administration has pledged to correct the damage imposed on communities by highways and infrastructure, but many projects are only committing to minor improvements, not transformative changes.
This six-course series explores essential urban design concepts using open source software and equips planners with the tools they need to participate fully in the urban design process.
Learn the tools for implementing Universal Design in planning regulations.
View More