Rideshares like Uber and Lyft have been under attack for their brash approach to local regulations and laissez-faire pricing schemes, but they've also pushed traditional taxis to dramatically improve their service in a very short span of time.
---
Uber, the biggest transportation network company (TNC) in the country, has had a lot of trouble with the media over the past several months. One of their higher-profile offenses came just recently, with the company raising prices in response to a flood of customers fleeing the site of a hostage situation in Australia. They've also consistently been attacked for more prosaic concerns such as misleading drivers about wages, mischaracterizing the quality of their background checks, and failing to require adequate insurance for its drivers. The golden child has become a pariah, even as the company continues to grow at a rapid clip.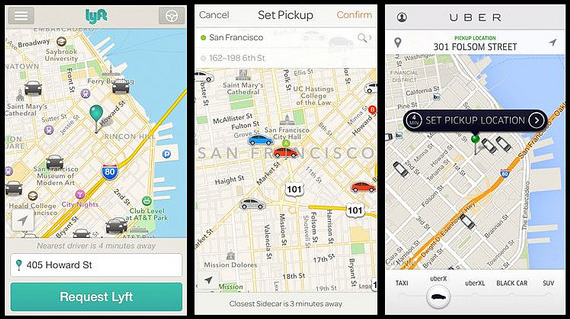 And while some of this criticism feels like the media latching onto an exaggerated narrative, similar to the Tesla car fire "controversy" from earlier this year, there's no debating the fact that Uber has a lot of real problems that have yet to be resolved—problems that are largely shared by Lyft and other new entrants to the ride-for-hire market.
The narrative that's been overlooked, thus far, is that traditional taxis have traditionally sucked, and companies like Uber and Lyft have played a key role in changing that. Recent examples from Seattle and Los Angeles help make the case.
A little over a year ago, Seattle sought to determine the quality of TNCs like Uber and Lyft relative to taxi services, and the result was a stinging indictment of traditional taxis' speed, convenience, and ease of payment. The Seattle Taxi Report found that:
Nearly 70 percent of TNC (or "rideshare") drivers arrived within five minutes, compared to less than 40 percent of taxis; 
80 percent of TNC customers rated the overall service quality as "very good," compared to just 10 percent of taxi customers; and
over 90 percent of TNC customers rated the ease of payment as "very good" while, again, just 10 percent of traditional taxi customers felt so positively. 
The message to Seattle taxi drivers: get your shit together. Taxi passengers in other U.S. cities, the majority of which have had to depend on sub-par taxi service for decades, would undoubtedly agree.
And, god bless 'em, some taxi companies seem to have listened. In response to competition from the Ubers and Lyfts of the world, taxi operators across the country have done more than complain about the loss of their monopoly on for-hire transportation (though they've done that too), and actually worked to improve service to be competitive with their upstart brethren.
In Los Angeles, for example, the Taxicab Commission is working on requiring all licensed taxis to use e-hailing apps like Flywheel, which will reduce wait times, ease the payment process, and make it easier to hold drivers accountable through a simple app-based review process. Their goal is to offer similar convenience to existing TNCs, without the questions about driver background or concerns about "surge" prices when taxi demand is high.
Back in Seattle, the local Yellow Cab service is already on board with their own e-hailing app, which it first introduced a year ago in response to the competition from Uber and Lyft. And though the app started out rough around the edges, a new version was released a few months ago and it looks to have evolved into a smooth, easy to use service. Payments can't yet be made by phone, but that's expected to be added in a month or so.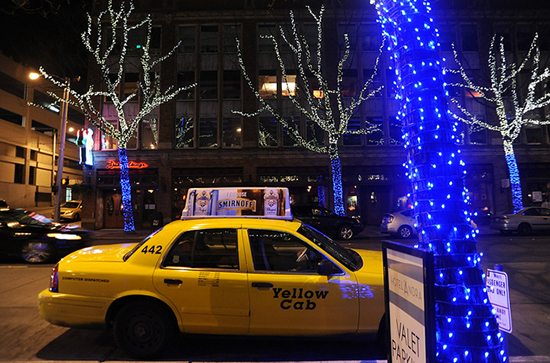 And here's the crazy thing: Since GPS-based dispatch was adopted via the e-hailing app, Yellow Cab's response times have almost been cut in half. A service that has existed for decades, with negligible changes and consistent customer displeasure, finally got its act together, and it wouldn't have happened without pressure from rideshare companies like Uber and Lyft. Amin Shifow, GM of Seattle Yellow Cab, admits this freely in an interview with the Seattle Times:
Even as he calls his competitors "bullies," Shifow admits Seattle Yellow Cab wouldn't be resurrecting itself with much-needed upgrades had such app-based ride services as Uber and Lyft not come to town in spring 2013. 
He says Yellow Cab's lack of motivation to modernize itself was not a money problem — it was a competition problem. 
"In all honesty, the taxi industry was stagnant for a while: They had it good, there was no competition and, when you have no competition, there's nothing for you to worry about," said Shifow. "But the competition came in at the same time, and it came in hard with unlicensed, unlimited cabs all of a sudden hitting the road — that was tough.
Traditional taxi services like Seattle's Yellow Cab still face some structural disadvantages that can't be overcome by things like apps or better training for drivers. Many of those disadvantages are regulatory, such as limits on the total number of taxi licenses available in most cities. This system exists to maintain decent wages for drivers by ensuring a scarcity of total for-hire vehicles on the road, and it completely falls apart when unlimited TNC vehicles can fill the gap. For the same reason, traditional taxi services are unable to respond effectively to large swings in demand, like on weekends and holidays such as New Year's Eve. Fares are also regulated in traditional taxis, so for those interested in part-time work as a driver, the surge pricing mechanisms available to TNCs make them much more appealing as employers.
A better system will probably be a hybrid of the old and the new: On the TNC side, more stringent background checks and tailored insurance, paired with some level of wage protection for drivers who are, after all, putting up the vast majority of capital in the form of their vehicles. As long as these companies expect their employees to front all the money, there should be some guarantee that the rug won't be pulled out from under them if fare rates drop. On the traditional taxi side, moving toward GPS-based dispatching and e-hailing/e-payment is a good start, but there's much more that needs to be done. Cars need to be better-maintained and kept cleaner. Drivers need more training and, in many cases, a class, or five, on the meaning of "customer service." Taxis are also up against a general trend toward dispersal of services: we're moving away from fully professionalized services, not just for car rides but for hotels, dog-sitters, bicycle rental, loans, and even pies. Taxis will need to differentiate their service if they hope to withstand these changes.
Whether Uber, Lyft, Sidecar, or any other specific TNC survives the onslaught of negative media and political attention doesn't make much difference in the long run. What matters is that multiple business models are able to exist and compete, always pushing each other to provide faster, cheaper, more convenient service. Without that competition, we'll be back to where we started, back before ridesharing came on the scene. Trying to regulate these new businesses out of existence entirely, as some cities have been doing, will mean going back to that earlier era of monopolistic taxi service—an era that wasn't even very good for drivers, to say nothing of what customers were forced to put up with.
---
Red Cities, Blue Cities, and Crime
Homicides rose across the nation in 2020 and 2021. But did they rise equally in all cities, or was the situation worse in some than in others?
This six-course series explores essential urban design concepts using open source software and equips planners with the tools they need to participate fully in the urban design process.
Learn the tools for implementing Universal Design in planning regulations.
View More