Gov. Gavin Newsom, who issued the nation's first stay-at-home order to mitigate the spread of the coronavirus, issued a new order to prevent hospitals in the nation's most populous state from being overwhelmed with COVID patients.
---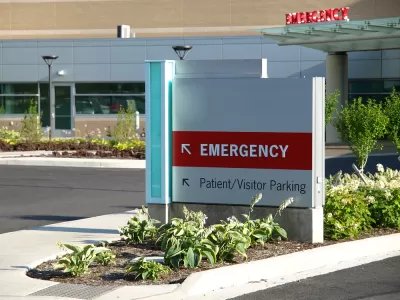 It's back to the future in the chronology of the 2020 pandemic in the United States. The first state to shut down on March 19 issued a similar but more nuanced order on Dec. 3, and just as on March 16, most counties in the Bay Area opted to shelter-in-place even earlier. Both emergency orders were widely credited by public health experts for sparing the state, where the first known coronavirus deaths in the country occurred, an outbreak on the scale that the New York metropolitan area experienced in the spring.
The purpose of this new order is straightforward: To avoid what Robinson Meyer and Alexis C. Madrigal describe on Dec. 4 in The Atlantic as the "pandemic nightmare scenario—the buckling of hospital and health-care systems."
Faced with a surge of severely ill people, doctors and nurses will have to put beds in hallways, spend less time with patients, and become more strict about whom they admit into the hospital at all. The quality of care will fall; Americans who need hospital beds for any other reason—a heart attack, a broken leg—will struggle to find space. Many people will unnecessarily suffer and die.

"We are at a tipping point in our fight against the virus and we need to take decisive action now to prevent California's hospital system from being overwhelmed in the coming weeks," said Governor Newsom in a news release (source article) on Dec. 3. "By invoking a Stay at Home Order for regions where ICU capacity falls below 15 percent, we can flatten the curve as we've done before and reduce stress on our health care system."
All eyes on ICU capacity
The new Regional Stay At Home Order builds on the existing state coronavirus restrictions, but differs in three major ways:
The order, which took effect on Dec. 5, is triggered by one health metric: Hospital intensive care unit (ICU) capacity, based on the percentage of occupied ICU beds with COVID-19 patients and the total number of these specially-equipped and staffed beds
Covid Act Now, a nonprofit coronavirus tracking database, calls the metric "ICU Headroom Used." It is one of five metrics used to determine risk levels for the 50 states, D.C., and two territories. Italics are added to their glossary definition of the metric.
ICU headroom used is the percentage of ICU beds available for COVID patients, after excluding those already in use by non-COVID patients. It is used to measure an Intensive Care Unit's (ICU) ability to handle a surge of patients in the case of a COVID outbreak. The ICU is the part of a hospital reserved for people who are very sick. Each bed is equipped with special equipment that regular hospital beds don't have, and usually have one or two dedicated nurses to monitor each patient.

ICU headroom used is one of Covid Act Now's main metrics for understanding COVID, as measuring and predicting ICU capacity gives a picture of whether hospitals can handle an increased load of new COVID cases without having to resort to crisis standards of care.
A regional approach
Rather than being county-based like the current reopening "blueprint" which took effect on Aug. 28, the order splits the state's 58 counties into five regions, somewhat as Gov. Andrew Cuomo did with his New York reopening plan. 
When ICU capacity drops below 15% in a region, i.e., more than 85% of ICU units are occupied with COVID-19 patients, the stay-at-home order is triggered for all counties in that region. 
Actual ICU bed % available as of December 5, 2020 for the 5 regions:
| | | |
| --- | --- | --- |
| Northern California |    | 24.1% |
| Bay Area | | 21.7% |
| Greater Sacramento | | 21.4% |
| San Joaquin Valley | | 8.6% |
| Southern California | | 12.5% |
The Southern California and San Joaquin Valley regional stay home orders go into effect Sunday, December 6, 2020 at 11:59 PM for three weeks. While the Bay Area has not dipped below 15% ICU capacity, five counties and the City of Berkeley opted to enact the stricter restrictions earlier than necessary, with four on Sunday, reports Amy Graff for SFGATE.
"We are entering an especially dangerous period of the epidemic," said Contra Costa County Health Officer Dr. Chris Farnitano, noting daily cases in his county. "I don't think we can wait for the state's restrictions to go in effect later this month. That's why we're making temporary steps now. We must act swiftly."
Tougher restrictions
Restaurants: 

Allow only for take-out or pick-up; no outdoor dining

Worship: Outdoor only

Hair Salons and Barbershops and other Personal Care Services: Closed

Retail: 

Allow indoor operation at 20 percent capacity

No mixing of people from different households – indoors or outdoors
What about the other 49 states?
According to Covid Act Now, California is ranked #19 in the nation for "ICU headroom used," at 46% based on Dec. 4 data. Thirty-two states and the District of Columbia have used more ICU headroom, with South Dakota, New Jersey, New Mexico and Oklahoma listed at "100%." Will other states enact the ICU capacity threshold trigger to implement more rigorous restrictions so as to save their hospitals from breaking?
The final word goes to Meyer and Madrigal of The Atlantic.
The bulk of evidence now suggests that one of the worst fears of the pandemic—that hospitals would become overwhelmed, leading to needless deaths—is happening now. Americans are dying of COVID-19 who, had they gotten sick a month earlier, would have lived. This is such a searingly ugly idea that it is worth repeating: Americans are likely dying of COVID-19 now who would have survived had they gotten September's level of medical care.
Related in Planetizen:
Hat tip to Julia Wick. 
FULL STORY: Newsom orders new limits on California businesses and activities as COVID-19 soars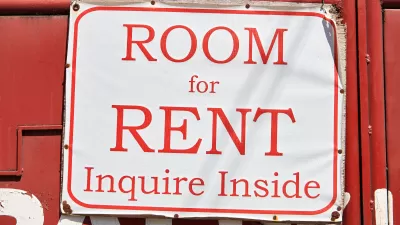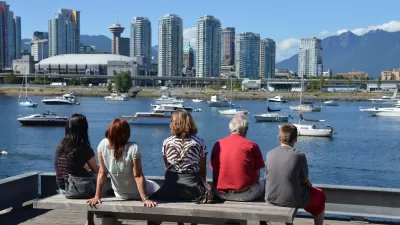 Ten Signs of a Resurgent Downtown
In GeekWire, Chuck Wolfe continues his exploration of a holistic and practical approach to post-pandemic urban center recovery, anchored in local context and community-driven initiatives that promote livability, safety, and sustainability.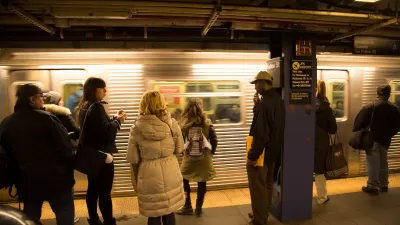 Off-Peak is the New On-Peak
Public transit systems in major U.S. cities are starting to focus on non-rush hour travelers as pre-pandemic commuting patterns shift and transportation needs change.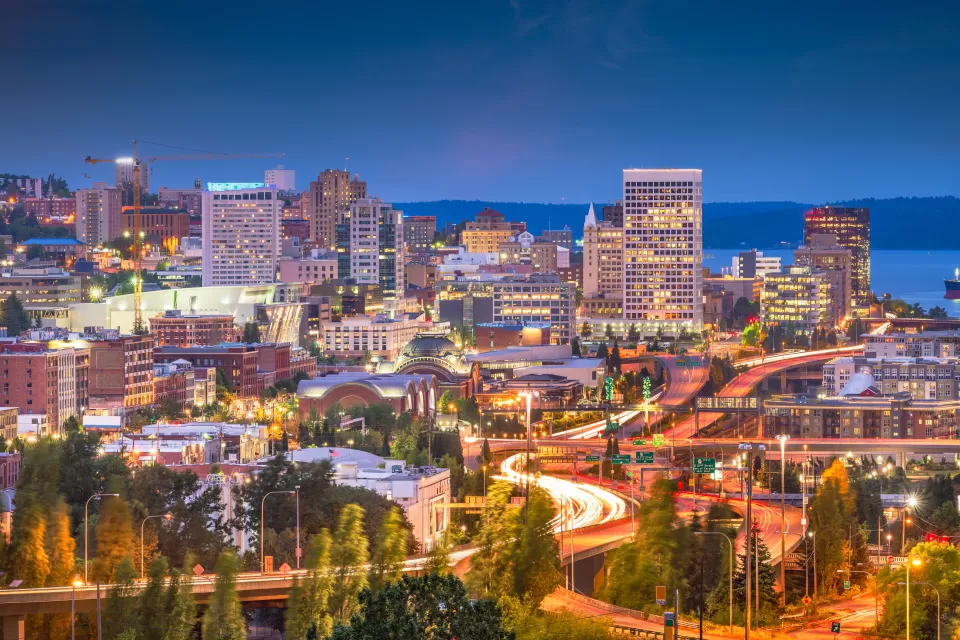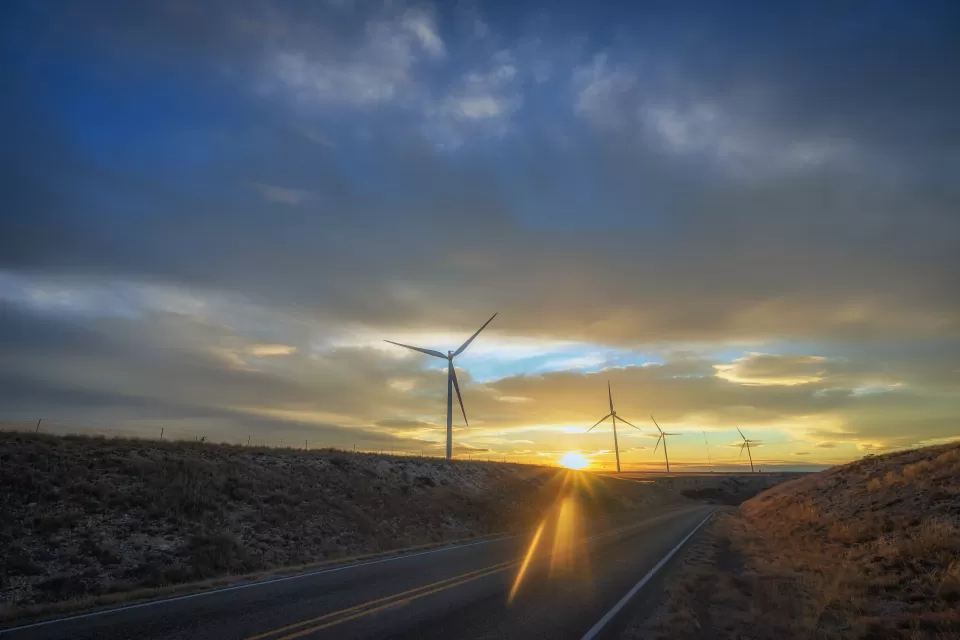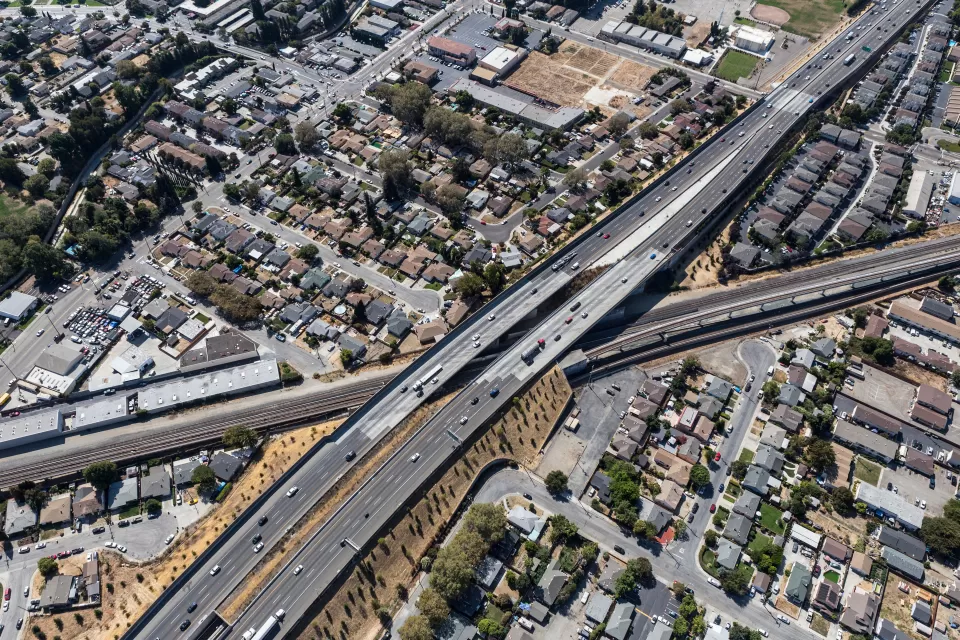 The Limitations of 'Reconnecting Communities'
The Biden administration has pledged to correct the damage imposed on communities by highways and infrastructure, but many projects are only committing to minor improvements, not transformative changes.
This six-course series explores essential urban design concepts using open source software and equips planners with the tools they need to participate fully in the urban design process.
Learn the tools for implementing Universal Design in planning regulations.
View More