Planetizen Top 10 Books List, 2007 Edition

Planetizen is pleased to release its sixth annual list of the ten best books in the planning field. With titles covering some of the most timely issues in planning -- such as the role of planning in the aftermath of disasters, along with the contentious and continuing debate over sprawl and smart growth -- the list gives readers an overview of the best ideas and writing in the field.
---
Planetizen Top 10 Books List, 2007 Edition

Planetizen is pleased to release its sixth annual list of the ten best books in the planning field. With titles covering some of the most timely issues in planning -- such as the role of planning in the aftermath of disasters, along with the contentious and continuing debate over sprawl and smart growth -- the list gives readers an overview of the best ideas and writing in the field. The Planetizen editorial staff based its 2007 edition list on a number of criteria, including editorial reviews, sales rankings, popularity, Planetizen reader nominations, number of references, recommendations from experts and the book's potential impact on the urban planning, development and design professions. Planetizen welcomes review copies of books published in 2007 for consideration for next year's Top 10 Books List, or for longer book reviews in the Planetizen Features section. Below are summaries for each selected title, in alphabetical order.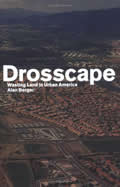 Drosscape: Wasting Land in Urban America By Alan Berger
Princeton Architectural Press, 256 pages
Drosscape is a fascinating visual examination of the modern built environment. Chock-full of photographs, maps and charts, the book exposes readers to the 'wastelands' of ten different American cities -– from older industrial areas in the urban core to modern complexes on the metropolitan fringe. While the book takes a mostly negative view of sprawl, it serves not as a condemnation per se, but as fertilizer for the germination of ideas regarding the productive reuse of these underutilized and spoiled landscapes.
Buy this book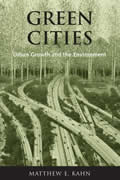 Green Cities: Urban Growth And the Environment By Matthew Kahn
Brookings Institution Press, 160 pages
What are the environmental consequences of urban growth? Matthew Kahn, a professor of economics at Tufts University, seeks to address this question head on in his recent survey of the impacts of urbanization. The book explores the role of free-market economics in both harming and helping the environmental quality of cities, and in the process, challenges the static idea that more growth equals more pollution. Using economic and environmental data, Kahn provides a new definition of a green city that will give planners a lot to think about as they face increasing population growth and urbanization.
Buy this book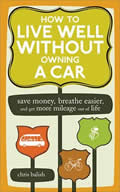 How to Live Well Without Owning a Car: Save Money, Breathe Easier, and Get More Mileage Out of Life By Chris Balish Ten Speed Press, 216 pages Chris Balish, a former television reporter from St. Louis, Missouri now living in Los Angeles, provides a practical do-it-yourself guide to living in America without owning a car. Using his own first-hand experience, Balish makes the case for car-free living not on the basis of environmentalism, but on the economic rational. the cost savings that people can gain when they escape the "car trap." A useful resource for those smart growth planners who want to practice what they preach.
Buy this book
Jane Jacobs: Urban Visionary By Alice Sparberg Alexiou
Rutgers University Press, 231 pages
Published just one month after her death, Jane Jacobs: Urban Visionary provides a lively portrait of one of the most influential people in the urban planning field. Author Alice Sparberg Alexiou shows readers how Jacobs developed her ideas, taking long strolls through New York City neighborhoods to form her notion of the "sidewalk ballet" that takes place on vibrant urban streets. Jacobs was a frequent critic of the planning profession, and this book gives readers a greater appreciation for Jacobs and her contributions to how cities should be built.
Buy this book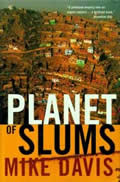 Planet of Slums By Mike Davis
Verso, 256 pages
Mike Davis' latest book paints a disturbing picture of the world in the 21st century –- where 1 billion of the world's population resides in the festering slums of third world cities. Citing the accelerating trend of globalization and the misguided policies of international development agencies, Planet of Slums highlights the growing inequality between the gated enclaves of the wealthy minority and exploding neighborhoods of the urban poor -– which lack even the most basic human infrastructure. In classic style, Davis asserts the atrocious conditions of third world mega cities will continue to breed both ideological and religious opposition to Western style capitalism -– and suggests that increasing global military conflict as a probable, if not inevitable, result.
Buy this book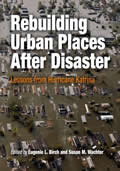 Rebuilding Urban Places After Disaster: Lessons from Hurricane Katrina Edited by Eugenie L. Birch and Susan M. Wachter
University of Pennsylvania Press, 400 pages
Published a year after the catastrophic events that decimated the Gulf Coast, Rebuilding Urban Places After Disaster: Lessons from Hurricane Katrina is an insightful tool for understanding the implications of this and other disasters on the field of planning. Drawing on the results of a symposium at the University of Pennsylvania's Institute for Urban Research, the book examines how cities can recover from catastrophes, minimize the damage they inflict, and even prevent them from occurring altogether. Special attention is given the type of participatory planning that has become increasingly important to the success of rebuilding efforts.
Buy this book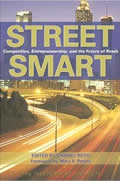 Street Smart: Competition, Entrepreneurship, and the Future of Roads Edited by Gabriel Roth
Transaction Publishers, 581 pages
Street Smart provides a cogent challenge to the public sector's monopoly on roads. In this provocative and enlightening compilation, the leading thinkers on privatization put forth market-based solutions for providing roadways and dealing with traffic congestion. Contributors to the volume provide both historic and modern day examples of private sector road services, and outline the case for taking politics out of transportation and unleashing the power of competition. A valuable resource for understanding the argument for privatization.
Buy this book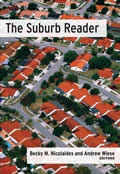 The Suburb Reader Edited by Becky Nicolaides and Andrew Wiese
Routledge, 552 pages
One of several volumes published this year on the history of suburbanization in North America, The Suburb Reader brings together over 200 primary sources, illustrations and essays to chronicle the dramatic transformation of urban development. Highly readable, the book supplements its examination of land use patterns with a discussion of the role of the social and economic factors in the paradigm shift from dense cities to sprawling suburbs.
Buy this book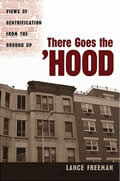 There Goes the 'Hood: Views of Gentrification from the Ground Up By Lance Freeman
Temple University Press, 248 pages
Columbia Professor Lance Freeman takes a refreshing approach to the issue of gentrification –- by observing the effects of gentrification on its "victims" first hand. His examination of two black neighborhoods in New York City reveals that gentrification is neither as bad nor as good as many claim -– and shows that the complex relationships that occur when wealthy newcomers arrive in depressed minority community are far from fully understood.
Buy this book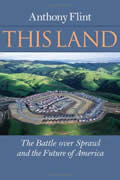 This Land: The Battle over Sprawl and the Future of America By Anthony Flint
The Johns Hopkins University Press, 310 pages
The battle between sprawl and smart growth continues with this provocative new volume from former Boston Globe reporter Anthony Flint. This Land provides a revealing look at the story of urban growth and development in the United States -- explaining the complex interaction of politics, market forces, and social values that have resulted in the suburban American landscape. Flint brings his years of experience as a journalist to bear on the subject, synthesizing macro trends and individual stories to create a thorough review of the land use issues in America, and what can be done to turn the tide and create more livable cities, towns and neighborhoods.
Buy this book
Other Noteworthy Titles

The Charrette Handbook: The Essential Guide for Accelerated, Collaborative Community Planning By Bill Lennertz and Aarin Lutzenhiser
American Planning Association
With the emphasis on public participation growing, this book provides a practical, step-by-step manual for coordinating planning and design charrettes based on the curriculum of the National Charrette Institute. With tips from leading practitioners and plenty of charts and examples, the book gives planners valuable tools and advice for engaging stakeholders in a successful charrette.
Buy this book

GIS for the Urban Environment By Juliana Maantay and John Ziegler
ESRI Press, 600 pages
This new guide from ESRI gives readers an excellent overview of Geographic Information Systems, and gives anyone interested in urban issues a through introduction into how the technology can be applied to the problems of urban areas. The authors have included information on planning and implementing actual GIS projects, and provide excellent examples of GIS tools in action.
Buy this book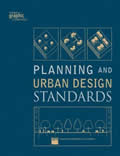 Planning and Urban Design Standards American Planning Association
Wiley, 736 pages
With contributions from hundreds of professionals on best practices for a wide range of planning topics, this new book by the American Planning Association is set to become the gold standard for planning reference books. Published by Wiley, the leading publisher of technical manuals, the book features thousands of illustrated examples and in-depth information to aid in the creation of planning documents, reports and findings.
Buy this book