An annual list of the must-read books related to urban planning and its intersecting fields.
---
The field of planning is remarkably dependent on its canon—influential books have forced the field to evolve in world-changing ways, from To-morrow: a Peaceful Path to Reform by Ebenezer Howard to The Death and the Life of Great American Cities by Jane Jacobs to Design With Nature by Ian McHarg to, most recently, The High Cost of Free Parking by Donald Shoup. Add to the canon the books leveraged by the industry's institutions to maintain and develop best practices—books like The Urban General Plan, by T.J. Kent, Jr. and Local Planning: Contemporary Principles and Practices, edited by Gary Hack et al.  
Every year at about this point on the calendar, Planetizen compiles a list of the top planning books of the year. One of the purposes of this effort is an attempt to identify the books that will eventually become canon—an inherently difficult task demanded, nonetheless, by the ongoing influence the planning canon.
Not that every book on this list needs to potentially become a world-changing tome. Planetizen acknowledges the subjectivity of our selection criteria and implores readers not to stop their exploration of the year's planning library at the end of this list. We left a lot of great books off the list this year, and you are sure to find some that would make your own personal list.
The Planetizen team met in October and November 2021 to make final selections for this list according to the same selection criteria that guided similar "Top Books" lists from years past. The books on the list from 2021 and 2020 are still highly relevant, despite all the disruptions of the past three years. One notable difference in this year's list is the inclusion of subject matter categories that reflect a pair of notable themes in this year's crop of new planning books. It's also worth noting that the list is curated from books published roughly between September and October of 2021 and September and October 2022. Recently published books you might expect to see her might be included on next year's list.
For those keeping track of a theme noted in last year's post: While events like the Covid-19 pandemic and the January 6 Insurrection have made appearances on the pages of some of the books we reviewed this year, only one book here took on the pandemic directly. We are sure it's only the first that will show up on this list, though future books will be hard-pressed to match The Quarantine Atlas on collaboration and color.
Richard K. Rein
island Press
January 13, 2022, 352 pages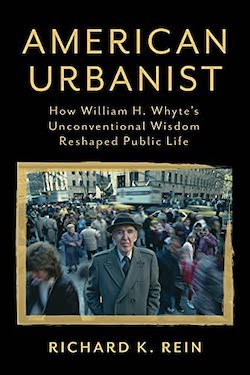 Books about urban planning sometimes focus on people—but usually only in the abstract, in terms of "populations," "groups," or "communities." It's rare indeed for a book about urban planning to focus on actual individuals. But William H. Whyte is an individual who deserves his own book.
American Urbanist presents a comprehensive biography of one of the most important urban thinkers of the 20th century, offering a rare glimpse into the personal, professional, and contextual influences that led to Whyte's brand of astute, progressive thinking. Like his even more famous intellectual kinswoman Jane Jacobs (whom Whyte supported wholeheartedly), Whyte was not a "professional" in any planning-related field, and he was a journalist by trade, making his early career at Fortune magazine, which Rein characterizes as the thinking person's business magazine. Whyte did, however, serve in the Marines, which gave him an important glimpse into the sort of organizational structure that would fascinate him throughout his career.
Rein doesn't dwell on Whyte's The Organization Man but instead offers a full-throated account of his urban studies, most famously The Social Life of Small Urban Spaces, and his campaigns to promote vibrancy in urban cores and small towns alike—while, importantly, preserving rural landscapes. Whyte deplored suburban flight of the mid-20th century and, long before Richard Florida came along, predicted the return to center cities. You get the sense that Whyte delighted in cutting through the  nonsense, hype, and prejudices of his day to promote ways of living that foster both prosperity and joy. Planners now, as then, would be wise to follow in his footsteps.
M. Nolan Gray
Island Press
June 21, 2022, 256 pages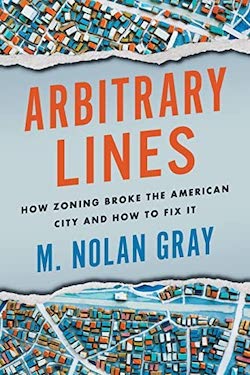 The buzz around Arbitrary Lines serves as testament to the significant inroads the pro-development movement (most frequently referred to as the YIMBYs) has made in identifying the country's proclivities for single-family zoning as a key contributor to various ills. Arbitrary Lines is perfectly timed to amplify and build in that momentum, as the pro-development cause scores legislative accomplishments that seem to be increasing exponentially with every passing year. Gray contributes to the cause by eloquently and clearly describing a few useful critiques of zoning—zoning, for example, increases housing costs, sprawl, and segregation while also impeding economic growth. Gray also makes the rhetorical leap of recommending the outright abolition of zoning. While the negative causes and effects of zoning are well documented in planning literature—by the likes of Sonia Hirt, William Fischel, and Donald Shoup—Gray is the first to make the argument that cities would be better off if they ended zoning entirely.
The fact that any of the number of the cities and states taking significant steps to ease the grip of single-family zoning in recent years (e.g., Minneapolis, Berkeley, Cambridge, Oregon, and California) don't serve as primary exemplar for the arguments of Arbitrary Lines (that role is left to Houston) reflects the remaining gap between the merging reform movement and the long-term goals of reformers like Gray. While zoning reform in the United States has so far mostly taken the shape of Missing Middle Housing, gentle density, and the end of exclusionary zoning, there's only one Houston—a city that has found other ways to regulate development and land use other than zoning. The fact that this book manages to be simultaneously radical while also useful and popular suggests that there might still be room to grow the movement.
Jenny Schuetz
Brookings Institution Press
February 22, 2022, 220 pages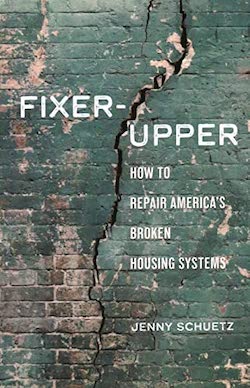 Very early on in Fixer-Upper, Brookings Senior Fellow Jenny Schuetz deploys a phrase that almost exactly repeats words from Arbitrary Lines: zoning reform is a necessary but insufficient step toward correcting the many troubling realities of the U.S. housing market. Schuetz takes a wider view of the causes and effects of the housing market than Gray, however, expanding the discussion to examine systems of wealth building, taxes, infrastructure, politics, and the social safety net. In each case, Schuetz clearly connects the dots between the realities of the U.S. housing market, its consequences, and potential solutions.
Schuetz has emerged in recent years as one of the leading voices for reforms of every level of the status quo driving up the coast of housing, changing the climate, and pushing record numbers of people to live on the streets. So Fixer-Upper was a highly anticipated release. Moving from the pages on the Brookings website and various Brookings reports, Schuetz does not waste this opportunity to bring remarkable insight and mountains of evidence to the cause of planning and housing policy reform. While the scope of the book is both broad and incisive, the overall ambition is charged with moral imperative. The term fixer-upper is usually deployed as a marketing tool for a single unit of housing. In Schuetz's hands, Fixer-Upper is a playbook for a sustainable, just, and humane system.
Anne Elizabeth Moore
Catapult
October 18, 2022, 272 pages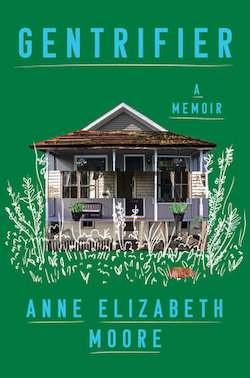 It's easy to breeze through this book and wonder if the title is perhaps a bit too harsh. The author, Anne Elizabeth Moore, was gifted a free house in the Bangaltown neighborhood of Detroit as part of a program designed to bring writers to Detroit to work and witness the revival of a city most infamously in need of revival—so, yeah, the threat of gentrification is obvious. But the author is so generous, sensitive, and honest as a member of the community, it feels like we are seeing a model for some new kind of dynamic—something more cooperative and communitarian than the word gentrification allows.
The realizations that come toward the end of the book hit the author and the reader like a ton of bricks, despite the numerous hints that not all is well in this fairy tell story of sudden property largesse. The book delivers an incredibly poignant wake up call—about Detroit, its flaws and "revival," about philanthropy, and, yes, about gentrification. While the book is made of vignettes that read like they were pulled directly from the pages of Moore's diary, by the end the vignettes read more like breaking news. Even this well informed reader had no idea what I didn't know abut Detroit. After learning what Moore learned, you'll never look at Detroit, property taxes foreclosures, land banks, or community the same way. Gentrifier might be written in snippets, but it demands to be read in full.
Alexandra Lange
Bloomsbury
June 14, 2022, 320 pages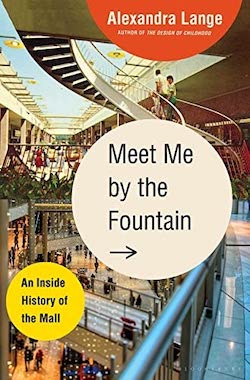 For the former teen mallrats, architecture historians, and everyone inbetween: Meet Me at the Fountain is a heavily researched, detail-packed, yet accessible history of that most American of commercial institutions, the mall. Those expecting pure, gleeful nostalgia beware: Lange is, after all, an architecture critic, and the book shows it. Lange makes a deep exploration of mall design and architecture, the visions that drive mall developers, and the role of the American mall as a multigenerational gathering place in an increasingly privatized world. 
The book takes us on a tour of the changes undergone by malls in the near-century they have served as a cornerstone of American commercialism, with varying results, and the thorny questions raised by the quasi-public nature of a deeply privatized space. Indeed, the issue has gone to the U.S. Supreme Court multiple times, with the court more often than not ruling in favor of the property owners. Yet Lange argues the mall also offers freedom: from overbearing parents, from unpleasant weather, from loneliness. For generations of American teens, the mall was a key step in their coming-of-age, offering the first taste of independent movement, consumption, and employment in a car-oriented society. 
Lange pushes back on the popular narrative of the 'dead mall,' highlighting the architectural and social utility built into malls, if they can only be adjusted for modern conditions. And many of them are: from trendy food halls to ethnic enclaves, malls are being transformed to meet the needs of new customers. The new American mall, in other words, is less a collection of chain stores and more likely a locally-focused experience revolving around food and local products.
Meet Me at the Fountain could play like a eulogy, a swan song for a disappearing cultural touchpoint. Rather, Lange positions malls, with their physical and cultural cachet, as prime for a reinvention.
Elaine Lewinnek, Gustavo Arellano, and Thuy Vo Dang
University of California Press
January 25, 2022, 256 pages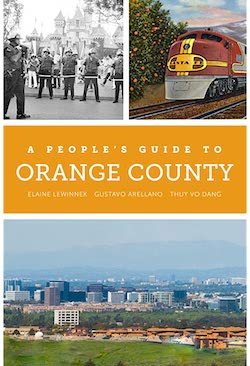 Tourists, take note: this is not your average holiday.
A People's Guide to Orange County belongs to a series of five volumes published by the University of California Press (with more in the offing). All are excellent and deliberately provocative, but the Orange County rendition is the most poignant. In no other volume do received history and the "people's history" diverge quite so dramatically. In the public imagination Orange County either has no history at all, or it consists of tract homes, Disneyland, and Republicans. All of those things are true. But, A People's Guide masterfully, and accessibly, demonstrates that Orange County's history runs far deeper—and that it matters.
A People's Guide travels across the county to point out ethnic, blue collar, LGBTQ, and other hidden histories that make Orange County seem far more textured, and far less perfect, than its suburban image implies. In impressive detail, it highlights immigrant-run businesses, like Japanese nurseries and Mexican restaurants. It explains how taco trucks helped combat Islamophobia and how the county's many elite institutions excluded and marginalized the county's minority populations. It pinpoints locations of ethnic strife and triumph, such as, respectively, locations of firebombings and protests. The militarization of the county is well documented, including the enormous Camp Pendleton and many military-related businesses. 
Many of those places are not much to look at. But, that's the point: real history happens in real urban landscapes. A People's Guide challenges planners—in Orange County and anywhere else—to understand the contours of their communities more intimately, to acknowledge and to account for all the people who do not necessarily wield political power, including, those who are often oppressed by political power, but who have nonetheless contributed just as much to the city, and who have just as much right to the city, as the Richard Nixons and Mickey Mouses of the world.
Laura Bliss
Black Dog & Leventhal
April 19, 2022, 224 pages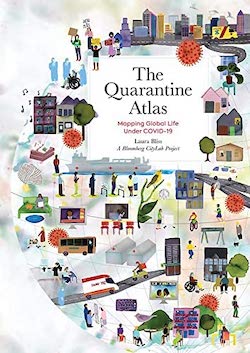 One of the more arresting segments in The Quarantine Atlas is a map that depicts the path of a very curious pedestrian who, taking circuitous, drunken routes, explores seemingly every block of a neighborhood in Baltimore. The pedestrian is a housecat, slinking freely around an otherwise empty city. The map was made by its owner, who plotted the cat's routes with the help of an AirTag. Such was life in the depths of 2020.
Unless you're that cat, you probably don't want to relieve the COVID-19 pandemic. But, the disease and resulting lockdowns produced countless stories and works of art—some amusing, and some tragic. The Quarantine Atlas collects them in an attractive, timely volume that is, at once, reverent, empathetic, and fascinating. It compiles mostly homemade maps and drawings that capture contributors' in-the-moment feelings about their shrunken worlds and provides as poignant a primary source about pandemic life. Some maps convey the familiar sense of confinement, with schematics of small apartments annotated in detail. Others express longing and wonderment for travels not taken and loved ones unvisited.
Indeed, the theorizing about the covid pandemic began even before the first case was diagnosed—and much of it was tedious. The Quarantine Atlas takes a lighter, but not irreverent, approach. Even for planners who want to forget the whole thing ever happened, it is a reminder of why city life is more important than ever.
New Visions for Community
With more and more evidence showing that traditional planning approaches often perpetuate patterns of injustice and overlook the true needs of communities, activists and planners are increasingly turning to community-led, ground-up efforts to make cities better—healthier, more resilient, safer, and more equitable. 
The books in this section present real-life case studies that can inspire and provide a model for other communities, but that also highlight the gaps that governments are failing to address in infrastructure, transportation, and land use decisions. Using everything from play-based engagement techniques to high-tech visualizations of future possibilities, community leaders around the country are working to bring residents into the discussion about the future of their communities and plan for more equitable and sustainable outcomes.
In Dream Play Build: Hands-On Community Engagement for Enduring Spaces and Places, James Rojas and John Kamp draw on lessons learned from years of on-the-ground work to show how community organizers and planners can harness the power of play and imagination to envision better cities—and how playful exercises can lead to powerful breakthroughs in community engagement.
Using creative expression and storytelling to encourage communities to express their stories and needs and build more resilient and engaged neighborhoods, Rojas and Kamp have developed techniques for stimulating conversation and facilitating meaningful explorations of planning challenges and creative solutions. 
Rather than the typical public meetings that consist of presentations and brief question and answer or discussion sessions, Rojas and Kamp's techniques use imaginative, hands-on activities to break through traditional barriers to public engagement and encourage place-specific, culturally relevant storytelling. The authors emphasize the need to keep such exercises open-ended, creating ample space for unexpected ideas and unconventional outcomes. "When we recognize that we have innumerable options for participating in the shaping of spaces and places around us that don't involve urban planners per se, we can begin to be infinitely more expansive and creative with how we engage others in this process."
With From the Ground Up: Local Efforts to Create Resilient Cities, Alison Sant shifts the focus to sustainability and resiliency initiatives that acknowledge the crucial role of nature in cities. The book provides examples of community-led programs from around the world that use small-scale interventions to improve urban environments, air quality, public health, equity, and more. 
The collection of case studies is grouped in four areas: new visions for public space; efforts to bring green spaces back into cities and protect watersheds; urban forestry initiatives; and resiliency-building projects to guard against the impacts of climate change and prepare communities for a future with more intense storms and other extreme weather events. Each section concludes with an essay tying together the themes that emerge around each topic. 
Sant employs informative illustrations, maps, and photos documenting each project, ensuring that the book goes beyond platitudes to show, not just tell, the stories of community members working every day to make their neighborhoods better—from the ground up.
With Speculative Futures: Design Approaches to Navigate Change, Foster Resilience, and Co-Create the Cities We Need, Johanna Hoffman brings attention to the 'social resilience' that helps communities survive and thrive in difficult and increasingly unpredictable times, Hoffman's book outlines a series of projects that use technology and multimedia to help communities envision their futures. Hoffman suggests "proactively engaging with the future" as one way to build social cohesion and develop new frameworks for involving community members in planning efforts. 
Hoffman explains the field of 'speculative futures' through a range of media, including video games, film and literature, and computer applications. The examples in the book show how media can have an impact on the way people view themselves and their communities, as well as the agency they feel to make change in their world. Speculative Futures examines an emerging field, producing a future-forward guide to building better, safer, and more equitable cities through design approaches that let citizens visualize their present and future world.
Smart Cities: The Promises and Perils of the Drive to Improve the City Through Technology
From Thomas More's Utopia to Ebenezer Howard's Garden City plan to the original design for E.P.C.O.T. and beyond, humans have sought to use science and technology to rationalize and improve cities based on the belief that order and science can free people from unnecessary labor, create better urban designs, and make transportation networks more efficient and sustainable. 
On the flip side of these auspicious visions for the future, critics caution us of the dangers of attempting to predict and rationalize human behavior and letting ourselves be lulled into an overreliance on technology. Today, the promises, successes, and failures of the 'smart city' concept provide a fruitful ground for analysis and speculation about how technology is altering the way we design, move through, and live in cities. 
The books in this section tackle the current role of technology in cities—how it can make them safer and more accessible, how it can perpetuate inequality and segregation, and how to potentially avoid the pitfalls that await us.
In Sideways: The City Google Couldn't Buy, Josh O'Kane charts the rise and fall of Google parent company Alphabet's 21st century vision for a community, built to their exacting specifications as a showcase for the latest emerging technologies in transportation, communications, and urban design. O'Kane documents Sidewalk Labs' ambitious plans to build the neighborhood of tomorrow in Toronto's post-industrial waterfront—ultimately resulting in the collapse of their utopian plan due to their failure to grasp the intricacies of cities. 
In a way, Quayside's collapse proved that there is something to be said for the hard-won experience and knowledge of city-building that not even the latest technology can match. While Sidewalk Labs pitched a variety of pie-in-the-sky ideas that were ultimately impractical, low-hanging logistical concerns fell by the wayside. While the grand vision never materialized, some of the ideas spawned for the Quayside proposal continue to be developed as smaller, piecemeal projects.
O'Kane's detailed investigation of the topic from his time reporting on it for the Globe and Mail gives him deep insight into the debacle. The Quayside saga is one example of the battles over privacy, data, and the role of Big Tech in the physical world that are increasingly shaping today's civic discussions.
Much like Sideways, Dream States: Smart Cities, Technology, and the Pursuit of Urban Utopias, by John Lorinc grew out of journalist John Lorinc's reporting on Google's ambitious failure Sidewalk Labs. Lorinc thus had a firsthand look at the failure of the so-called "smart city" movement which is, on the one hand, the latest utopian conception of a perfectly efficient city and, on the other hand, a huge market opportunity for tech companies. Lorinc's perspective is measured but, ultimately, critical. While Lorinc acknowledges that technologies are important--for cleaning the air, scheduling garbage-pickup, managing traffic, and everything in between, he appreciates what many capitalists do not: that cities are far too complex and far too unpredictable to be tamed by mere technology.
Road to Nowhere: What Silicon Valley Gets Wrong about the Future of Transportation, by Paris Marx, is not the only text that criticizes the tech industry—especially these days—but it is the most concise, well-reasoned critique of that corner of the tech industry that most directly affects cities: transportation. Pick whatever mode you want, from electric cars to motorized scooters to app-based ride-hailing services (and, someday, to robot chauffeurs), author Paris Marx explains how it reflects not only the hubris and hyper-capitalist attitude that pervades Silicon Valley but also how it is likely to mess up cities in some way. A certain mega-billionaire social media mogul features prominently, as do scores of other capitalists and self-styled "visionaries" who don't understand that some of the best transportation technologies are feet, pedals, and transit tickets.
The Innovation Complex: Cities, Tech, and the New Economy, by Sharon Zukin, begins its journey with a description of the tech's industry undeniable effect on the urban fabric of New York City before peaking behind the curtain, with dispatches from the start-ups, VCs, hackathons, meetups, and other signifiers of the Innovation Complex. Zukin succeeds in demystifying an industry that occasionally lives more in the imagination than an informed understanding would allow.
Honorable Mention
David Rouse and Rocky Piro
Routledge
December 31, 2021, 270 pages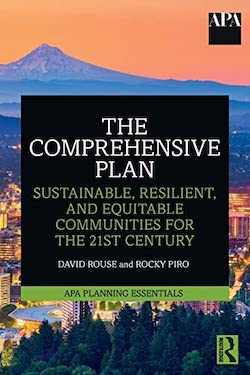 Claiming a direct lineage from the Urban General Plan by T.J. Kent, The Comprehensive Plan is likely to become a staple in planning classrooms and on the desks of planners studying for the AICP Exam for years to come. The book takes an obvious and significant step away from the top-down, rational planning paradigm embodied by Kent toward a more incremental, advocacy planning paradigm that much more effectively reflects the diversity of the contemporary world while fully implementing a sensitivity to the social and environmental abuses of planning histories past. The effort is aided in great part by consistent reference to recent planning efforts—the examples are so numerous that even Planetizen editors with their ear constantly attuned to planning news can find examples of innovative, tangible planning work in these pages.
Will these new paradigms, presented here as an "APA Planning Essential," be enough to convince planners and politicians around the world to set inclusive visions, build consensus, and end the destructive practices of the past? Like everything else with planning, only time will tell. The crises of inequality and climate change demand better results—we only get so many chances at getting the built environment and its relationship to the natural environment right.
Paul Haddad
Santa Monica Press
October 5, 2021, 408 pages
Freeways are not often very fun to drive on, and they are almost always miserable to live near. But Freewaytopia, by screenwriter and Los Angeles history buff Paul Haddad, proves that reading about them can be fun. Haddad chronicles the founding of each of the freeways that are encompassed, in whole or in part, by the city of Los Angeles. He recounts the political, financial, geographical, and technical factors—and he includes a fair share of cultural criticism too, plus an endless supply of fun facts about 20th century Los Angeles. Every city with freeways deserves its version of Freewaytopia.
Bill Fulton
Island Press
July 21, 2022, 216 pages
William Fulton is the rare planning author whose sensitivity to urban culture, political nuance, and topophilia is just as acute as his understanding of codes, ordinances, and studies. In Place and Prosperity, Fulton hews strongly to the former. In a series of essays drawn largely from his firsthand experience, Fulton explores connections between the built environment and the overall vibrancy and prosperity of cities. The book takes inspiration from, and discusses at length, Fulton's hometown of Auburn, New York, and the surrounding Upstate region. Fulton transitions from his Rust Belt origins with the ambition and explosive growth of California, where he spent most of his career. It's a poignant contrast that illustrates just how influential place can be. 
The Right to Mobility
As we consider how to decarbonize transportation, preserving mobility, especially for lower- and middle-income people, must be a priority.
Early Sharrow Booster: 'I Was Wrong'
The lane marking was meant to raise awareness and instill shared respect among drivers and cyclists. But their inefficiency has led supporters to denounce sharrows, pushing instead for more robust bike infrastructure that truly protects riders.
Memphis: Crime-fighting Camera Sheds Light on Police Abuse
The irony is unmistakable. Public surveillance cameras, long controversial in the criminal justice community, provided pivotal video footage of the beating of motorist Tyre Nichols by five Memphis police officers at a traffic stop on January 7.
How Autonomous Cars Could Impact Energy Use
The complex algorithms used by self-driving vehicle technology use massive amounts of energy, which could lead to a steep rise in carbon emissions as autonomous cars become more commonplace.
Safe Streets Grants Announced
The federal Safe Streets and Roads for All program funds planning and implementation for road safety projects aimed at reducing traffic deaths and building safe infrastructure for pedestrians, cyclists, and other vulnerable road users.
This six-course series explores essential urban design concepts using open source software and equips planners with the tools they need to participate fully in the urban design process.
Learn the tools for implementing Universal Design in planning regulations.
View More