Planetizen is pleased to release its ninth annual list of the ten best books in urban planning, design and development published in 2010. This year's selection includes some big names, some big ideas -- and a book called "Toilet."
---
The Planetizen editorial staff based its 2011 edition list on a number of criteria, including editorial reviews, popularity, Planetizen reader nominations, number of references, sales figures, recommendations from experts and the book's potential impact on the urban planning, development and design professions. This year's list was more difficult than usual to create. The number of high-quality, intellectually-stimulating books that we received seemed to be much higher than in previous years. With a plethora of excellent books to choose from, we feel confident that our selections will engage, delight and/or outrage anyone who is interested in urban design, landscape architecture, transportation, and the larger umbrella of urban planning. We present our list in alphabetical order, and are not assigning rank. And now, on to the list!
---
Interstate 69: The Unfinished History of the Last Great American Highway
By Matt Dellinger Simon & Schuster, 240 pages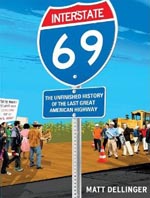 Dellinger, who has reported for The New Yorker, The NY Times, and public radio, uses the unglamorous story of an unfinished highway project as a way to talk about the larger American experience of politics and place. Interstate 69 had an unlikely beginning on the kitchen table in the small town of Washington, Indiana, and the story goes step-by-step through the process of good old boys networking, lobbying, and pursuit of self-interest that moved it from idea to millions in federal funding. At the same time, the country was shifting towards a realization that highways aren't the only answer, so the economic development boosters found themselves face-to-face a new era of smart growth and NIMBYs. While the book occasionally gets bogged down in the sausagemaking details of law, the final effect is worth the trouble.
Public Parks: The Key to Livable Communities 
By Alexander Garvin Random House, 231 pages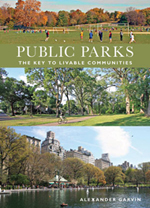 Garvin eloquently elevates the role that the public park plays in the creation of livable urban environments, both from a historical and a contemporary perspective. He examines the public park thematically by addressing everything from property acquisition to stewardship to make the claim that these spaces are anything but garnishes in the bigger picture of what constitutes a successful community. An outstanding blend of original old and new photographs enhance and complement the themes, which are woven together with a well-orchestrated flow of regional examples of public parks from across time and space. What results is a well-composed, authoritative work on public parks with a timely message, suggesting that parks stand out as indispensable, exemplary forms of public investment in the urban fabric. Garvin notes that unlike other investments in urban infrastructure such as roads and bridges, parks often age well and increase in value as they grow and change over the years.
Buy this book
Cities for People 
By Jan Gehl Island Press, 288 Pages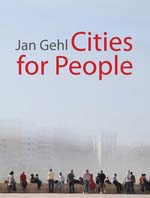 With a physician's understanding of humanity, Jan Gehl is able to examine planning questions of the last forty years with impressive clarity and focus. His ideals - rejection of ideology in favor of common sense, respect for people and scale - offer a panacea to many of the environmental and health crises faced in urban areas across the globe. This volume is organized succinctly, first into sections focused on human responses to locations and then, as it becomes progressively more practical, cities themselves. There is a careful blend of analysis and case study throughout, providing a backdrop to Gehl's tenets of urban living, which are disseminated at junctures within chapters.
Buy this book
What We See: Advancing the Observations of Jane Jacobs
By Stephen A. Goldsmith and Lynn Elizabeth, Editors New Village Press, 384 pages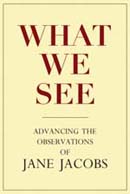 "Design is people," Jane Jacobs once said. In the case of What We See, design is analyzed by more than thirty people that have distinguished themselves in various areas of planning or related fields. Using their own unique professional and personal knowledge, noteworthy contributors such as Jan Gehl and Arlene Goldbard present fresh takes on all things urban, from environmental preservation to children in the city, making the point that what has been typecast as 'Jacobsian' thought can never be frozen into a certain ideology. Like any great urban environment, Jacobs' words can be reinterpreted and given fresh perspective from generation to generation. But perhaps the most compelling aspect of What We See is the way many of the contributors use the first person to explain what Jacobs has meant to them on a personal level in their relationships with particular urban environments and the other people they encounter within them. The tone is often reverential to the great urbanist, but also questioning. The essays brim with ideas and reflections about cities, their inhabitants and the vibrant neighborhoods that Jacobs loved so much.
Buy this book
Design for Ecological Democracy
By Randolph T. Hester The MIT Press, 528 pages

Hester focuses on our spiraling ecological illiteracy as a framework for analyzing the qualitative effects of planning theory of the last half a century. He combines terms to create words such as "glocalization," creating a personalized lingua franca that magnifies his communicative power and stimulates the reader. Hester's belief that democracy coupled with ecology will produce good city form is encapsulated in detailed examples gleaned from his years of professional experience. The book manages to construct complex theories through which to view the dynamics of urban planning while offering incremental advice in step with practical realities. Essentially, it enables us to "think big and little at the same time." Illustrations abound, with sketches, plans and photos provided to illuminate Hester's ideas.
Buy this book
Reinventing the Automobile: Personal Urban Mobility for the 21st Century
By William J. Mitchell, Christopher E. Borroni-Bird and Lawrence D. Burns The MIT Press, 240 Pages

All it takes is a quick repositioning of two letters to turn the acronym SUV into USV, the abbreviation for the 'Ultra Small Vehicle' that Mitchell, Borroni-Bird, and Burns introduce to readers of Reinventing the Automobile. It will take considerably more effort to turn our nation of gas-guzzling sport utility vehicles into a nation of USVs, but the authors sure do make the change look appealing and possible. Mitchell & Co. wish to see the existing paradigm of designing cities for cars completely reversed in a "personal mobility revolution" that would transform the personal auto into an individual's interface to the city, complete with interactive dashboard features and options for autonomous driving via connections to smart systems set up throughout the urban fabric. As a blueprint for innovation, perhaps the book's greatest success is its ability to generate excitement for the future of personal mobility, even from just a quick glance at the four gleaming USV prototypes shown on the cover.
Buy this book
Toilet: Public Restrooms and the Politics of Sharing 
By Harvey Molotch and Laura Noren NYU Press, 304 pages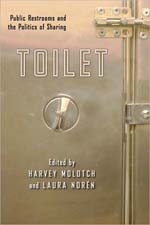 The attention-getting title of this tome belies the depth of the discussion within on a topic of concern to anyone interested in public space. It consists of twelve essays by urbanists and historians on the politics of the potty, and how the way public restrooms are designed reflects social attitudes towards gender, class, and disability. This is the kind of book we love, the kind that finds an under-recognized issue and tackles it from a variety of angles. If you can get beyond the ick factor, Toilet is a great read, and as author Harvey Molotch says, "Peeing is political."
Buy this book
Makeshift Metropolis: Ideas About Cities
By Witold Rybczynski Scribner, 256 pages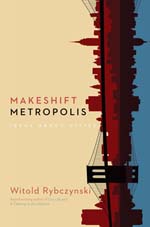 In this highly readable volume, Witold Rybczynski makes a fresh argument for rethinking the field of planning. He posits that instead of strategizing ways to make the country's cities better according to self-approved standards--greener, denser, safer, livelier, etc.--planners should ask what residents themselves want from cities. He examines the history of American urban theory, showing how supply-side planning often fails to meet demand-side realities, leading to "makeshift" development. Applying the lessons of previous generations, he encourages today's planners to set aside grand renewal schemes and signature architecture in favor of small steps through piecemeal, organic growth.
Buy this book
Naked City: The Death and Life of Authentic Urban Spaces
By Sharon Zukin Oxford University Press, 294 pages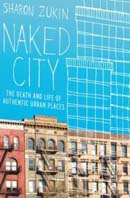 Published towards the end of last year, Sharon Zukin's book garnered a considerable amount of attention. Kicking off with the provocative sentence, "In the early years of the twenty-first century, New York City lost its soul," Zukin pulls no punches in her examination of the forces behind gentrification (although, as she writes, "calling these changes 'gentrification' minimizes and oversimplifies the collective investment that is at stake"). Eminently quotable, Zukin sets about dissecting the quest for 'authenticity' that has changed the city from a "culture of manufacturing to a culture of consumption." And as the title implies, Zukin finds herself ruminating on the legacy of Jane Jacobs, coming to some surprising conclusions for those of us working to create the sorts of places the great Jane has argued for so eloquently. As the New York Times notes, "One might shrug off her lament as a song soaked in nostalgia," were it not so well written and a bold attempt at understanding the difficult topic of gentrification and commodification in cities.
Buy this book
Other Noteworthy Titles
---
The Great Reset: How New Ways of Living and Working Drive Post-Crash Prosperity
By Richard Florida Harper, 240 pages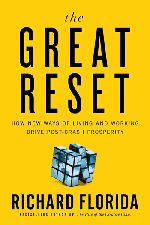 Richard Florida exercises his muscles as one of the most accessible economic writers and uses his ability to digest complex subjects like the recession and globalization into a succinct and straightforward description. He clears the air surrounding the crash of 2008 and reminds us not to "waste a crisis." Many of his ideas are presciently cogent, particularly the need to upgrade service jobs, a shift that is in line with the equalizing redistribution of wealth that generally occurs in times of stunted growth. Florida's predictions for cities are largely based on extrapolating current trends across the country; he sees New York consolidating its position as the world's financial center, homeownership decreasing and the continuing contraction of the Sun Belt economies. The Great Reset provides a clear outline of a complex systemic change and offers wide ranging insight into how focus on infrastructure, creativity and connectivity will allow our cities to profit.
Buy this book
Great Public Squares: An Architect's Selection
By Robert F. Gatje W. W. Norton & Company, 224 pages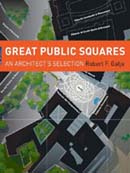 Robert Gatje, an award-winning architect, has assembled a very sexy coffee table book examining 40 public squares from Europe and the United States, ranging from the ubiquitous (the Piazza San Marco in Venice) to the lesser-recognized (The Plaza at Santa Fe, New Mexico). Gatje says his book builds on books by Camille Sitte, Werner Hegemeann and Elbert Peets, and Paul Zucker, but it is very modern in construction, consisting not just of the figure/ground images that so entrance planners but also scads of full-color pictures and concise observations on the history and function of each site. Public Spaces is a worthy addition to anyone's design library.
Buy this book
The Smart Swarm: How Understanding Flocks, Schools, and Colonies Can Make Us Better at Communicating, Decision Making, and Getting Things Done 
By Peter Miller Avery, 304 pages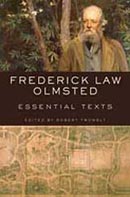 While in no way a book about urban planning, National Geographic editor Peter Miller's The Smart Swarm is about a topic near and dear to today's planners: the power of crowds to make effective decisions. Miller turns his focus on the governing rules of ant, termites, birds and other animals to understand how groups work in nature. Comparing the behavior of honeybees to a New England town meeting, Miller sees a process of sorting out a group decision that is effective and good democracy. Would modeling power grids on the self-correcting behavior of beehives have avoided the great New York blackout of 2003? Miller sees possibilities everywhere he turns in this fascinating book about swarms, herds and instinctive collaboration. If you enjoy books like The Tipping Point: How Little Things Can Make a Big Difference
and The Wisdom of Crowds
, you'll probably enjoy The Smart Swarm.
Frederick Law Olmsted: Essential Texts by Frederick Law Olmsted, edited by Robert Twombly Riverhead Books, 368 Pages Olmsted is without a doubt the best known landscape architect in the United States, but as this beautifully-assembled collection illustrates, he was also a renowned public intellectual and man of letters. The selections focus on Olmsted's reflections on residential homes, cities, landscape gardening, and, of course, park design. Perhaps of most interest to those of us who follow urban planning history is his rumination on his designs for the World's Columbian Exposition in 1893 and his interactions with "Mr. Burnham and Mr. Root." Here, he reflects on the role of an urban public park: The park should, as far as possible, complement the town. Openness is the one thing you cannot get in buildings. Picturesqueness you can get. Let your buildings be as picturesque as your artists can make them. This is the beauty of a town. Consequently, the beauty of the park should be the other. It should be the beauty of fields, the meadow, the prairie, of the green pastures, and the still waters. While the antiquated language can make it difficult reading at times, Essential Texts is an invaluable reference to the thoughts of a man whose designs still have an abiding influence on the world today.
Buy this book
Sprawl Repair Manual
By Galina Tachieva Island Press, 304 pages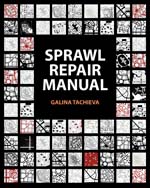 The question of how to re-envision the suburbs in a new reality of limited resources and a growing population has been a hot topic of late. Galina Tachieva's manual is a worthy addition to the literature, with bold ideas developed during her tenure at Duany Plater-Zyberk. As she recently wrote in a Planetizen feature, "The only valid option is to repair sprawl – to deal with it straight on, by finding ways to reuse and reorganize as much of it as possible into complete, livable, robust communities." Tachieva proposes innovative and practical ways to take the existing fabric of sprawl communities and transform then into vibrant, compact neighborhoods.
Buy this book
Street Value: Shopping, Planning, and Politics at Fulton Mall 
By Rosten Woo, Meredith TenHoor and Damon Rich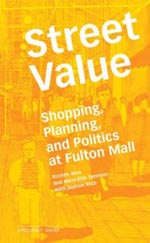 Princeton Architectural Press, 208 pages The authors of this slim, richly illustrated treatise say that city planners have long sought to "fix" Fulton Street. Though the specifics of their plans vary, the intentions remain the same: to tame the irreverent exuberance of Brooklyn's beloved shopping district. The authors seek to reframe the discussion of Fulton Street away from a persistent 1960's urban renewal context, arguing that despite the sensory chaos of street vendors hawking DVD's, jewelry stores flashing gold-plated wares and record stores blasting reggae, Fulton Street - and other places like it - works. The deceptively lightweight book takes a unusual approach to capturing its subject through pictures, interviews and ephemera. Buy this book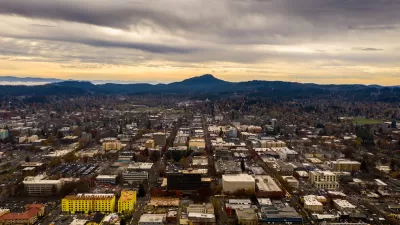 Eugene Ends Parking Minimums
In a move that complies with a state law aimed at reducing transportation emissions, Eugene amended its parking rules to eliminate minimum requirements and set maximum parking lot sizes.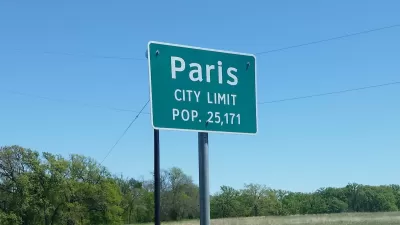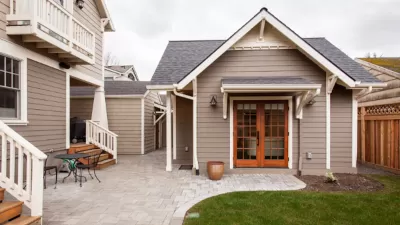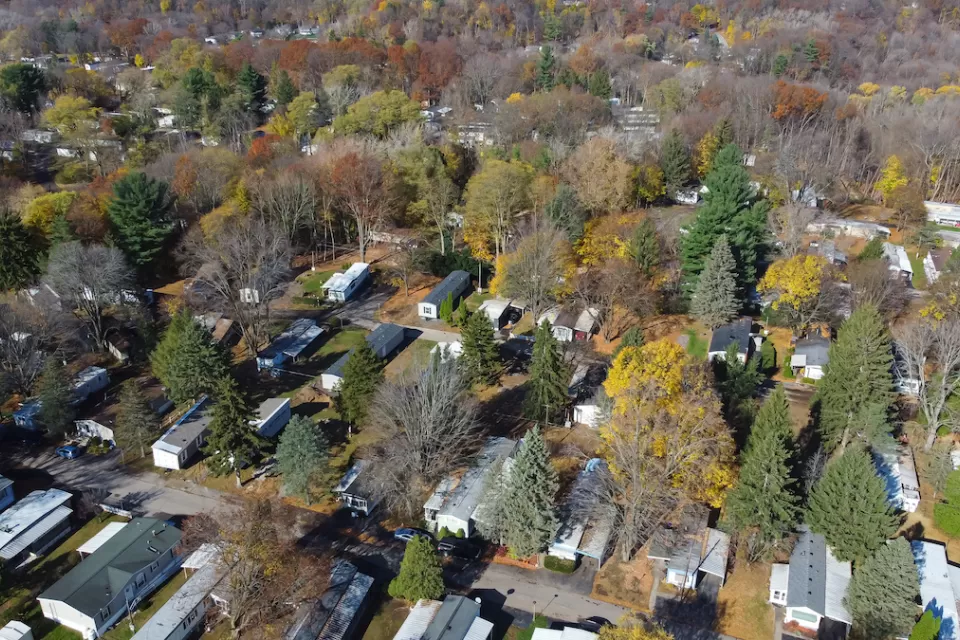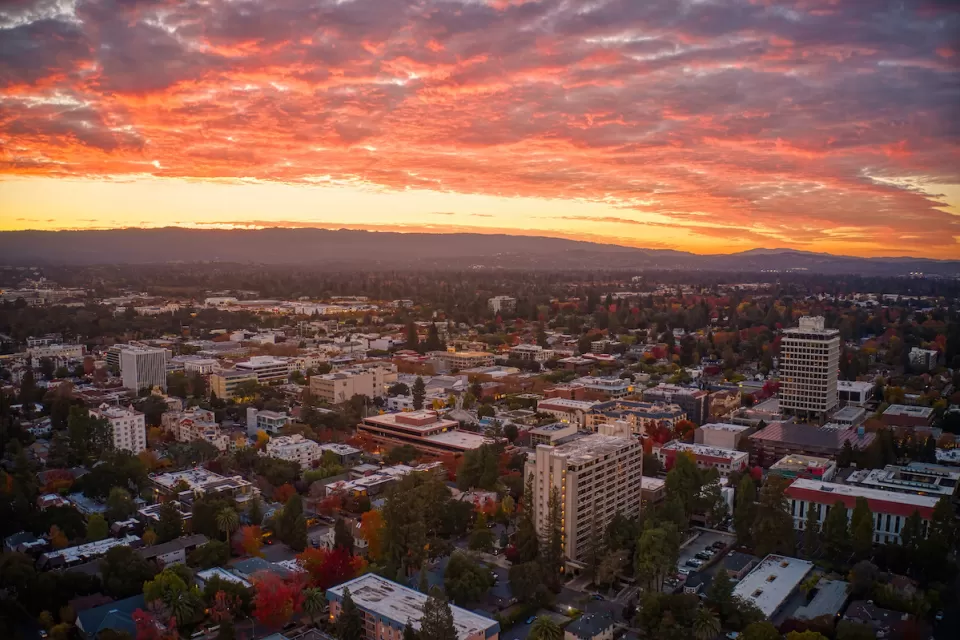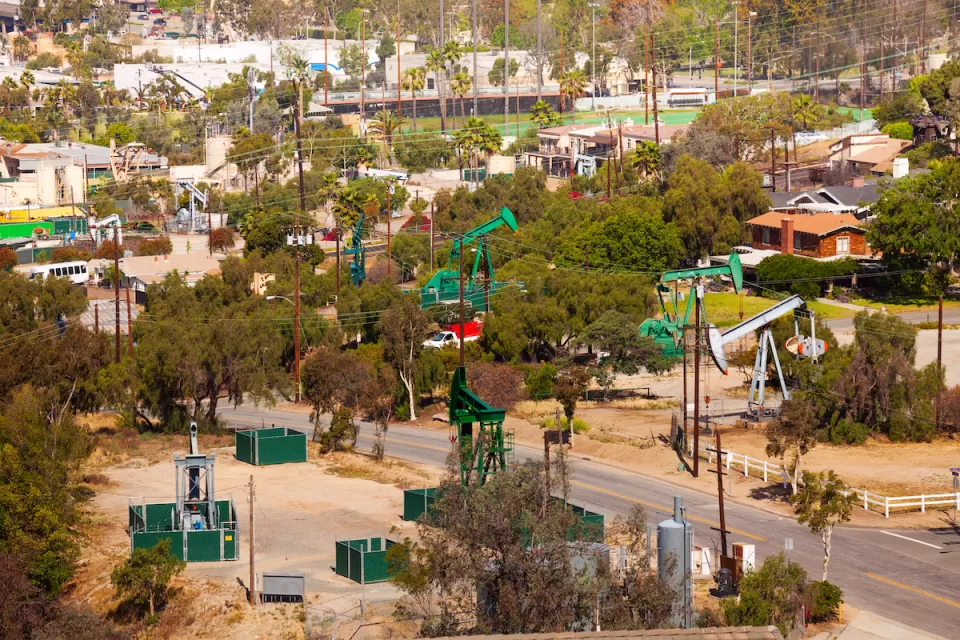 This six-course series explores essential urban design concepts using open source software and equips planners with the tools they need to participate fully in the urban design process.
Learn the tools for implementing Universal Design in planning regulations.
View More