Planopedia
Clear, accessible definitions for common urban planning terms.
---
What Is GIS?
GIS software, which combines location information with data about a range of other attributes, has become an indispensable tool for mapping and spatial analysis in urban planning and dozens of other fields.
---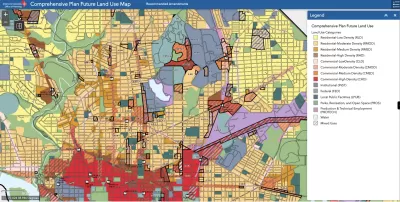 An important part of any planner's toolkit, a Geographic Information System (GIS) is a system for creating, managing, and analyzing data using spatial data as the common denominator. GIS connects data with maps, letting users create visual representations of geographic data, analyze patterns and relationships, manage resources, and more. For planners, GIS is a crucial tool for identifying problems, understanding change and trends, and forecasting potential future outcomes.
GIS is part of spatial data infrastructure, which the Federal Geographic Data Committee defines as "the technology, policies, standards, human resources, and related activities necessary to acquire, process, distribute, use, maintain, and preserve spatial data." At its most basic, GIS software maps data by overlaying a dataset (for example: income, household size, zoning type, etc.) over a map, which serves as the base container for additional data. Integrating data with maps can help planners perform spatial analysis and uncover patterns that may not otherwise be apparent.
History and Development
Before modern technology, Dr. John Snow famously used an early version of spatial analysis to predict the spread of London's 1854 cholera outbreak, helping authorities determine the source of the disease. In addition to developing spatial analysis, Snow simultaneously innovated the field of epidemiology. Others used hand-drawn maps to create spatial analysis models before computer-generated maps replaced them.
In the 1960s, Dr. Roger F. Tomlinson, known as the father of GIS, began using computers to map and catalog land use in Canada. ​​Tomlinson layered data about soil composition, drainage, and climate to determine the best areas for certain crops and guide land use decisions. His work became the basis of modern, computerized GIS mapping. At the Harvard Laboratory for Computer Graphics, created in 1965, Howard Fisher and others continued developing computerized map-making.
The United States Census Bureau was another early GIS pioneer. In 1970, scientists at the Census created the Geographic Base File – Dual Independent Map Encoding data format, allowing them to digitally input 1970 Census data. Today, urban planners frequently use data and shapefiles provided by the Census Bureau to create maps and analyze conditions in their communities. As remote sensing, satellite, and other technologies grew in complexity, GIS continued to evolve to include and synthesize more data, becoming ubiquitous in the public and private sectors.
Applications
While GIS has countless applications across many fields, the key characteristic that defines the field is, unsurprisingly, geography. That is, some part of the data is spatially referenced to geographic locations. All additional data must reference this spatial location while adding more information. In one example given by the United States Geological Survey (USGS), scientists can use GIS to discover the common characteristics between the locations where a rare species has been sighted to figure out the conditions necessary for that species to exist.
GIS programs can use a variety of data types as inputs, using location data as the key index variable connecting the layers. Using both vector and raster formats, GIS mapping can present a wide range of spatial information from both digital and non-digital sources.
There are three types of vector data used in GIS:
Point: distinct data points such as cities or schools.
Line: linear features such as roads or rivers.
Polygon: areas such as city boundaries or water bodies.
Raster data comes from image-based data such as satellite imagery and remote sensing.
Once spatial data is in place, GIS allows the user to combine it with tabular attribute data that provides additional information, via spreadsheets or other tabular files, linked by one column that references the location.
Beyond visualizing data, GIS can be used to perform complex analysis using spatial and statistical methods. Uses of GIS include:
Resource management
Fleet management
Crime mapping
Targeted advertising
Crop data
Public health analysis
Wildfire risk assessment
Disaster response and hazard mapping
Biodiversity monitoring
Healthcare access
The most commonly used GIS programs are ESRI's ArcGIS and QGIS. Both use the Python scripting language, a useful tool for aspiring GIS developers. QGIS is a free, open source program available for Windows, Mac, and Linux. ArcGIS is paid software only available on Windows. Currently, ArcGIS remains the more popular option among professionals and comes with more analytic capabilities. Most urban planning university programs offer GIS courses and certificates, and ESRI offers a technical certification with multiple levels.
Example Maps
Los Angeles County's GIS-NET Public database catalogs land use data and resources in unincorporated L.A. County. One of the most basic examples of GIS, the map lets users toggle various layers such as zoning, freeways, fire hazards, historic resources, water bodies, and more. 
The New York City Vision Zero Dashboard is an excellent example of how real-time data can be integrated into maps to produce a dynamic database of useful information such as traffic conditions and accidents, weather, and air quality.
As this star chart beautifully illustrates, GIS isn't just for earthbound locations. This map uses declination and right ascension instead of latitude and longitude to plot the locations of stars, and layers other information such as constellations and relative brightness.
For more information and examples, watch this video from Planetizen Courses.
More planning terms