Planetizen is pleased to release its ninth annual list of the ten best books in urban planning, design and development published in 2009. This year's assortment ranges from an impassioned argument for sanity on the issue of private property to a low-key and practical guide to smart growth. And of course, Jane Jacobs makes an appearance.
---
Planetizen is pleased to release its ninth annual list of the ten best books in urban planning, design and development published in 2009. This year's assortment ranges from an impassioned argument for making transit fun to a low-key and practical guide to smart growth. And of course, Jane Jacobs makes an appearance. The Planetizen editorial staff based its 2010 edition list on a number of criteria, including editorial reviews, popularity, Planetizen reader nominations, number of references, sales figures, recommendations from experts and the book's potential impact on the urban planning, development and design professions. This year, historical analysis dominates the list, with five or more books reaching back into the past for insight. Erik Sanderson reaches back all the way to 1609 in Mannahatta: A Natural History of New York City, and Mark Ovenden digs into the history of the Paris Underground with a lushly illustrated coffee table book. But the future and present are not forgotten, with several books tackling today's realities and strategies for improvement. We present our list in alphabetical order, and are not assigning rank. And now, on to the list!
---
Bicycle Diaries by David Byrne
Viking Press, 300 Pages
This book does not have the heft of importance that other books on this list have (Krier's book is remarkably heavy), but in many ways Byrne turns that to his advantage. Byrne is famous as the lead singer of the Talking Heads, but he has had a worthy career since then as an artist and musician. Here, he plays the part of a bicycle advocate, and indeed he has appeared on his book tour in some cities along with bicycle planners and politicians. The strength of his reflections are in the commonplace, in just taking the time to bike slowly along and really see the built environment. "The scale of both the street and these buildings is not quite human," Byrne writes about a ride through Berlin. "and the images that come to mind and the accompanying sensations imply to me an idealistic utopian infinite heaven. Ideals and ideologies do not have boundaries, after all." Part flâneur, part Zen master, Byrne's writings feel like haiku for urbanists.

Buy this book
The Smart Growth Manual
By Andrés Duany and Jeff Speck with Mike Lydon McGraw Hill Professional, 240 pages
The goal of The Smart Growth Manual is clear from page 1: to create a guidebook for smart growth following the pattern of the Charter for New Urbanism. Duany, Speck and Lydon have achieved that in spades (the Charter is included in the appendix, in case we missed the connection). It even clears up some of the architectural arguments that attach themselves to New Urbanists, such as this segment of Section 14.1, Regional Design; "While new buildings should not be compelled to mimic their historic predecessors, designers should pay attention to local practices regarding materials and colors, roof pitches, eave lengths, window-to-wall ratios, and the socially significant relationship of buildings to their site and the street; these have usually evolved in intelligent response to local conditions." In addition to making the old "traditional vs. modern" argument irrelevant, Duany, Speck and Lydon have truly managed to boil down the best parts of current practices into a highly readable, portable book.
Buy this book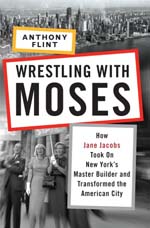 Wrestling With Moses: How Jane Jacobs Took On New York's Master Builder and Transformed the American City By Anthony Flint
Random House, 231 pages
The sign of a good writer is when readers find the villain sympathetic. That's just what Anthony Flint accomplishes for Robert Moses in Wrestling With Moses. While the story is a pageturning tale of Jane Jacobs' unlikely win over New York's power broker, the ending is bittersweet, summed up best in this sentence, from pg. 178; "Large-scale projects that Moses had proposed would never again succeed without public scrutiny and consent." Did Jacobs open the doors for an era of NIMBYism? Can Moses' history as a destroyer of neighborhoods be forgiven in balance of his other successes, like the string of public parks he successfully created in wealthier neighborhoods around New York? Flint goes to great pains to get the details right, and the story flows effortlessly. This book rounds out our understanding of the great Jane Jacobs as a person with human foibles and an acerbic spark.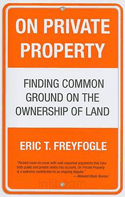 On Private Property: Finding Common Ground on the Ownership of Land by Eric Freyfogle
Beacon Press, 186 Pages
In On Private Property, Freyfogle implores the reader to accept and appreciate the complexity of property rights and put away "the simple story about individual landowners pitted against big government." This complexity, he tells us in the introduction, stems in part from a lack of historical perspective in Americans' collective consciousness. He even specifically names the US Supreme Court as answering "the wrong question" in decisions on private property, leading the debate from a discussion of the common good and leaving more important questions unanswered. Freyfogle works to set the discussion on a more appropriate course by dealing with seven key half-truths responsible for keeping us from answering the more important questions. He adeptly weaves historical and legal context throughout the book, with real world examples that make clear his point: there is no simple solution to dealing with private property.
Buy this book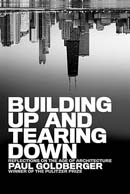 Building Up and Tearing Down: Reflections on the Age of Architecture by Paul Goldberger
The Monacelli Press, 319 pages
In looking back on the past two decades of architecture, one could hardly ask for a better guide than Paul Goldberger, architecture critic for The New Yorker. Goldberger, who won the Pulitzer Prize in 1984 for his criticism, continues to rank among the best writers in examining architecture, urban development and city change. This collection of 57 essays is mainly a result of his tenure at The New Yorker, and spans the 1990s and 2000s. While the emphasis is largely on buildings, Goldberger's essays and critiques also take a macro view of those buildings' impact on the cities around them and the people who use them. His documentation of city change -- in all its glory and folly -- reveals the subtle-yet-commanding power of design, and the unrelenting impact of its successes and failures.
Buy this book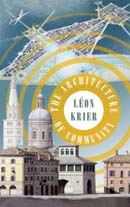 The Architecture of Community By Léon Krier
Island Press, 460 pages
The idea of "traditional" urban design can evoke a sense of nostalgia for a bygone era; a desire to go back in time to the way things used to be. But in his new book, The Architecture of Community, Léon Krier shatters that perception. Traditional design, he argues, is based simply around the human and his or her interaction with the environment. He says it's time to bring that focus on the human scale back to the field of architecture and urban design. One of the most influential architects and urban theoreticians of the modern age, Krier has a clear idea of what's wrong with many of our urban development patterns -- and he has a similarly clear idea about how those problems can be avoided in the future. His book is a collection of suggestions and proposals that make up a general theory for how to create traditional cities, towns and communities that are attractive, livable, and (hopefully) truly loved.
Buy this book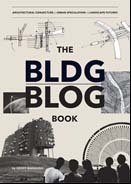 The BLDGBLOG Book by Geoff Manaugh
Chronicle Books, 271 Pages
Geoff Manaugh's eccentric and always-enlightening blog has been reborn as a book, full of thematic essays and interviews that discover and explore architecture and urbanism in what might seem unlikely realms. From undiscovered bedrooms to underground storm drains to the sounds of plate tectonics, many of the book's essays and brief speculations are based around the seemingly un-architectural. But Manaugh's inquisitive suppositions seek and find their connection to the built environment in a way that prompts the reader to question the limits of city function, urban design and architecture. The book consistently draws correlations between vastly interdisciplinary fields like film, literature, meteorology, urban exploration and futurism – correlations that are at once absurd and surprisingly realistic. A thoroughly illustrated and enjoyable read, The BLDGBLOG Book should find its way onto the shelf of anyone who thinks about the importance and potential of urban space and architecture.

Paris Underground: The Maps, Stations and Design of the Métro by Mark Ovenden
Penguin, 176 pages
This collection of bright photos, annotated text, and historical insight introduces you to the Paris underground system in a way that makes you feel like you've been riding the rails for years. It's the kind of book you don't have to be a transit geek to appreciate. Highly detailed and picture-heavy, Paris Underground is a comprehensive history of the Paris Metro system. Documenting the evolution of the system from its modest roots as a nascent idea in the mid-1800s to its implementation and expansion throughout the city and its surrounds, the book painstakingly tracks the intricate and often volatile path of developing what has become one of the most iconic subway systems in the world. With more than 1,000 images, maps, and original documents, the book is subway porn -- an insider's guide to a transit system that will make anyone outside of Paris jealous and hungry for a better system in their own city.
Buy this book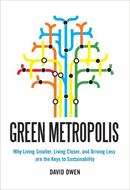 Green Metropolis: Why Living Smaller, Living Closer, and Driving Less are the Keys to Sustainability By David Owen
Riverhead Books, 368 Pages
David Owen made a splash with an article in The New Yorker several years ago presenting the idea that the density and efficiency of New York City make it the greenest place to live. He has fleshed out the argument in Green Metropolis, to the consternation of many environmentalists who can't seem to get past the widely-held idea that tall buildings have "embodied energy" (the energy expended in transportation of building materials and their fabrication) to see the inherent "embodied efficiency" (lower heating bills, less infrastructure costs over time). Much more than a gloss, Green Metropolis goes into great detail about the true efficiency of density, an argument that is much-needed in today's political climate.
Buy this book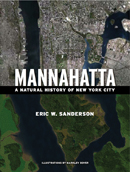 Mannahatta: A Natural History of New York City By Eric W. Sanderson
Abrams Books, 352 pages
"Discovered" 400 years ago by Henry Hudson, the island of Manhattan has been given the historical treatment. Mannahatta compiles historical documents and maps and combines them with georeferenced maps to recreate the island as it once was, 400 years ago. Author Eric W. Sanderson recreates the forests and meadows of Mannahatta that came before the skyscrapers and subways of modern-day Manhattan. The book is expertly detailed in its historical analysis, and intricately researched to create an incredibly realistic a look back at what the city once was. This is the perfect coffee table book for New Yorkers, but is also a great read for anyone interested in the natural history of America and its settlement. Sanderson's history lesson is also a comment on the city today, and a look at how it might evolve over the next 400 years. Though intimately New York, this book is also a guide to the evolution of cities in general -- from ancient soils to the rooftops of the future.
Buy this book
Other Noteworthy Titles
---

To-Morrow: A Peaceful Path to Real Reform By Sir Peter Hall
Routledge, 248 pages
Most of us learned in school about Ebenezer Howard's Garden Cities of To-Morrow without really reading the book. Turns out most of us were misinformed; the original book was called To-Morrow, A Peaceful Path to Real Reform, and has not appeared in its original, full-color form since 1899. This new version from Routledge rectifies that, along with detailed commentary on the text and the influence it has had on subsequent generations. A much-needed biography gives context on this extraordinary thinker, whom a friend called, "not a political theorist, not a dreamer, but an inventor." The full range of Howard's invention is shown to its best advantage in this new edition.
Buy this book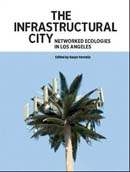 The Infrastructural City: Networked Ecologies in Los Angeles Edited by Kazys Vernelis
Actar, 251 pages
The Infrastructural City begins with a startling image: a massive electrical grounding point a mile off of Will Rogers Beach in Los Angeles, the end of the Pacific Intertie, an 850-mile transmission line stretching up to the Oregon/Washington border. Investigating the infrastructure in plain sight has become fashionable (see The Center for Land Use Interpretation), but these undertakings often lack actual analysis. Varnelis and his writers bite off more, adding their own opinion and observation. Looking at the Wilshire Corridor, where Planetizen's offices are located, writer Lane Barden rightly observes that "the towers of Wilshire Boulevard suggest a city within a city on a linear trajectory that slices across the landscape like a knife. [...Wilshire is] the ideal center to a city that dreams of itself in perpetual, vehicular motion." While a familiarity with the city helps, non-Angelenos will also enjoy this unique angle on urbanity.
Buy this book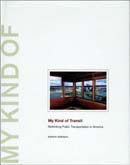 My Kind of Transit: Rethinking Public Transit in America By Darrin Nordahl
University of Chicago Press, 175 pages
Far from a boring treatise on the need for public transit, My Kind of Transit is an appeal on behalf of the emotional factors that make most transit repulsive and a select few forms enjoyable and uplifting. Nordahl's observations are sometimes so simple they elicit a 'duh!' moment. For example, New Orleans' famous St. Charles streetcars feature a seat that can be switched to face forwards or backwards, so that a group of four could face each other. That kind of flexibility, he argues, gives riders control over their environment, the same type of control that William H. Whyte observed people seeking in public spaces. Overall, a clear concise argument on behalf of humans. (Read a full review here).
Buy this book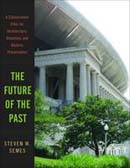 The Future of the Past: A Conservation Ethic for Architecture, Urbanism and Historic Preservation By Steven W. Semes
Norton, 272 pages
We received several books this year on the topic of historic preservation. Semes' The Future of the Past rose to the top for clarity of focus, presenting a persuasive case against the preservation ethic of oppositional styling; that is, the argument that new additions to historic buildings must be deliberately un-period so as not to be confused with the existing, "authentic" section of the building. Semes illuminates the error of this way of thinking, and walks us through a history of architecture and preservation in the process.
Buy this book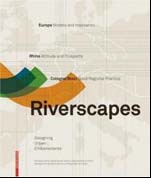 Riverscapes: Designing Urban Embankments By Montag Stiftung Urbane Raume and Regionale 2010 [Eds.]
Birkhauser, 575 pages
This is, in all likelihood, the ultimate guide to riverfront planning and development. With profiles of roughly 100 projects throughout Europe, Riverscapes offers both an inspirational look at the possibilities of riverfronts, and also a detailed sourcebook that should be on the shelf of any planner or designer in a city with a river. Hulking at more than 550 pages, this is the kind of book that is best digested little by little; one chapter a day at lunch would turn even a casual reader into an expert. With essays, specific design notes and detailed case studies, Riverscapes will be the go-to resource for any place looking to recreate and reuse its waterfront amenities. Despite its European focus, the lessons and practices explored in this compendium will become increasingly relevant to other world cities as they begin to look at their oft-forgotten riverfronts as opportunities rather than simple utilities.
Buy this book