Planetizen is pleased to release its eleventh annual list of the ten best books in urban planning, design and development published in 2012.
---
This year's list covers a range of urgent topics, from the technical to the technological, from the city to the country, from the personal to the professional; all oriented towards a variety of audiences from "Dummies" to "Straphangers."
The Planetizen editorial staff based this year's list on a number of criteria, including editorial reviews, popularity, number of references, sales figures, recommendations from experts and the book's potential impact on the urban planning, development and design professions.
Common among this year's books is the provision of practical suggestions for meeting some of our greatest challenges: how to grow our economies, how to build multi-modal cities, how to maximize our public spaces, and how to head off environmental collapse.
We present our list in alphabetical order, and are not assigning rank. And now, on to the list!
---

Beyond Zuccotti Park: Freedom of Assembly and the Occupation of Public Space
Edited by Ron Shiffman, Rick Bell, Lance Jay Brown, and Lynne Elizabeth with Anastassia Fisyak and Anusha Venkataraman
New Village Press, 480 pages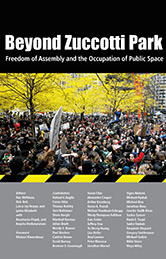 If a book could resemble a social movement, Beyond Zucotti Park comes real close. This eclectic collection of essays takes its name from the small New York City park where the Occupy Wall Street protests began. Much like the diverse concerns that found a place in the Occupy movement, this book traverses a broad range of questions about the role of public spaces in society. The essays in this book examine the history, design, and politics of public spaces by bringing together the opinions and viewpoints of urban planners, architects, social scientists, educators, and journalists. The topics covered are varied. A report on the 596 Acres project explores how maps and physical signage can connect people with their public spaces. One essay takes the reader to Northern England's village greens and compares them with public spaces in the U.S. Another compares the design and histories of Cairo's Tahrir Square, Pearl Square in Bahrain, Placa de Catalunya in Barcelona, with Zuccotti Park. Beyond Zucotti Park includes case studies as well as personal experiences, sifting through the legal, social, and cultural issues that underlie how we perceive and use our public spaces.  (Also see Sam Hall Kaplan's review on Planetizen.)
Design After Decline: How America Rebuilds Shrinking Cities
by Brent D. Ryan
University of Pennsylvania Press, 288 pages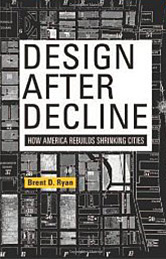 Design After Decline provides a clear and concise overview of the impacts of the urban renewal policies of the 1950s to 1970s, and subsequent rebuilding efforts, focusing on two similar yet distinct cases of shrinking cities: Detroit and Philadelphia. Through those two frames, Brent D. Ryan sets out to explain how it came to pass that "Modernism's arrogance" was supplanted by failed "community-based" rebuilding efforts characterized by "generic models provided by the suburban building industry." The book offers a critical examination into the suburbanization and development of each city, drawing lessons from past policy decisions and market conditions, which failed to bring planning and design to the forefront. Ryan concludes on a hopeful tone, by outlining five design and planning principles for cities to follow in order to "establish a new trajectory for shrinking-city rebuilding." Through those principles, he hopes to rekindle the "future-oriented spirit of Modernism" combined with the best lessons from the last four decades of community-based planning, to leverage "the richest opportunities that currently exist for urban designers in the United States."
Green Washed: Why We Can't Buy Our Way to a Green Planet
by Kendra Pierre-Louis
ig Publishing, 224 pages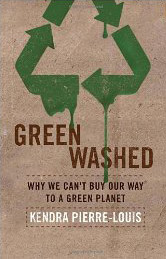 For those of us who believe that by buying an organic cotton shirt, or cage-free eggs, or a Toyota Prius (or Chevy Volt for that matter), we're doing our small part to save the planet, Kendra Pierre-Louis offers a blunt rejoinder in Green Washed. In chapters that examine the unsustainable foundations underlying our food, transportation, building, and energy systems, and our entire global economy, Pierre-Louis explains why "to bring our planet and the people who inhabit it to a healthy place, we have to reevaluate our relationship with 'stuff' and with each other…" While this may sound like the formula for an extremist diatribe set to overwhelm us into inaction, the author is quick to point out that she endeavors to give readers practical ways to push our planet towards social evolution. "We cannot shop ourselves out of our current environmental mess," Pierre-Louis declares. The fundamental solution is to consume less. The alternative, she explains, is environmental collapse.  

Nature Wars: The Incredible Story of How Wildlife Comebacks Turned Backyards into Battlegrounds
By Jim Sterba
Crown Publishers, 343 pages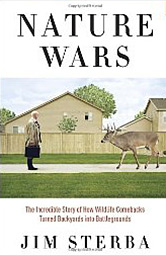 The coexistence of man and nature in the eastern United States would be praiseworthy, believes Jim Sterba, if not for the fact that wildlife and urban development have proven to be incompatible. Small creatures are routinely run over by drivers, geese are chased off of lawns and golf courses, and wild animals are killed to "protect" domestic pets. This book discusses the historical waves that have altered the American landscape: from European settlers who took over native lands, to a forest comeback in the 19th century, to urban sprawl after the Second World War, to the present environment in which people have grown disconnected from nature and "dismiss roadkill as a ghoulish joke." A correspondent for The Wall Street Journal and The New York Times, Sterba provides an eloquent account of the human-wildlife conflict and forces us to shift our thinking about nature, wildlife, and our lifestyles.
Startup Communities: Building an Entrepreneurial Ecosystem in Your City
by Brad Feld
John Wiley & Sons, Inc., 202 pages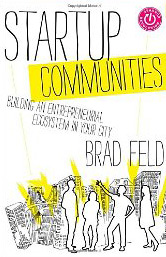 In his fourth book, Brad Feld offers insights learned in his role as an entrepreneur with over twenty years of experience, and as part of what he refers to as the "vibrant entrepreneurial community" in Boulder, Colorado. The book points to the promise and role of entrepreneurs in serving as catalysts of economic growth — a quality much in demand across the recession-scarred country. Feld covers a lot of ground, while managing to stay rooted in a case study of Boulder. He offers would-be entrepreneurs, and entrepreneurs alike, a better understanding of the underlying processes of developing a "startup ecosystem", as well as the "tools" to achieve results anywhere. Four key components comprise Feld's recipe for fostering entrepreneurialism: leadership, long-term commitment, inclusiveness, and community development. He elaborates on these, which he also refers to as the "Boulder Thesis", pointing out common problems and myths. Startup Communities aims to move the focus away from large regional areas such as Silicon Valley, Boston, New York and Seattle to newer "start-up communities" or clusters, both large and small in cities such as Austin, Los Angeles and Washington DC. Feld succeeds in providing experienced-based tools and concepts that will be of use to academics, students, and practicing planners, alike.
Straphanger
by Taras Grescoe
Times Books, 336 pages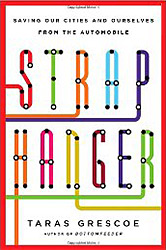 Why does public transportation in the United States get such a bad rap? In his latest book, the award-winning author of Bottomfeeder, sets out to prove that the world's overwhelming reliance on public transit is no aberration; why subways, buses, and trains create better places than cars and freeways; and why, ultimately, the U.S. must hop on board. Taras Grescoe's chronicles the transportation sagas of thirteen cities in order to highlight what people around the world are doing to create more sustainable and more civil communities built around transit. In a work that reads like a novel with intricate storytelling, while also providing a tremendous amount of well-researched information for the reader, Grescoe hones in on daily lifestyle and transportation choices through the eyes of city dwellers, families and the author's personal accounts. Each chapter is unique and thorough, taking into local opinions, as well as the perceptions of international experts. Grescoe's writing is poignant and engaging, and his perspective is one rooted in his love for cities and "real public space." The book will appeal to planners and city lovers alike, and to anyone who shares an interest in making cities better places to live.
Too Much Magic: Wishful Thinking, Technology, and the Fate of the Nation
By James Howard Kunstler
Atlantic Monthly Press, 254 pages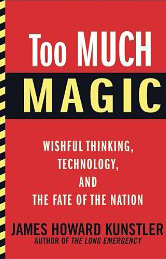 The apocalyptic world of depleted fossil fuels, inefficient suburbs, and failing institutions that James Howard Kunstler envisioned in 2005's The Long Emergency has come into being in this book. He argues that "the long emergency" of continuing economic decline and an emerging energy crisis began in earnest during the seven years since the publication of his best-selling book and admonishes those who believe technology can solve these problems as "overly optimistic." In Too Much Magic, Kunstler presents a bleak prospect of our world collapsed under a backwards "Happy Motoring" lifestyle centered around suburbia, energy and resource shortfalls amid growing world populations, and unrealistic thinking that technology will provide a way out. His caustic, yet eye-opening, critique of present and future times pushes forward the discussion among environmentalists and world leaders as to how to deal with these threatening issues.
Urban Bikeway Design Guide
By the National Association of City Transportation Officials
329 pages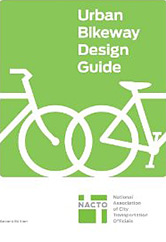 NACTO's Urban Bikeway Design Guide provides municipalities with an impressive and comprehensive toolkit for designing safer streets that accommodate pedestrians, bicyclists, and drivers. Utilizing detailed diagrams and clear guidance, the Guide covers treatments including bike lanes, cycle tracks, intersections, signals, signing and marking, and (new to this Second Edition) bicycle boulevards. Colorful and easy to use, for each treatment the book offers three levels of guidance: required features, recommended features, and optional features. It illustrates these features using real-world case studies from the "best cycling cities in the world." The standardized set of guidelines is based on extensive research by urban bikeway planning professionals, traffic engineers, planners, and academics "with deep experience in urban bikeway applications" and compiled for American cities that may not have had "the resources to develop ideas and try out street designs that they have seen elsewhere." However, bike enthusiasts too can learn about these state-of-the-practice solutions and will surely enjoy the interactive format of the guide. As Planetizen blogger Mike Lydon pointed out in a post comparing NACTO's document to a competing one from AASHTO, the Urban Bikeway Design Guide also benefits from a fully hyperlinked web portal and a more accessible price point.
Urban Planning for Dummies
by Jordan Yin, PhD, AICP
Wiley, 340 pages, $24.99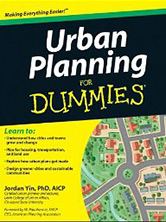 No doubt that some planners will scoff at a book like Urban Planning for Dummies. However, the compelling proposition of the "Dummies" series is an accessible introduction to a body of knowledge about a field. Seeing a "Dummies" book about urban planning is actually a testament to the fact that the field of urban planning has arrived in the public consciousness. It's also clear that this is book is not at all for dummies. Written in every-day English, the book thoughtfully and engagingly covers topics from "What is Urban Planning" (Chapter 1) to "Urban Design" (Chapter 8) to "Planning and Disasters" (Chapter 14). Useful and interesting case studies appear throughout the book. Although clearly targeted to citizen planners or those considering a career in planning, this is still an exceptional introduction to the field that doesn't require a background in planning the way the Green Bible (The Practice of Local Government Planning) does. The author, Jordan Yin, is a faculty member at the Levin College of Urban Affairs at Cleveland State University, where he teaches undergraduate and graduate classes in urban planning, including workshop classes that engage students in hands-on community planning projects. Further, the book's technical editor was Dr. Jennifer Evans-Cowley, who teaches Planetizen's AICP preparation course and is an associate professor and associate dean at Ohio State University.
Walkable City: How Downtown Can Save America, One Step at a Time
by Jeff Speck
Farrar, Straus and Giroux, 320 pages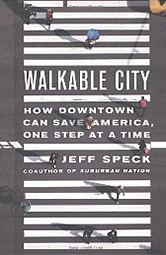 With intellectual cunning and great prose, Jeff Speck diagnoses the disconnect between what planners know about how to make cities livable, and what most of America's small and midsized cities are or (mostly) aren't doing to encourage "wealth, health, and sustainability." According to Speck, walkability is the one issue around which the livability and vitality of cities depends. "Get walkability right, " he says, "and so much of the rest will follow." To that end, Speck outlines ten essential "steps" for creating walkability, and ushering in "a new era of street life in America."
Editor's Note: In the interest of full disclosure, the publisher of this book is an advertiser on the Planetizen website, and has previously advertised this book on the site.
This six-course series explores essential urban design concepts using open source software and equips planners with the tools they need to participate fully in the urban design process.
Learn the tools for implementing Universal Design in planning regulations.
View More