What's Behind Bike Share's Skyrocketing Growth?
Earth Policy Institute's bike share charts allow readers to compare bike share programs in the U.S., now numbering 34 with 18,000 bikes. As impressive as it is, a comparison with bike share programs abroad put the numbers in perspective.
Janet Larsen provides this update upon the advent of the latest bike share in the U.S. on August 29 - the 700 bike, five-city Bay Area Bike Share. "The United States is now home to 34 modern bike-sharing programs", she wrote, up from 22 at the start of the year, as she noted in her May 14th update.  
The U.S. "fleet" of bike share bikes doubled to over 18,000 just since January 1, 2013.  "With a number of new programs in the works and planned expansions of existing programs, the U.S. fleet is set to double again by the end of 2014", she writes.
Eight Largest U.S. Bike Share Programs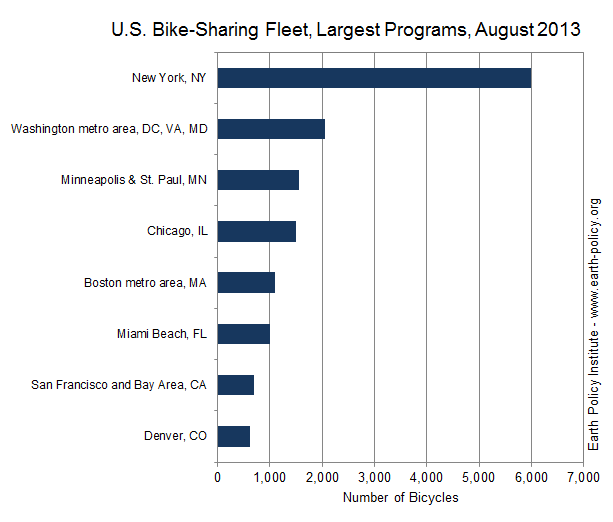 While there is no dismissing the impressive increase in cities adopting bike share, the numbers are a bit skewed by the size of New York's Citi Bike - 6,000. "The program opened at the end of May 2013, and in less than 3 months hit 2 million trips. On busy days, each bike gets checked out seven times or more, a remarkably high borrowing rate", according to Larsen. Next largest is the District of Columbia metro area -- one third the size. 
The other large bike-sharing debut in 2013 was in Chicago, where 1,500 Divvy bikes now grace the streets. The program hopes to double to 3,000 cycles by the end of the year, 
Yet on an international scale, it's clear that the U.S. is playing catch-up. The chart below puts U.S. programs in perspective.
Largest Bike-Share programs Worldwide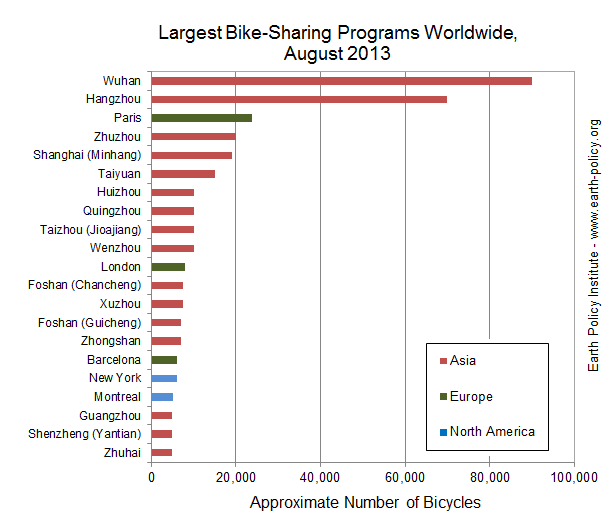 While much has been written about Paris' Vélib, it ranks only as #3.  The top two are in China: "Wuhan reportedly has some 90,000 shared bikes for its 9 million people. Hangzhou has 69,750 bikes that are well integrated with that city's mass transit", according to Larsen.  Each of the five top cities have more fleet bikes than the entire U.S.. New York ranks as #17 in number of fleet bikes among international bike share programs.
Published on Monday, September 2, 2013
in
Topics