---
Over the course of the year, the editors of Planetizen review and post summaries of hundreds of articles, reports, books, studies, and editorials related to planning and urban development. Here are our picks for the most notable planning trends of the past year, and the topics that we'll be paying special attention to in 2012.
A survey of the last year's planning and development landscape reveals that the fallout from the economic downturn and housing crisis are still being felt. Not only have the repercussions given planners and designers an occasion to reconsider fundamental questions regarding suburban development patterns and the "American Dream" of homeownership, they also provide an opportunity for local governments to rethink how they provide services in a new economic era. With a presidential election looming this year, we're sure to see more reflection on the urban policies of the Obama Administration, and the politicization of urban issues continue to intensify.
Read the full summaries below.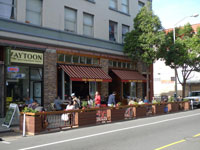 Known by many names, this emerging field of urban intervention, whether deemed tactical, temporary, guerrilla, pop-up, ad-hoc, DIY, or open-source, covers a range of projects from the officially sanctioned parklets of San Francisco and the pedestrianization of Times Square, to bottom-up projects such as street libraries in New York and guerrilla wayfinding in Raleigh. The topic will be explored in depth later this year at the Venice Biennale as the focus of the U.S. pavilion being organized by the Institute for Urban Design.
Arising out of funding challenges brought on by the recession, frustrations with the drawn-out approvals process, the organizational opportunities provided by the internet and social media, emerging technologies, and courageous designers, tactical urbanist projects are often defined by their low-cost temporary nature and require little or no approvals or environmental studies (or go without them anyway).
Whether driven from the bottom-up or the top-down, amateurs or professionals, legal means or questionable means, tactical urbanist projects are aimed at improving urban environments one intervention at a time.
2/1/11: The Age of DIY Urbanism
7/26/11: 'Pop-Up' Urbanity
8/7/11: "Pop-Up Cafes" Hit New York
12/22/11: The Growing Popularity of Temporary Architecture
1/1/12: Touring San Francisco's Parklets: A New Urban Trend
2/9/12: Tactical Urbanism Lands in Raleigh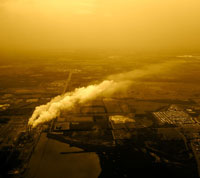 Planners are beginning to talk about an issue that has been of increasing interest to the medical profession, the connection between our built environment and public health. A growing number of studies are showing the causal relationship between urban design and a number of public health crises affecting Americans, including "asthma caused by particulates from cars and trucks, water contamination from excessive runoff, lead poisoning from contaminated houses and soil, and obesity, heart conditions, and depression exacerbated by stressful living conditions, long commutes, lack of access to fresh food, and isolating, car-oriented communities."
On the medical side, for the past decade Dr. Richard J. Jackson, now chair of environmental health sciences at the University of California at Los Angeles's School of Public Health has been leading the charge to investigate and raise awareness on the topic. Planning and Public Health has also been an area where the Federal government seems to be taking substantive leadership, urged on by Michelle Obama's Let's Move campaign and the HUD-DOT-EPA led Partnership for Sustainable Communities.
While planners may be late in understanding the problems, they have the tools to devise innovative and effective solutions for improving public health.
11/28/11: The Intersection of Health and Urban Planning
1/16/12: Mapping Transportation and Health in the United States
1/16/12: California Cities Lead the Way in Foodshed Planning
1/23/12: The Threat of Poor Urban Design to Public Health
1/25/12: LA County Passes Healthy Design Ordinance
2/2/12: First Lady Highlights Efforts to Improve Food Access in Visit to LA
2/13/12: What the Feds are Doing to Connect Housing Policy to Health Policy
The New Economy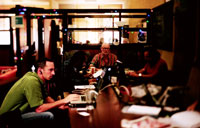 The "New Economy" has been used as a catch-all to describe a number of trends impacting employment, transportation, housing, and urban and community development which have become more pronounced by the upheavals of the economic downturn. Driving the new economy are macro changes in demographics, politics, and economic globalization.
Issues arising out of these changes that are of importance to planners include:
Higher percentages of renters over owners because of foreclosures and defaults, and delayed purchases by Generation Y
Technology-based ability to work from multiple locations, enabling different office configurations and demand
In absence of federal leadership, pioneering efforts by local public agencies to work with leaders from private industry, philanthropy and advanced research to boost exports, strengthen the clean economy, expand innovation capacity and train the next generation of workers
The growing desire for transportation choices, alternatives and consequent infrastructure investment demands, including expanding private funding to address new and decaying infrastructure
11/19/11: How - and Where - Should We Live?
1/18/12: The Innovations Building the Next Economy in 2012
2/9/12: Will a Liberated Workforce Still Need Cities?
2/18/12: The New Skills Required for the New Economy
Urban Issues in Politics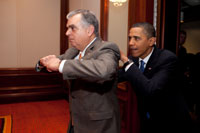 In case you didn't notice, 2012 is an election year. And with candidates across the country staking out their positions on all areas of public policy, issues that impact planners such as immigration, housing, and transportation are getting plenty of attention. While the Republican candidates have touched upon some of these issues during the primary process, I'm sure a more robust debate will accompany a shift to the general election, where President Obama will be asked to defend his much debated urban record.
In addition, what started as a fringe conspiracy theory regarding a United Nations effort to deny property rights and herd citizens toward cities advocated by Tea Partiers in local meetings, has become a national strategy and the next front in the culture wars as it's been picked up by the mainstream of the Republican Party.
Coincidentally, with both houses of Congress debating once-in-a-blue-moon transportation authorization bills, the pages of Planetizen have been rife with the lurid details of the associated partisan squabbles.
Obama and GOP Candidates
1/19/12: Whatever Happened to Obama's Urban Agenda?
1/25/12: Primary Forces Candidates to Confront Florida's Housing Crisis
2/4/12: Reassessing Obama's Urban Policies
Tea Party Versus Planning
8/29/11: Tea Party Creates Headaches For Planners
12/13/11: Is Smart Growth a United Nations Plot?
2/6/12: A Shift of Attention to Local Planning Policies by the Tea Party Becomes National News
2/15/12: How Mass Transit Became a Focus of the Culture Wars
Transportation Bills
7/14/11: Experts Weigh Mica's Transportation Bill
2/2/12: House Transportation Bill: Can It Be Salvaged?
2/21/12: Transportation Bills Going Nowhere Fast
The Housing Crisis and its Impact on Communities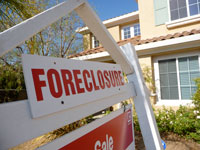 As the economic downturn entered its fifth year, the damages wrought by the foreclosure crisis have affecting communities across the country in divergent ways and have helped to reveal profound issues affecting suburbia and the American Dream of home ownership.
While the federal government has struggled to create and enact programs to help distressed homeowners, cities such as Cleveland have taken it upon themselves to hold investors and banks accountable. Meanwhile design professionals are taking an opportunity to analyze and think creatively about how to address the systematic problems afflicting the suburbs, which have been exposed by the downturn. Still others are investigating the home as the locus where the microeconomics of household finance and the macroeconomics of a globalized economy are mediated and are challenging the long held (and federally promoted) "American Dream" of homeownership.
2/14/11: Obama Administration Rethinks Home Ownership
1/20/12: A Tale of Two Cities
1/22/12: On the Docket: Stabilizing Neighborhoods in Cleveland
1/27/12: Ideas for Fixing the Housing Market
2/7/12: The Obama Administration's Crusade for Homeowners
2/12/12: Could Good Design Have Prevented the Housing Crisis?
2/14/12: Can Designers Resuscitate the Suburbs?
2/18/12: The Risks and Opportunities of Globalization as Reflected in Homeownership
2/21/12: Is Homeownership Liberating or Limiting for Single Women?
High Speed Rail: Where are you Going?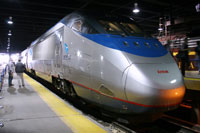 The last year saw wild swings in the prognosis for one of President Obama's signature initiatives, providing 80 percent of Americans access to high-speed rail within 25 years. In February of 2011, Florida became the latest state to reject high-speed rail, when Gov. Rick Scott turned down the $2.4 billion in federal money for an 84-mile passenger line between Tampa and Orlando that had previously been awarded, joining Republican Governors in Ohio and Wisconsin.
California's high-speed rail project, with funding of more than $10 billion in place through committed state and federal dollars, was seen as the context most ripe for Obama's ambitious plans to begin in earnest. However, lingering questions about the proposed first phase of the project in the state's Central Valley, diminishing public support, and a revised budget that doubled estimated costs to nearly $100 billion have caused considerable head winds.
Evaluating the state of high-speed rail at the turn of the new year, Michael A. Fletcher concluded that, "So far, Obama has wagered more than $10 billion in federal money on high-speed rail, only to see his plans diminished, one after another."
2/13/11: High Hurdles Face Obama's $53 Billion HSR Investment
9/20/11: CA High Speed Rail: Litigation Bonanza
11/12/11: Gov Reafirms Faith In Controversial CA High Speed Rail Project
1/17/12: America Hits the Brakes on High Speed Rail
1/20/12: Brown Doubles Down on High Speed Rail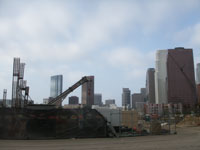 With spiraling budget deficits affecting every level of public spending in California, the state's new/old Governor Jerry Brown set his sights on the state's 400 plus Redevelopment Agencies to help generate revenue for cash-strapped agencies. Sparked by Brown's 2011 budget proposal calling for the elimination of redevelopment agencies to recapture an estimated $1.7 billion to offset state budget costs for one year, and then give the money to counties and schools thereafter, the year-long battle between legislators and redevelopment agencies reached its culmination with a December 29th decision by the state's Supreme Court to uphold the dissolution of redevelopment agencies.
In what is seen as a "watershed decision for local economic development", the dissolution of redevelopment is likely to have far-reaching effects on how cities in California finance and facilitate urban redevelopment. With cities across the state still scrambling to figure out a path forward for in-progress redevelopment funded projects, the futures of hundreds of redevelopment agency employees, the orderly disposal of agency assets, and the ways in which affordable housing and economic development in under-served communities will be encouraged in the future, this story is far from complete.
1/20/11: California Redevelopment Rush In Full Throttle
3/8/11: Audit Rips CA Redevelopment Agencies
7/12/11: Projects Die As Redevelopment Agencies Try to Survive
9/23/11: Westside Mayors to California: Leave Redevelopment Alone!
12/30/11: California Supreme Court Rules to Eliminate Redevelopment Agencies
2/2/12: Comprehensive Coverage of the End of Redevelopment in California
The Politics of Space
Lastly, how could we talk about 2011 without discussing two of the most profound socio-political and spatial stories of the year – the Arab Spring and the Occupy movement. Counter to prevailing theories about the decline in the importance of place and public space due to the rise of virtual space, both movements relied on the power of place as a political and symbolic force.
The place-based protests of the Arab Spring and the Occupy movement have provided indelible lessons about informal settlement, privately-owned pubic spaces, homelessness, democracy, and the politics of space.
2/24/11: Public Space and Revolution
3/1/11: The Public Role of Tahrir Square
5/20/11: Public Space Key in Arab Unrest
10/14/11: Privately Owned Public Spaces: What are the Rules?
10/21/11: A Call to Revamp POPS
10/24/11: Homelessness and the Occupy Wall Street Movement
11/11/11: Occupy D.C.'s Urban Design Model
Top Planning Issues of Past Years
Take a look back at the top issues from past years and compare with this year's list to see the most pervasive trends in urban planning.
The Surprising Oil Tax in the Inflation Reduction Act
President Biden has made reducing gas prices paramount in his administration, so it was likely a surprise to hear a Republican senator last Sunday warn TV viewers that a revived and increased oil fee in the climate bill will increase their gas costs.
The Tide Has Turned Against Open Streets
Once a promising development for advocates pushing for a less car-centric future in cities, the open streets movement has ceded significant ground to cars since the height of the pandemic.
This six-course series explores essential urban design concepts using open source software and equips planners with the tools they need to participate fully in the urban design process.
This course aims to provide an introduction into Urban Design Sketching focused on how to hand draw master plans using a mix of colored markers.
View More