Court Sides with Sadik-Khan: Bike Lane Stays
The ruling by Judge Bert A. Bunyan of the State Supreme Court in Brooklyn on Tuesday added steam to the NYC transportation commissioner Janette Sadik-Khan's campaign for pedestrian-oriented, cyclist-friendly streets.
Writing for The New York Times, Michael Grynbaum reports:
"The plaintiffs, a pair of well-connected civic groups in Brooklyn with ties to Iris Weinshall, a former city transportation commissioner, had accused the city's Transportation Department of cherry-picking statistics to create a favorable portrait of the lane and misleading residents about its benefits. The judge's decision did not address those claims or the merits of the lane itself."
"The suit, filed in March, had come to encapsulate a moment of unusual civic strife over one of City Hall's most notable policies. The city and its supporters say bicycle lanes are progressive, healthy additions to streets that reduce traffic accidents and promote more environmentally friendly modes of transport. Opponents have accused the city of neglecting the needs of car drivers and say the lanes can create dangers for pedestrians."
Expressing her opinion on the court's decision, Sadik-Khan emphatically asserts, "Merely not liking a change is no basis for a frivolous lawsuit to reverse it."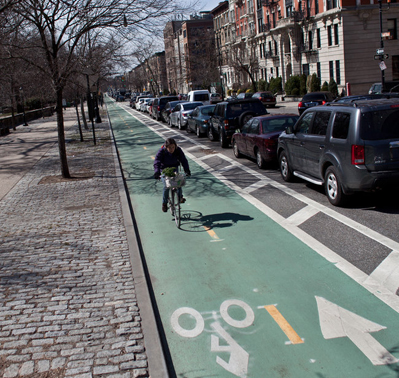 Located along Prospect Park West in Brooklyn, a mile-long, two-way bike path was installed last summer by the City.
Published on Tuesday, August 16, 2011
in
Topics