In 1995, planners forecasted that the Millbrae BART Station in San Mateo County, where riders can transfer to/from Caltrain, would attract 16,500 weekday riders. Fourteen years after it opened, ridership is 7,000. Planners were off by 58 percent.
---
The Millbrae Station was part of a five-station extension from Daly City, then the southern terminal of the Bay Area Rapid Transit system located just south of San Francisco in San Mateo County, to Millbrae and the San Francisco International Airport (SF0). The extension opened in June 2003.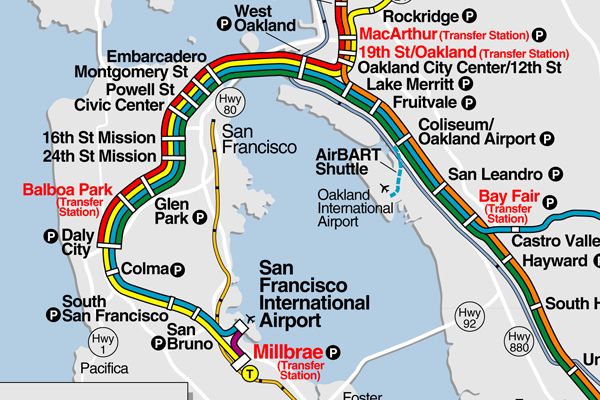 Credit: Bay Area Rapid Transit District
Among the reasons that BART offers to explain why the projection was so wildly off-base, reported by Michael Cabanatuan for the San Francisco Chronicle:
Economic: Projections were made in booming era in 1995; the extension opened in 2003 during dot-com bust.
Issues pertaining to Caltrain–BART transfer. At one point, the plan was to make the Millbrae Station the northernmost on the San Francisco-San Jose commuter line, forcing transfers between the two systems.
Lack of transit-oriented-development, although that is changing with a TOD proposal "with 376 units of housing, a 150-room hotel, and office and retail space is planned on land next to the station."
On that last bullet, letter-writer Felicia Charles of Millbrae comments:
The low ridership at BART's Millbrae Station is no surprise. City planners have been talking for almost 20 years about developing the area around the station for mixed residential and commercial use.

Millbrae would be more than just a place for riders to make transfers between Caltrain and BART — a true bustling transit — if such development had already occurred...
Problems abound  for the Caltrain-BART transfer, mainly due to the Caltrain schedule, which can be limited to one train an hour depending on the time of day. But it was unrealistic to think that most San Francisco-bound Caltrain commuters would transfer to BART for a longer trip with more stops to San Francisco, notwithstanding Caltrain's distant terminal from Market Street in downtown San Francisco, which BART serves with several stops.
Politics beats out Planning
What's not mentioned by Cabanatuan was the role that politics played, particularly by a former San Francisco supervisor and then-state senator Quentin Kopp, who was determined to see BART go directly to San Francisco International Airport at a stub station, rather than to a shared Caltrain-BART-SFO AirTrain station.
 "If the SFO extension does not go directly into the airport people will simply not use it," stated Kopp. "People will not use a system that requires them to transfer." [September 1990; page 9 of MIT study below].
What Kopp didn't say is that upon arrival in the airport, almost all passengers would need to transfer to the SFO AirTrain to get to their terminal.
The "politics over planning" outcome is laid out in two academic papers on the BART to SFO extension:
The two-stops vs. one stop decision came down to two San Francisco local ballot measures in June 1994, writes MIT's Wenzel.
 What San Francisco voters were not aware of with the Measure I ballot was that extra track and an extra station to the south of SFO in Millbrae would also have to be built adding over $500 million to the total project costs with negligible gain in ridership.
Fortunately, not all ridership forecasts are so wildly wrong. Consider L.A. Metro's extension of the Expo Line to Santa Monica which opened in May of last year. This month ridership reached the 2030 projection.
Hat tip to Margaret Okuzumi.
FULL STORY: Millbrae BART Station ridership isn't near original expectations
Red Cities, Blue Cities, and Crime
Homicides rose across the nation in 2020 and 2021. But did they rise equally in all cities, or was the situation worse in some than in others?
This six-course series explores essential urban design concepts using open source software and equips planners with the tools they need to participate fully in the urban design process.
Learn the tools for implementing Universal Design in planning regulations.
View More