Generation X Author Pitches Futuristic Utility Pole
Douglas Coupland, most famous for authoring the book Generation X: Tales for an Accelerated Culture, is pitching a combined street lamp / wifi / cell phone tower to bring connectivity to Vancouver's streets.
Reporter Tristan Hopper explains Coupland's "V-Pole" concept:
"The device, no larger than a telephone pole, would manage cell signals for multiple carriers, as well as wireless Internet for the surrounding neighbourhood. In-ground pads plugged into the pole would provide inductive charging for parked electric cars. An integrated touch screen would display maps, ads or payment interfaces, and an LED street light would be perched at the top of the pole."
This image is available at V-Pole.com: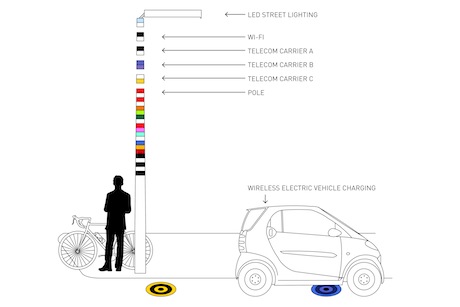 Thanks to Joe Batcheller
Published on Tuesday, May 22, 2012
in
Topics