Seattle to Eliminate Downtown Ride Free Area
A recent "political compromise" forces Metro to phase out the City's highly popular free bus service that serves over 10 million riders per year.
According to Metro, about one-third of daily 9,000 bus riders are unpaid passengers. The rest either have prepaid passes or transfers.
Scott Gutierrez reports:
"Seattle pays King County about $400,000 a year to offset fares that Metro would otherwise collect. But that amount has been the same since the agreement was reached in 1973. It costs Metro about $2.2 million to operate the ride free zone."
"Republicans on the county council, including Kathy Lambert, Jane Hague and Reagan Dunn, had called for doing away with the zone or renegotiating for a higher fee from Seattle. The decision to eliminate the ride free zone helped sway Hague and Lambert to join five Democrats in agreeing to pass a two-year $20 "congestion reduction charge" that will provide about $25 million annually for bus service. The council's Democrats need a supermajority to pass the fee without having to send it to voters, but all four Republicans had been opposed until now. The vote is scheduled for Monday."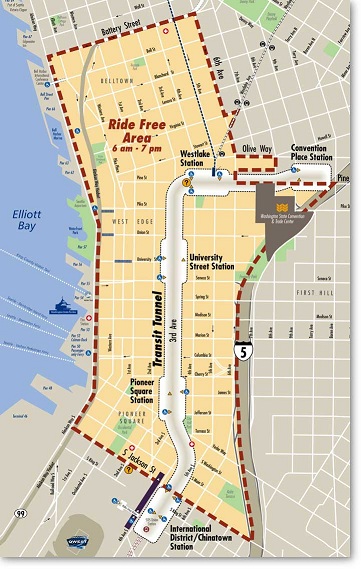 Buses in Ride Free Area run north-south from Battery Street to South Jackson Street, and east-west from 6th Avenue to the waterfront.
Published on Friday, August 12, 2011
in