---
In the first action of its kind, the Federal Transit Administration (FTA) has withdrawn $70 million in federal stimulus funds from the proposed Oakland Airport Connector project due to multiple civil rights violations by the Bay Area Rapid Transit District (BART). Marc Brenman and Richard A. Marcantonio talk about what happened. 
On the eve of the anniversary of the federal stimulus bill, the Obama Administration has delivered a clear and powerful message that there will be no more business as usual where public money is concerned. In the first action of its kind, the Federal Transit Administration (FTA) has withdrawn $70 million in federal stimulus funds from the proposed Oakland Airport Connector project due to multiple civil rights violations by the Bay Area Rapid Transit District (BART). This strong action underscores the President's recent State of the Union promise to vigorously "prosecut[e] civil rights violations."
FTA's action resulted from an administrative civil rights complaint filed under Title VI of the Civil Rights Act of 1964 by Public Advocates Inc., a public interest law firm in San Francisco. The complaint, on behalf of advocacy groups Urban Habitat, TransForm and Genesis, alleged that BART had failed to conduct an "equity analysis" to determine if the benefits of the airport connector project would be shared fairly by minority, limted English proficiency, and low-income communities. The advocates had put BART and the San Francisco Metropolitan Transportation Commission (MTC) on notice last summer that federal requirements had not been met, and that the project would have foreseeable discriminatory consequences.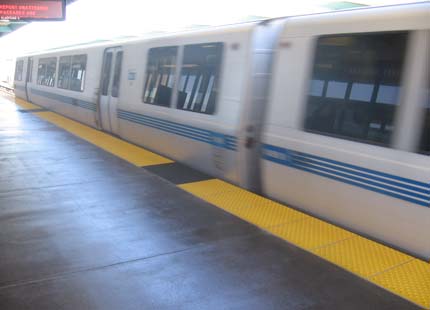 BART's Airport Connector Project
BART is the region's heavy rail surface-and-underground provider, with service reaching from the San Francisco International Airport, up through the City of San Francisco, and under the Bay into Oakland and Berkeley. MTC is the San Francisco Bay Area's Metropolitan Planning Organization (MPO) for regional surface transportation planning purposes under federal surface transportation statutes. Both MTC and BART are subject to Title VI, which prohibits recipients of federal financial assistance from discriminating on the basis of race, color, or national origin.
MTC last year allocated $70 million in American Recovery and Reinvestment Act (ARRA) stimulus funds to BART to fill a funding gap in its proposed half-billion dollar, 3.2 mile connection to the Oakland International Airport. The proposed line would have originated at the Coliseum BART station in East Oakland, a heavily minority and low income community. It would have proceeded to the Oakland Airport along a corridor rich in low-wage retail and hotel jobs, making no stops along the way to give workers access to those jobs. The proposed one-way fare was $6, double that of BART's existing bus shuttle.
The complaint alleged that the lack of stops and the high fare excluded low-income riders and riders of color from the benefits of the project, and that this exclusion violated not only Title VI, but also U.S. Department of Transportation's (DOT) Environmental Justice Order, and FTA's Title VI Circular guidance. The Environmental Justice Order stems from the federal executive order on environmental justice, signed by President Bill Clinton in 1994. It requires federal agencies to avoid projects that have high and disproportionately adverse effects on minority, limited English proficient, and low income communities. FTA's Title VI Circular institutionalizes these requirements by requiring an equity analysis "at the planning and programming stages" to examine whether the project's benefits and burdens fall fairly on all affected communities. Specifically, will the benefits of the project be shared fairly by minority and low-income communities, or will they be excluded? And will the environmental, cost and other burdens fall fairly on those communities? Would the whiter and higher income groups get the benefits, while the minority and lower income communities suffer the disruption of construction and the noise of operations?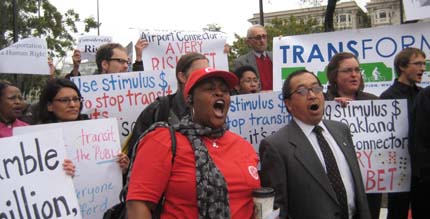 FTA Investigates and Requires Corrective Action
FTA accepted the complaint and conducted an on-site investigation, both of the Airport Connector project and of BART's wider Title VI compliance. In a January 15 letter to BART and MTC, Administrator Peter Rogoff concluded that the complaint's allegations were true. He put BART and MTC on notice that FTA would withhold the $70 million in ARRA funds unless BART could quickly provide an adequate plan to FTA to correct multiple deficiencies, including the missing equity analysis. BART submitted two drafts of its plan, and Public Advocates submitted lengthy comments on each to FTA, noting numerous deficiencies.
Administrator Rogoff's February 12 follow-up letter to BART and MTC stated "I am required to reject your plan. Given the fact that the initial Title VI complaint against BART was well founded, I am not in a position to award the ARRA funds to BART while the agency remains out of compliance." Rogoff further wrote "It is imperative that BART, as a recipient of FTA funds, come fully into compliance with Title VI as soon as possible."
$70M Will Now Go to Ailing Transit Agencies Around the Region
As a result of FTA's action withdrawing these funds from BART's Airport Connector project, MTC will now reallocate them where they should have gone originally: to struggling Bay Area transit systems that are unable to maintain existing service levels, much less to expand. A number of transit systems around the country have cut or threatened to cut services and hours due to the financial straits jurisdictions find themselves in. Unfortunately, many of these cuts have fallen hardest on minority and low income communities, who use transit more than other groups.
AC Transit serves the East Bay, and a heavily African-American and Latino population in its service area. Its 78 percent minority ridership brought a class action civil rights lawsuit against MTC in 2005, challenging MTC's preference for rail expansion over preserving existing bus service. That case is currently pending in the Ninth Circuit Court of Appeals.
AC Transit will receive $6.7 million of the redistributed stimulus funds, helping it to assuage the pain of an 8.4% service cut scheduled for March and of a possible further 7% cut later this year. Shares will also include $17.5 million to SF MUNI, which currently faces a $16.9 million operating deficit and will be voting on March 2 on a proposal to cut 230 jobs and implement severe service cuts; $12.2 million to VTA (San Jose), which has depleted its financial reserves and faces a $50 million operating deficit next fiscal year despite recently cutting service by 8 percent and raising fares. BART itself will receive $17 million, which it can apply against a $25 million budget shortfall to operate its core service. Millions more will go to several smaller operators to enable them to purchase clean-air buses.
Rogoff wrote separately to MTC that "the fact that BART has not conducted the necessary service equity analysis for the OAC project or fare equity analysis raises concerns that your agency does not have procedures in place to monitor its subrecipients." He noted that the advocacy groups had put MTC on notice of BART's failure and he ordered MTC to provide information on its procedures within 30 days.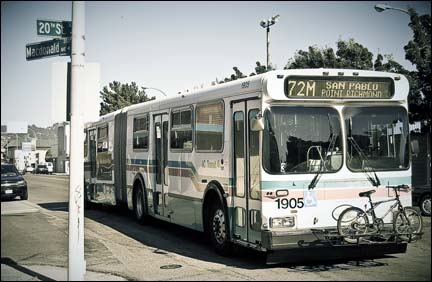 The effects of FTA's move should be felt across the country, where many "shovel ready" projects are simply off-the-shelf transportation projects that have never undergone adequate input, evaluation or analysis for social equity purposes. FTA's message is that these projects are not shovel ready until they are fair.
And by holding MTC accountable, FTA is sending the additional message that the responsibility for Title VI compliance rests ultimately with the MPOs.
While FTA's decision was made under Title VI, the U.S. Department of Justice early on issued guidance to federal agencies on use of ARRA funds, noting that civil rights provisions must be followed. It is interesting to note that this is different from the approach taken under the Patriot Act, which included language that it would be implemented "notwithstanding any other statute," which some people interpreted to mean that civil rights laws did not apply, even though they are Constitutionally based, and should take precedence over a statute like the Patriot Act. Thus, this instant action by DOT and FTA under ARRA puts civil rights laws back where they belong: as taking precedence to public policy decisions to disburse federal funds for economic stimulus purposes.
It is also a rare victory for environmental justice efforts. Advocates have long taken the position that social equity analysis, public involvement and public participation are critical for a transportation project to serve all the people in a service area equitably.
Equity in land-use, transportation, housing, and education go hand in hand to produce sustainable development. Public transportation is a critical factor in fighting climate change and reducing greenhouse gases. Many minority and low income groups have taken a serious interest in climate change matters, because they believe that they will be adversely affected earliest and most severely by climate change and the negative effects on landforms. They also understand that the same policies that drove segregation and disinvestment in communities of color over the last 50 years have also generated the sprawl and vehicle travle that is fueling climate change.
This should be a wake up call to state and local agencies across the country that they will be held accountable for making sure all taxpayer dollars are spent appropriately and wisely, whether from ARRA, the upcoming Jobs Bill or any other federal funding.
---
Richard A. Marcantonio is Managing Attorney for Public Advocates, Inc. a public interest law firm in San Francisco, California.
Marc Brenman is former Executive Director of the Washington State Human Rights Commission and former Senior Policy Advisor for Civil Rights at the US Department of Transportation.
The Right to Mobility
As we consider how to decarbonize transportation, preserving mobility, especially for lower- and middle-income people, must be a priority.
This six-course series explores essential urban design concepts using open source software and equips planners with the tools they need to participate fully in the urban design process.
Learn the tools for implementing Universal Design in planning regulations.
View More