---
The "parking puzzle" plagues cities all over the world, but it gets easier to solve when good ideas are shared. Andrea Broaddus and Michael Kodransky attended the recent World Parking Symposium and report back on some of the latest technologies and innovations.


The 7th Annual World Parking Symposium (WPS) was held from June 28-July 1 in Breda, The Netherlands with an international line-up of speakers featuring parking operators, real estate developers, academics, and technology providers. Unlike other parking conferences that have more of a trade focus, the WPS is meant to generate discussions about parking impacts, how the field is evolving and what new research is needed.
Attendees were assigned teams to engage in a "parking puzzle" exercise as a practicum to encourage cross-learning over the course of the conference and solve a real parking problem in Breda. The problem involved a proposed 25,000 square meter mixed-use retail and residential development slated to add 1,300 new parking spots. However, utilization of the existing parking supply in the city hovered just above 50% during most of the week, except during two peak shopping periods. Participants met frequently throughout the conference to discuss how to best balance the tensions between economic development, accessibility to the city's core and the demand for parking.
A familiar face to American planners, Professor Donald Shoup gave a talk on using pricing to manage demand for parking on college campuses and cities. Author of The High Cost of Free Parking, Dr. Shoup's ideas on parking economic theory were cited by many presenters. In a recent study titled The Politics and Economics of Parking on Campus, Dr. Shoup used the UCLA campus, as a testing ground for his performance-based parking management theories. Although UCLA has the largest parking supply of any U.S. university campus (except for Texas A&M), campus surveys showed parking was a top concern for students. Shoup's study showed that the "carrot" of free public transit was not enough to curb driving without the "stick" of higher priced parking during peak use times for everyone-faculty, staff, students and visitors.
Researchers Itzhak Benenson and Karel Martens from the University of Tel Aviv presented a new agent-based modeling tool for cities to develop urban parking policy and measure the impacts of changes such as removal of parking lots. They showed how the parking search behavior of a virtual population of drivers can be displayed dynamically using a GIS database of street networks and parking facilities. Peak times and areas of demand are instantly revealed on a map.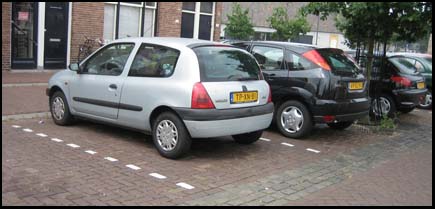 Technological Solutions
Several speakers presented on how high tech automated parking systems are being used to make more efficient use of garage space by eliminating access ramps and lanes. These systems function like giant filing cabinets for cars. Drivers simply park their vehicle at an access point, get out of the car, and turn a key to activate a powerful hydraulic system which stores the car away. Cars are stacked and shuffled around inside the garage until retrieved. It takes about 1 ½ to 2 minutes to get your car out of such a storage system – it appears in its box, and you get in and drive away. The first adopters of such automated vehicle storage systems are mainly high-end condo developments such the 155 space Calle de O'Donnell multiparker in Madrid. Munich became the first city to install one as a public garage in 2007, when they built a 376-spot underground garage to replace 255 on-street parking spots on three city blocks where search traffic and blocked sidewalks were chronic issues. Uncertain whether residents would tolerate not having instant access to their vehicle, Munich offered the underground garage spots at about half the price of a spot in a normal garage; today there is a long waiting list to get in. Residents consider the new streetscape, with wider sidewalks, half the traffic lanes, and just a few parking spots for guests, a major improvement.
Perhaps the most visionary new technology is for collecting road and parking tolls. Bern Grush of Skymeter Corporation presented a transformation of the familiar stationary toll-collection device, such as a parking meter or toll booth, into a small mobile unit which sits in the windshield of cars. This on-board tolling meter uses high-grade GPS capable of tracking the precise location of a vehicle, even to a particular parking spot. The on-board unit records how many miles are driven, on which roads, and where the vehicle is parked. Then it uploads the data (encrypted for privacy) to a system operator that handles billing the vehicle owner. The vehicle owner then pays a monthly bill based on the exact mileage driven and minutes of parking. Widespread use of such devices would not just allow cities to get rid of parking meters cluttering sidewalks, it would allow them to offer drivers pricing incentives to influence their behavior, such as congestion charging.
Paying for Parking
Mr. Grush pointed out that the traditional method of revenue-generation for road maintenance, the fuel tax, is a blunt instrument compared to a usage-based payment system. The price of road use can be differentiated by time of day, location, and distance, allowing road users to pay lower prices for driving at off-peak times on less congested roads. This new technology can provide road users with real-time feedback about the cost of their travel. If prices were set to capture externalized costs such as vehicle emissions and travel delay, this technology could be used to manage traffic congestion and encourage the use of fuel efficient vehicles.
A representative from the Amsterdam parking center demonstrated a new parking enforcement tool that the city is using to increase efficient surveillance of illegally parked cars. A special minivan is driven down local roads with a 3 directional camera on each side that takes 160 snapshots a second to recognize a license plate number. Since parking in Amsterdam can be paid using a license plate number, those that have not paid are detected immediately by the sophisticated system. About half a dozen parking wardens tail the minivans on scooters and issue fines. Currently, only two minivans are in operation as part of the initial launch of the enforcement strategy with a third minivan expected on the road sometime in the coming months.
On the final day, teams presented their parking puzzle solutions. Every group challenged the need for the number of parking spaces in the new development as proposed. The winning solution? An off-site park-and-ride lot with a visitor shuttle to central Breda.
The next World Parking Symposium will be held in Canada in 2011. For more information, see www.worldparkingsymposium.ca.
---
Andrea Broaddus and Michael Kodransky are with ITDP Europe.
The Right to Mobility
As we consider how to decarbonize transportation, preserving mobility, especially for lower- and middle-income people, must be a priority.
Early Sharrow Booster: 'I Was Wrong'
The lane marking was meant to raise awareness and instill shared respect among drivers and cyclists. But their inefficiency has led supporters to denounce sharrows, pushing instead for more robust bike infrastructure that truly protects riders.
This six-course series explores essential urban design concepts using open source software and equips planners with the tools they need to participate fully in the urban design process.
Learn the tools for implementing Universal Design in planning regulations.
View More