Motor vehicle travel provides many benefits, but also imposes large costs on users and communities. With better planning people can drive less, rely more on non-auto modes, enjoy more access, and be better off overall as a result.
---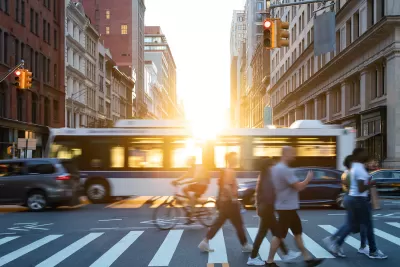 Too much of a good thing is not good. For example, although food is essential for life and happiness, many people eat too much of the wrong grub, which is costly, unhealthy, and environmentally harmful. Smart public policies support food quality rather than quantity. Older policies designed to make sweet and rich food abundant and cheap, such as corn, milk and beef subsidies, are inappropriate for people suffering from obesity.
Similarly, many older transportation planning practices were designed to maximize automobile travel speeds and travel distances with little consideration for other modes or goals. Such planning fails to serve people who cannot or prefer not to drive, and increases many costs. Such planning results in economically-excessive automobile travel: vehicle-miles with costs that exceed benefits, which travelers would forego if given better options and incentives.
I explore this issue in the report Are Vehicle Travel Reduction Targets Justified? Why and How to Reduce Excessive Automobile Travel. The Institute of Transportation Engineers recently published an informational report that I helped write, Vehicle-Miles Traveled as a Metric for Sustainability, which includes much of the same information. 
This is an important and timely issue. Per capita motor vehicle travel grew steadily during the twentieth century but peaked about 2005, and current demographic and economic trends (aging population, rising vehicle costs, changing consumer preferences, more teleworking and working from home, increased health and environmental concerns) are increasing non-auto travel demands. It is time to step back and rethink our transportation planning goals and how best to achieve them.
Vehicle travel benefits and costs
Vehicle travel provides benefits and imposes costs. Its marginal benefits tend to decline as people travel more since rational users make the most beneficial trips first and add lower-value trips as their mobility increases, as illustrated below (green line).
Vehicle Travel Benefit, Cost and Net Benefit Curves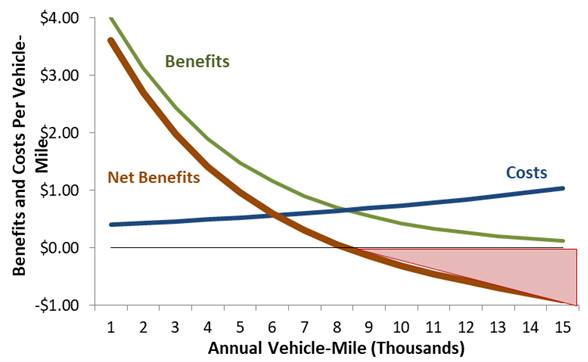 As per capita vehicle travel increases, so does the justification for policies that improve and encourage non-auto modes. For example, as vehicle traffic increases in a city so do the costs of expanding roads and parking facilities, plus crash and pollution costs. This justifies more investments in resource-efficient modes (walking, bicycling and public transit), and TDM incentives to discourage driving and encourage mode shifts.
Multimodal planning is also justified for fairness' sake. To be efficient and equitable, a transportation system must serve diverse demands, including the needs of travelers who cannot, should not, or prefer not to drive. Many current planning practices favor automobile travel over other modes and sprawl over compact development. For example, transportation agencies tend to undervalue and underinvest in non-auto modes; automobile travel is underpriced (motorists do not pay their share of road, parking, congestion, risk or pollution costs); and development regulations limit compact infill development. These planning distortions create automobile-dependent sprawled communities where residents are forced to spend more time and money driving than they would choose to given better mobility options and more efficient incentives.
Vehicle travel reduction targets
To help create more efficient and equitable transportation system, many jurisdictions have established vehicle travel reduction targets and are implementing transportation demand management (TDM) programs to achieve them. Below are examples.
British Columbia: reduce light-duty vehicle travel 25% and double non-auto trips by 2030.
California: reduce per capita light-duty VMT 25% by 2030 and 30% by 2045.
Colorado: major projects must support emission reduction targets.
Ireland: a 20% reduction in total vehicle travel.
Israel: cut car travel in half.
Minnesota: reduce vehicle travel 14% by 2040 and 20% by 2050.
New Zealand: reduce light-duty vehicle travel 20% by 2035.
North Carolina: Implement various TDM strategies to reduce traffic problems.
Oregon: reduce light-duty vehicle travel 20% by 2040.
Quebec: reduce solo car trips 20% by 2023.
Scotland: reduce vehicle travel by 20% by 2030.
United Kingdom: half of all urban journeys will be by active modes by 2030.
United States: reduce greenhouse gas pollution 52% from 2005 levels in 2030.
Washington State: 30% reductions by 2035 and 50% by 2050.
Boston: Locate every home within 10 minutes of public transit, bike-, and car-share by 2050.
Columbus: Create "smart mobility hubs," to help residents travel without a car.
Minneapolis: reduce VMT 40% by 2040 by increasing non-auto travel and compact development.
Orlando: most local trips are done on foot, bike, carpooling, or transit.
Phoenix: 90% of residents are within a half-mile of transit and 40% commute by non-auto modes.
Portland: reduce vehicle travel and associated emissions by 45%.
San Antonio: reduce average daily VMT per capita from 24 now to 19 by 2040.
Optimal automobile mode shares and annual mileage vary depending on factors such as development densities and residents incomes. High levels of automobile travel may be appropriate in affluent suburban and rural areas, but should decline as densities increase and incomes decline, as illustrated below. Automobile mode shares should be less than 30 percent in most urban neighborhoods, and less than 10 percent in city centers. Conventional planning ignores these factors, resulting in more auto-oriented planning than is fair and efficient in most communities.
Optimal Automobile Mode Shares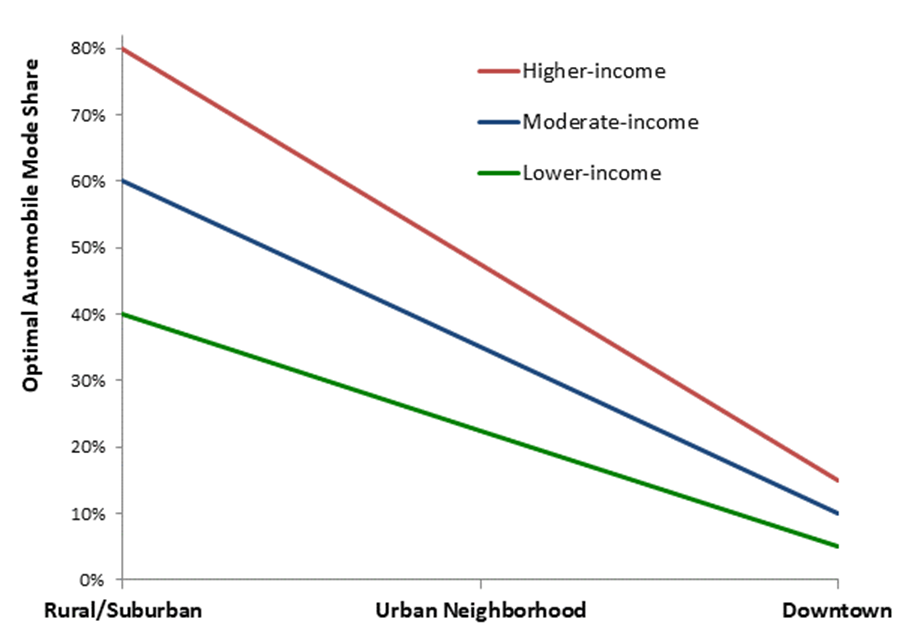 The policy justifications for vehicle travel reduction targets are often vague, focusing on one or two goals such as reducing local traffic congestion and pollution emission. My research indicates that a significant portion of current vehicle travel is economically excessive—its costs exceed its benefits and consumers would choose alternatives if they had better options and more efficient incentives. My report identifies various principles for determining optimal levels of vehicle travel, and therefore when vehicle travel reduction policies are justified, it describes methods for optimizing vehicle travel and examples of success, and responds to common criticisms. 
Vehicle travel reduction targets are justified to help align individual, short-term decisions with strategic goal. Currently, many planning practices are contradictory: on one hand transportation agencies invest in public transit systems, but on the other hand local governments impose parking minimums that subsidize automobile travel and limit development densities below what is needed for transit-oriented communities. Some jurisdictions now require that all major planning decisions support (or at least, do not contradict) vehicle travel reduction targets. This results in more multimodal planning, Smart Growth policies, and TDM programs that create communities where people can meet their needs with less driving.
Planning distortions and reforms
The table below summarizes some reforms needed for more efficient and equitable transportation planning, and their travel impacts.
Principles for Optimal Vehicle Travel
| | | | |
| --- | --- | --- | --- |
| Principle | Description | Reforms Needed | Travel Impacts |
| Consumer sovereignty | Planning responds to consumer demands. | More multimodal planning. Consider non-auto demands. | Improves and increases non-auto travel. |
| Fair share resource allocation | All users receive comparable shares of public resources. | More multimodal planning and investments. | Improves non-auto travel and reduces auto travel. |
| Efficient pricing | Users pay directly for infrastructure and external costs. | Efficient fuel taxes, road tolls, parking and emission fees. | Reduces vehicle travel, particularly under urban-peak conditions. |
| Comprehensive planning | Individual, short-term decisions should support strategic, long-term goals. | More comprehensive analysis of impacts, including currently overlooked planning goals. | Increases investments in non-auto modes and in TDM programs. |
| Accessibility-based planning | Evaluates performance based on accessibility. | Accessibility-based planning analysis. | Reduces the amount of driving needed to achieve access. |
These five principles can help guide planning decisions. They tend to support more comprehensive and multimodal planning, Smart Growth policies and TDM incentives.
North Americans currently average about 10,000 annual vehicle-miles per capita. Conventional planning assumes that all of this driving is beneficial and equitable; my research indicates that high levels of vehicle travel result, in part, from planning distortions that favor automobiles over other modes and sprawl over compact development. This is wasteful and unfair. It creates low-accessibility/high-mobility communities. We can do better!
This analysis indicates that vehicle travel reduction targets of 20-40 percent are usually justified. Many community goals, including congestion and emission reductions, affordability, equity, public health, and community livability are only achievable with less driving and more widespread non-auto mode shares.
Critics argue that vehicle travel reduction policies are inefficient and unfair, sometimes described as a "war on cars," but their arguments do not stand up to scrutiny. Although few motorists want to forego driving altogether, surveys indicate that many would prefer to drive less, spend less time and money on travel, and rely more on non-auto modes, provided that those options are convenient, comfortable, and affordable.
This research indicates that vehicle travel can be reduced in ways that achieve economic, social and environmental goals, provide financial savings, benefit most travelers, and enhance freedom overall.
For more information
Reyla Bellis (2021), Minnesota and California Move Toward Reducing VMT to Address Climate Change, State Smart Transportation Initiative.
CAPCOA (2021), Handbook for Analyzing Greenhouse Gas Emission Reductions, California Air Pollution Control Association.
Kevin DeGood and Michela Zonta (2022), Colorado's Greenhouse Gas Emissions Rule for Surface Transportation Offers a Model for Other States and the Nation, American Progress.
Eltis (2021), Planner's Guide to Sustainable Urban Mobility Management (SUMP) and a Toolbox for Mobility Management, Urban Mobility Observatory.
F&P (2022), Providing VMT: Getting Beyond LOS, Fehr & Peers.
ITF (2021), Travel Transitions: How Transport Planners and Policy Makers Can Respond to Shifting Mobility Trends, International Transport Forum.
Amy E. Lee and Susan Handy (2018), "Leaving Level-of-Service Behind: Implications of a Shift to VMT Impact Metrics," Transportation Business and Management.
Todd Litman (2022), Fair Share Transportation Planning, Victoria Transport Policy Institute.
Todd Litman (2023), Are Vehicle Travel Reduction Targets Justified, World Conference for Transportation Research.
Chris McCahill (2021), The Amount We Drive Could Make or Break Clean Energy Plans, State Smart Transportation Initiative.
Carlton Reid (2022), "Major New Roads in England May Have Funding Pulled if They Increase Carbon Emissions or Don't Boost Active Travel," Forbes.
Gregory H. Shill (2019), "Americans Shouldn't have to Drive, but the Law Insists on It," The Atlantic.
SUM4All (2019), Catalogue of Policy Measures Toward Sustainable Mobility, Sustainable Mobility for All. 
Lewis Thorwaldson (2020), LoS-less Planning: VKT for Equitable Outcomes, Engineering New Zealand Transportation Group Annual Conference.
Adie Tomer and Caroline George (2023), Building for Proximity: The Role of Activity Centers in Reducing Total Miles Traveled, Brookings Institution.
WRI (2019), Reducing Demand for Vehicle Trips in Cities – Learning Guide, The City Fix.
Peter Yeung (2022), Cars Are Vanishing from Paris, Reasons to be Cheerful.
---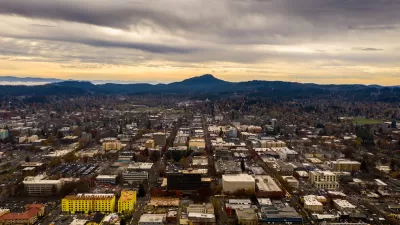 Eugene Ends Parking Minimums
In a move that complies with a state law aimed at reducing transportation emissions, Eugene amended its parking rules to eliminate minimum requirements and set maximum parking lot sizes.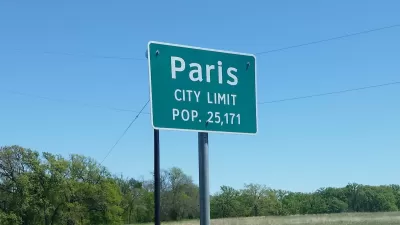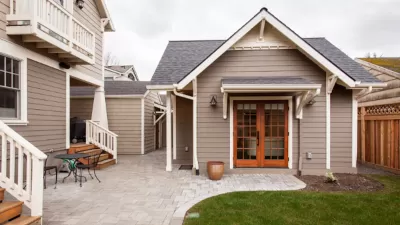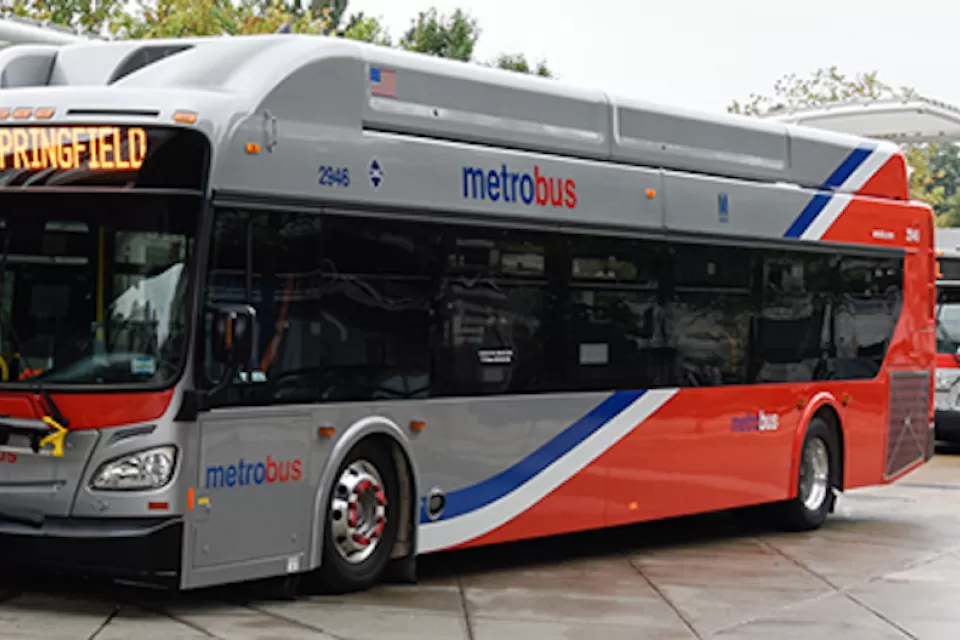 DC Launches 24/7 Bus Service
Starting December 17, 14 Metrobus routes will run around the clock to better serve essential workers and visitors.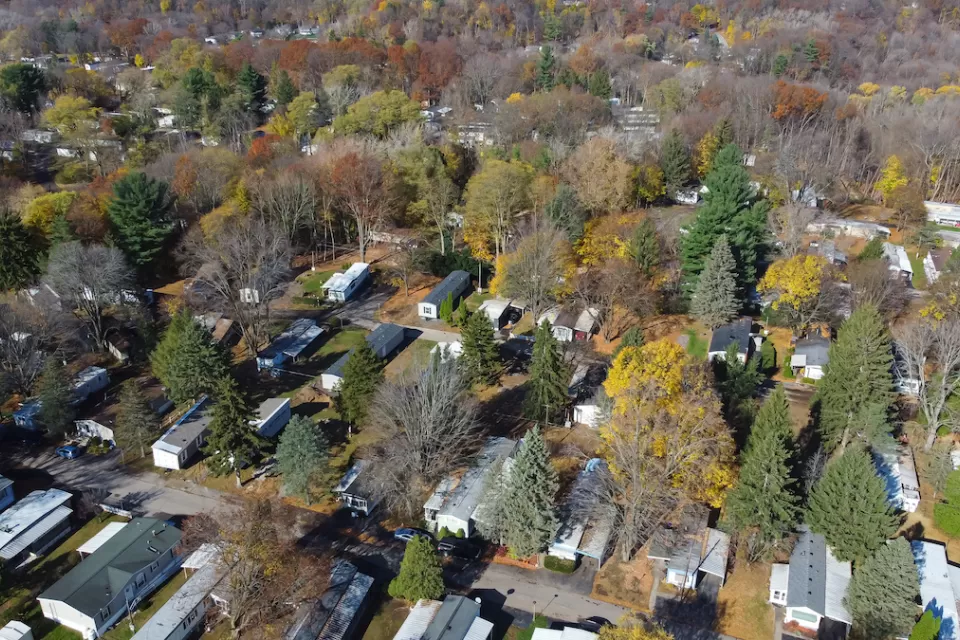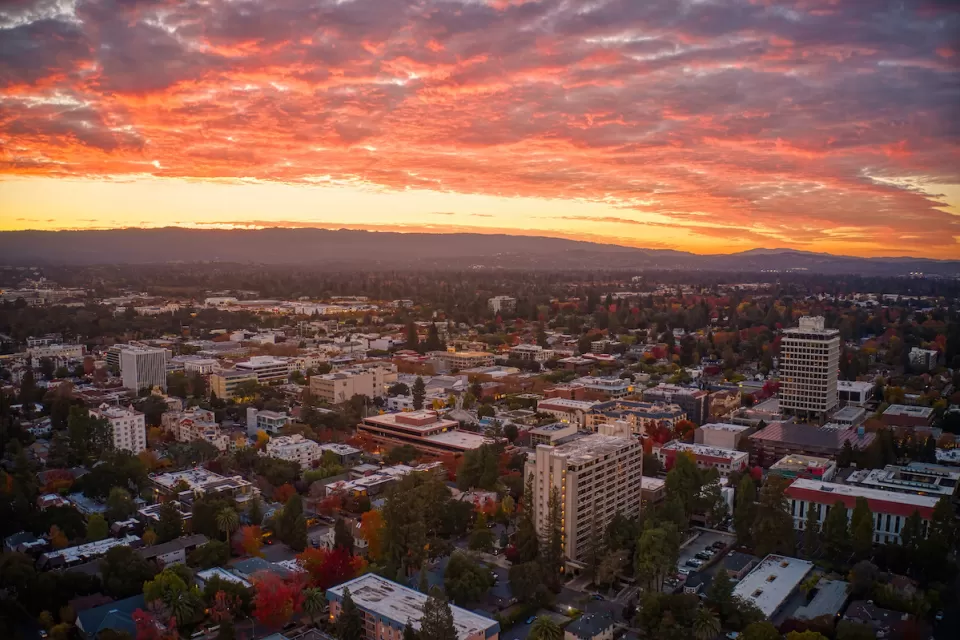 This six-course series explores essential urban design concepts using open source software and equips planners with the tools they need to participate fully in the urban design process.
Learn the tools for implementing Universal Design in planning regulations.
View More