U.S. Gasoline Consumption Jumps Three Percent in First Six Months of 2016
Gasoline consumption continued to increase for the first six months of the year, as it has for the last years, reports the Federal Highway Administration. What's different this year is that it was by the largest amount, ever.
"It is the highest amount on record and the sixth consecutive increase in national gasoline consumption for the first six months of any year on record.," reports Doug Hecox, spokesman for the Federal Highway Administration, on Oct. 28.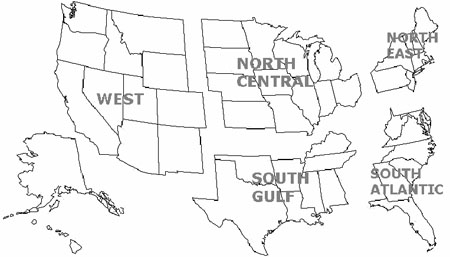 | REGION | Percent Change |
| --- | --- |
| Total |   3.0 |
| North-East |   2.6 |
| North-Central |   2.5 |
| South-Atlantic |   2.7 |
| South-Gulf |  4.1 |
| Western |   3.0 |
Credit: Federal Highway Administration
As the above map shows, the area with the greatest increase, at 4.1 percent, was the South Gulf. The states with the largest increases were the most populous states, respectively:
California at 7.65 billion gallons
Texas at 7.1 billion gallons
Florida at 4.57 billion gallons.
Oklahoma led the nation with the greatest percentage increase of 8.2 percent, followed closely by "Delaware and Utah with 7.9 percent and 7.2 percent increases, respectively," notes Hecox.
North Dakota's fuel consumption decreased by 5.9 percent, the largest decrease among the states in that period.
The primary purpose of keeping track of fuel consumption doesn't relate to President Obama's Climate Action Plan but providing revenue to the Highway Trust Fund.
The data is also indicative of the level of resource consumption and pollution emissions by the transportation sector which, in recent reviews, has been the leading source of greenhouse gasses among all sectors in the United States.
The consumption increase correlates with increase in vehicle miles traveled and confirms earlier reports that the 2016 is on track to break the 2007 record of gasoline consumption.
For precise data, see FHWA's Motor Fuel & Highway Trust Fund.
Related: 
Also in Planetizen:
Hat tip to AASHTO Daily Transportation Update
Published on Friday, October 28, 2016
in
Topics