A recent op-ed posted here warned against new transportation technologies and instead encouraged cities to invest in public transit and walkable communities. However, transportation network companies claim to have increased transportation equity.
---
Kevin Cashman, a Truthout researcher, recently asked if lower income people will not only be left out from the transportation technology revolution, e.g., electric and autonomous vehicles and car-hailing, but will they also be hurt by it?
A case was made before the National Association of Black Journalists/National Association of Hispanic Journalists conference last week in Washington that transportation networking companies, e.g., Uber and Lyft, are greatly improving mobility options for disadvantaged communities.
While presidential candidate Hillary Clinton may have captured most of the headlines at the conference, other prominent guests were featured as well.
David Plouffe, a former Obama administration senior adviser and now a chief adviser and board member for Uber, addressed journalists August 4 for a 'Fireside Chat', "Serving the Underserved." 
"Perhaps nowhere has ridesharing's impact been felt more than in the nation's underserved neighborhoods, where work and transportation options have historically been scarce," states the session's description.
"Plouffe's said his move to Uber clued him into the disparities in transportation options [transportation equity] facing minority and low-income neighborhoods," reports Gabrielle Gurley for The American Prospect. 
"I admit I didn't realize as much when I was in government—I am ashamed by that—until I got into the private sector," he said. "Why should it be that if you live in one part of the city it takes you 30 minutes to get a ride, and if you live in a wealthier area it takes three minutes?'
"The ride-sharing service brought new mobility options to people in transportation deserts like Crenshaw in Los Angeles, Anacostia in D.C., and the South Side of Chicago," adds Gurley. "For a person of color, Uber's appeal is simple: If you tap it, they will come."
Uber and its competitor Lyft have emerged as essential alternatives to taxi services that often discriminate, especially against African Americans, by refusing to stop when hailed or by declining to travel to certain neighborhoods for pick-ups and drop-offs.
Take the largely African-American neighborhood of Anacostia in Washington, D.C. It has seen a 700 percent growth in Uber rides year over year, reports Gurley.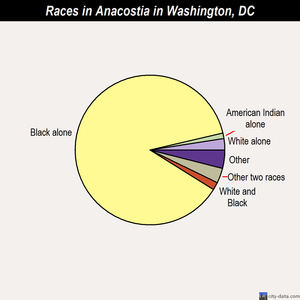 Courtesy of City-Data.com
Gurley goes on to write about other aspects of ride-hailing and serving disadvantaged and underserved communities, noting that "the service has a very uneven record of serving people with disabilities." And as Cashman wrote earlier, "owning a smartphone—not an insignificant investment—is a necessity."
FULL STORY: Underserved Communities Rely on Uber, but Challenges Remain
Denver Freeway Widening Plans on Hold
The Colorado Department of Transportation's plan to widen the Interstate 25 freeway through Denver is one of a few plans to widen urban freeways under consideration in the United States.
This six-course series explores essential urban design concepts using open source software and equips planners with the tools they need to participate fully in the urban design process.
This course aims to provide an introduction into Urban Design Sketching focused on how to hand draw master plans using a mix of colored markers.
View More