New Hampshire House Denies Federal Funding for Boston to Concord Rail Study
New Hampshire House Republicans don't like rail. By removing the New Hampshire Capitol Corridor rail expansion project from the state's transportation plan, they deny the state Department of Transportation $4 million in federal funding for the study.
It's not like the $4 million could go to roads, always a favorite among state legislators. They just don't want the the study getting funding.
"The funds could be used for designated transit projects, including the proposed analysis of the 73-mile rail corridor," writes Kirk Enstrom for WMUR Manchester, N.H. "The money could not be used for other purposes, such as fixing bridges or roads."
"We have nothing to lose, in my opinion," said Rep. Dale Sprague, D-Strafford. "You may be for or against rail. This does not commit you to building. This does not mean you have to repay any funds to the feds."
Need for the project
"Currently there is no passenger rail service along the busiest corridor in New Hampshire – the 73 mile stretch from Concord to Boston along Routes 3 and Interstate 93," according to the NH Rail Transit Authority. "Each day 165,000 vehicles travel this highly congested corridor."
The only thing required by the state is "to use a small portion of the state's surplus toll credits to allow it to leverage the federal funds," adds Enstrom.
"Toll credits, which are not real dollars, can only be used as a match for federal funding programs," writes Rep. Dale Sprague in "Another View" for the New Hampshire Union Leader. "They are not a rainy day fund for the Department of Transportation."
So why not access the funds that require no further commitment?
"People will say, 'Well, it's federal money,'" said Rep. Gene Chandler, R-Bartlett. "I think we need to be stewards of the money no matter where it is, and we just don't see that project going all the way to Manchester going anywhere.
In other words, better to send it back to the federal government so it can be used in other states, which I'm sure the good people of New Hampshire are grateful for, particularly those driving the 73 miles between Concord and Boston who might prefer to take the train, if there was one.
The House rejection of federal rail funding is reminiscent of what happened with President Obama's high-speed rail stimulus funding in 2010. New Republican governors in Wisconsin, Ohio and Florida promptly canceled projects (political collusion?) in their states, initiated by their Democratic predecessors.
The business community backs the project, "saying it would have no cost to taxpayers."
Rail proponents, including the NH Rail Transit Authority and the Greater Manchester and Greater Nashua chambers of commerce, asked the Senate Transportation Committee on April 27 to restore funding of the corridor study, writes Jeff Feingold for the New Hampshire Business Review.
For more information on the study, see New Hampshire Department of Transportation: "NH Capitol Corridor Rail and Transit Study and NH Rail Transit Authority."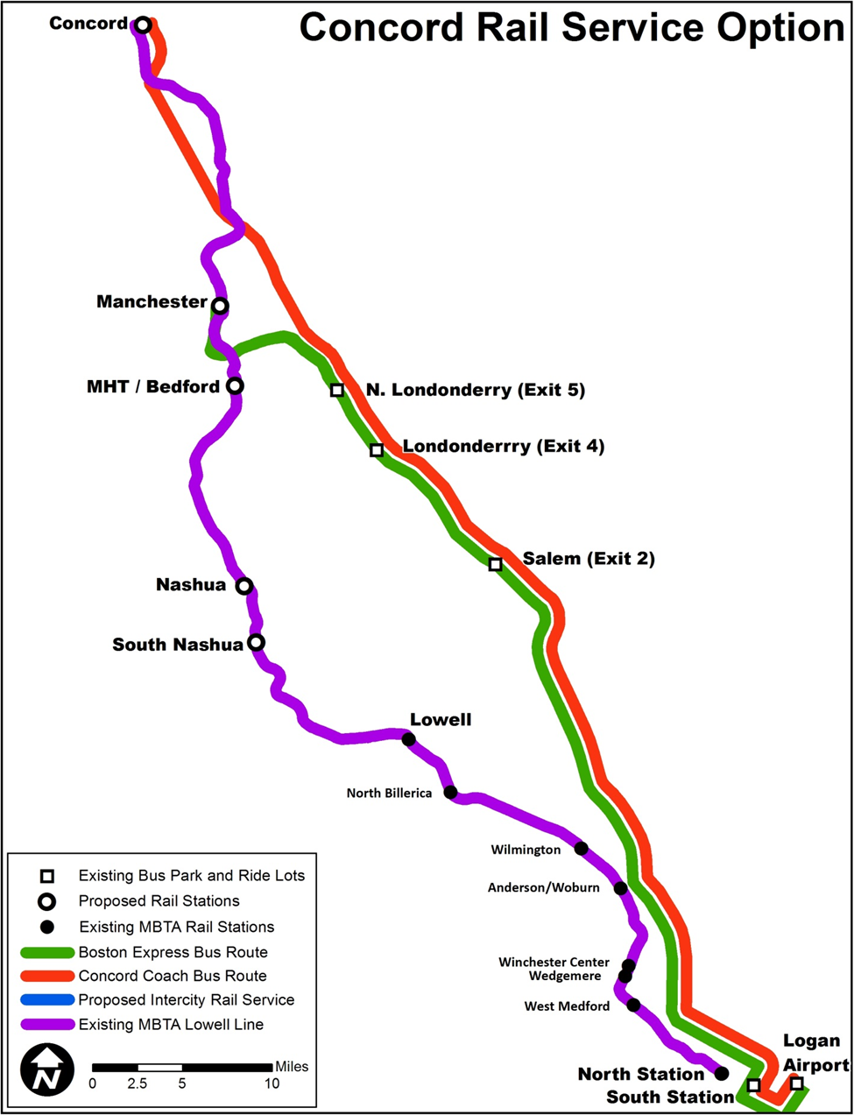 Published on Tuesday, April 26, 2016
in
Topics