The evolution of today's infrastructure-intensive bike sharing systems has been a hard-fought learning process; alas, the current paradigm is about to get turned on its head, and it's happening – surprise - this week in Hoboken, New Jersey.
---
First, I want to share some love for the many cities out there that birthed and raised bike sharing to what it is now.  It has been a lot of hard work with much risk and - fortunately - reward.  Personally, it has been thrilling to watch various ideas get their chance on the street: scrappy free bike systems on U.S. college campuses (pre-1998), bright green City Bikes in Helsinki with shopping cart-like 1-Euro lock/key mechanisms (2001), Deutsche Bahn's red "Call-a-bike" solos with SMS controls that caught my eye on Cologne's Hohestrasse (2006), Paris' fixed station public-private partnership that really launched the concept of major city systems (2007),  Montreal (2008), then London, D.C., Miami, and so on.  As we all watch the mammoth bike share system go online in New York City, few may realize that a quiet revolution in bike sharing is actually happening just a wee bit west of Manhattan Island.  The evolution of today's infrastructure-intensive bike sharing systems has been a hard-fought learning process; alas, the current paradigm is about to get turned on its head, and it's happening – surprise - this week in Hoboken, New Jersey.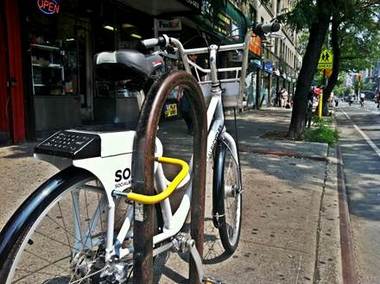 I submit that from today forward, all cities big and small will not only see bike sharing in a more feasible, if not different way, they will also be forced to ask themselves the question, "Why aren't we doing it like Hoboken?"  The so-called "hybrid" bike sharing pilot kicking off this week in Hoboken is different in many ways, and arguably it is not complete with all the desired accessories at this point, but the key contrasts between Hoboken's model and contemporary bike sharing are fixed to the elimination of the most costly and restrictive component of modern bike-sharing: the docking station.  Tom Glendening of E3Think - who is contributing to the launch and development of the Hoboken pilot - calls it a move from "Smart Dock to Smart Lock", and for good reason.
Without the docking station, users are not only free to "return" the bikes wherever is most convenient to them, cities no longer have to face the furor of controversy about placement of static, space-taking stations.  Cities don't need to sacrifice precious public space to additional infrastructure or devise ways to keep these areas maintained.  There's a long list of benefits, and while the main difference ostensibly seems entirely about reduced capital cost, it is much more about program flexibility.  Here's why:
It's Cheaper: A good rule of thumb is that each modern bike-share bicycle costs $2,000 and each docking station $10,000.  So, for a modest 100 bicycle system at 10 bikes per stations, you need $300,000 just to get started.  I can tell you from first-hand experience that the capital cost to buy-in to bike sharing is daunting to all cities.  Hoboken's system nixes the stations and relies on less expensive bicycles, dropping costs to less than half.
It's Modular: With no stations to locate, the system can grow organically from a very small number of bicycles as demand increases without the "critical mass" required to privately fund most systems.  Cities need not argue at meetings or frustrate residents with the placement of bike stations, all that is required is a simple ordinance containing the do's and don'ts of operating bike sharing within city limits.  Eliminating the requirement to return bicycles to a station reduces the external variables impacting use to just cost, so bicycles start to naturally populate places where they are in most demand, which translates to less relocation.
It's License-able: While the pilot version of the program is a partnership, the broader concept is that docking station-free bike sharing requires no exclusive vendor contract for huge infrastructure installations; rather, the program can be licensed to any number of smaller mom-and-pop operations who take on the responsibility of operating and maintaining their "fleet", similar to the way taxis are licensed by municipalities.  Licensing is much fairer to the business community, and it allows the city to hedge its bets by managing a system with multiple operators rather than a single entity.  This is key; instead of the program costing the city huge sums just to get in the game, the model is inherently revenue neutral.  Future implementations will benefit more greatly from Hoboken's innovative stance, but the program is born from the potential for costing the city little to nothing.
It's Local: Since a bike share license only requires a very small investment to get started (bike or bikes and license fee), the concept is a great way to encourage local "green" jobs and strengthen the local small business fabric.  In fact, bike sharing licenses can easily be offshoots of existing brick-and-mortar businesses, and there are unlimited ways to combine the two to strengthen the sometimes-puzzling relationship between local merchants and bicycling.
It's Hardware Agnostic: At the moment, only the persistent pioneers of the dock station-free concept have hardware that works well, such as Social Bicycles' powering Hoboken's system, but as the technology matures, certainly other manufacturers will appear, further reducing prices and introducing improved equipment and more options.  Just as cities simply list the safety and functional requirements for taxis to be licensed, bike sharing licenses will allow businesses to use their own discretion to choose their hardware within the given criteria.
It's Low/No Maintenance: Cities do not want to be in the fleet management business, whether it's buses or bicycles.  Hoboken's model offsets fleet maintenance and management to the individual licensees.  Failure of any individual bike share license holder to do so is at the peril of their business.  All the city has to do is inspect and enforce the rules - same as they do for any number of other licenses – which is a significantly less intensive staffing prospect than contemporary bike sharing systems.  In terms of infrastructure, all cities need to do is maintain their standard bicycle parking program, as they would normally do.
Only time will tell if my predictions here are true, but my gut tells me that the model being introduced this week by Hoboken is the way of the future, and cities investing, or planning to invest in contemporary docking station-based bike sharing systems may want to think twice before passing that resolution to award a contract. 
---
The Hyperloop's Prospects Dim
The media is coming around to the idea that the hyperloop is not a near-term solution for the country's transportation woes. It's too little, too obvious, too late.
The Great American Exodus: A Conservative's Perspective
During his keynote speech on September 11 at the National Conservatism Conference in Miami, Florida Governor Ron DeSantis describes the demographic shifts in America since he became governor in 2019 in what he calls the 'Great American Exodus.'
The Resilience of Bikeshare
The inherent simplicity of bikes makes shared mobility systems a crucial transportation option during natural disasters.
This six-course series explores essential urban design concepts using open source software and equips planners with the tools they need to participate fully in the urban design process.
This course aims to provide an introduction into Urban Design Sketching focused on how to hand draw master plans using a mix of colored markers.
View More