"Bike Breaks" Leverage Dynamic Resources for Synergistic Efficiency Improvements (they really do!)
Using bicycle racks as partitions in lieu of fences, called "bike breaks", in heavily trafficked areas accomplishes two goals at once and fends off the design wonks.
In congested areas where all sorts of traffic are in the mix, modal conflicts can get ugly.  Transportation hubs are just the kind of place; pedestrians come and go along with cars, bikes, buses, shuttles, taxis, transferring to/from trains, subways, ferries, and light rail.  Buses turn, people cross streets, taxis drop off fares, etc..  Sometimes, conflicts could be eased if only different flows would stick to lowest-friction paths.  The default - albeit much-maligned - solution to control movements in such an environment is the wonderfully utilitarian metal fence.  Sometimes, though, a better alternative is the lesser-known but better-received "bike break".
Let's face it, fences are fantastic because they really do prevent people from doing all kinds of less-than-sensible things with their bodies.  Moreover, engineers rejoice because there are all kinds of pretty fences out there, such as chain link (gush!), powder-coated pipe gauge (fawn!), and my personal favorite gold-paint-capped square-steel decoratives (cheer!), but unfortunately those annoying aesthetic-types always come up crying about how they "rubbish the streetscape " or some such other incomprehensible disapproving.  There must be a clever way to disguise our affection for partitions that makes it frustrating for fancy-pants to fault.  Enter bike racks.
Bike racks, see, are like corporate language.  The great thing about corporate language is that it serves as a useful substitute for the quotidian casual talk we use day in and day out.  In other words, it disguises the dull and boring with an illustrious yet communicative vernacular.  That's why we all love it; that's probably why you're reading this blog post!  So, couldn't you say the same for bike racks?
In Hoboken, New Jersey, we have been successfully using bike racks to placate fence-haters for the past few years on several projects around the uber-busy Hoboken Terminal.  Bike racks not only serve the purpose of partition where flows of traffic are in want of better control, they also obviously stimulate and support increased bicycling (which helps to reduce vehicular traffic, particularly during peak commuter periods).  Bike racks can be used as a viable substitute for fences whenever you want to accomplish two things - partition and parking -  simultaneously (it's like synergy!).  Bike racks are also significantly less expensive than gold-paint-capped square-steel decorative fencing.  Used to strategically separate modes or flows of travel in this way, bike racks are called "bike breaks".
Bike breaks are part of the compact City of Hoboken's effort to best manage limited street space while simultaneously encouraging a better balance of transportation mode choices, including bicycling.  Bicycling has increased significantly in part due to these efforts, and Hoboken is recognized as a leading city in the United States in terms of being "bike friendly".  Last year, Hoboken was New Jersey's first municipality to be awarded bike friendly status by the League of American Bicyclists, and just recently ranked 9th in the nation for bicycle friendliness by WalkScore.com.
Bike breaks are oftentimes best located along curb lines, either on the sidewalk or in "dead" street areas, such as where no parking is permitted adjacent to crosswalks or in the unoccupied area of certain "T" intersections.  Since they are composed of individual bike racks which can be installed parallel, perpendicular, or at any angle to the curb line, they are extremely modular and versatile.  Two examples of bike breaks in action are described and pictured below.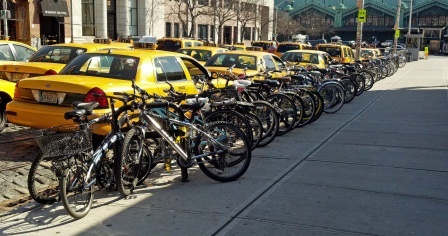 In the first photo, a bike break is placed along the curb line on a recently widened sidewalk to prevent pedestrians exiting the subway headhouses from walking directly to the closest taxi.  The way the taxi stand is intentionally positioned, the head of the line is approximately 250 feet further down the sidewalk, where the line of waiting passengers - which can often extend to 30 or 40 people – is kept far away from all the other activity happening at the mouth of the subway entrances.  This works well, but sometimes, such as, for example, very late at night when slightly influenced by the effects of a few pints, potential taxi fares walk a bee-line for the nearest fuzzy-yellow object.  To deter such behavior, the bike break complements the bright yellow "taxi" signs to guide people along the sidewalk to the head of the taxi stand.  When filled with bikes – which nowadays is almost always the case – the bike break also makes it very difficult to pass through and access the taxis at the tail-end of the queue (although nothing is impossible).
A subtle detail of the bike break placement is that the angle of the bike racks is intentionally 45 degrees away from the pedestrians' path of travel, thereby further discouraging pass-through by requiring a "switch-back" maneuver through the bike racks to get to the other side.  Navigating through this bike break without acquiring a grease stain is intimidating enough when sober, so while it is not 100% impermeable, it is extremely effective in its dual role.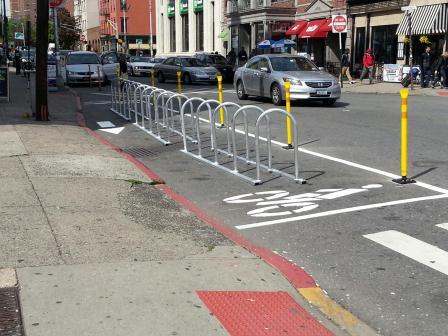 The second example of a bike break is the freshly installed "bike corral" at the western edge of the Hoboken Terminal area, in the dead zone between crosswalks of a "T"-intersection.  This bike break, funded via a generous grant awarded to the city from Bikes Belong encourages pedestrians to keep to the two crosswalks that straddle the space and narrows the aggregate crossing path, which makes it easier for drivers to identify crossing pedestrians and minimizes the conflict zone.  The bike break also prevents cars from illegally parking or standing between the crosswalks where their height and bulk of the vehicles can interfere with drivers' line-of-sight with pedestrians entering crosswalks.  The bike racks do not cause the same interference because they remain below the 3.5 foot standard stipulated in the AASHTO "Green Book". 
On-street placement of bicycle parking – oftentimes referred to as "bike corral" – requires careful thought and placement to comply with local laws and national guidelines with respect to objects placed in the roadway.  The bike racks pictured are a clever composite system of a flat rail anchored firmly into the pavement, and bike racks fixed to the rail with "breakaway" bolts that shear in the event of impact by an automobile to attenuate the force of the collision.
Another subtle benefit of this bike break is that it adds to the city's attempt to expand people's perception of the boundaries of the terminal area by extending terminal-related activity to the other side of the street where previously the sidewalk was hardly used other than for a few car parking spaces.  Bicycle parking activity contributes to shuttle bus pick-up/drop-off operations that were added here two years ago as part of that "perception expansion" effort.
Topics