Friday Funny: A New Direction for Transportation Policy?
James Sinclair points out that the cover of the Republicans' newly announced transportation reauthorization proposal, picturing an empty freeway overpass, makes the title - "A New Direction" - pretty ironic.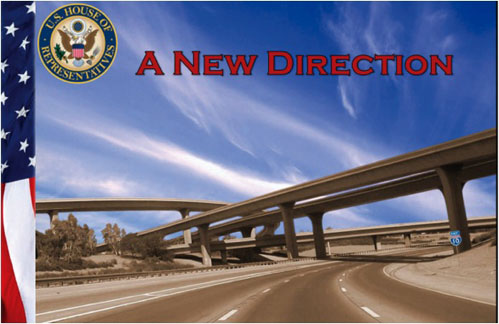 Sinclair writes:
"...a quick summary of what's inside:
-33% cut to transportation (even though as the country grows, any rational bill would increase with inflation, at least)
-Elimination of funding for pedestrian/biking and HSR
-Massive cuts to Amtrak
-"Back to the basics" 80/20 funding split between highways and transit"
Sinclair asks, how is this a new direction for transportation policy?
"How can something be both new and "back to the basics"? How exactly does the picture of a sprawling highway interchange, one likely built 50 years ago, in anyways be new?"
Published on Monday, July 11, 2011
in