Hoboken, New Jersey's Department of Transportation and Parking Director Ian Sacs offers this profile of his city and discusses how the dense but car-enamored city is trying to tackle the contemporary urban parking problem.
---
Hoboken, New Jersey, the "Mile Square" city, is home to about 45,000 residents, making it one of the most densely populated cities in the United States. Immediately across the Hudson River from Chelsea and Midtown Manhattan, it is happily flush with transit, heavily trafficked by pedestrians, and packed with such a diversity of people, shops, and housing options that the city has become a mecca of sorts for a younger generation seeking the challenge of a career in New York City, but not quite ready to commit to the cost of living on Manhattan Island or the geographic limitations of living in the outer boroughs of Brooklyn or Queens.
For the 2009 calendar year, 17,441 annual residential parking permits and 1,838 annual business permits were issued . With average car dimensions of 16' long and 6.5' wide, that translates to 2M Square Feet dedicated to warehousing the automobile in a city where park space is desperately needed. Applying this arithmetic to the true area of the city (actually 1.3 square miles) a geospatial parking demand rate of cars to city street space might make you cringe. Relax, we have quite a bit of structured parking.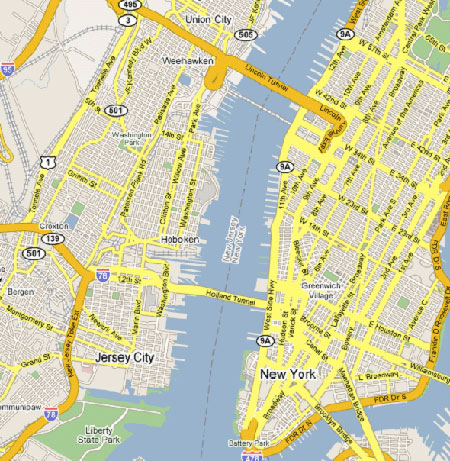 Hoboken is intimately close to Manhattan, and uniquely framed on four sides by physical barriers that limit total points of access to only seven. (Image source: Google Maps)
Nonetheless, the appetite for parking in Hoboken is voracious, so much so that it is hard to believe the anecdotal stories of long time residents who say it used to be a breeze to drive and park here. In recent decades, the city has been filled to the brim with cars parked parallel on street, double parked, triple parked (not so common nowadays), and further crippled by torturous three-year waiting lists for monthly spots at municipal lots where near-market rates are already well established (for the faint of heart, you might want to skip past this next piece of data: the price for a monthly space in a city-owned garage ranges from $180 to $215 per month). Efforts to protect pedestrians by enforcing sight-distances from intersections are met with heavy, emotional protest from weary drivers who hunt daily for a scant stretch of curb alongside which to wedge in their car. Campaign-incensed politicians eschew all laws of fiscal and civil engineering sanctity by proposing new geometric roadway designs in the heart of the city - where tens of thousands of people walk daily - that slash sidewalk widths to accommodate angled parking on city blocks too short to legally garner more than 2-3 additional spaces.
In Hoboken, parking spaces are sublet twice over, permits (which are subject to a very strict set of proof-of-residence documentation requirements) are counterfeited, homeowners with driveways keep the towing company on speed-dial, seniors are coerced by out-of-town acquaintances to apply for free senior visitor permits, parking enforcement officers survive by combining the latest technology equipment with an ancient, ninja-like practice of stealth ticket writing, road rage induced by impossibly tight spaces takes on a new form in the first eight feet offset from the curb. With all this drama to park cars, you'd hardly believe that Hoboken contains Hudson County's number one ranked census tract for "carless households"!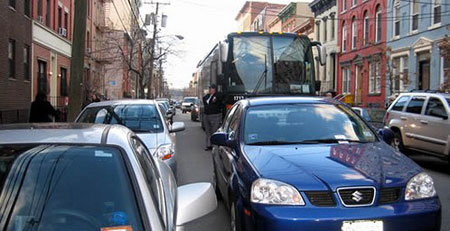 In this piece, I briefly step through the way Hoboken gentrified into the thriving, exciting city it is today, why this history is intrinsically linked to the current vehicle-ownership habits of residents, and how these characteristics are not only the cause of Hoboken's parking problems, but very likely also the solution. I'd like to preface the rest by informing the reader that I was appointed to the position of Director of a newly established Department of Transportation and Parking (formerly the Hoboken Parking Utility) only four months ago, so the reason for "slightly premature" in the title is that the solutions proposed in the following sections are just that: proposed. We are a work-in-progress and the ability to successfully implement the strategies discussed herein will be televised, or, at least documented in my regular blog also found here on Planetizen.
Historically, Hoboken has enjoyed several proud eras: as a vacation spot for Manhattan's rich (the impetus for Elysian Fields, the "invention" of baseball, and Colonel John Stevens' steam train), a major economic contributor to the shipping industry of New York Harbor (the setting for the 1954 film "On the Waterfront" starring Marlon Brando), an industrial and manufacturing center (major plants included Maxwell House, Lipton Tea, Hostess Breads, Todd Shipyards and Bethlehem Steel), and a critical embarkation point for millions of American soldiers during the World Wars (perhaps the historically-minded reader recalls General Pershing's famous quote "Heaven, Hell, or Hoboken... by Christmas"?). Despite all these successes, when the shipping industry was revolutionized by containerization and competitive over-the-road trucking, Hoboken's root economic engine was mercilessly shuttered, leading to the same crumbling urban demise felt in most major waterfront cities during the latter half of the twentieth century.
Over the past 15-20 years however, Hoboken has transformed radically from a roughshod, left-behind break-bulk shipping community, shattered by the worst of the blight of the 1970s and 1980s, into a hip, bustling, fun city that has magically retained the majority of its historical building stock by way of brownstone and factory conversions to apartments and condominiums. The city was so well preserved through the rougher decades that many brave new residents and developers basked in the joy of restoring hip-again 19th Century architecture in the wake of the Greenwich Village and Soho revivals. Moreover, a large number of unparallelled, irreplaceable, often ethnically-diverse businesses have managed to eke through the worst of times to become cherished cornerstones of the community (cheese connoisseurs have repeatedly named Hoboken as the best place in the New York City area to find authentic fresh mozzarella, or "mutz" as the locals call it, the Sandwich Cubano at La Isla may only be bested in Miami, the "Cake Boss" hails from an old main street bakery in Hoboken, and you can't get a better veal parmigiana dinner than at Leo's Grandevous).
The best panoramas of Manhattan attract more tourists to Hoboken than any other city in New Jersey except Atlantic City. (Photo Courtesy of Andrew Prokos)
Hoboken's brilliant rally over the past few decades is a textbook example of real-world gentrification, complete with an intriguing list of successes and failures. As older, long-time residents (the so-called "Born-and-Raised") were displaced by younger, wealthier individuals and families, there have certainly been losses and resentments. At the same time, these new souls brought huge economic stimulus and future potential to a financially floundering community. The pressures of new money and old relationships are also exposed in the operations of municipal government. Anyone who has watched a few episodes of the Sopranos would agree that running a city in New Jersey isn't easily done free of the complications and imbalances of endemic corruption. But through it all, tiny Hoboken has emerged as a city where thousands of long-time residents continue to live side-by-side with waves of yuppies and their own burgeoning young families. Playgrounds are bursting with children, the train station is mobbed with commuters, the waterfront magically transformed from a wicked array of abandoned toothcomb piers into a pinnacle sightseeing location, and as far as night life goes, "Restaurants, Bars, and Double-Parked Cars", is how Hoboken is ringingly described.
Beer and Clothing in Hoboken
As of late, Hoboken's historical demographics have been demonstrably skewed toward the recently highly educated, still somewhat parent-funded, enterprising young career-oriented souls who find the city's heavily-laded entertainment portfolio and diverse array of restaurants, boutiques, and shops a post-graduation, new-salary-infused playground. Indeed, for the many years I commuted to Manhattan by subway (PATH), it would have been a challenge to look around the rail car at my fellow Hobokenites and pick out many people younger than twenty-five or older than forty. For college graduates hailing from suburban-based childhoods, Hoboken is a friendly combination of Sex in the City, Friends, and Seinfeld. When you move in, find a place to park your car where you can, and quickly find your way to the nearest cafe or bar.
Oh yes, I did say the car stays. You see, Hoboken is particularly unique in its relationship between households that commute via transit and own a vehicle. Oftentimes, they are the proportional inverse of one another. That is, where most communities see vehicle ownership drop considerably as the availability of transit increases, Hoboken deviates from the norm by maintaining relatively high vehicle ownership rates per household despite extremely high transit journey-to-work statistics and an ubiquitous availability of almost every imaginable transit option (bus, subway, ferry, heavy rail, light rail, shuttle, taxi). This is partly a statistical anomaly, since younger renters frequently leverage pricey rents with an additional roommate or two. But I submit that the main reason so many households commute via transit yet continue to own a car (I refer to this phenomenon as "storage") has more to do with the only world younger residents have ever known (Suburbia) and the fact that they are only recently departed from that car-centered lifestyle. In other words, they haven't even considered the idea that they might not necessarily in fact need their car.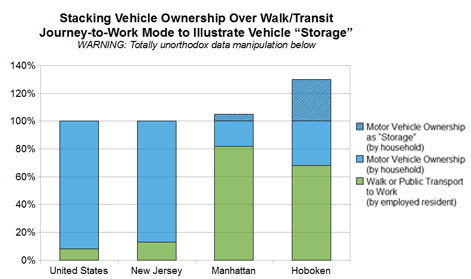 In most locations nationwide, vehicle ownership by household is analogous to the motor vehicle portion of journey-to-work modal split data. However, in urban areas such as Manhattan and Hoboken, the motor vehicle ownership portion surpassing 100% when stacked over walk/transit journey-to-work data may be attributed to recreational use where the vehicle sits unused the majority of the time, a phenomenon I call "Storage". (Source data: U.S. Department of Transportation, Bureau of Transportation Statistics and Federal Highway Administration, 2001 National Household Travel Survey, Prepared by Ian Sacs, P.E.)
So yes, they will take the train to work because that is what they see everyone else do (and no, you really can't drive into Manhattan without nicking daddy's AmEx Platinum during the move-out). But come Saturday, newer residents will just as happily drive their car five blocks to pick up a bagel and coffee, or groceries later in the day, when they could have saved the hassle of finding parking by keeping to the sidewalk (at least drunk driving seems to be curtailed by the realization that walking to and from the bar is not nearly as inconvenient as trying to parallel park after six Guinnesses and a couple shots of Jameson).
The underlying motivational factor to drive rearing its head here is the so-called "sunk cost" of vehicle ownership. Once an individual sinks countless hundreds of dollars each month into the psychologically-imposed obligation of car-support, the most logical thing to do is drive it as much as possible. Considering that Hobokenites often shun their cars all week long for their Manhattan-bound, iPod-clad subway commutes, the urge to hop in and drive is even greater during off-hours. When else will people get to see you in your mint Audi?
Traffic and Hoboken's "Parking Problem"
The ability of the city to successfully hold onto a number of the original charms, both cultural and infrastructural, of an historical community is somewhat counterbalanced by the stresses caused by such a dense experiment in adaptive urban reuse. Large brownstones, once occupied by a few families with no more than one car per household now house ten apartments with fifteen drivers. Factories that once opened their front gates to thousands of employees arriving on foot are now retrofitted with tens or hundreds of condos with wealthy tenants who want the convenience of owning a car, even if they still commute to work via transit. Traditional local businesses with a street-level store front and the owner's family living above are now trendy boutique shops and real-estate offices with owners and employees driving into town every day and expecting to nestle their BMW's right out front. Thursday, Friday, and Saturday nights are flooded with crowds of visitors from surrounding New Jersey communities - where there is no downtown, only highways - thrilled with the prospect of cruising main street to an audience of thousands before settling down to the task of auto-inebriation. And despite the overwhelming majority of residents commuting by transit, a healthy number voluntarily choose to move to Hoboken to be part of all the urbanity, yet still commute by car each day back into the dark heart of New Jersey's traffic abyss. I know how that goes, because I personally endured the ramifications of such a choice my first few years in Hoboken; it is perhaps the single greatest motivation for developing the broad transportation portfolio advocacy rhetoric I have today.
To make traffic matters worse, Hoboken is also oddly - almost tragically - tucked between two of the three only means of driving between New Jersey and New York City; namely, the Holland and Lincoln Tunnels. Wayfinding signage re-routing large trucks via Hoboken to the Lincoln Tunnel due to Holland Tunnel security truck restrictions combined with several neighboring communities all looking to avoid the chronically congested approaches to these facilities lead to a worst-case scenario of neighborhood cut-through traffic during peak hours. To top it all off, with rail terminals and tunnels to the north and south, the Hudson River to the east and the Palisades cliffs to the west result in only seven city streets in and out of Hoboken. At times the city can mimic the traffic characteristics of a sports stadium or major concert venue.
Fortunately, local driving habits are light enough that Hoboken is typically only congested during peak periods; driving through Hoboken during working hours or on the weekend (except nights) is rather uneventful. But don't let the light traffic fool you: cars are everywhere here. They are squeezed so tight on street that owners of Mercedes, Jaguar, Porsche, Lexus, and the like are at ease with their bumpers sporting numerous gashes and scuffs that would make suburbanite owners faint in horror. You can tell someone has recently moved to Hoboken when they hang, in comical futility, "bumper defender" apparatus from their trunks. That lasts a year at most.
Parking is in high demand, and despite a mature resident parking permit system, the subject is a perpetual political discussion topic. How, then, to solve it? Over the years, various zoning requirements have gradually been enacted requiring off-street parking minimums and, recently, even an effort to "decouple" parking from new developments. But these efforts have not been implemented with gusto, and critical missing components have resulted in several "Don't try this at home, kids" lessons for other municipalities to learn, such as charging separately for an off-street parking space in a new development but not prohibiting these owners from acquiring dirt-cheap on-street parking permits for the first car in their household. The result for that seemingly minor disconnect in policy is that many off-street spaces remain unowned, unoccupied, and unused while other residents roll the cost of rights to an off-street parking space (a reasonable price is, say, $30,000) into their mortgage, and then lease out that space at $150/month while they pay $15 to park on street all year. You gotta love capitalism, folks!
A French Connection
Actually, France and Hoboken have very little in common. But when it comes to thinking about an appropriate means to resolve the traffic and frustrating parking challenges in Hoboken, a mantra emanates from Paris that is applicable to all cities large and small, and especially Hoboken. Paris public transport company (RATP) officials Georges Amar and Dominique Laousse have recently been speaking to audiences worldwide with a message that decries a smart expansion of modal choices in urban environments. Urbanites, they argue, may already have the choice to walk to the nearby pub, grab a bicycle when heading to restaurants a few blocks away, hop on a subway to get cross town, use the ferry on a trip to a neighboring waterfront, take the train out to their parents' home in the country, or drive a car-share to the nearby furniture outlet, but they are still capable of developing an even more sophisticated sensitivity to modal choices if these are presented to them. Plenty of large cities enjoy a well-distributed level of ridership across a mix of modes. Messrs. Amar and Laousse suggest that the more dense the modal options, rather than confusion, simplicity and convenience can triumph. This may be counter-intuitive, but it is increasingly supported by the growing complexity of transportation networks in the world's largest cities.
That said, placing additional modal options into an urban framework is not a cookie-cutter operation. Alternatives to the automobile succeed and fail for varied, and sometimes contradictory reasons. In Miami and Jacksonville, Florida, elevated transit systems dubbed "Metromover" and "Skyway", respectively, have experienced significantly different ridership levels over their 25-30 year lifespans. Both systems, elevated rather than buried due to Florida's high water table, were designed to act as downtown collectors/circulators. Yet, the Miami Metromover system has been able to support an increasing number of riders while the Jacksonville Skyway system has floundered.
Reasons for the Skyway's poor ridership include an incomplete system that does not stop at enough key locations throughout the city, limited interconnectivity with other modes, an increased fare for limited to no improved services, and a continued low number of full-time downtown residents. Conversely, Miami's system was built out to full design specifications with several major points of interest included just 10 years after initial construction, it interconnects with several other transit systems, including the city's Metrorail and Metrobus networks, fares were recently eliminated in favor of a sales tax increase (this is a phenomenon particular to Florida since sales taxes are overwhelmingly paid for by tourist dollars), and a significant increase in residential development downtown over the past five years extending high ridership volumes beyond traditional commuter hours. Despite the glaring contrasts, auto-centric rhetoric is hard to shake; Former Jacksonville Mayor Jake Godbold was recently quoted by the Florida Times-Union explaining away the Skyway's dismal ridership, "We just don't want to give our cars up". Not quite so, methinks.
So the lesson here is to look for the best mix of modes for Hoboken based on geography, demographics, fiscal capacity, and political will. When residents find that they have a plethora of right-sized modal options at their fingertips, they not only choose driving less often, they often find that driving is significantly less convenient. Less driving means less traffic, and it consequently means less demand for parking, both due to less frequent vehicular trips, as well as an overall lower rate of vehicle ownership. An important yet subtle undertone to consider in Hoboken is the reality that a substantial number of residents in subsidized housing are not able to afford cars, which further obligates the city to provide sufficient alternatives to get around. To do this successfully; however, requires a careful prescription, or, how do you say, a recipe of modal ingredients that whips up the fluffiest souffle du transport, oui?
Fixing Hoboken's Parking Problem
As implied by the title, I am writing this piece in somewhat of a precarious position. That is, I have a plan to fix the parking problem in Hoboken. Nonetheless, it is but a plan. To some extent, I have already begun implementation of that plan. In places where I have begun to work through the compounded problems, it's clear to me that in a relatively short amount of time Hoboken will enjoy the fruits of having a rich menu of modal choices for both intracity and intercity travel, thereby nearly eliminating the situation where so many people have no choice but to drive a car and suffer from the challenges of parking. Still, results, proof, and substantiation are months/years away.
In the end, only those who earnestly choose to drive will do so; and, if at that point the community has the stomach for the market structures that can effectively control supply, we will pursue that too. The teachings of parking guru Donald Shoup are certainly on my mind, but realities away from the theoretical textbook page don't always allow us to be purists. This is particularly the case in mixed-use communities where residents have already enjoyed free/cheap parking and designed their lives around that cost structure. In fact, to step away a bit from the strict teachings of the great master, I'll state my position here for the record that I believe his performance pricing philosophy should only come after all the arguments for alternatives to the car are put to rest. In other words, it is the city's responsibility to develop acceptable alternative transportation options before sticking residents with new, higher parking fees. Agreed, it's a bit chicken or egg, but otherwise, you run into the painful political reality where people rightfully say, "Sure, you're raising parking prices yet, at the moment, we have little or no other option but to drive and park for our livelihood."
So for now, the goal is to dramatically broaden the modal choices residents and visitors have when they are in Hoboken. This is because for every new choice available, the potential to woo individuals away from their cars grows stronger. Not until people feel that they can get by in just about every situation without a car will they feel comfortable giving theirs up. To do this, I submit that a varied collection of puzzle pieces need be assembled to reveal a comprehensive transportation solution to the parking problem. For Hoboken, the pieces I propose are explained below:
Pedestrian Safety - A sensible program to coax people out of their cars must include a comprehensive pedestrian safety effort that combines both actual safety improvements with appropriate education, media outreach, and marketing so that the walking safety improvements are supported by an improved perception of walking.
We have been tackling this item from various fronts. First, we have been installing vertical delineators at the corners of critical intersections to physically all but the most determined drivers form illegally parking too close to crosswalks. We call this "Hoboken Daylighting", and base our target locations on both historical accident data provided by NJDOT as well as community input regarding "hot spots".
Second, the parking utility has coordinated very closely with both the police and fire departments to stay tough on enforcement of parking policies at the most dangerous locations (crosswalks/intersections, bus stops, and fire hydrants).
Third, the city has leveraged concerns about new bike lanes from the driving segment of the city against the demonstrated reduction in vehicle speeds as a way to convince drivers as well as pedestrians that bike lanes are an excellent traffic calming device due to their ability to significantly reduce vehicle speeds on streets where they narrow travel lanes due to their installation. Most drivers are equally concerned about vehicle speeding in Hoboken, so this mutually agreeable subject allows an opportunity to increase awareness while simultaneously encouraging bicycling in town.
Finally, the city recently received a significant grant award from NJDOT to work with a consultant in preparation of a pedestrian and bicycle master plan. This effort will serve as our city's official handbook on pedestrian safety practices, and will include a significant amount of public participation. All of these things boost the image of walking and increase confidence in people regarding safety and feasibility.
Bicycles - As a huge bicycle advocate, it is sometimes difficult to look at what we've accomplished in such a short amount of time and still not feel that so much more can be done. But bringing bicycling into a community that has previously not had to deal with this mode of transportation is not something to rush into too quickly. We have been moving fast enough to make significant progress without freaking out the drivers who are increasingly asked to share their streets (I use the possessive here facetiously) with bikes. We've mapped out the best streets for bike lanes, settled on the New York City style Class I-III convention, identified which class lane works on each street, and conducted a regular roll-out of new bike lanes over the past year. In addition, we've stepped up bicycling chatter and worked out a preliminary bicycle parking (not bike rack) implementation plan targeting the locations where people would like to bike to most but don't have sufficient places to lock up.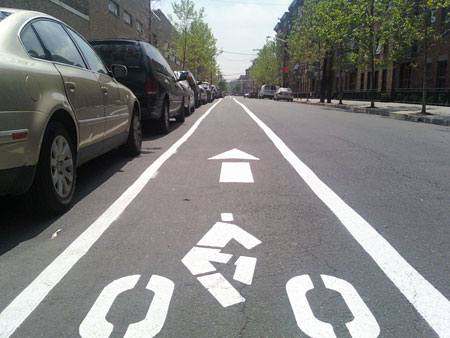 Next steps include working with local businesses to increase the number of restaurants that deliver by bike, and identifying ways to require bike facilities in new developments. We're also developing a strong safety and "road rules" campaign that helps ameliorate the concerns of residents that bikes are "invading" streets and sidewalks. With more bicycles comes less driving, less traffic, and less parking demand. If it's faster and more convenient, people will do it. We've seen this to be true in all climates and conditions, from Rio de Janeiro to Copenhagen to Shanghai. All deliveries in New York City are on foot or by bike. There's no reason it can't happen here too!
Local Transit (Shuttles) - When mapping out the appropriate mini-transit network necessary to make local shuttle buses an everyday way for people to get around Hoboken, it occurred to me that we have it so much easier than the sprawling cities that struggle to achieve acceptable access levels. With three simple routes, nearly everyone in Hoboken can be within two city blocks of a regularly circulating shuttle bus. In perspective, the operating costs for such a compact system are nominal, about $250,000 annually excluding initial vehicle purchase and replacement. We as a city only need to make the leap of faith that having a full-time transit system is a beneficial service to the community, even if the objective of fares and ancillary revenue generators (such as advertising) is to break even.
Connectivity – Making various modes work well together is important for winning the psychological hurdle of convenience, and is no easy task. In Hoboken, we are buoyed by a handful of existing transit systems managed by outside agencies. Simply matching into their fare systems is not an easy sell. The better first step here is to assemble a set of supporting systems that work together. Local shuttle bus passes, bike parking identification cards, multi-space meters, and parking permits can all be interwoven if the idea of connectivity is considered during program development. Moreover, it's elemental that bus routes overlap with transit stations, and bike racks are provided near garages. The more redundant these systems are, the less people need to think about how to get around. Easy to say, challenging to do well.
Broader Taxi Services – Hoboken can leverage the large number of licensed taxis to make driving one's personal car around town a silly idea. We are doing this by working with taxi owners and operators to identify locations for new pilot taxi stands, and to educate the public that hailing a cab is not just something to do in New York City. There is also an intrinsic link between more taxi stands and hailing, since taxis need to be cruising for fares in order to find them. Spreading taxis around Hoboken also reduces congestion at the main terminal where one can often find large numbers of taxis standing idle during off-peak hours. By the way, Hoboken has a codified requirement that new taxis must be hybrid or some other ultra-low emission technology.
Car Sharing– I talk a lot about car sharing because it is such an important component to solving Hoboken's parking problem. The storage characteristics of Hoboken residents, whereby many residents own a car but don't commute every day with it, is very vulnerable to the implementation of a car sharing program that covers the entire city. For this reason, we have been preparing bid specifications to find a suitable company to bring car sharing everywhere by placing these vehicles on-street, not just in parking garages. Using various examples from Baltimore, Philadelphia, and elsewhere, the importance of these vehicles being within one or two blocks of residents is paramount, as is the ability of the city to find a way to justify the "loss" of resident parking spaces to these vehicles. Of course, if you've read any of my previous babbling about "car-sharing economies of scale", you would already know that in most transit-accessible areas, each car sharing vehicle has the potential to convince ten to twenty households to get rid of their car. When you apply this concept to a city like Hoboken, you can potentially eliminate hundreds, if not thousands of cars from being parked on-street. The idea here is not to tell people they cannot own a car; rather, it is to create so many intuitive choices that owning a car becomes less and less desirable. Stay tuned for our bid spec release in coming months.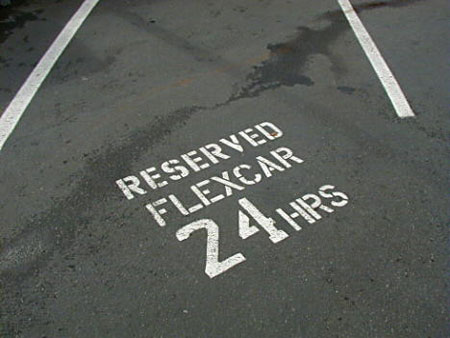 Exclusive parking spaces for car sharing vehicles on block corners, such as Hoboken's soon to be implemented "Corner Car" program, chips away at the advantages of individual car ownership in dense urban communities.
Better Parking Management - Last but not least is a more comprehensive approach to management of existing and future parking supply. While this is the traditional solution, there are always new and innovative ways to make better use of existing space. An excellent example is the new "Limited Monthly" parking product we're offering to residents. In the past, the only type of monthly parking you could get was a flat rate for 24/7 parking privileges in a municipal garage. This works well for the majority of residents (because they take the subway to work and use the garage for "storage" of their car), but a good number of residents do in fact commute by car each day, and therefore do not need parking – or to pay for parking – during regular weekday business hours. It's not too great a leap to realize that this conveniently turns out to be the same time when many employees who work in Hoboken need a space to park their car as well. By creating the so-called Monthly Limited option for residents, whereby cars must be removed from the garage on weekdays between 10:00 AM and 4:00 PM, the city gets better performance out of each parking space throughout the day and instantly creates a new, significant revenue stream to boot! All while interfering minimally with lucrative transient parking rates.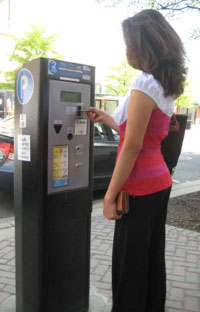 Another important example is the conversion of individual space parking meters to multi-space (pay/display) meters. Not only do multi-space meters allow for more efficient use of limited curb space by increasing the total number of cars parked per block, they also allow for better pricing controls on peak periods so that stays are shortened and increased turnover makes finding a precious space near your place of business more likely. Multi-space meters also offer the ability to keep very close account of the occupancy rates on a block-by-block level, which is the cornerstone of the performance based pricing theories of Donald Shoup (price the parking so that there are always 1-2 spaces available on each block), should the city eventually choose this tack.
More than anything else, the value of Hoboken to the planning community is as a fantastic case-study of how the right combination of density and modal diversity can bring urban areas to an acceptable transportation homeostasis. There are many challenges in this city that will require a broad range of solutions to overcome the frustration and anxiety experienced by residents and visitors daily; however, if America is going to renew itself as a nation of well-implemented sustainable transport and an energy economy leader, cities such as Hoboken can serve as real-world ideals upon which all other urban areas can model themselves. That is, of course, if we are successful; so wish us the best in our ambitious endeavor!
---
Ian Sacs, P.E. is a transportation (not traffic) engineer based in New York City, currently serving as the Director of Transportation and Parking for the City of Hoboken, New Jersey. He is also a Planetizen Interchange contributor.
This six-course series explores essential urban design concepts using open source software and equips planners with the tools they need to participate fully in the urban design process.
Learn the tools for implementing Universal Design in planning regulations.
View More