As the population rises, underused and empty spaces are going to fill in. How well the transition works depends on shifts in demographics and infrastructure, as well as architecture. A studio of UCLA architecture students were asked to plot that transition. But before they could be architects, they had to be planners.
---
It started with the masterplanning. Then, there was the city block. Then the buildings took a general form. If there was time, the buildings would get their details, like structural specification. But there wasn't a whole lot of time.
Probably not what you'd expect from an architecture course.
This unconventional approach was part of a studio course for post-professional master's students in UCLA's Department of Architecture and Urban Design. Led by architect and faculty member Neil M. Denari, this studio focused on what he's referred to as "megavoids" – large, open, urban sites that are either undeveloped or active but on the verge of obsolescence. One is a Naval Weapons Reserve. Another's a gravel mining pit. Another's a closed airport. Each of the five sites represents a space at least 10 square kilometers, and the studio's 15 students were tasked with figuring out what to do with them.
"I wanted to find sites where there's not human inhabitation already, so we wouldn't have to suspend disbelief so much," said Denari of the sites, which currently have varying amounts of utility.
But there was a catch: these spaces were to be designed for life 30 years in the future.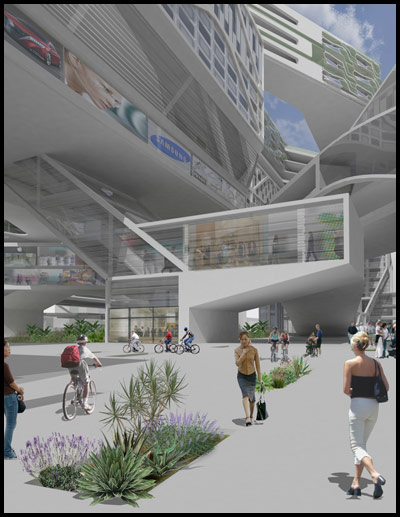 Denari's course was part of UCLA's "Suprastudio", a year-long program that uses studio work in collaboration with professionals and consultants to explore experimental architecture at the city scale. With funding from automaker Toyota, the studio formed its examination of future urbanism around future transportation. Each of the five sites Denari chose are in Southern California, a region that's the focus of a number of high profile transportation infrastructure projects in the coming decades.
California's high speed rail project connecting Northern and Southern California, the long-simmering idea to build a magnetic levitation train between Southern California and Las Vegas, and plans to expand regional rail have made these transportation corridors the skeleton for future growth in the region. Using that skeleton as a guide, Denari had his students plan their projects with this transit infrastructure in mind.
But more important than the infrastructural change coming to the region is the impending demographic change. By 2040, Southern California is expected to see its population increase by nearly 10 million people. Students were asked how these empty spaces could be redeveloped to respond to that population growth while at the same time integrating the expansion of public transit infrastructure.
Presented recently at the UCLA Department of Architecture and Urban Design's end-of-year exposition, the resulting projects focused less on flashy futurism than creating a cogent and viable option for development.
"I wasn't interested in people painting sci-fi pictures, but to really have a kind of strong tangent to the present day, even though our rhetoric is about 30 years from now," said Denari. "If you look back to 1980, yes, there's been a lot of transformation, especially in the digital world, but less in the urban world. In fact, hardly any. You have to ask yourself how much transformation will happen in the world in 30 years."
In terms of population, a lot of transformation can happen. Los Angeles County, the biggest in the region, saw a population growth of 2.4 million people between 1980 and 2008, according to U.S. Census figures. The projects submitted by Denari's class tried to absorb the expected increase by building at very high densities. But the projects also reacted to expected changes in lifestyle, with fewer people driving, increased interest in local food production, and an expansion of public spaces. The projects encourage self-sustaining local economies and better interaction between neighbors.
One group's site was a 21 square kilometer Naval Weapons Station in Seal Beach, and they've re-envisioned it as a high-density, car-free development housing a quarter million people. The site contains high-density living areas, commercial and retail space and greenspace interspersed throughout. Part of the site's natural wetland is even preserved.
"We were proposing this fully developed city where everything from workplace to living was more or less catered to," said Salvador Ceja, one of the students who designed the Seal Beach project. He says part of the inspiration for making the city car-free was to try to hold back an increase in traffic congestion -- a major regional issue -- as the population rises.
While it may have been a bit of a stretch for some architecture students to go headfirst into masterplanning, Denari says they were eager to take on the challenge. And so was he.
"It was a pleasure to kind of feel like we didn't know what we were doing, so that we could explore ideas in a fresh way," said Denari. "That made teaching rather difficult and a challenge to be able to talk to them about organizational systems and blocks, and Toyota talking about multimodal transit and how that connects to issues of lifestyle, and how could you possibly determine how high your city would be or how low your city would be, or how diverse it would be versus how homogeneous."
Approaching these concepts first before the actual architectural design work began helped students to shape the projects into holistic visions of the not-too-distant future. While some of the ideas are highly experimental, a firm grounding in how these places should grow according to real urban changes gives them an air of relevancy that makes their adoption seem somewhat probable.
Denari says that a book summarizing the project is in the works. These theoretical projects may end up serving as a guide to planners and designers as they think about making use of the empty places in our cities that are bound to fill up as the population grows.
Slideshow of projects from Neil Denari's Megavoids studio at UCLA

---
Nate Berg is assistant editor of Planetizen.
The Right to Mobility
As we consider how to decarbonize transportation, preserving mobility, especially for lower- and middle-income people, must be a priority.
Early Sharrow Booster: 'I Was Wrong'
The lane marking was meant to raise awareness and instill shared respect among drivers and cyclists. But their inefficiency has led supporters to denounce sharrows, pushing instead for more robust bike infrastructure that truly protects riders.
Tacoma Developing New Housing Policy
The city's Home in Tacoma plan is designed to address the region's growth and rising housing prices, but faces local backlash over density and affordability concerns.
Green Alleys: A New Paradigm for Stormwater Management
Rather than shuttling stormwater away from the city and into the ocean as quickly as possible, Los Angeles is now—slowly—moving toward a 'city-as-sponge' approach that would capture and reclaim more water to recharge crucial reservoirs.
This six-course series explores essential urban design concepts using open source software and equips planners with the tools they need to participate fully in the urban design process.
Learn the tools for implementing Universal Design in planning regulations.
View More