The highly infectious Omicron variant is contributing to a record number of COVID-19 hospitalizations in the U.S. The record set in last winter's surge fell on Tuesday as hospitals suffer from massive labor shortages caused by the variant.
---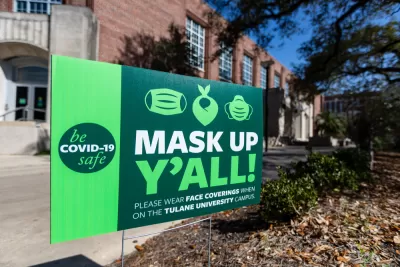 Omicron, combined with the Delta variant, set a record in late December for the most infections recorded in one day since the pandemic was declared on March 11, 2020, both in the U.S. and globally. Case records continue to be shattered as Omicron surges throughout the world.
As noted earlier this month in a post about Ohio experiencing a record number of COVID  hospitalizations, public health experts stress the importance of decoupling cases from hospitalizations due in large part to the unprecedentedly infectious omicron variant that also has been found to result in less severe disease that the Delta variant which it supplanted as the dominant variant in the U.S. late last month.
The nation followed in Ohio's footsteps on Tuesday, report Fenit Nirappil, Brittany Shammas, Dan Keating and Lenny Bernstein for The Washington Post on Jan. 11.
The United States surpassed its record for covid-19 hospitalizations on Tuesday, with no end in sight to skyrocketing case loads, falling staff levels and the struggles of a medical system trying to provide care amid an unprecedented surge of the coronavirus.
Tuesday's total of 145,982 people in U.S. hospitals with covid-19, which includes 4,462 children, passed the record of 142,273 set on Jan. 14, 2021, during the previous peak of the pandemic in this country.
The 7-day average daily COVID hospitalizations on Jan. 11 was 140,641, breaking the prior 7-day average set on Jan. 10, 2020, of 137, 516, as shown on the interactive hospitalization graph in The New York Times coronavirus tracker on Jan. 12.
Hospitalization rate
The District of Columbia continues to have the nation's highest daily average COVID hospitalization rate, 126 per 100,000 people, on Jan. 11, according to the Times tracker, exactly three times the national average of 42 per 100k. The next highest is Delaware with 75 per 100k.
Gabrielle Masson of Becker's Hospital Review lists all 50 states in order of the rate of increase over the past two weeks, and also shows their hospitalization rate. Only Wyoming and New Hampshire recorded a decrease.
Biden dispatches military medics to six states
Overwhelmed hospitals in six states will get some much-needed help after President Joe Biden on Thursday announced the deployment of six teams of military medical personnel to New York, New Jersey, Ohio, Rhode Island, Michigan and New Mexico, reported Spencer Kimball for CNBC on Jan. 13.
The deployments, which total 120 personnel, come as hospitals grapple with staffing shortages as nurses and other medical personnel call out sick from omicron amid a surge of patients infected with the highly contagious Covid variant.

An average of more than 1,000 hospitals nationwide are currently reporting critical staffing shortages, according to Department of Health and Human Services data. However, it's likely an undercount because many hospitals were not reporting their status as of Wednesday.
Incidental hospitalizations
"The current state of the COVID-19 pandemic in the U.S. in many ways differs from earlier surges, with breakthrough infections now a norm and not the exception," explains Erica Carbajal for Becker's Hospital Review on Jan. 11. As noted in the recent update on the Omicron wave in Denmark, "immune evasiveness rather than an inherent increase in the basic transmissibility" was found to be the primary reason for the rapid spread of the variant.
With that has come a rise in what health experts call incidental COVID-19 hospitalizations, referring to patients who are primarily admitted for other ailments and test positive as part of routine screening. New York and Massachusetts have recently shifted their reporting on COVID-19 hospitalizations, asking hospitals to distinguish between those who are admitted primarily because of the virus and incidental cases. About 42 percent of COVID-19 positive patients across New York hospitals as of Jan. 8 did not have COVID-19 included as reason for admission, according to state data. 
However, that distinction means little to the hospital that must treat Covid positive patients differently than others. "[A]ll COVID-19-positive patients are isolated, and isolation rooms 'are not plentiful,' said Ashish Jha, MD, dean of the Brown University School of Public Health in Providence, R.I., in a series of Jan. 4 tweets," adds Carbajal.
While the conversation on primary versus incidental COVID-19 hospitalizations is important to shed light on the overall state of the pandemic and disease severity, the distinction only goes so far, especially in the context of hospital capacity and labor shortages.
"The [incidental] infections are exacerbating some medical conditions and making it harder to reduce covid's spread within hospital walls, especially as patients show up at earlier, more infectious stages of the disease," write Lauren Weber, Phil Galewitz, and Andy Miller in an in-depth Kaiser Health News report on Jan. 13 on how incidental COVID hospitalizations, combined with staff shortages, poses one of the biggest challenges facing hospitals during the Omicron wave.
Intensive Care Units strained, but less than during prior surges
"Nineteen states have less than 15% remaining capacity in their ICUs," reports CNN on Jan. 14.
Four of them have less than 10%: Kentucky, Alabama, Indiana and New Hampshire, according to data Wednesday from the US Department of Health and Human Services.
A week earlier, The New York Times reported that at least one New York hospital was sending fewer COVID patients to their ICU.
"We are seeing an increase in the number of hospitalizations," said Dr. Rahul Sharma, emergency physician in chief for NewYork-Presbyterian/Weill Cornell hospital. But the severity of the disease looks different from previous waves, he said. "We're not sending as many patients to the I.C.U., we're not intubating as many patients, and actually, most of our patients that are coming to the emergency department that do test positive are actually being discharged.
Ventilator usage low
When the coronavirus first struck New York City in March 2020, Gov. Andrew Cuomo was in desperate need of ventilators – breathing machines for Covid-19 patients, as Erin Billups, health reporter for Spectrum News 1 wrote on April 1, 2020:
"Ventilators, ventilators, ventilators," said Cuomo. "I didn't know what they were a few weeks ago, besides the cursory knowledge. I know too much about ventilators now. We're still shopping for ventilators all across the country. We need more."
The Omicron variant has been shown to be less virulent than the native strain that first hit the U.S., plus over 62% of Americans are fully vaccinated against the virus.
"Compared with Delta, Omicron infections were half as likely to send people to the hospital," reports Carl Zimmer for The New York Times on a Southern California study released Jan. 11, aligning with a study released by the Denmark Health Ministry earlier this month.
Out of more than 52,000 Omicron patients identified from electronic medical records of Kaiser Permanente of Southern California, a large health system, the researchers found that not a single patient went on a ventilator during that time.
Pediatric hospitalizations
"The hospitalization rate among kids with COVID-19 has surpassed the peak seen during the delta wave and is the highest reported during the pandemic, according to the head of the Centers for Disease Control and Prevention," writes Cecelia Smith-Schoenwalder for U.S. News & World Report on Jan. 7.
CDC Director Rochelle Walensky on Friday previewed agency data showing that "while children still have the lowest rate of hospitalization of any group, pediatric hospitalizations are at the highest rate compared to any prior point in the pandemic."
How high will it go?
"But the highly transmissible omicron variant threatens to obliterate that benchmark," referring to Tuesday's record of nearly 146,000 hospitalizations, add the Post reporters in the source article. 
If models of omicron's spread prove accurate — even the researchers who produce them admit forecasts are difficult during a pandemic — current numbers may seem small in just a few weeks. Disease modelers are predicting total hospitalizations in the 275,000 to 300,000 range when the peak is reached, probably later this month.

Jeffrey Shaman, an infectious-disease modeler and epidemiologist at Columbia University, predicted that covid hospitalizations may reach 300,000 to 350,000 about Jan. 27.
Hat tip to Becker's Hospital Review.
Related in Planetizen:
FULL STORY: U.S. breaks record with more than 145,000 covid-19 hospitalizations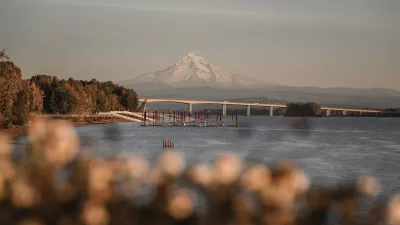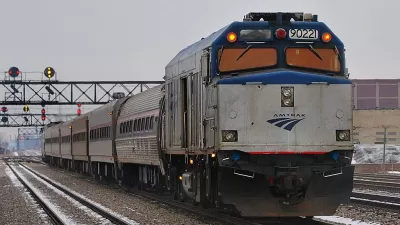 Amtrak Ramping Up Infrastructure Projects
Thanks to federal funding from the 2021 infrastructure act, the agency plans to triple its investment in infrastructure improvements and new routes in the next two years.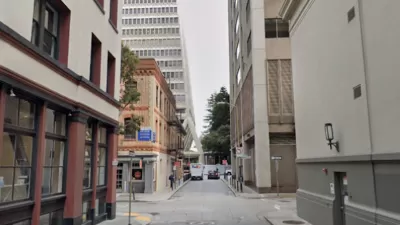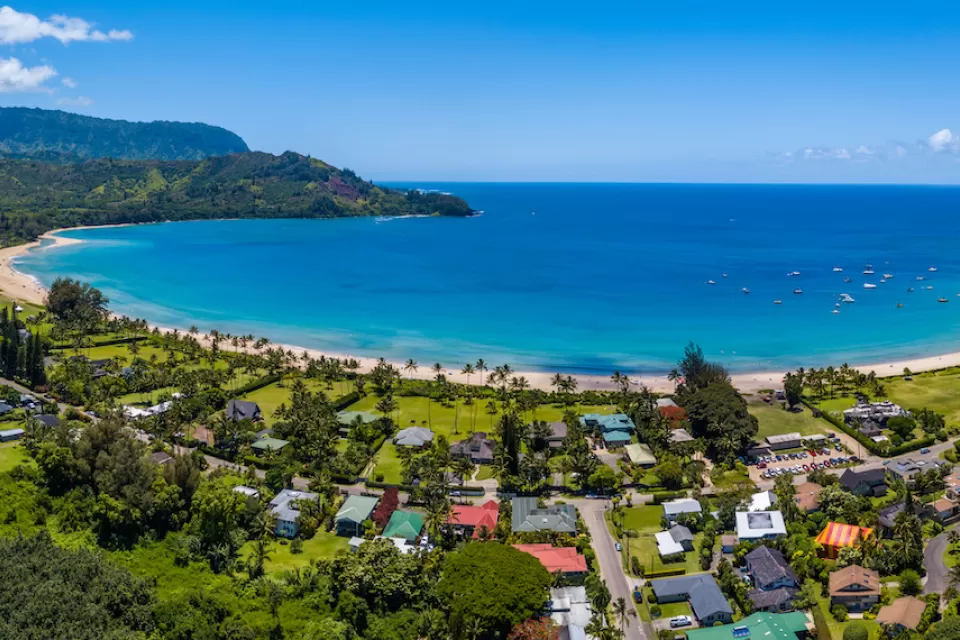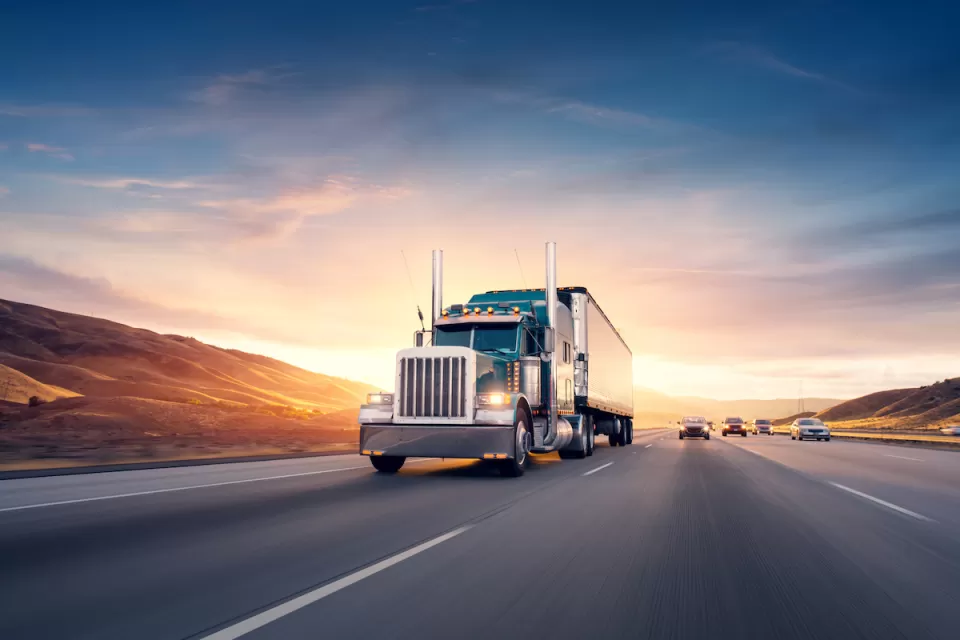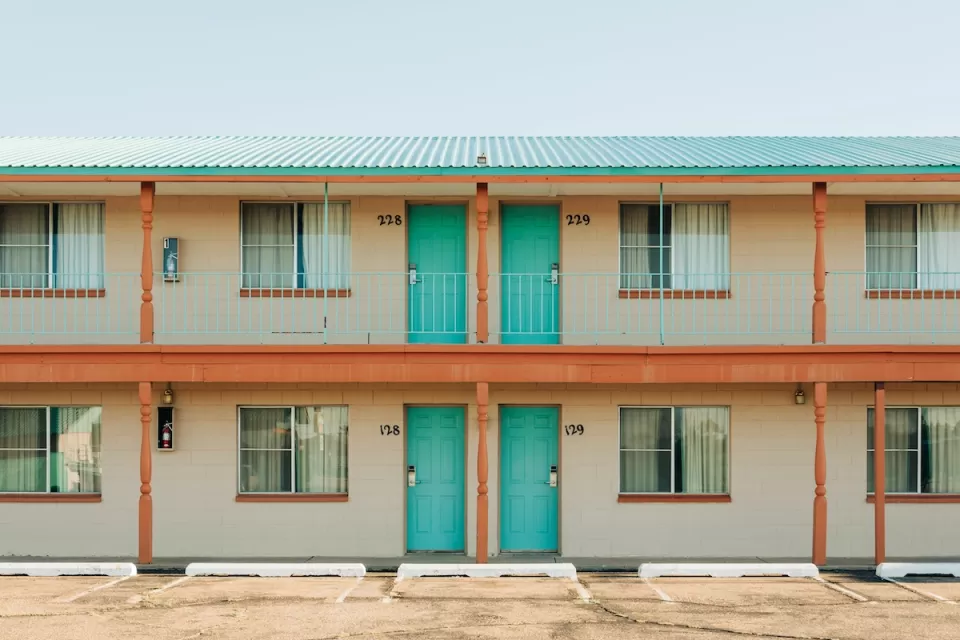 This six-course series explores essential urban design concepts using open source software and equips planners with the tools they need to participate fully in the urban design process.
Learn the tools for implementing Universal Design in planning regulations.
View More