Mining the business world for lessons about the planning profession.
---
Imagine if by changing the words you used to communicate about planning projects you could increase the number of people who paid attention and participated in the process? This is the promise of two new books focused on a business audience, which are still hugely relevant to planners.
Business strategy and self-improvement books sometimes get a bad wrap for being impractical or preachy. However, as a planner and entrepreneur, I recommend these strategy books that offer highly practical advice that can inform the work we do as planners and make us more effective.
Building a StoryBrand: Clarify Your Message So Customers Will Listen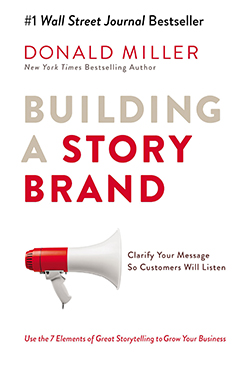 Donald Miller
HarperCollins Leadership
One of our key goals as planners is to communicate effectively. Donald Miller offers a compelling approach to rethink communication with constituents.
Human beings are designed to listen to and tell stories. A good story captures our attention and inspires us to act. However, often when we discuss our work — let's say a planning project — we tend to describe the nuts and bolts of the process, neglecting to place the work into a broader story. Often, the "hero" of the story — if there is one — is an organization or a city.
Miller suggests that we use a proven movie-making narrative for storytelling: The "Hero" encounters a problem, meets a "Guide," who gives the Hero a plan, and calls the Hero to action. For example, in the classic Star Wars movie (Miller's example), Luke Skywalker is the Hero, faced with a problem (being pursued by the Empire). Obi Wan Kenobi is the Guide, who gives Luke a plan (Use the Force), which ends in success when Luke destroys the Death Star.
Miller suggests that we should set our customer — or constituent — as the "Hero," and ourselves (as planners) as the "Guide." Compare two versions of this description of a planning process (the original version is directly from a city website; the city's name has been replaced in this example):
Original
The 2035 General Plan is the City of Tangerine's policy guide for the future. It sets policy guidelines for everything from the physical boundaries of the city to its economic growth and physical development. Think of it as a guide for future development and preservation of resources.
Storybrand Version
Guide the City's future and preserve our resources for future generations. Help us create the City's policy guideline for the next 30 years. The 2035 General Plan will shape everything from the physical boundaries to its economic growth and physical development.
As a bonus, when you buy the book, you also get access to a website that provides online templates for creating your own "Brandscript" — what Miller uses as a framework for thinking through how to clarify your message.
Buy on Amazon | Buy on Audible
Start with Why: How Great Leaders Inspire Everyone to Take Action

Simon Sinek
Portfolio
Why are some people and organizations more innovative and inspirational than others? That is the question Sinek answers in his book, which is based on the third-most-popular TED Talk of all time.
Sinek describes a pattern of how inspiring people and organizations act and communicate, and it's the opposite of how the rest of us act and communicate. He introduces the topic of the "Golden Circle": Three concentric circles with "What" in the outside circle, "How" in the middle circle, and "Why" in the inside circle.
Why gets at your purpose, cause, or belief. Why does your organization exist? Why do you get out of bed in the morning?
All organizations explain "What" they do: e.g., "We plan the built environment."
Some organizations explain "How" they do it: e.g., "We engage our stakeholders and create a plan that recognizes our diverse communities."
But very few know why they do it, or start by explaining "Why" they do what they do.
The inspired organization communicates from inside out in the model of the golden circle. Sinek offers the example of Apple as a model of an organization that starts with Why.
If Apple were like everyone else, their marketing message might be:
What: We make great computers.
How: They are beautifully designed, and easy to use. Want to buy one?
But instead, Apple start with Why.
Everything we do, we believe in challenging the status quo, we believe in thinking differently.
The way we challenge the status quo is by making our product beautifully designed, simple to use.
We just happen to make great computers. Want to buy one?
Sinek's key message is that people don't buy what you do, they buywhyyou do it.
Planners might reframe a call to engage in a general plan as:
We want the City of Tangerine to be the best place to live in the country.
Help us guide the City's future and preserve our resources for future generations.
The general plan will shape everything from the physical boundaries to its economic growth and physical development.
Buy on Amazon | Buy on Audible
The principles in these two books have the potential to change how planners think about communicating with public from messaging that often seem tactical and process-oriented, to messaging that can be inspiring and enable us to better communicate the critical importance of planning.
Planning for Congestion Relief
The third and final installment of Planetizen's examination of the role of the planning profession in both perpetuating and solving traffic congestion.
Urban Design, Transport, and Health
The Lancet medical journal published a series of articles that explore how to evaluate and guide urban planning decisions to create healthy and sustainable cities. Live long and prosper!
This six-course series explores essential urban design concepts using open source software and equips planners with the tools they need to participate fully in the urban design process.
This course aims to provide an introduction into Urban Design Sketching focused on how to hand draw master plans using a mix of colored markers.
View More