An excerpt from the introduction of the recent book, "Streets For All: 50 Strategies for Shaping Resilient Cities," edited by Vinayak Bharne and Shyam Khandekar.
---
Streets For All: 50 Strategies for Shaping Resilient Cities, edited by Vinayak Bharne and Shyam Khandekar, includes contributions by several noted individuals, such as Kelly Shannon (Belgium), Julian Agyeman (USA), Ranjit Sabikhi (India), and a foreword by Jan Gehl (Denmark). Streets For All describes streets as global, diverse, and plural and begins to tailor a new approach to the public realm. (To buy the book, email [email protected].)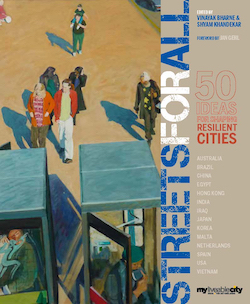 Streets For All: 50 Strategies for Shaping Resilient Cities is an expansive 270-page volume that explores the evolving potential of the most ubiquitous public space in our cities. It offers ideas, tactics and strategies from across the world on how our streets are being, and, can be rethought, recast, repurposed and redesigned towards greater resilience and resourcefulness. The globally diverse opinions and case studies in this book remind us why cities with limited means can offer profound lessons to affluent societies that take their prosperity for granted. And in turn, how the virtues of effective urban administration and reinforcement seen in developed societies could reassuringly serve to inspire less economically developed ones.
"It is my hope and wish that this book will be read by individuals across nations, continents and multiple professional disciplines. It provides us all both inspiration and insight to elevate the livability of cities and towns across the world." Jan Gehl (from the book's foreword)
While it may be true to a greater extent in the Global North, it would not be unfair to say that cities across the world have recognized that streets are not just conduits for vehicles, but communal public rooms for all. The challenge is far from over, and the advance of the automobile remains unchecked in numerous societies, but even so, this revival of the traditional idea of the street as a public space represents a significant step in the right direction. For decades, urban scholars have been advocating against the automobile-dominated street. In 1969, Streets for People: A Primer for Americans by Bernard Rudofsky became one of the earliest studies to call out the disintegration of streets into car-centric domains and offer a brief cultural history of the traditional street from a global perspective. In 1971, Danish urbanist Jan Gehl published Life Between Buildings, examining how people use public spaces in cities. In 1982, English-American urban designer Donald Appleyard published a study titled Livable Streets, in which he compared three residential streets in San Francisco to reveal how traffic volume directly affected the social life of residents. In 2003, the term "Complete Streets" was suggested by David Goldberg (communications director for Smart Growth America,) to describe a comprehensive approach to multi-modal street design that would accommodate pedestrians, bicyclists, transit, and cars. And as recently as 2016, Street Flight: Handbook for an Urban Revolution by Janet Sadik Kahn (former New York City transportation commissioner) chronicled her role in the urban transformation of Manhattan streets and the architectural improvements drafted to ease gridlock and boost urban sociability.
This said, we all perceive, engage with, and envision streets as much from our individual expertise as our concerns and biases. Urban designers and architects see streets as open-to-sky rooms that deserve design care, attention and detail. Books, largely written or edited by European and North American architecture and city planning scholars have elaborated on this idea. Great Streets by Allan Jacobs (1993) documented some the world finest streets in over 200 illustrations, identifying the physical characteristics that make them enduring. Street Design: The Art and Practice of Making Complete Streets by Victor Dover and John Massengale (2014) includes instructions and strategies for shaping space in the public right-of-way. And Streets Reconsidered: Inclusive Design for the Public Realm by Daniel Iacofano and Mukul Malhotra categorizes discussions on North American streets per mobility, way finding, commerce, and social gathering, to urban agriculture, green infrastructure and identity. True to the dominant issues and challenges that surround post-industrial streets in affluent societies in the Global North, the rubric in these books focuses on recasting streets as designed pedestrian-friendly outdoor rooms.
Sociologists remain skeptical about this approach, offering cautions against the over-claims of great urban design. They argue that formal street design rarely engages directly with the social and cultural complexities of informal street life. They draw our attention to how numerous street designs, while taming vehicular speeds and encouraging walkability, have simultaneously exacerbated various guises of inequality - hardly limited to vendors, the homeless, and the poor, who have practically no say in who the street is for.
Insightful books have therefore sought to shift the emphasis from analyzing streets as designed artefacts to settings for complex social patterns. In The Street: A Quintessential Social Public Space, Vikas Mehta (2013) analyses people's activities and actions and argues that sociability in streets is not achieved by creating great physical environments alone, but fostering relationships between the physical environment, land use management, and the places to which people assign special meanings. Incomplete Streets: Processes, Practices, and Possibilities, edited by Stephen Zavestoski and Julian Agyeman (2014), in turn, questions whether the ways in which "Complete Streets" narratives, policies, and plans are envisioned and implemented might be reproducing many of the spatial and social injustices that have characterized cities for the last century or more.
Landscape architects and environmental engineers see the potential of the street as an ecological catalyst. The street is not only about mobility and people, but also about repairing and stitching broken ecology and tortured nature, reducing urban temperatures and heat island effects, harvesting water, generating oxygen, and creating habitats for local and regional flora and fauna. In her book, Skinny Streets and Green Neighborhoods: Design for Environment and Community (2005), Cynthia Girling provides a blueprint for creatively interweaving gray and green infrastructure, urban design, and the environment. In The Landscape of Contemporary Infrastructure, Kelly Shannon & Marcel Smets (2010) investigate how infrastructure design determines the organization and flow of the inhabited landscape. And in their recent article, "Biophilic Streets: A design framework for creating multiple urban benefits" (2020), authors Agata Cabanek, Maria Elena Zingoni de Baro & Peter Newman argue for the integration of biophilic elements into the design of new streets to enhance the environmental component.
Our cities are also gigantic economic engines, and any investment in and transformation of a street is never an inexpensive proposition. If an incentive for redesigning streets emerges from their ability to engender sociability, then another stems from their financial promise. Street design can be a strategic financial investment, because beautifully designed streets can help raising their adjacent land values and boost the economy. They can become a formal scaffold around which effective land-use and real estate development can yield not only great social life, but lucrative economic returns.
Then of course, our streets are enormous art and intellectual canvases. Little wonder that streets have, throughout human history, captured the attention of the most gifted artistic minds. Think of the meticulous eleventh-century, five-meter-long painting, Qingming Shanghe Tu, depicting daily life in Song dynasty China. Or the woodcut prints of Utagawa Hiroshige, titled Fifty-Three Stations of the Tokaido (1832), capturing urban scenes along the road connecting Tokyo and Kyoto. Or the sketches of British urbanist Gordon Cullen that became part of his seminal book Townscape (1961). Charles Dickens's (1812-1870) long walks in the streets of Victorian London inspired his literary descriptions of the sights, sounds, and smells of the old city. Hope Mirrlees's Paris: A Poem (1919), narrates her daylong stroll from metro tunnels to city streets.
None of these positions, lenses or orientations about streets are complete by themselves, but they are certainly interconnected, interdependent, and interwoven. This volume seeks to better under these interweaves. While streets occupy anywhere between 20-45% of the land area within our cities today, the specifics of how they are created, sustained and used are diverse. The actors that give life to streets change across geographies. The administrative and regulatory mechanisms that maintain them shift across geo-political terrains. Cities across the world themselves have significant public space distinctions: Mumbai has merely 1.1 square meters of public space per person, compared to 31.68 square meters in London or 26.4 square meters in New York. The emergent guises and expectations of streets vary across regions, going from beautifully designed outdoor rooms, to spontaneous, appropriated realms.
The geographically and topically diverse perspectives assembled in this volume underscore this truism. The chapters are written by a variety of individuals, whose regional, ethnic, disciplinary and intellectual multiplicity attests to the breadth, depth and richness of this subject. From citizen activists to photographers, artists to urban designers, sociologists to engineers, professors to practitioners, this volume makes an attempt to embrace the pluralism that surrounds the notion of who our streets are for, who in turn shapes them, by what means, and towards what ends.
This volume builds on and adds to the existing scholarship on streets in multiple ways. First, it takes a global outlook to streets, recognizing that even though our larger goals may be the same, the social, political and cultural realities of the cities in which the street are situated, play a crucial role in how and why we reclaim them. Second, it gathers an impressive diversity of voices to remind us that the methods to transforming our streets are diverse and plural. And third, the organization of this volume gleans into the streets as a complex and sophisticated entity with simultaneous social, ecological and technical dimensions. This book should be of interest to anyone invested in the wellbeing of our cities and urban future.
Vinayak Bharne is a practicing urban designer and city planner based in Los Angeles, an adjunct professor in the School of Architecture at the University of Southern California, and co-director of the India-Netherlands-based think-tank, My Liveable City. His other books include Urbanism Beyond 2020, and The Routledge Companion to Global Heritage Conservation.
Shyam Khandekar is a practicing urban designer and city planner based in the Netherlands, and former company director of the international practice BDP, headquartered in London. He is the founding director of My Liveable City. His books include Affordable Housing, Inclusive Cities; and Designing for Sustainability Through Upcycling.
Notes
The term "complete streets" was suggested by David Goldberg, the communications director for Smart Growth America, and it was adopted by a coalition of advocacy groups to refer both to a comprehensive approach to street design and to the coalition itself
Cabanek, A., Zingoni de Baro, M.E. & Newman, P. Biophilic streets: a design framework for creating multiple urban benefits. Sustain Earth 3, 7 (2020). https://doi.org/10.1186/s42055-020-00027-0
The Right to Mobility
As we consider how to decarbonize transportation, preserving mobility, especially for lower- and middle-income people, must be a priority.
Early Sharrow Booster: 'I Was Wrong'
The lane marking was meant to raise awareness and instill shared respect among drivers and cyclists. But their inefficiency has led supporters to denounce sharrows, pushing instead for more robust bike infrastructure that truly protects riders.
Memphis: Crime-fighting Camera Sheds Light on Police Abuse
The irony is unmistakable. Public surveillance cameras, long controversial in the criminal justice community, provided pivotal video footage of the beating of motorist Tyre Nichols by five Memphis police officers at a traffic stop on January 7.
How Autonomous Cars Could Impact Energy Use
The complex algorithms used by self-driving vehicle technology use massive amounts of energy, which could lead to a steep rise in carbon emissions as autonomous cars become more commonplace.
Safe Streets Grants Announced
The federal Safe Streets and Roads for All program funds planning and implementation for road safety projects aimed at reducing traffic deaths and building safe infrastructure for pedestrians, cyclists, and other vulnerable road users.
This six-course series explores essential urban design concepts using open source software and equips planners with the tools they need to participate fully in the urban design process.
Learn the tools for implementing Universal Design in planning regulations.
View More