An interview with Fort Worth Planning and Development Director Randle Harwood on the planning practices and ideas driving the future of one of the nation's fastest growing cities.
---
In Joel Garreau's 1981 classic Nine Nations of North America, the imagined boundary between the South and the West ran right between Dallas and Fort Worth—right where their eponymous airport now sends over 400 flights off into the world every day. Indeed, the Dallas-Fort Worth Metroplex is a global region anchored by two major cities with a vestigial rivalry. In their urban form and growth, both cities are quintessentially Texas. Fort Worth is, arguably, even more sprawling than its twin, and it's growing with characteristically Texan rapidity. The city grew 42 percent between 2000 and 2013—the nation's highest growth rate in that period—and now stands at over 880,000, making it the nation's 17th largest city. And yet, it's the second-largest city in its own metro area.
To hear Planning Director Randle Harwood tell it, much of this growth took Fort Worth by surprise. Twenty-first century developments are growing according to 1970s models. But Harwood is trying to change that. With new efforts to promote walkability, take advantage of a new commuter rail line, and manage growth rather than simply facilitate it, Fort Worth is becoming more urban and (a little) less Wild West.
This is the latest interview in the "Planners Across America" series.
What are your top priorities right now?
Our enormous and rapid growth is always at the top of our agenda. It took up a big portion of a recent council retreat. Adding 20,000-25,000 people per year, managing growth is always at the top of our agenda.
For the first time, really, we are facing challenges surrounding housing and affordability. I think everybody in the country is experiencing that. We've seen enormous increases in the costs of housing and the cost of land and construction, largely attributable to our incredibly robust economy. We have tons of jobs going wanting for folks. It's the pressure of a successful economy.
What do these growth patterns look like? How do you as a department handle that?
The bulk of our growth is on the fringes of the city, where the city is expanding through voluntary annexations or into existing areas that have already been annexed. We still have a pretty high sprawl index, but we've also seen an enormous amount of development in our central city, largely to places we had designated in previous plans as urban villages. We had developed mixed-use development plans for those particular areas.
That process began almost 40 years ago. We're starting to see the fruits of that with some pretty good urban development. We also have some bad urban development. You have to take the good with the bad.
With the city's rise in housing prices, do you face concerns about gentrification?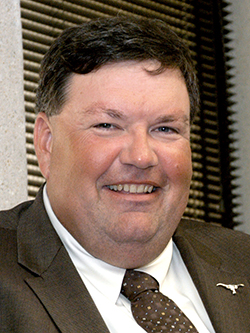 Gentrification has been an issue, but it's not quite the same as in other cities. The place where we've seen probably the biggest impact from gentrification is in our Lynwood area. What's interesting, though, is that the folks who sold out for $200,000 and $300,000 were able to move into much better homes in much better condition—and then the neighborhood redeveloped. We haven't seen the same scale of gentrification as other cities have because we have so much inexpensive land on our periphery where you can get less expensive housing. I anticipate that it will be an issue. We're cognizant of that as we invest in some of the neighborhoods.
We've seen some growth in affordable housing and a general coming-together of neighborhoods that felt disenfranchised and left out of the loop, but now they know that they're not out of the loop. In one neighborhood, the pastors all now meet together and the neighborhood unit meets on a regular basis. They never used to do that. They come down and say, "you missed this thing; we need this too." They get a little shot of capital, and a lot of love and attention from all the departments—police, fire, planning, neighborhood services, and parks.
You mentioned that some of these plans are coming to fruition 15 or 20 years after the plans were adopted. Where are you in your general plan cycle? How well are those plans working right now and what's next for any major updates?
We update our comprehensive plan annually, but we only do minor updates. We typically redraft a couple of chapters and then major policy changes are covered for that year. We don't have enough staff where we can afford to do the whole thing all at once. Some of the things that we've been doing over the last few years have worked with outside third-party groups, like drafting a livable city plan with AARP.
Fort Worth is also the largest city in the United States to be a designated Blue Zone city.
We went through a five-year plan and went from being around 185th in terms of health and activity, on a list of a couple hundred cities, to 58th. This jump is largely attributed to Blue Zones, which was a private-public partnership where the private Texas Health Resources invested $10 million to become healthier. There was a huge community effort. Over 200,000 people, or about a quarter of the city, signed a Blue Zones pledge, which says, "I'm going to exercise so much, I'm going to have red wine at five o'clock…" So everybody starts getting healthier together. Those kinds of things have been the focus of our planning staff's efforts. Then we feed those plans into our comprehensive plan.
We haven't done a major overhaul probably in 15 years, but we've done incremental pieces that have really changed where we go as a city: pieces on bicycle policy, pieces on health and welfare, walking pieces, pieces on having a slowly aging population.
According to the Urban Land Institute, Fort Worth ranks 47th among the 50 biggest cities in walkability. How accurate is that report?
It's not like we went from a walkable city to an unwalkable city. As we've grown and developed, we've essentially doubled in size in the last 15 years or so. When we started to grow, our subdivision policies for sidewalks weren't adequate. We've changed those. Now you got to have sidewalks in all the subdivisions. We weren't building a walkable city at that time. We were building a drivable city.
I think we've responded to it as effectively as we can within the resources we have. We have a Walk! Fort Worth plan and a bicycle plan. We're updating them and bringing them all back together as a piece of that active transportation plan. It addresses the highest priorities in major areas of deficiency: where we don't have enough sidewalks and where we don't have enough bike lanes. We're billions of dollars away from getting to the right place. The only way to get there is to start chopping that down into smaller pieces. We have a very proactive mayor in that regard. She's a bicyclist and a runner and a walker and uses the mayor's pulpit to really talk about the importance of walkability.
We may not have one of the most walkable cities overall, but we definitely have one of the most walkable downtowns. If you take the new train from the airport to downtown Fort Worth, you don't need a car because you can walk to places of business, you can walk to city hall. All are located on easy to walk, small blocks in downtown.
Then we have new developments that understand the need and desire for people to walk and bike and use alternative forms of transportation within a neighborhood. They want to live, work, play, eat, shop—whatever, meditate in their neighborhood without using a car. When places have the right mix of commercial, housing, and jobs, those places do extremely well and are outrageously priced.
You anticipated my next question: Texas Rail is brand-new. What has its effect in the city been? How does it relate to the plans that you are making?
The effect has been enormous. The first month, you couldn't get on the train.
We're going to have big transit oriented development at two stations. We're just not sure how big yet, because it's sort of a cross between commuter rail and a more standard transit station. We're starting a planning effort for the north station, the first one outside of downtown, and then there will probably be another planning effort tied to the second station on the way out.
It'll be interesting to see how it develops. I think the popularity of the train in the first month or so has caused talk about extending it farther to the south to try to get to the hospital district and Texas Christian University. The airport to downtown line was about half of the total number of stations and miles. And so there's a desire in the community to extend it to the southwest—really a demand. People have seen how effective the mode of transportation is and have experienced it to get to downtown. And you hear a hue and cry from the suburbs, which you haven't previously heard, that they want to be more connected by different forms of mass transit.
This may be a clichéd question for people in the Metroplex, but I'll ask anyway: as planning director of Fort Worth, what is your take on the relationship or rivalry between Fort Worth and Dallas?
I worked for the city for 23 years, so it's gone through different waves. Right now, the relationship between Fort Worth and Dallas couldn't be stronger. There's been a much more regional approach to our overall economic development plan, our overall relationship and partnership with Dallas Fort Worth Airport—as we like to call it, the Fort Worth Dallas Airport. There's still going to be stuff like referring to the "city to the east." There's a little different vibe in Fort Worth.
But our mayors talk regularly; they regularly represent the airport around the world. The feeding frenzy over Amazon was a regional effort that picked a whole bunch of sites in the Metroplex. When I first came to work for the city, neither city nor council nor staff wanted anything to do with one another. Now it's a totally different view of the world.
The reality is that we're not a Metroplex without Dallas, Arlington, Irving, and many of the other cities. And they're not the Metroplex without Fort Worth. All those things come together to create this interesting, dynamic region.
Are we going to get upset when somebody says we're just a bedroom to Dallas? Sure. Because we're really not. But people write those things in the Dallas papers to get headlines. And we need to take a look at ourselves and say, "well, is that what we're becoming if we build this much residential and housing? Or do we need to start working on developing better job centers and better opportunities in Fort Worth?" I think asking those questions has been helpful, especially in our economic development plan.
You are from Canada, and you went to school in New England. What's it been like working in Texas with that background?
It was certainly a culture shock coming here, but it was the right place for me at the right time. I taught at the University of Texas at Arlington in the landscape architecture program for about eight years and then I came to work for the city. I'm a landscape architect by training but I have primarily worked in planning. I did park planning in a parks department and worked on the Trinity River Vision Plan before becoming planning and development director.
I grew up in a country that had lots of development regulations, from the top down. Massachusetts is that way, too. Here, it's really people pushing the top to push the regulations down in Texas. The regulatory stuff really comes from the people.
You have to get the right coalitions in the room to get a park dedication policy passed or a change in environmental or storm water permitting, which we've added in the last ten years. We had to get the developers and the neighborhoods in the room. We currently have them in the room for an analysis and review of mixed-use zoning ordinances.
The discussions have to be real. They can't say, "I just don't want that in my backyard." Texans tend to be to be frank. There's not too much BS unless they're telling a story about something from 50 years ago. But on current events, there are a lot of frank discussions. There is a general desire to move to find compromises in the best interests of the city. We're fortunate in that way. A lot of stuff doesn't get as politicized as it might have in, say, Massachusetts or the places I grew up in Canada.
How does your landscape background influence your approach to planning? Are there any other academic or intellectual influences that you abide by?
The whole city's just a big landscape. I think that perspective comes from Kevin Lynch's work. Another piece that always comes to mind is Christopher Alexander's approach to city building. Those were big influences for me, and all fairly pragmatic, not based on theory. They rely on making people's lives better by observing them and experiencing their environments.
I also look to what other folks are doing. I look at what they're doing in San Francisco because they're probably going to do it before everybody else. John [Rahaim]'s folks will go through all the headaches, what happens with scooters or small cell antennas.
We're typically not going to be the city that is at the leading edge of whatever latest technology. It's going to happen in San Francisco or San Jose or in Boston, where the technology innovators are located. We're typically not going to be the guinea pig city, unless it's related to horses in the street or having your own cattle drive—then that's us. If somebody wants to have a cattle drive, we can tell them how to do it.
This six-course series explores essential urban design concepts using open source software and equips planners with the tools they need to participate fully in the urban design process.
Learn the tools for implementing Universal Design in planning regulations.
View More