Warren Buffett, bus service supporter?
---
In a letter missed by Planetizen at the time of its publication, Warren Buffett wrote to the Omaha World-Herald at the end of December to express opposition to a proposed streetcar project in Omaha.
The letter begins: "I seldom take sides on local issues. Understandably, it can be off-putting to many to have a wealthy 92-year-old tell them what is good for their future. I'm going to make an exception on the streetcar issue."
Thanks to a recent article by Julie Bosman in the New York Times, a much larger audience is now aware of Buffett's streetcar skepticism. Unfortunately, one reading Bosman's article might mistake the contents of Mr. Buffet's letter as merely anti-streetcar. I read the letter to mean that Mr. Buffett has a preferred mode of high-capacity public transit. Mr. Buffett is anti-streetcar while also pro-bus.
First the brass tacks: the Omaha Streetcar Car Authority is planning to spend $306 million to build a network of streetcars. Planning is well underway: the authority is holding monthly meetings—the agenda from the authority's December meeting, for example, included a proposal to create a partnership with the city of Portland, Oregon for the purchase of streetcars. The authority plans to finance the project using Tax Increment Financing (TIF) on developments within a six-block radius of the project.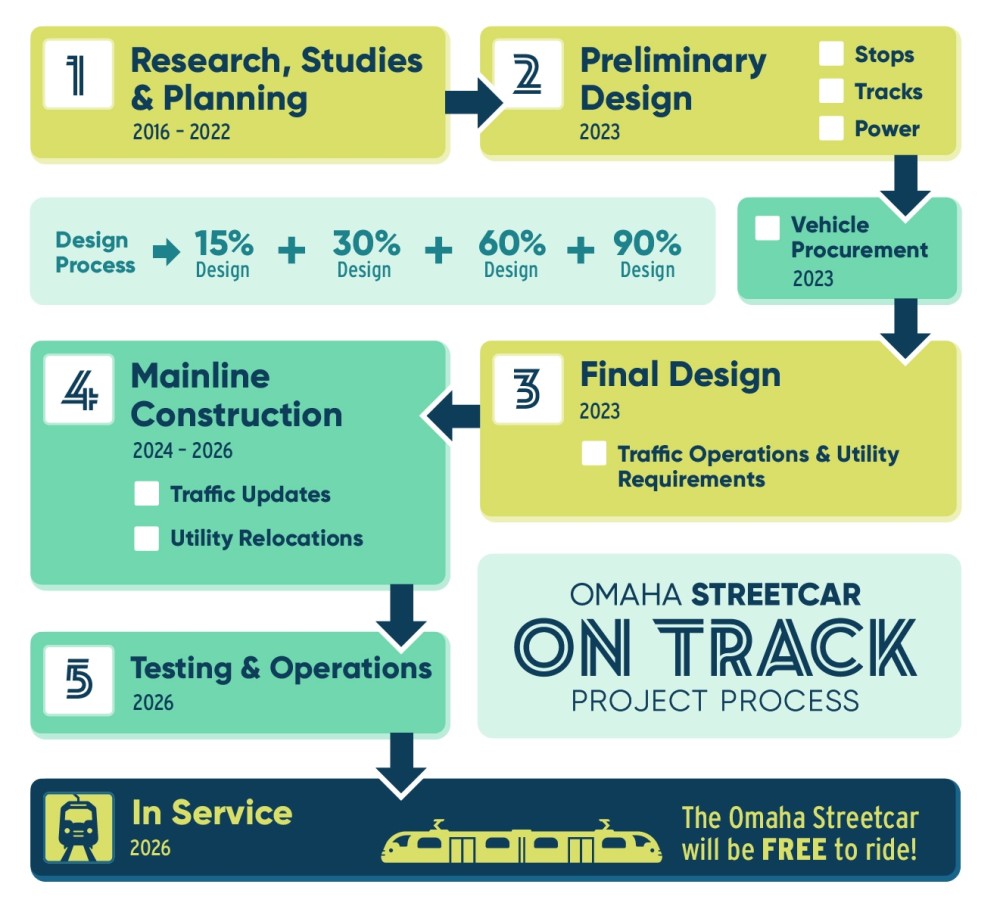 Mr. Buffett doesn't mention TIF in his complaint against the Omaha Streetcar project. His concerns are much more grounded in the concepts of planning. Here is the critical summary from the letter:
Streetcars, however, are expensive and have very limited utility. The population actually served is small and routes are inflexible. Residents can be far better served by extended or more intensive service by the bus system. As population, commerce and desired destinations shift, a bus system can be re-engineered. Streetcars keep mindlessly rolling on, fueled by large public subsidies. Mistakes are literally cast in cement. -Warren Buffett
It would be reductive to read the letter as the rhetoric of a run-of-the-mill transit NIMBY. The implied pro-transit politics are right there: "Residents can be far better served by extended or more intensive service by the bus system." It doesn't say, for example, "Residents can be far better served by a wider 156th Street."
To be fair, Mr. Buffett has a point about streetcars. According to multiple studies, streetcars are far less successful as economic development tools than boosters would suggest. More importantly, from the transit users perspective, the track record of streetcars as transit tools, improving access to jobs and economic opportunities to large numbers of the population, is also spotty.
Success stories include the Cincinnati Streetcar, which overcame political opposition of a more anti-transit variety to come to fruition in 2016, go through a period of fiscal distress as well as a rebranding, and then rebounded to set ridership records toward the end of 2022. Toronto achieved new popularity for the King Street streetcar after kicking cars off the road (something Mr. Buffett could have mentioned as an option for improving the streetcar, by the way).
More numerous, however, are examples of financial distress and paltry ridership. Look to Detroit and St. Louis for examples of lackluster performance. Even the record ridership figures for Cincinnati—just above 100,000 riders for the entire month of October—are modest. It takes about three days of ridership on the buses of the Southwest Ohio Regional Transit system to reach the same number.   
The point is that streetcars can make fiscal sense and thrive as an alternative to automobile travel if the plan is supported by multiple public agencies, the public, and elected officials—all complemented by corresponding land use and street design. That is rarely the case in the 21st century United States. Mr. Buffett's letter, however, is hardly supporting the cause. It does not read, for example, "Residents can be far better served by streetcars planned for high frequencies on a dedicated right of way with level boarding and proof-of-payment fare collection."
Until we reach some hypothetical future when public transit agencies are funded like the military, and can afford to build amenities rather than transit, we will have to be efficient about public transit investments. Efficient modes deserve efficient spending, anyways. Unfortunately, Mr. Buffet didn't really make that argument. He left some of the necessary words for a strong statement of support for public transit, for bus transit, unsaid. Transit planners need to be smart about how the spend limited funds, yes, but transit supporters need to be more specific about what helps and what hinders public transit performance.
By not stating unequivocal support for high quality public transit, Mr. Buffett leaves all forms of public transit open to similar criticisms. For example, I once attended a community engagement meeting where Mr. Buffet's argument was used exactly in reverse—to favor streetcars over bus transit. "A bus can turn at any moment, taking people off course from their destination," the unnamed, regionally famous transportation planner said to support the development of a streetcar rather than a bus.
Maybe Mr. Buffett could write a letter to Planetizen to clarify his position. If so, Mr. Buffett, please reach out to me directly by email, [email protected]. I know you don't like to take sides on local issues, but clearly this is a matter of national relevance.   
---
The Quiet Housing Crisis in Rural America
While housing shortages in major cities are grabbing headlines, rural communities are seeing higher rates of growth in housing prices and a silently spreading homelessness crisis.
This six-course series explores essential urban design concepts using open source software and equips planners with the tools they need to participate fully in the urban design process.
Learn the tools for implementing Universal Design in planning regulations.
View More