In the tradition of great urban landscapes, the Hills of Governors Island will soon challenge the status quo and create a dynamic new type of park for all people to enjoy.
---
I was recently given the opportunity to tour Governors Island in New York City with Adriaan Geuze and Claire Agre—both principals at West 8, the landscape architecture firm responsible for the design of the massive project that is turning much of the island into a public park. We enjoyed a perfect spring afternoon riding around the extensive grounds that were closed pending the opening of the summer season, giving me the chance to take it all in without a huge crowd. The whole thing was great, but the unquestionable highlight was climbing the next phase of work called the Hills, which was still under construction and consists of four large man-made mounds ranging from 25 to 70 feet tall emerging out of the otherwise flat site. At first glance it is easy to write off the landforms as mere whimsy or artifice, but it doesn't take long to realize the deeper value they will provide.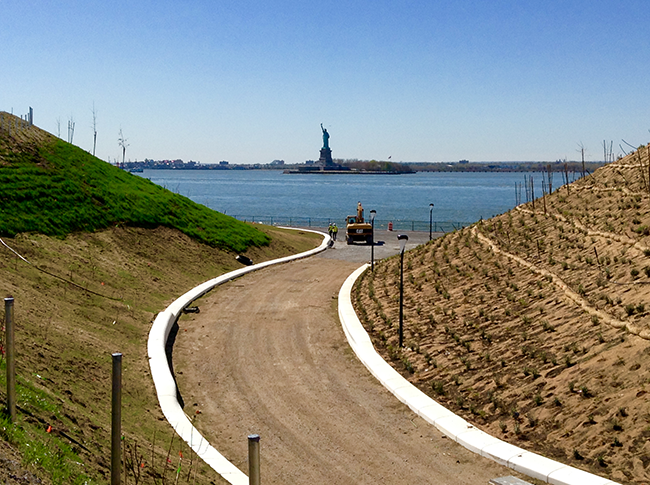 Image: Mark Hough
One of the first things I remember seeing about this project was the concept sketch Geuze had drawn in support of his firm's proposal in the initial design competition. In the loose, cartoony style he so effectively uses to translate his effusive creativity onto paper, he superimposes four tall mounds on an aerial photo, juxtaposing them with the skyscrapers of lower Manhattan, with Keith Haring-like lines emanating in exclamation. The concept behind the image is as clear as it is effective, and proves you don't need overproduced graphics to convey a simple idea. The Hills were always the key to the plan—and the success of the entire project rests largely with them.
Sketch by Adriaan Geuze, courtesy of West 8
As conceived, designed and built, the Hills, which occupy a 10-acre site, will become obvious kid magnets. One slope, built of massive reclaimed stones, is a work of expert craftsmanship, and is part climbing wall, part rustic staircase and part amphitheater. Another hillside has been created to hold a series of slides with daunting steps that appear to defiantly challenge the sort of over-protective safety codes that have severely dumbed-down many, if not most, public playgrounds built over the past few decades. I'm not sure how they are getting away with it, but it's exciting to see. This is certainly not your typical park.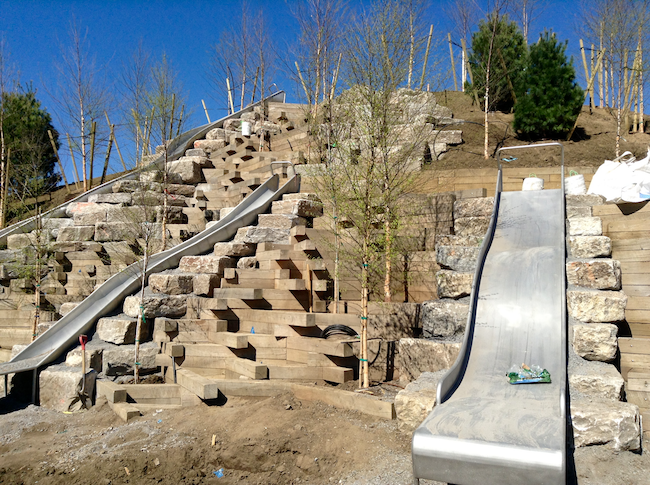 Image: Mark Hough
The genius of the Hills is not in the opportunities they provide for fun, however. For me, it's really all about the views, which span a 360° panorama across New York Harbor to the Statue of Liberty, the Manhattan skyline, other boroughs, and Jersey City. It would be breathtaking to even the most jaded person.
In a city as crowded and dense as New York, access to such amazing views has become increasingly limited to the privileged class. Living in a penthouse apartment is seen as the ultimate status symbol to those looking up from the streets below—a phenomenon immortalized in the 1970s sitcom "The Jeffersons," in which George and Louise capitalize on their newly acquired wealth and trade their place in a working class neighborhood in Queens for a "deluxe apartment in the sky." Once elevators enabled an ease of access not provided by the dreaded walk-up apartment building, success meant being able to escape the plebeian realities of life at street-level by becoming as physically separated from them as possible. This has become exaggerated in the out of control real estate markets found in cities like New York these days, where obtaining quality views is an increasingly unrealizable dream for most people.
Image: Mark Hough
This sorting of the haves and the have nots has defined city culture for centuries. The urban park movement of the 19th century was a reaction to this, and was triggered to create a more egalitarian society, at least in the public realm. Important to this were, of course, Olmsted and Vaux, whose work at Central Park remains for many the paragon of the progressive urban landscape. The profession of landscape architecture was built around this ethic, and its continued influence is still being seen in projects like the Hills.
I see this project as a contemporary counterpart to Prospect Park in Brooklyn—Olmsted and Vaux's magnum opus—and, in particular, its Long Meadow, which I consider the single best and most significant urban landscape space in the country. The 90-acre open field displays Olmsted's genius in manipulating land form, as it exquisitely arcs and rolls along nearly the entire length of the huge park. It is, to me, the epitome of a sublime landscape; but its success as a public space goes way beyond its beauty.
The Long Meadow, Prospect Park. Image: Mark Hough
The impetus for a grand park in Brooklyn followed shortly behind Central Park in the late 1850s. The politician James Stranahan, who served as the president of the Brooklyn Park Commission, said that a new park would "become a favorite resort for all classes of our community, enabling thousands to enjoy pure air, with healthful exercise, at all seasons of the year . . . " The borough was becoming increasingly crowded and dirty, and escape from the urbanity was needed.
As residents were forced to live closer and closer together, the access to open space became more critical. Other cities were also building parks so that everyone could enjoy the same fundamental right to cleaner air and the access to open space. What separated Prospect Park, besides its overall brilliant design, were the impossibly long views built into the Long Meadow. It was truly a landscape for the people, who no longer needed the means to escape to the country to experience a beautiful and expansive view typically found only in nature. It was revolutionary, and has yet to be quite equaled.
There is a quality to the Hills that approaches the ennobling effect of the Long Meadow. Whereas Olmsted's sinuous landforms are perfect in their subtlety and elegance, West 8's versions are engineered for drama. Each is powerful in a different way. Even though Governors Island is not entirely public (it is only accessible by a $2 ferry and is only open in the summer months), it is still significant in that it provides all New Yorkers with something completely unique, which is a real achievement considering all that has been accomplished there.
Image: Mark Hough
There is also a daringness to the design of the Hills that points to an exciting future for urban landscapes—one where landscape architects, practicing with an unapologetic confidence, create experiences both beautiful and bold. For a while, we were stuck in a period when people seemed afraid to take risks. That's not to say there were no great projects created, but everything just seemed a little too safe. With Governors Island and, hopefully, several other projects in the works, things are changing.
And it's about time.
---
Green Alleys: A New Paradigm for Stormwater Management
Rather than shuttling stormwater away from the city and into the ocean as quickly as possible, Los Angeles is now—slowly—moving toward a 'city-as-sponge' approach that would capture and reclaim more water to recharge crucial reservoirs.
Property Appraisal Caps Unlikely to Pass in Texas
Critics of a proposal to limit property value increases to reduce homeowners' property tax burden say the measure would destabilize the housing market and cause cities to raise other taxes to compensate.
This six-course series explores essential urban design concepts using open source software and equips planners with the tools they need to participate fully in the urban design process.
Learn the tools for implementing Universal Design in planning regulations.
View More